Arguments with my children always bring out the worst in us. When tempers flare, voices rise and while we are trying to teach them what ends up happening is a power struggle.
With a strong personality in a kid (aka a strong-willed child), sometimes the argument becomes a power struggle. Does this sound familiar?
If your child always needs the last word then there is an awesome statement I have learned to use to defuse the situation.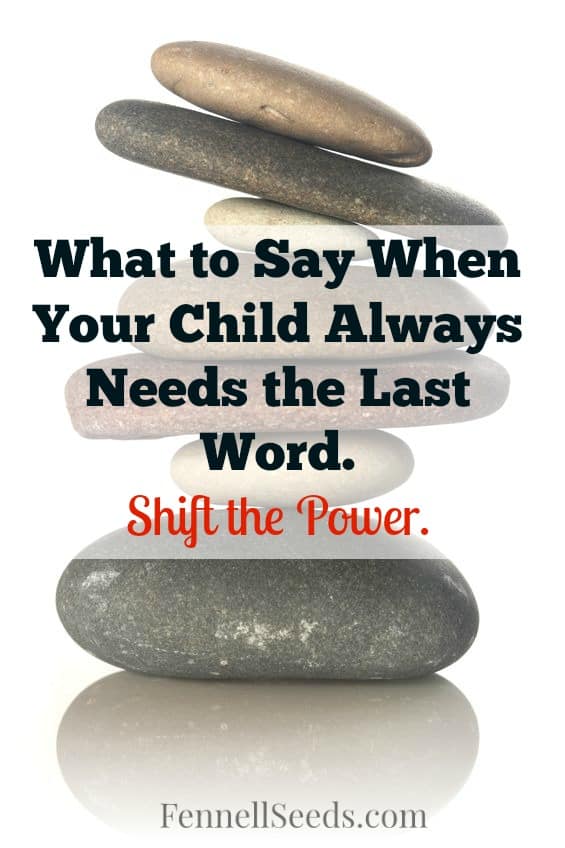 In my house lately the arguing and pestering has been growing between the siblings. When it escalates and I have to reprimand them then begins the power struggle. When you know the argument is over but the back and forth is still going on because your child just has to get the last word here is how to shift the power.
Use the phrase, "I've spoken. Would you like to have the last word?"
This shifts the power. Instead of them taking control, you have decided to give it to them.
Amazing stuff, right? I love when I find something out like this. I always need new parenting tricks up my sleeve. Parenting forums, books and mommy groups are just invaluable for this type of information.
When I feel like things are getting a little out of control and I need to reign in the back talk or disrespect in my house I like to read a new parenting book. I like fresh tools every once in a while to keep ahead of the kids. They sometimes catch on to the game and I need to keep a step ahead. 🙂
Feeling Stuck
If you want to change the environment in your home and set some new expectations, check out Becky of Your Modern Family's Parenting Manual 101 course. She has game changing ideas for setting routines, fighting entitlement and discover your kids "currency".
On My Nightstand
 I have learned a lot of helpful tips from Love and Logic by Foster Cline and Jim Fay. An example of when I use it is When Your Child Stalls When You Are Trying To Get Out the Door.
I am currently reading Siblings Without Rivalry by W. W. Norton and Co. and it has some great tips. I will write about it when I have finished and tested out what I have learned on my own kids.
Do you have any favorite parenting books or phrases to use to share with me? I love having new tips.
Want more parenting tips?
Siblings Fighting? 3 Tips To Help Them Get Along.
8 Easy Toy Organization Hacks You'll Wish You Had Known Sooner