This post may contain affiliate links. See my full disclosure here.
Do you spend all summer at the pool like we do? I love being able to walk to our neighborhood pool. We spend many afternoons there with neighbors. Our pool is opening up soon (yea for living in the south) so I was taking stock of what toys I need to replace from last year and which ones I can throw away.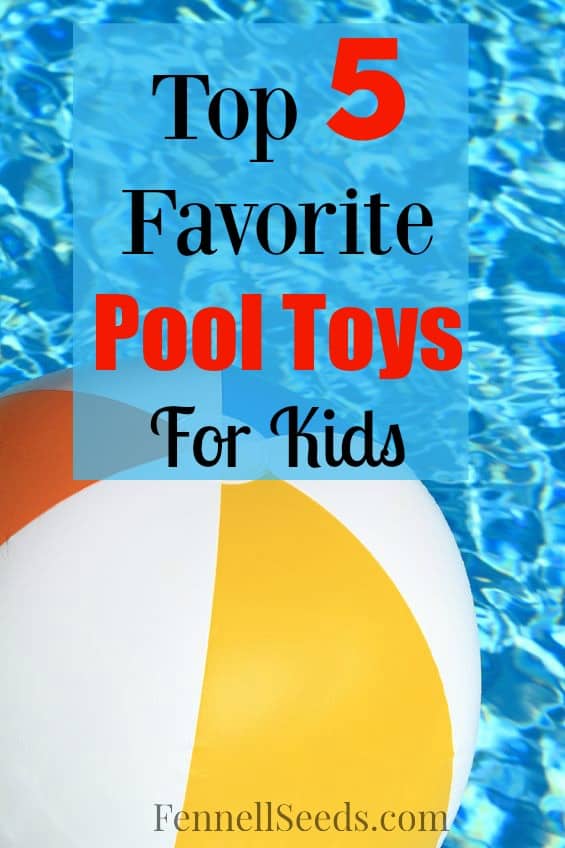 The stores are packed now with beach and pool items so now is the perfect time to stock up. I have twin 8 year old boys and a 4 year old girl and I wanted to share their favorite pool toys.
1.Snorkel Gear/fins – my boys received snorkel gear last year in their Easter basket. They love to have me throw pennies or other small items into the pool and they swim around looking for them. I didn't even realize at the time that we were going on a Disney cruise and it was so awesome when we did the cruise that they already knew how to snorkel so we could add that activity to our plan.
2. Skip Ball – This was a big hit last year with the boys and even my husband. You can stand on either side of the pool and throw the ball back and forth like skipping rocks towards each other. In the evenings when some of the Dads were there after work they would play with it without the kids.
3. Swimming Fish – These fish really move fast. I loved that it really got my boys to swim under water. Sometimes kids like to keep their faces above water but this toy promotes them to look under the surface to watch.
4. Mermaids – We can't forget the mermaids for my daughter. Always have an extra with you as well for friends. I have learned the hard way that we need to bring an extra so I don't have to make my daughter share her favorite. If we have an extra then the girls can play happily and that makes mommy very happy. Ha!
5. Tea Set – This was my daughters favorite from age 2 until now. I know it isn't normally considered a pool toy but wow was it always a hit. The big plus was that there are enough pieces for all the kids hanging on the stairs of the pool to play. It instantly attracts other kids and makes being at the pool even more fun for her. I like this particular set because even the big clear plastic container is so much fun for them to use the smaller cups to try and fill it up. Plus it all goes back into the container for easy storage.
I love to share ideas of toys and games to keep the kids entertained. Do you have any favorite toys that your kids love that you can share with me? We are always looking to add to our list.