Why do we have 3 doll strollers in here? Plus, 10+ dolls and all the accessories. Toy organization is a problem in our playroom. The toys are getting out of control.
The problem is also that I don't want to discourage my daughter from playing pretend. I am not a super creative mom so it is one of my greatest joys to see her pretend playing with her dolls.
If I am not going to get rid of them, then I need to search the internet for ideas to organize this mess. Plus, all the studies show that when kids see less visual clutter they play with their toys more often.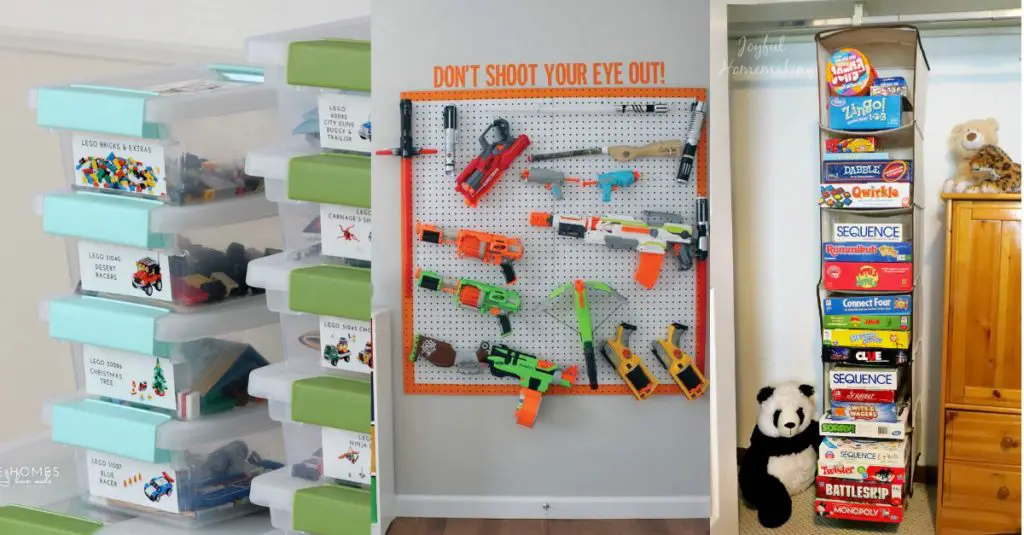 I am all about easy and quick fixes that I can mainly order on Amazon Prime. I already have a list of things for my husband to fix and build for us so I don't need to add to his list.
FREE PRINTABLE TOY ORGANIZATION LABELS
Print out these fun labels to use to organize your kids toys and join our newsletter.
Quick and Easy Toy Organization Ideas
1.Store the play kitchen accessories – My kids love our play kitchen but all the food, pans and accessories can get out of control.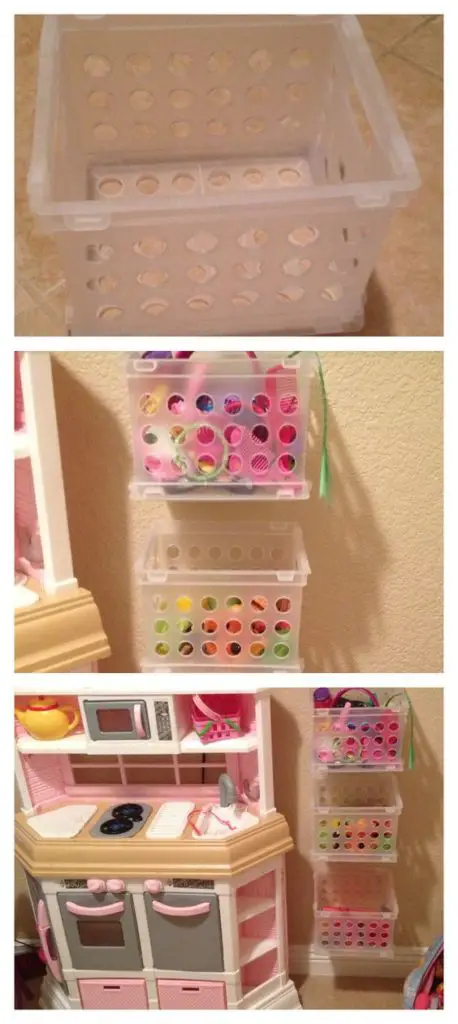 via Krystie Johnson
2. Under Bed AG Doll Storage – these shoe organizers are perfect for the kids to put away the Barbies and accessories all by themselves. It is an extra bonus when even the organizer itself is hidden.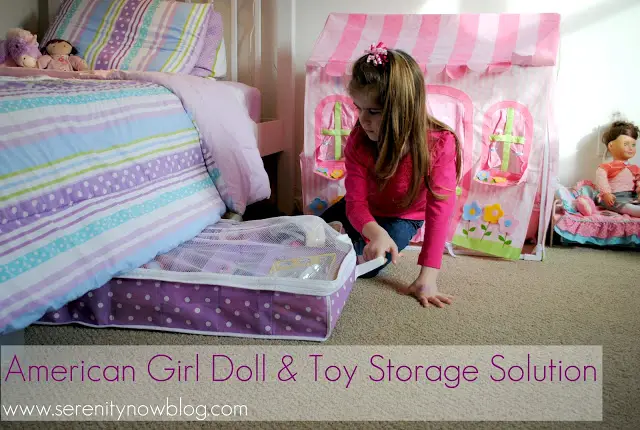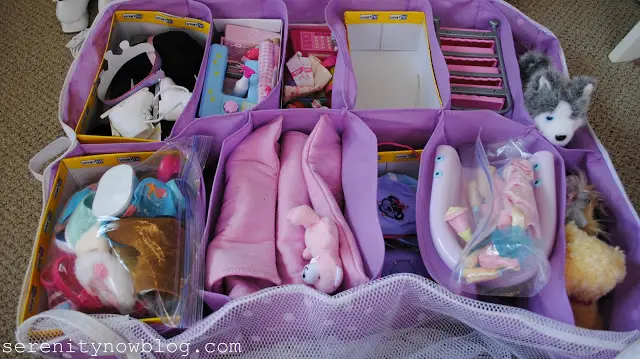 via Serenity Now
DO YOU NEED A WHOLE HOUSE DECLUTTERING GUIDE? My friend Becky from Your Modern Family has a step-by-step, room-by-room guide to help you declutter, organize and clean your entire house. Let's take control and feel great about our homes. See what's included here. Becky has 4 kids and understands what we need as moms with very little time. Get the Decluttering Guide before the price increases.
3. Hanging Organizer for Games – I have learned the hard way that I can't store a lot of games stacked on top of one another. If they want one in the middle the whole stack comes tumbling down. This hanging organizer in the closet fits about 3 -4 per pocket and makes the games easy to see and access. This means the kids will play with them more often.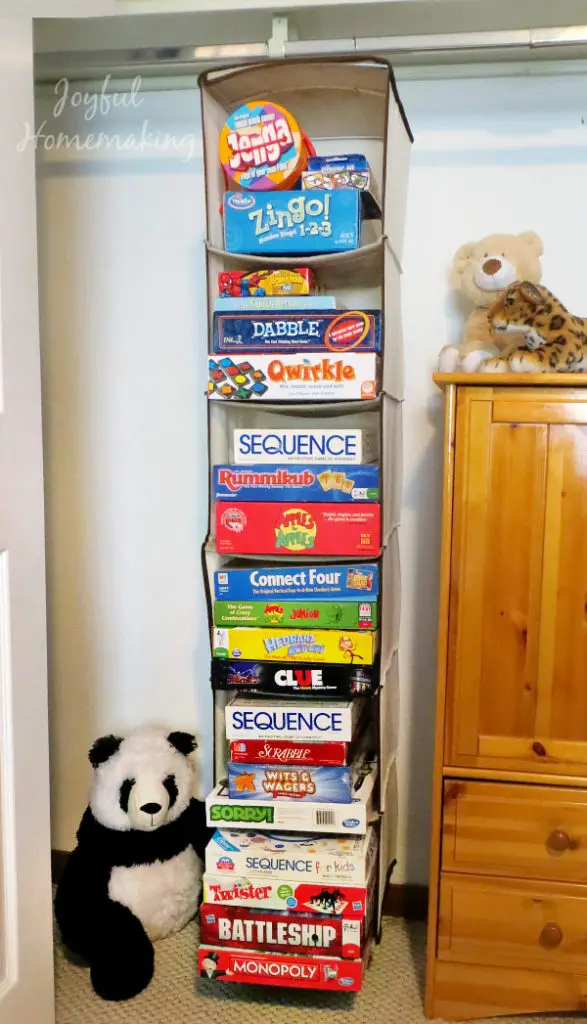 4. Over Door Shoe Organizers – Here are more ways to use the space behind the kids closet doors. I am purchasing some of these organizers with clear pockets today so we can see what is in each pocket.
Perfect for Stuffed Animals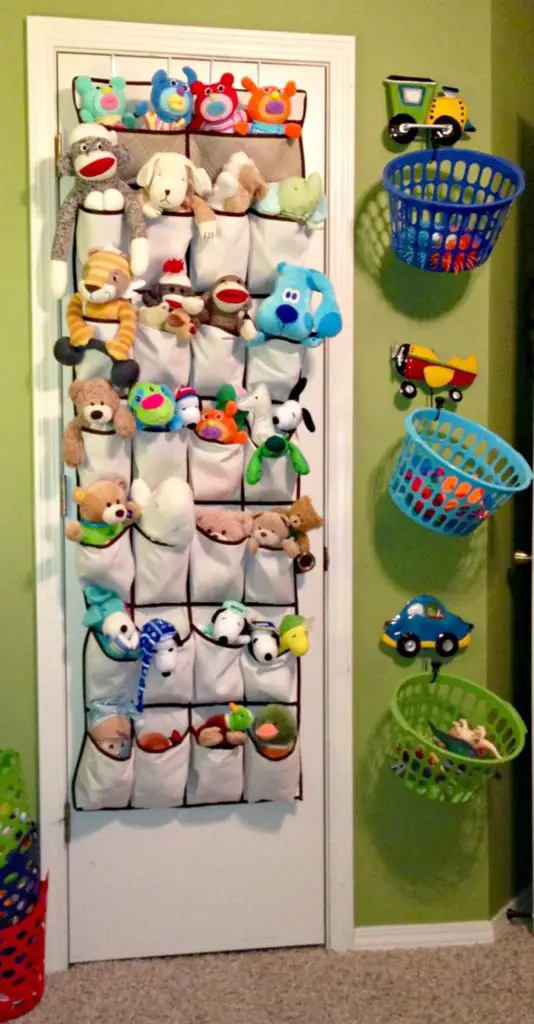 via HomeBNC
Perfect for Barbies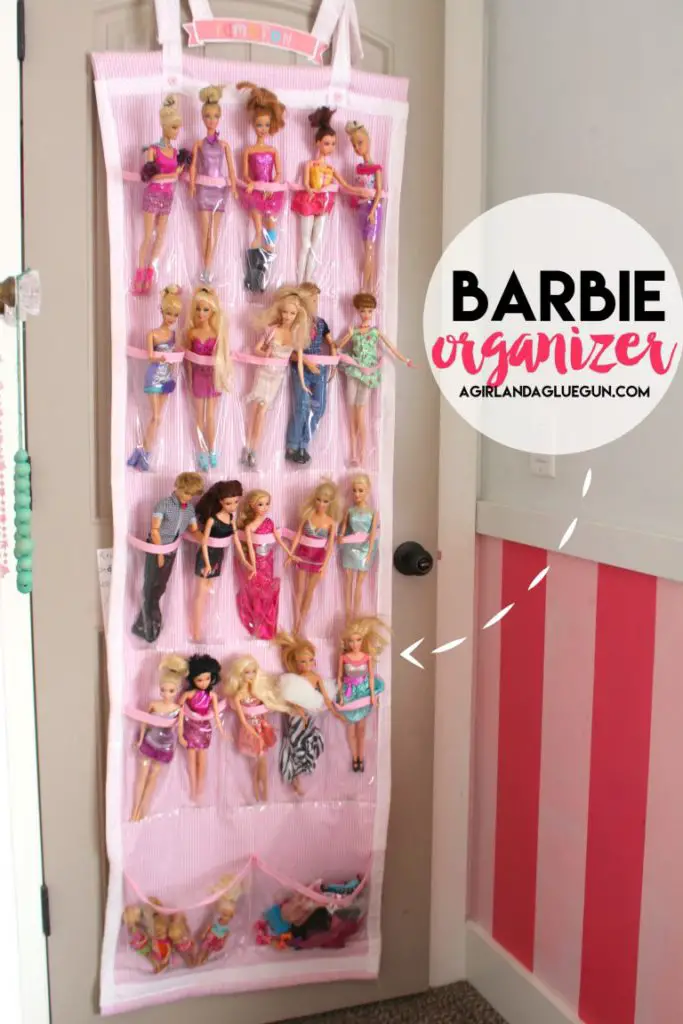 5. Nerf Gun Wall – When boys get a little older the collection of Nerf guns gets large. When they outgrow storing them in a basket here is a cute idea.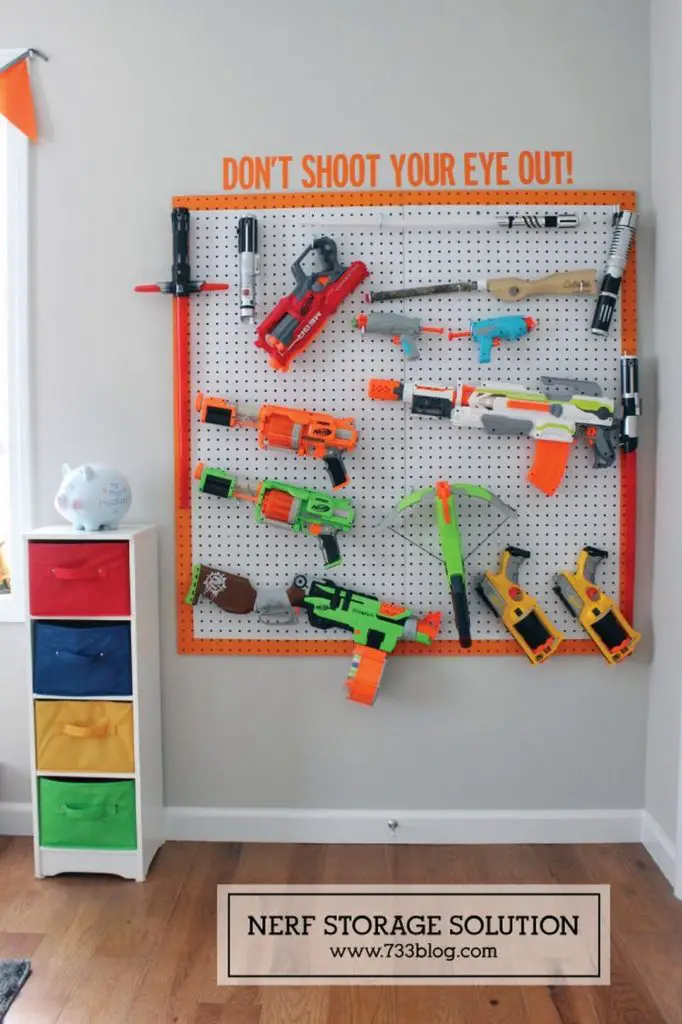 via 733Blog.com
6. Lego Set Storage – I wish I had started storing our sets with these clear containers from the beginning. We would have played with each set more often and had enjoyed building over and over.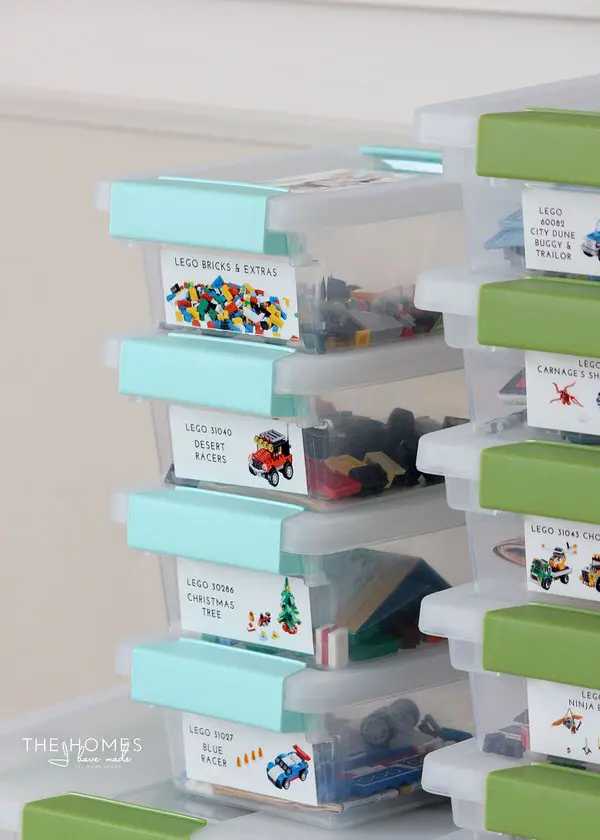 7. Make Storage Cubes into the Play Area – This is where I know I don't have a creative brain. I would have just set the storage cube system against the wall but if you make space behind it you create a whole new play area. The storage cube can also be the restaurant counter. Brilliant!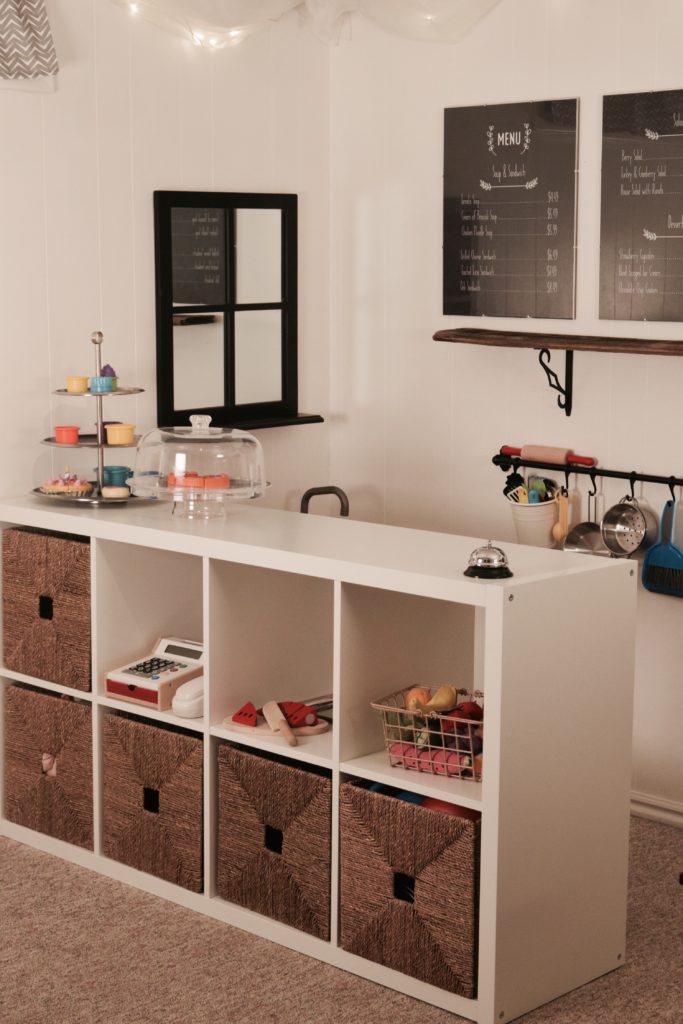 via The Mamas Girls
8. Riding Toy Organization in the Garage – For the men…such a fun way to show the kids where each toy needs to be parked. My boys love parking cars. This turns clean up time into fun time.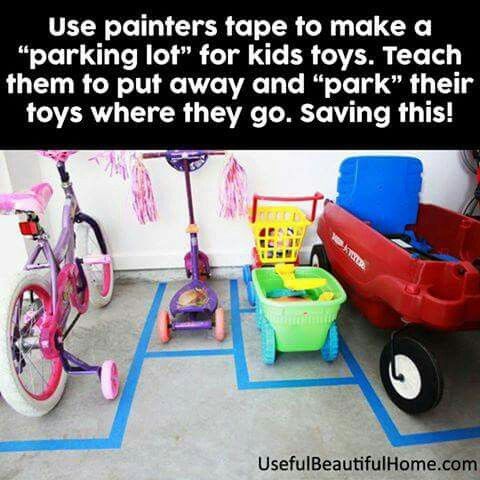 I am excited to get to work organizing and purging our play area.
Don't forget about the Whole House Decluttering Guide. You will no longer feel overwhelmed. It breaks everything into a step-by-step plan. We can do this!
Related Posts:
8 Easy Ways to Organize Your Pantry.
Ultimate Bathroom Storage Hacks
FREE PRINTABLE TOY ORGANIZATION LABELS
Print out these fun labels to use to organize your kids toys and join our newsletter.
Like it? Pin it!