There is nothing like waking up late and running to try to get ready and not being able to find your simple things to get ready. Brush, toothbrushes, hair ties, make-up all needs to have a place.  With these simple bathroom storage hacks we can make sure you can find everything you need quickly.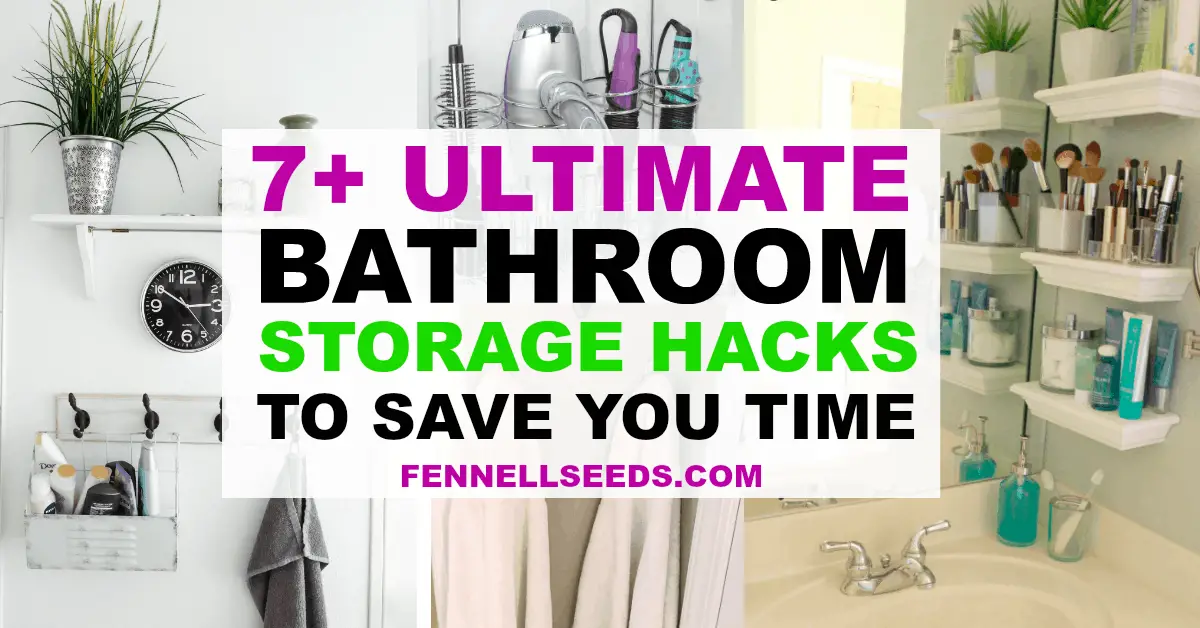 Ultimate Bathroom Storage Hacks
Small Shelves – these shelves add so much storage space while looking great at the same time.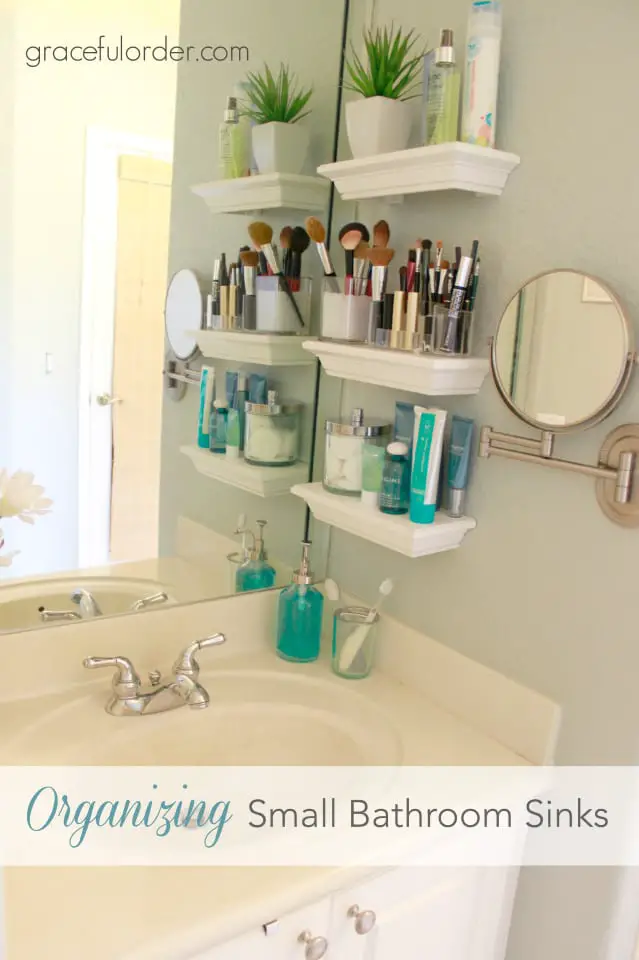 Hooks – I learned this from my husband. Everyone always comments on how organized our garage looks (check out Sports Equipment Storage Ideas to see our garage). His trick is to use hooks to hang absolutely everything he can on the walls. I used these brushed nickel hooks to give my kids a spot for their towels.
Why do they always like to shower in our master bath? Do your kids do this? I guess one day they will want more privacy but for now we needed more space in our bathroom for towels to hang dry.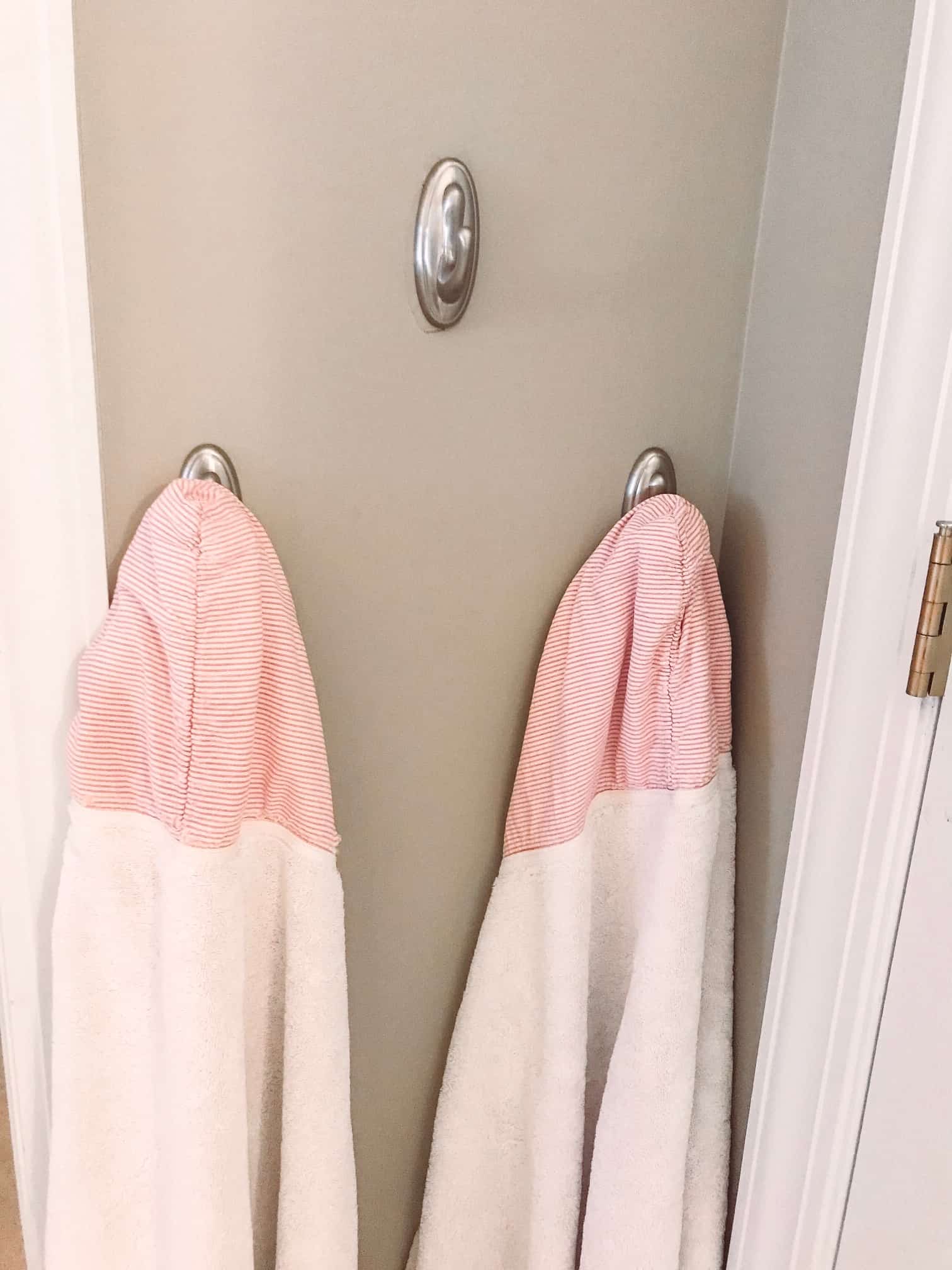 Hairdryer Storage – I currently lay my hairdryer, curling iron and flat-iron in a drawer. Wow…wasted space. Makes much more sense to move these bulky items to behind a door. I am ordering this ASAP.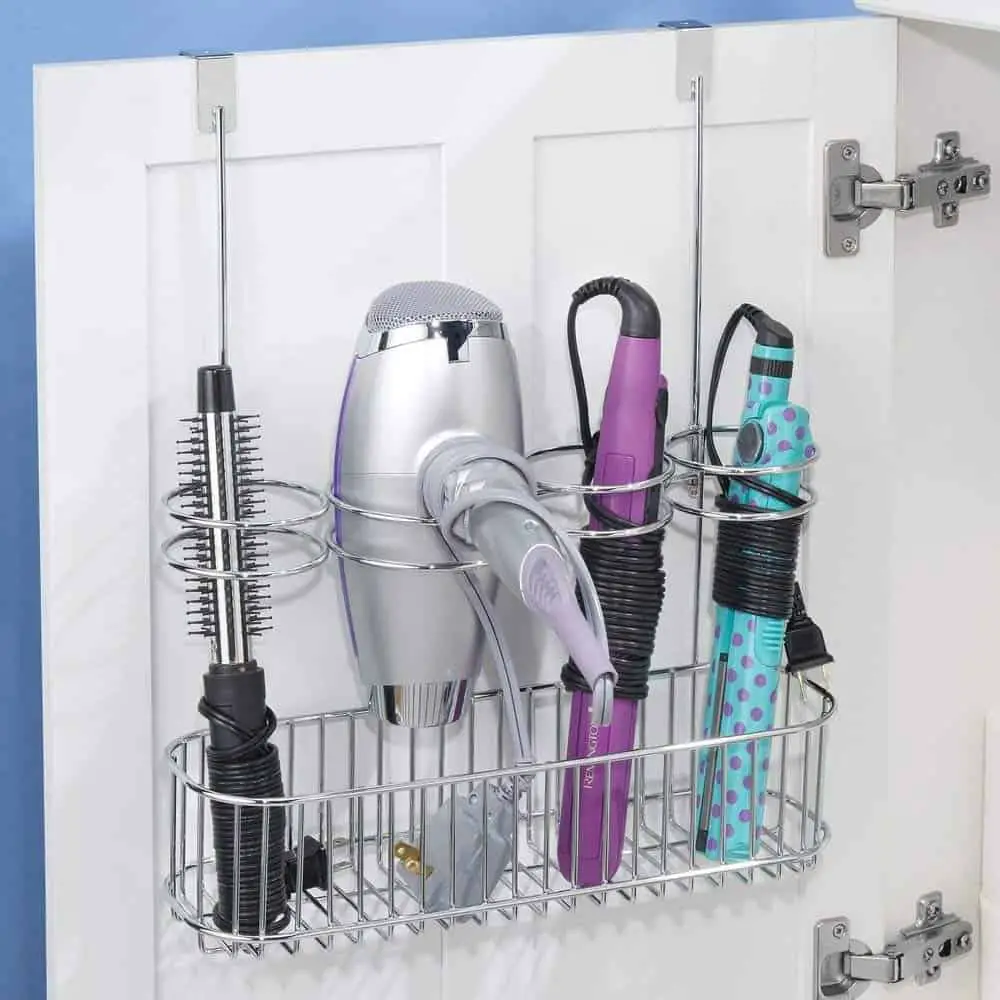 Pocket Organizer – This is such a great idea if you have a very small bathroom or maybe one with just a pedestal sink. You could even hang this on the inside of the curtain to store your shampoo and razors without putting them on the corners of the tub. This one hangs on the shower curtain rod.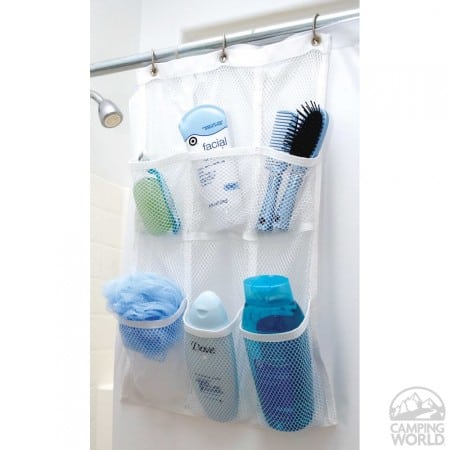 FREE 30 DAY DECLUTTERING CALENDAR 
Print it out and get your house under control.
Hide The Toothbrushes – With lots of kids, Living Well Mom came up with a great way to make sure each kid has their own place for toothbrush storage and with velcro they can easily be washed. I have a hard time keeping the toothbrushes from touching each other so this gives each their own separate spot. I don't need the germs to run though the house any faster than they already do. 🙂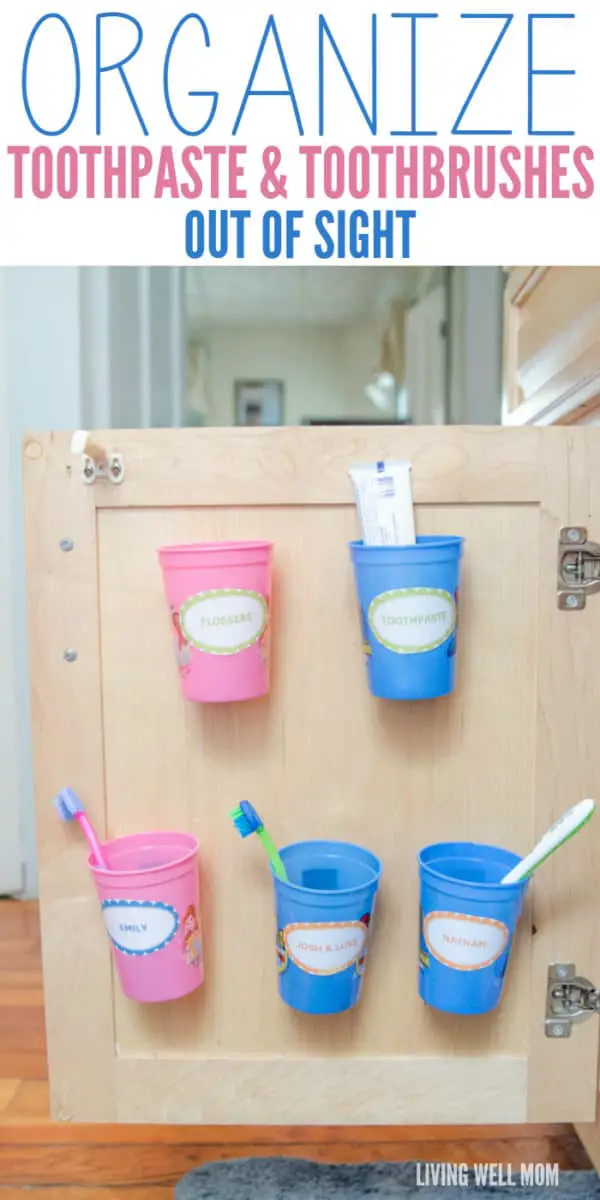 Magnets – Perfect for a medicine cabinet. Use the walls! Magnets store all the metal clippers and pins.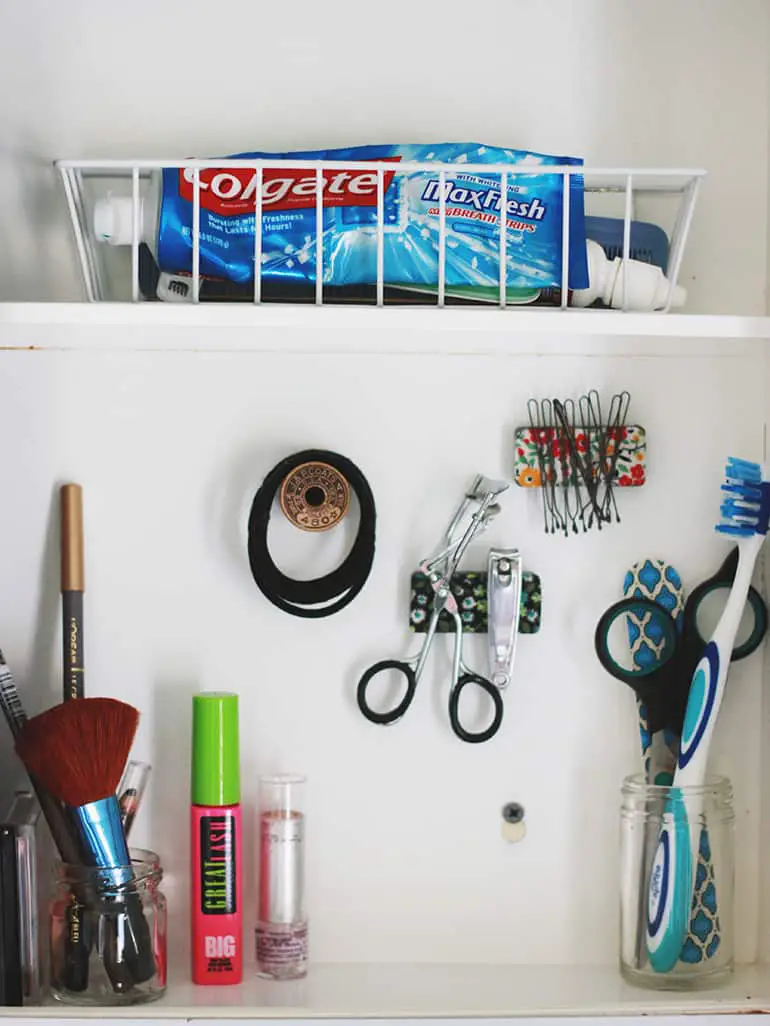 Under Cabinet Storage – Even more storage under the sink. This really takes advantage of all the space. I would put my makeup remover wipes and face soap here where I could easily access it but not have to look at it on my counters.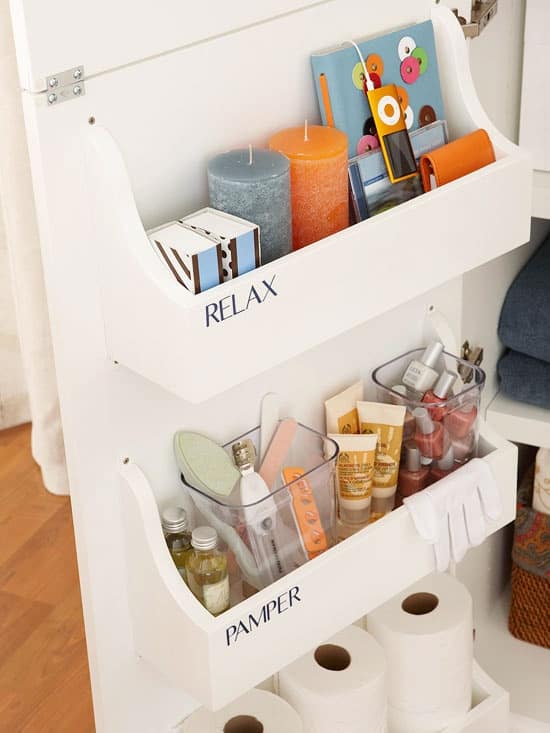 These cubbies are great for small bathrooms for everyone to have their own space to keep organized.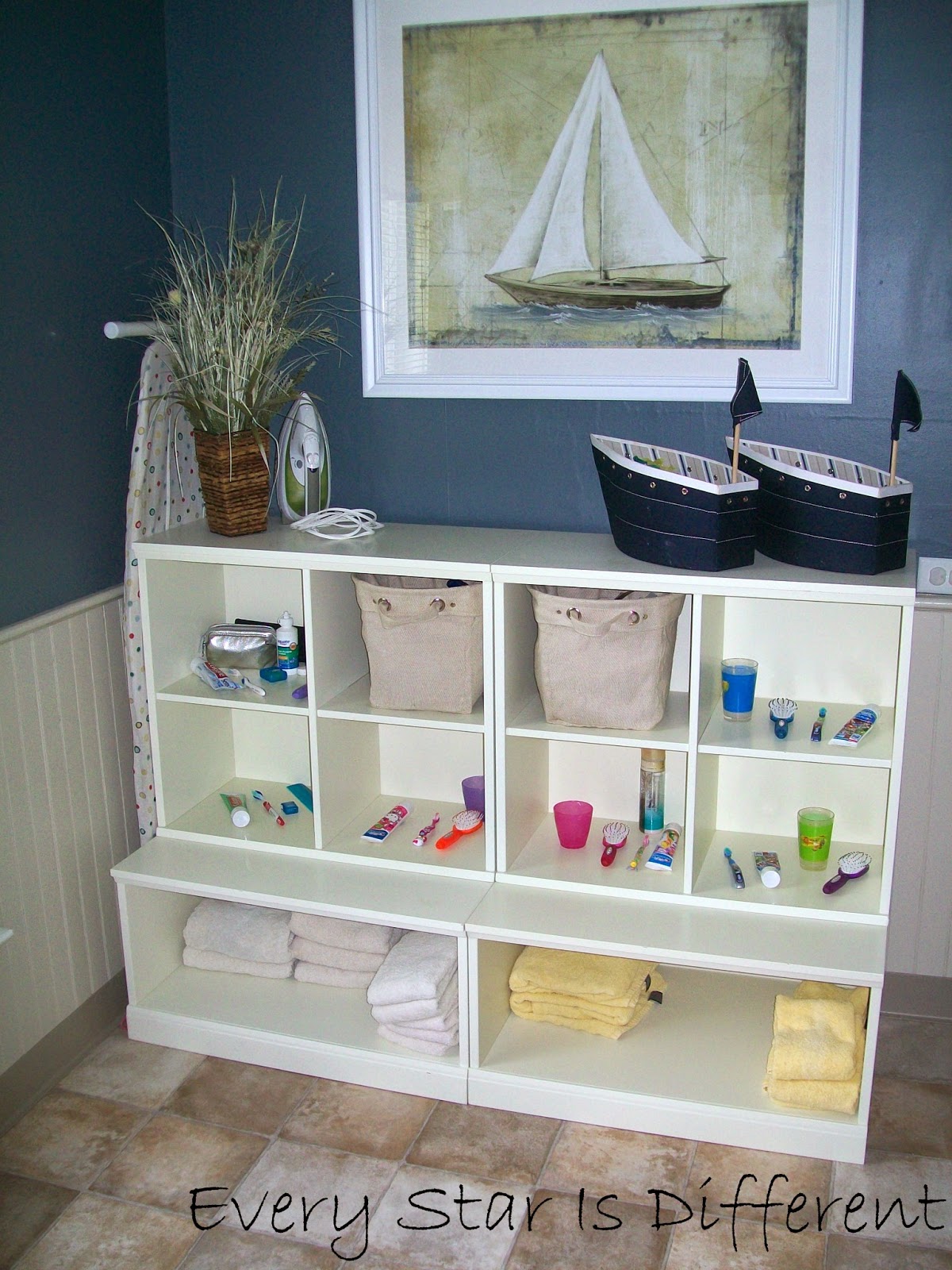 If you are looking some real help with organizing your home my friend Hilary from Pulling Curls has the answer.
The Organized Home helps those of us that want some hand-holding to get from a disorganized mess to a more peaceful home. I know that's what I want, so take a look at what is included in The Organized Home here. Plus take advantage of using the code SAVE10 to save 10% while it lasts.
Do you have a favorite bathroom storage hack? I like to continue to add to my list. Anything to make it easier and faster to get ready is wonderful. We all need as much sleep as possible.
Related Posts You Will Love:
How to Organize Paper Clutter Once and For All
Like it? Pin it.