When paper clutter piles up I get paralyzed and don't even know where to start. Have you ever missed an appointment or social event and then later find the reminder or invite in a pile of paper work that is out of control? This is when I knew if had to figure out how to organize paper clutter before I miss other events.
I like to motivate myself by learning from others how they take care of paperwork. My sisters and I always have at least one pile of paper on our kitchen counters. I'll show you how I finally organized the paper clutter in my kitchen.
Here are some of the ways to handle paper clutter so it isn't growing into a mess all over your counter.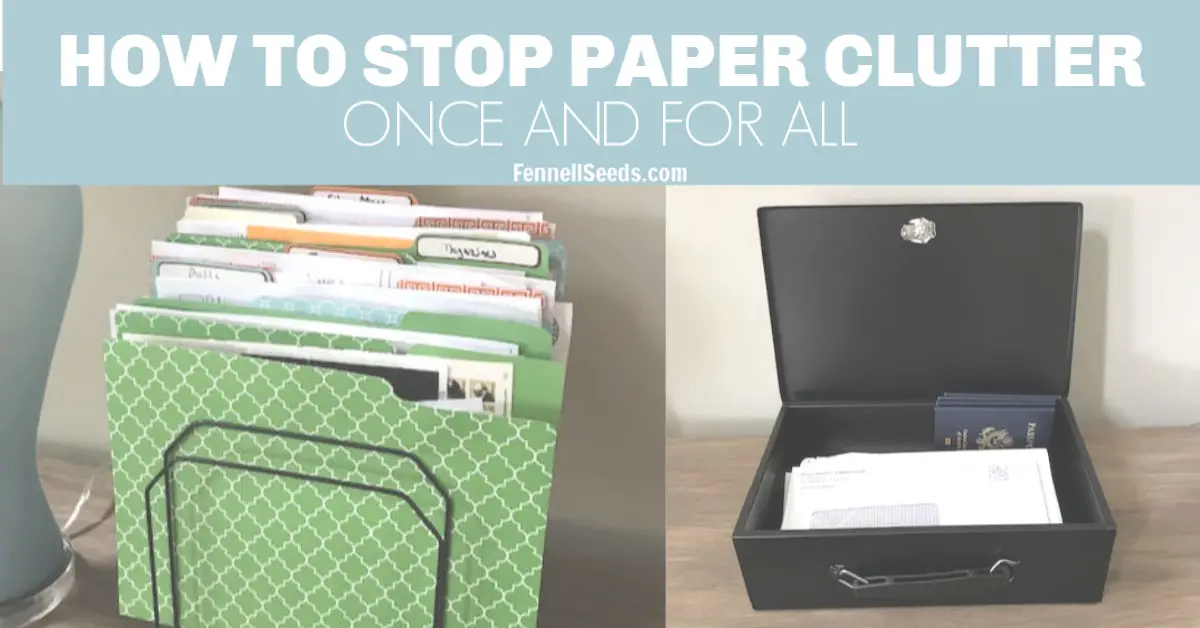 How to stop paper clutter (or at least contain it!)
1. Designated Paper Spot
Set up one spot and one spot only for the papers you do need to keep or need to take care of at another time. It has helped me that there is a certain grout line on my counter top that I do not allow my paper to go over.
2. Don't Stop
Don't set the stack of mail down until you throw away the junk mail. Set up a station close to your door with a shredder, recycle bin and trash so you aren't tempted to set down the whole pile. Make this an easy habit!
3. Go Paperless
Sign up for paperless billing and get off the junk mail lists. This means you need to organize your email account with folders for Bills Due so you don't lose the emails. Plus, contact the Direct Marketing Association here to get off the junk mail list.
4. File System
There will be some paper that you need to keep. Find the system that works best for you. Whether it is file folders or a file cabinet or a binder. If it can fit in your cabinet that is a bonus. I'l show you my system below.
If you are looking some real help with organizing your home my friend Hilary from Pulling Curls has the answer. The Organized Home helps you to reduce clutter and clean less. That's what we all want, more time, so take a look at what is included in The Organized Home Here.
How I Personally Deal With Paper Clutter 
File Folders
This completely changed how I organized my paper work. I can quickly file any coupons or receipts that come in the door with me.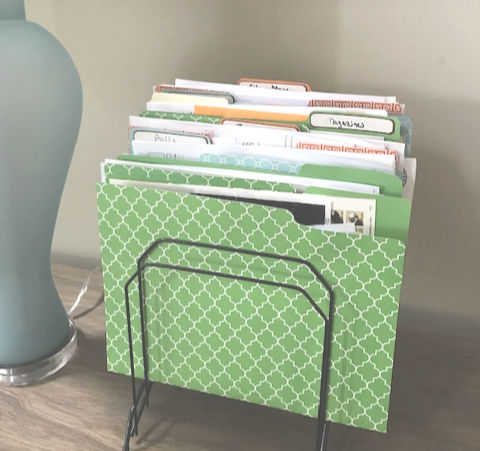 You can customize it to work for your own family. I recommend you fill out some labels with what you know you will need, bills, coupons, receipts and leave some blank and as you start using this system you will realize what categories are best for your life.
I even throw all my bills in the first file. I turn some of them long-way up so I can see the corner with the return address so I can see the bill and know that is an important one. This still gets them off my counter.
This is the file rack I purchased because I like to see my pretty file folders. There are so many cute file folders available now, I love this hanging file organizer too. Office supplies are so fun.
Fire Box for Difficult to Replace Paperwork
Passports, birth certificates, car titles are all documents that are not easy to replace. I feel much more secure now that we have a fire safe box. This Fire Safe Box is similar to mine.
Keep your box in a hidden spot. Easy to access but not where anyone would easily find it.
We happen to live in an area where we evacuate frequently for hurricanes. Having a box that is easy to grab makes it really easy to throw in the car while we are packing.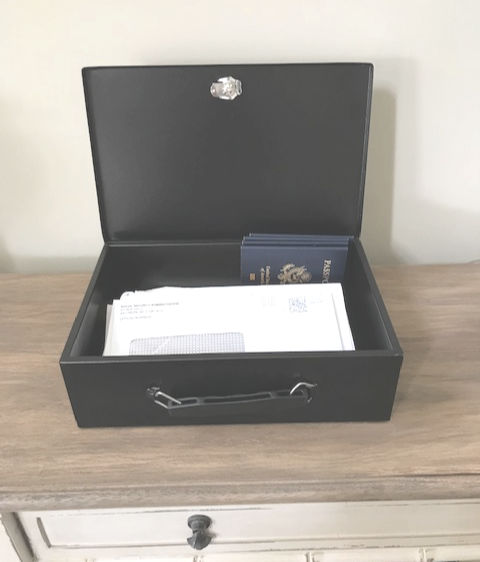 This will be useful if you live in areas with other natural disasters such as forest fires or even tornadoes.
How Often To Deal With Paper Work
There are two steps to organizing paper work. One is taking care of the daily pile that comes in with the mail and school folders and the second is taking care of the bigger items like bills.
Every Day – every day when the mail comes into your house you must get in the habit to stand by the recycle/trash and deal with the junk mail. Then file the rest into your file system.
Twice a Month – Pay bills. I open the bill folder plus my email bill folder and pay the bills twice a month.
Organized Paper Work
This system has really worked well in our house. I can contain the papers and easily find what we need. Let me know if it works for you.
Other posts you will enjoy:
8 Easy Ways to Organize Your Pantry
8 Ridiculously Easy Toy Organization Hacks
Like it? Pin it.