Do you ever think, "if I trip over one more backpack on the floor I am going to freak out"? I wish so badly that we had a mud room. It seems that if I had a mudroom everything would be magically organized. We need a space for backpack storage in our house so I have turned to the internet to brainstorm ideas.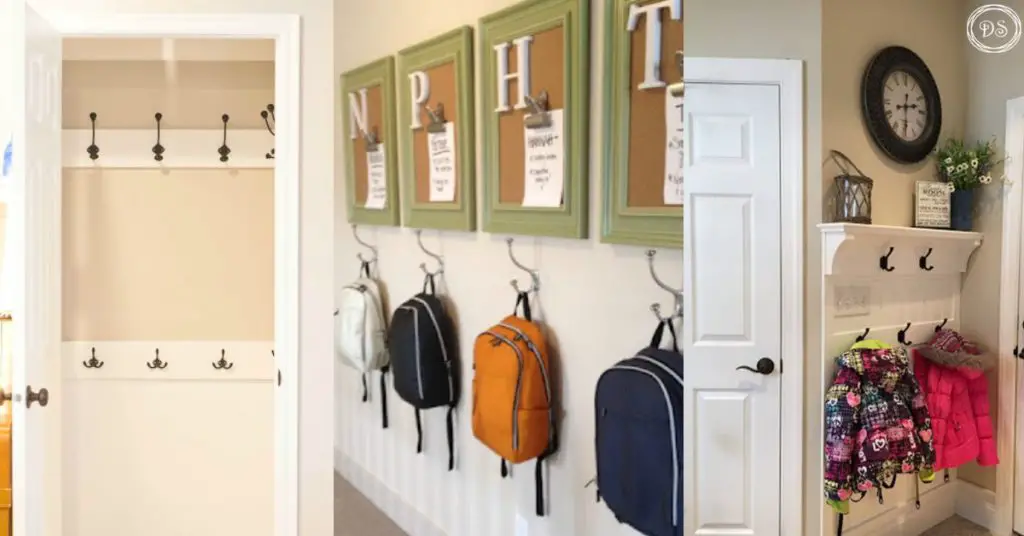 There are so many creative ideas for using small spaces in your home. I am going to create our own area using a mix of all of these ideas.
Backpack Storage Ideas
1. Such great use of a small wall right when you enter into the house. It looks like its own piece of furniture withe the molding and beadboard on the back. I love that the light switches blend right in with it and there are hooks on 2 levels.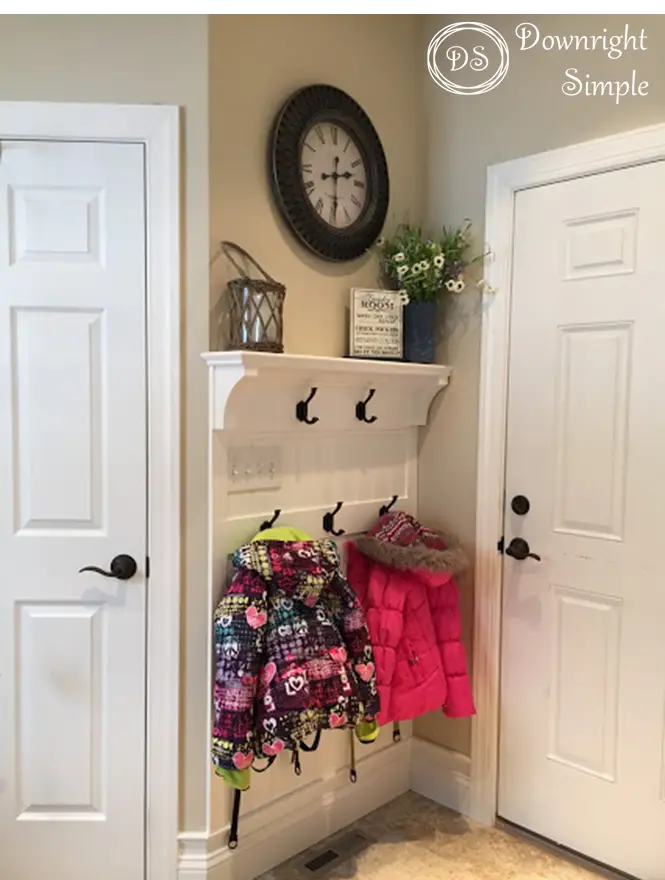 via Downright Simple
2. I love the idea of a cork board for all the school papers. I would even put up each kids sports schedule so they can keep track of all of their practices. Also, It would be good for reminders to not forget their lunch.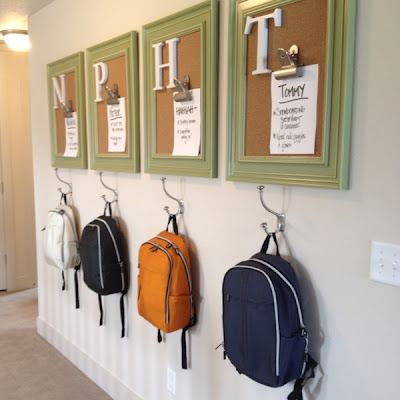 3. Let's use the garage. Brilliant! Keep the stinky dirty shoes outside. Plus it is easy to put away the out of season sports equipment or snow gear in tubs and store up high.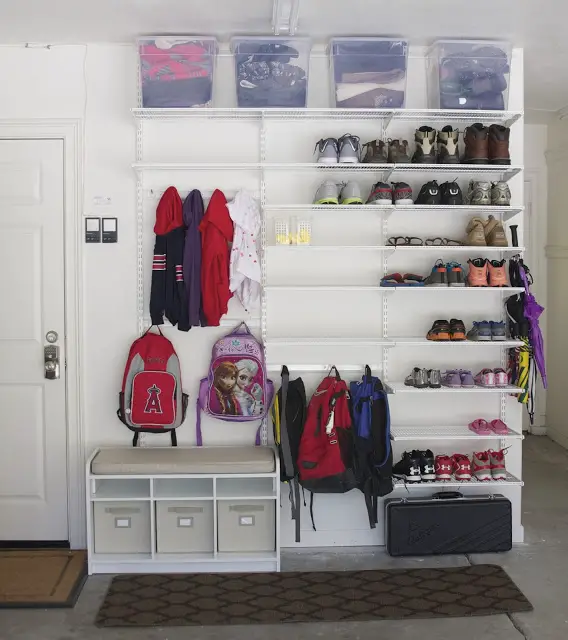 via 11 Magnolia Lane
4. What a perfect little nook for backpack storage. In our house it is just a pile of things on the floor so something simple like this can make a huge difference.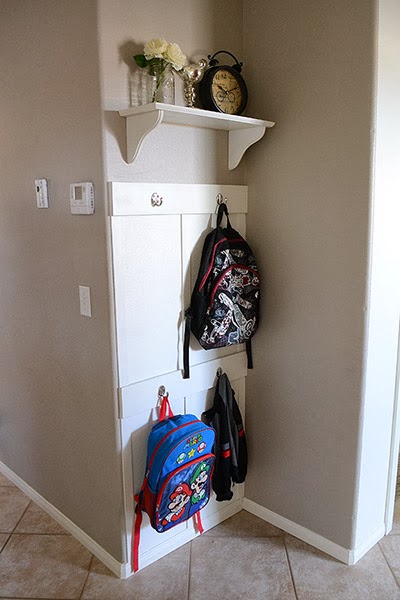 via For Every Mom
5. The idea of completely reconfiguring the coat closet can be a great idea. It makes the closet into your own mini-mudroom. I would have to find a place for some of our coats because it could be a mess if you have too many in there. The good thing is that the kids can hang up their own jackets and bags with no excuse.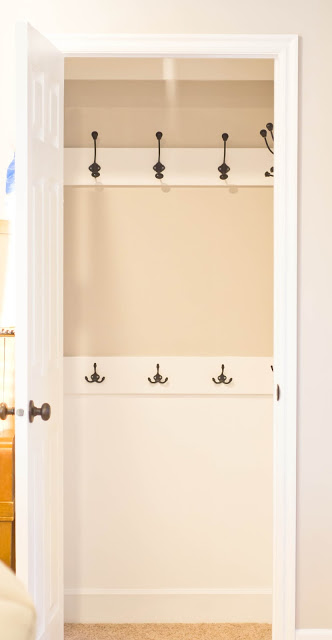 6. The built-in bench in this corner would be great for the kids to sit on to put on their shoes. I would add a custom cushion on top.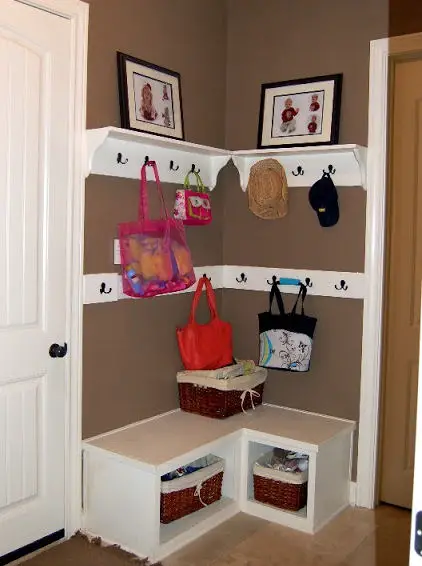 7. I love the size of this piece of furniture. Plus you can move it with you or to another area in your house. The hooks are on the side so you can slide in the backpack. The link takes you to plans to make this yourself.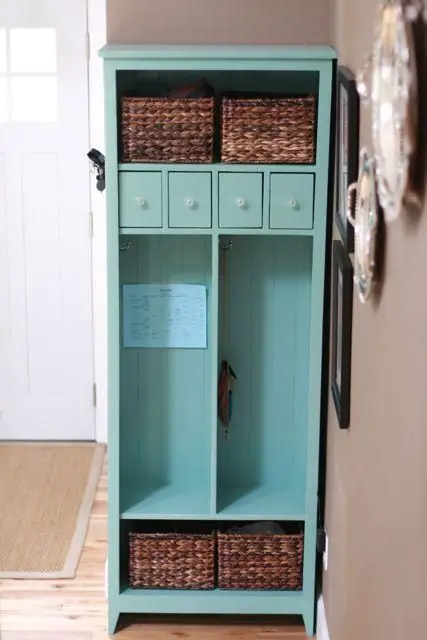 via Ana White
8. This is how I would redo my coat closet. I do like some space for coats on hangers. I had never thought to separate a spot for shoes and backpacks on the back wall until I saw this picture.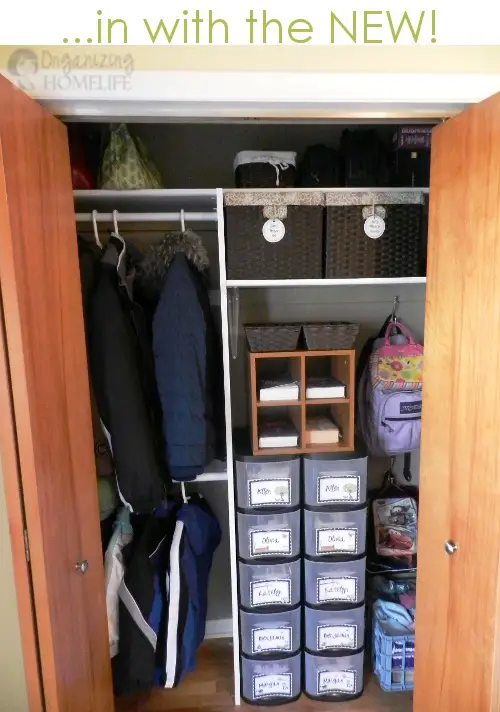 9.The show stopper here is the big poster of the kids. I want to do this somewhere in my house. The molding behind the backpacks and hooks is definitely what I want to add to our backpack storage spot.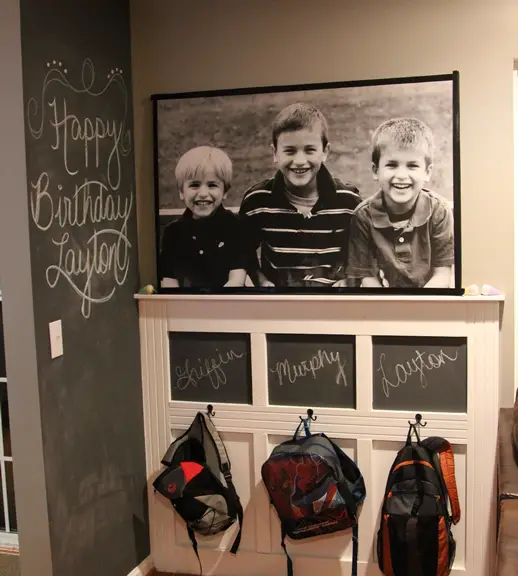 via I'm Bat Mom
If you are looking some real help with organizing your home my friend Hilary from Pulling Curls has the answer.
The Organized Home helps those of us that want some hand-holding to get from a disorganized mess to a more peaceful home. I know that's what I want, so take a look at what is included in The Organized Home here.
All of these spaces are fun to look at and would keep our kids backpacks off the floor. I'm sure my husband will jump right on board with me adding this to his to-do list. The list is growing with a mom desk too.
Want some other ideas for organizing your home?
20 Brilliant Home Command Centers for Busy Moms
8 Ridiculously Easy Toy Organization Hacks You'll Wish You'd Known Sooner
8 Easy Ways To Organize Your Pantry
Like it? Pin it!