Ready to reclaim your kitchen table for its rightful purpose? If so, you'll want to browse these 20 brilliant homework stations for your kids and get to work creating your own!
Having a dedicated place to work on projects and school work doesn't need to be expensive. In this collection, you'll find creative DIY solutions to fit all budgets. Many times you can shop your own home and find items to repurpose and upcycle.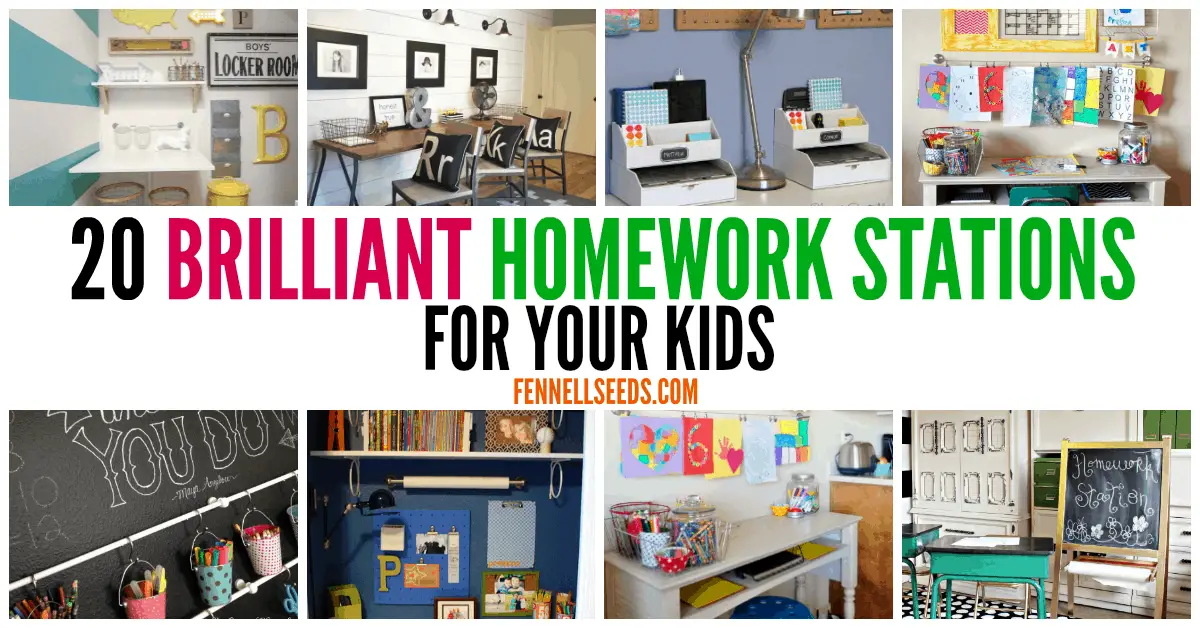 You'll find organizational strategies for school, art and crafts supplies, as well as ways to incorporate chalkboards, schedules and calendars into your homework station design.
From closets to window nooks, from movable stations to playroom makeovers, you'll find inspiration to create the perfect homework space for your kids.
20+ Genius Homework Stations
This is a creative use of a little nook in a kitchen with a chalkboard painted wall as the focal point. The chalkboard is a handy use of the space because you can not only write on it, but attach rods to it for hanging small bins to contain pencils and other school supplies. Attach small shelves to hold larger bins. Creative use of a small space!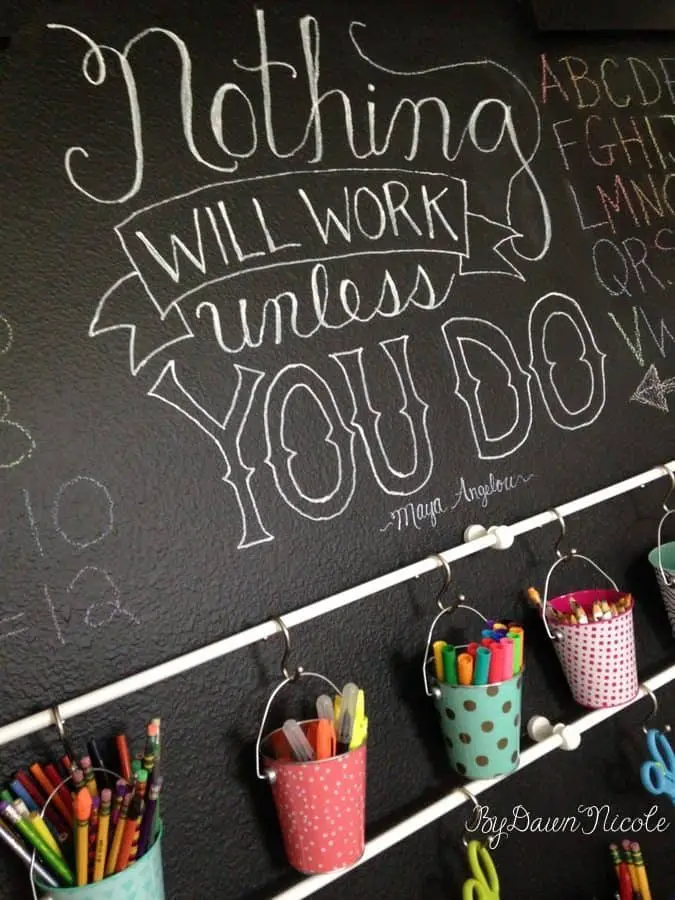 Kitchen Nook Homework Command Center by By Dawn Nicole
If your kitchen table is where the homework gets done, consider using the side of your fridge as a command center for all things school-related. With magnetic and/or adhesive holders you can easily attach pouches, whiteboards, and mesh cups and holders to contain writing utensils, paper pads, staplers, paper clips, and the kids ever-changing schedules. Super handy!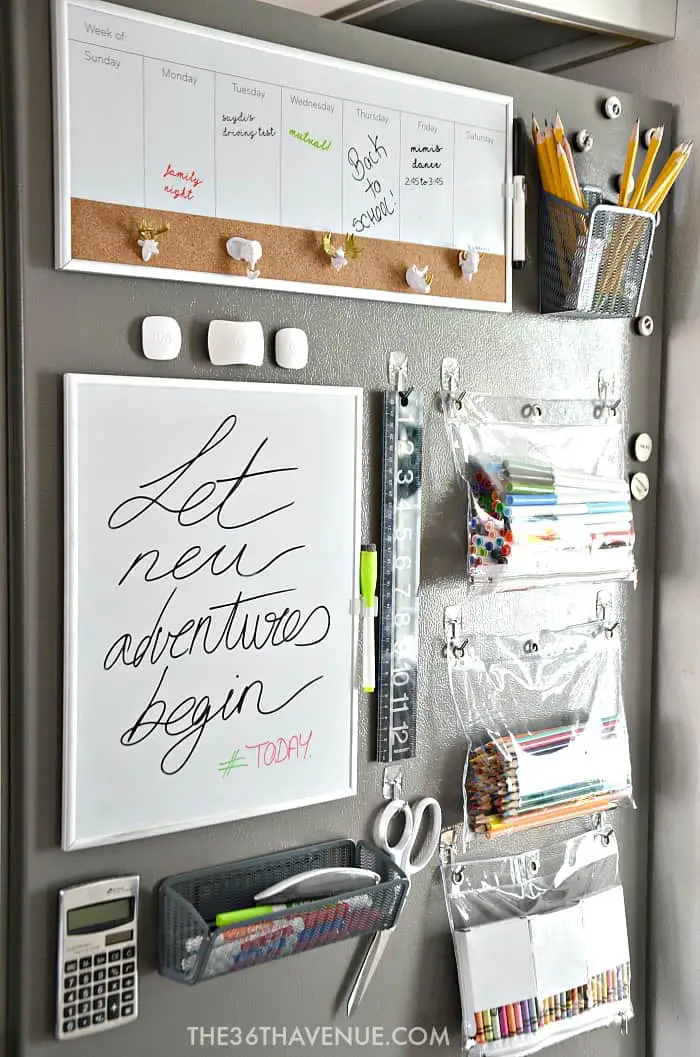 Refrigerator Homework Command Center by The 36th Avenue
Repurpose an art station desk into a homework station as your kids get older by adding desk accessories and labels for schoolwork functionality. Use desk organizers to keep things handy so kids can easily and quickly find what they need to stay on task. Label the drawers, too, and use dividers and bins within the drawers to keep them organized.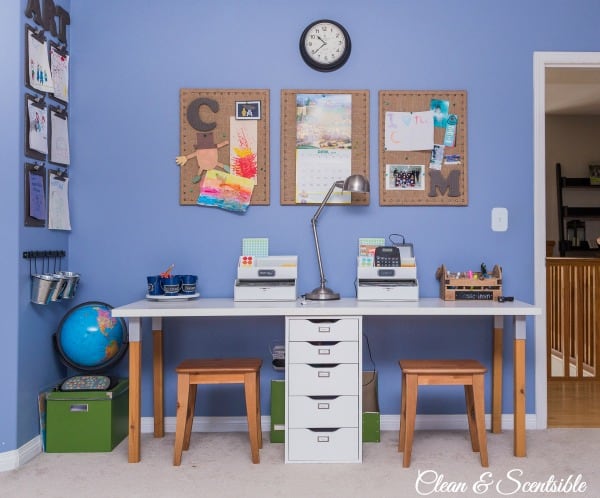 Kids Homework Station by Clean And Scentsible
If you can manage to use closet space in your kids room for a cubby homework zone, you can create the ultimate retreat just for them! Add shelving for upper storage and a longer shelf to use as a desk surface. Add bins and mesh baskets to hold papers, folders, pencils and other supplies. Add a pegboard to hang items on for easy reach. Paint it in colors that your child loves so he or she will use this little work space nook!
The Ultimate Kids Study Zone by I Heart Organizing
If your homework station needs to work with your existing decor and you don't want primary colors clashing with a more neutral color scheme, then go minimalist. Work the desk, chairs, and lighting into your current decor so that it blends seamlessly yet provides the functionality your kids need to get their work done. Personalize each chair with pillows or artwork so they'll know their assigned seat!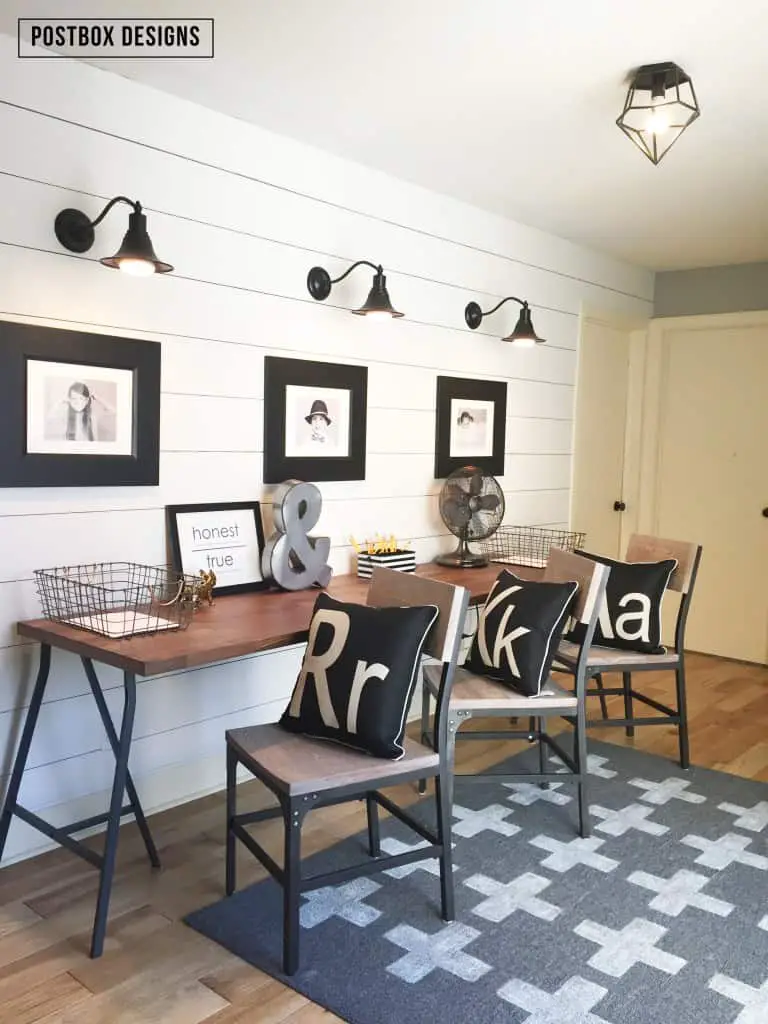 One Room Homework Area by Post Box Designs
This IKEA wall-mounted desk is a great idea when you have minimal wall space to work with. Attach it to your wall, add a chair, add a few baskets and organizing bins and you're set!Kids IKEA Homework Station by Repurpose And Upcycle
Your wee one needs his or her own workstation, too! Small buckets of crayons, markers and other tools for the toddler get organized on this handy pegboard that hangs above a small desk. Add a fun seat and let your little one go to work.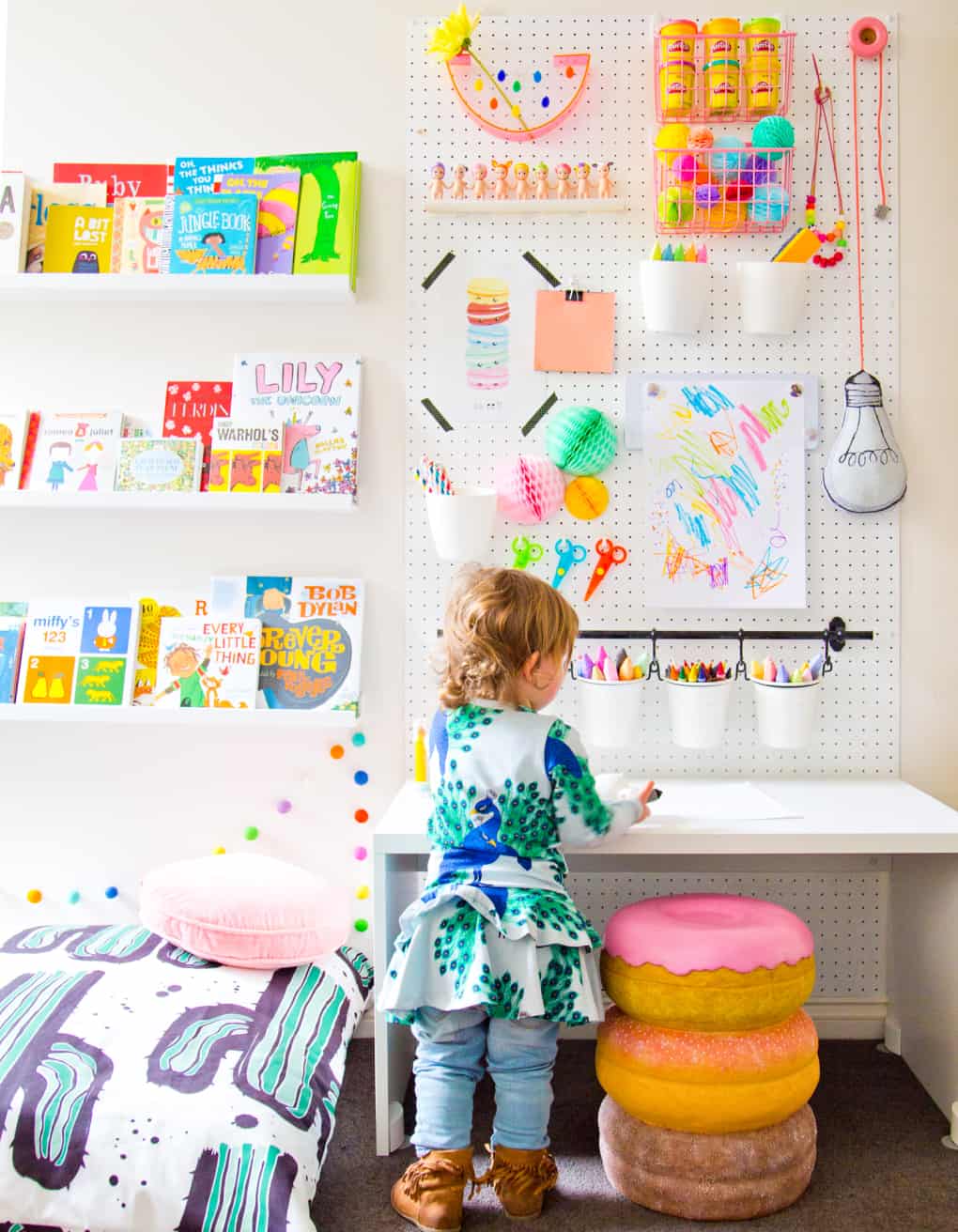 Craft Corner For Toddlers by Claire Collected
Sometimes all you need is a small cabinet with drawers for each child's school supplies. Each can have his or her own cabinet located near their favorite homework spot, keeping it simple and budget-friendly.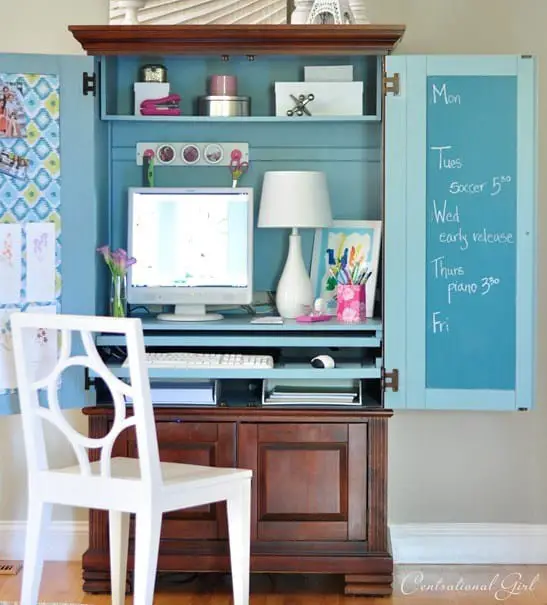 Small Cabinet Homework Organization by Centsational Style
Turn any area of any room into a homework station with retro school desks. These open-top desks can keep school supplies organized and out of sight when not in use. Add a magazine rack on a nearby wall and hang storage cups on it for additional organization.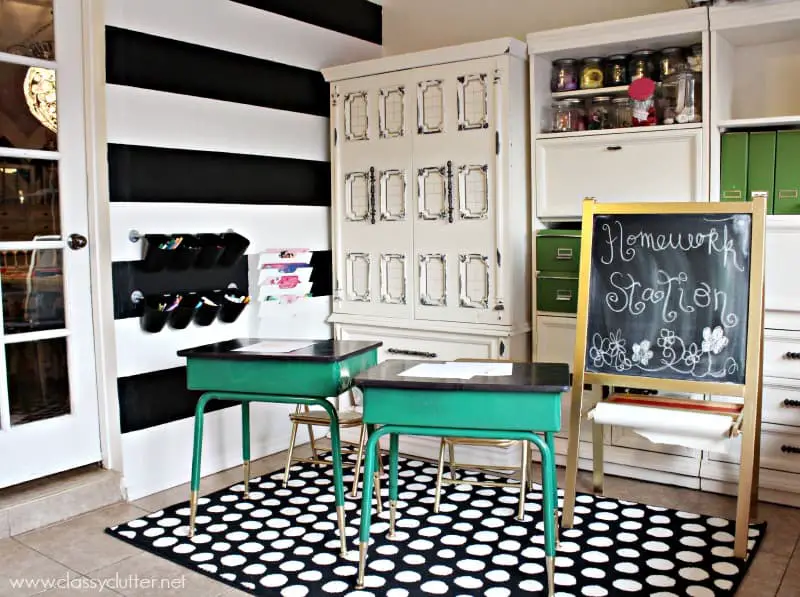 Retro School Desks Homework Station by Classy Clutter
You can take any small corner or wall in your home and turn it into an awesome homework station with this pull-down wall cabinet that's easy to install. Tons of nooks and crannies to organize school supplies. Even comes with a chalkboard as one of the sections of the unit. Compact and cute!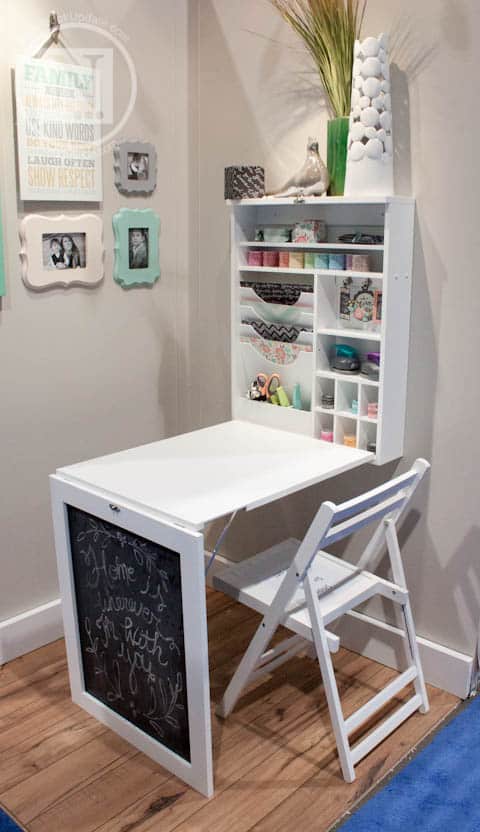 Compact Fold Down Table by Scrapbook Update
Turn a closet into a homework station by removing all shelving and rods and painting it in kid-friendly colors. Install shelving and add a small desk. If there's room, add a comfy chair for a reading nook. You could even add chalkboard or paint a wall with chalk paint.
Closet Turned Homework Station by Petite Party Studio
Here's a sweet art and homework station utilizing some free wall space in the kitchen area. Recycle an old desk and give it a new coat of paint to match your decor. Above and around the desk, hang clipboards that contain the kids homework and add a hanging line to display kids artwork.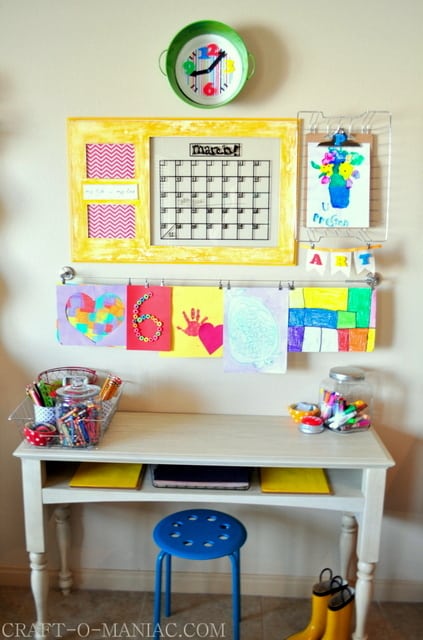 DIY Art Art Homework Station by Craft-O-Matic
Keep it budget-friendly for your kids when they're just starting school and need a comfy place to work on their projects. If you already have a home office, consider giving your little one his or her own corner, complete with colorful bins and basket for easy organization. When they're in the family office space, they'll learn that it's time to get to work!Family Work Stations by A Crafty Spoonful
Choose a window to attach a DIY workspace shelf under and you have an instant work surface! All you need is a piece of wood, paint, and shelf brackets. Easy!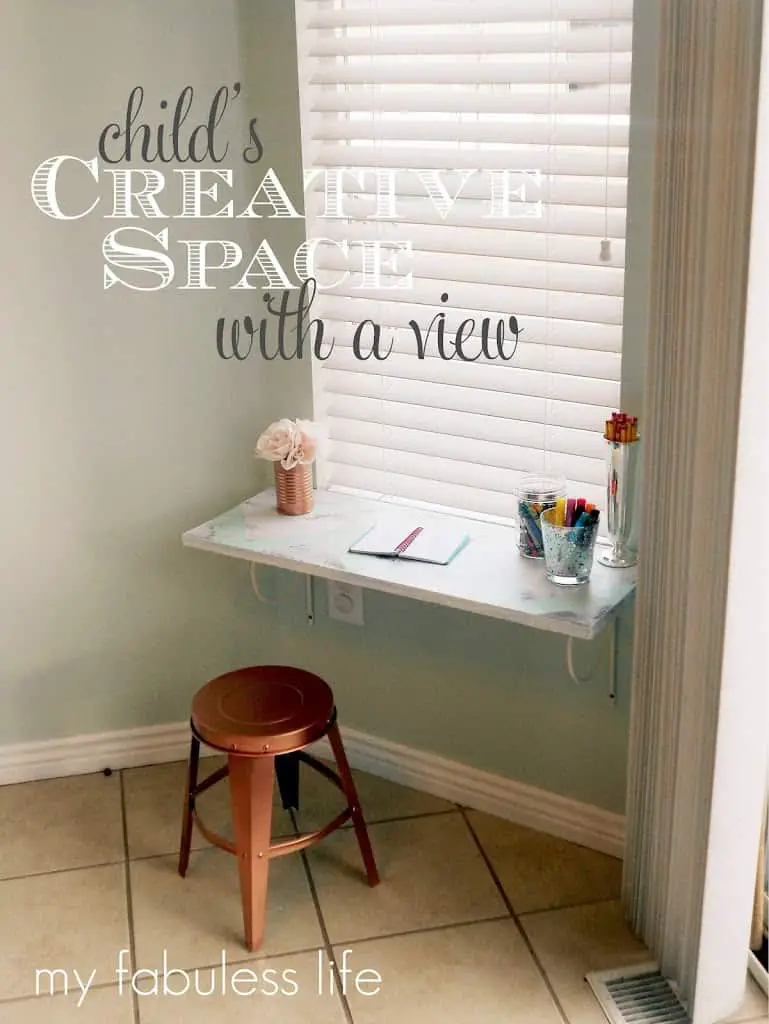 Child's Office With A View by My Fabuless Life
When space is limited, look for small minimalistic desks that will fit your space. Use inexpensive baskets to organize school supplies and use magazine holders to house notebooks and folders. Add a painted bulletin board above the desk for artwork, photos and other items.
Budget Friendly Homework Station by The DIY Mommy
Here's a creative idea for a portable study carrel. Create a tri-fold study station made from foam display board. If you have more than one child, personalize each station. Keep these out of the way when not in use by folding them flat for easy storage.
DIY Portable Homework Study Station by Mom Advice
To keep personal space issues at bay with two kids, use two IKEA dining tables pushed together. Each child now has their own space. Give them their own organization trays, boxes, and bins to keep the harmony.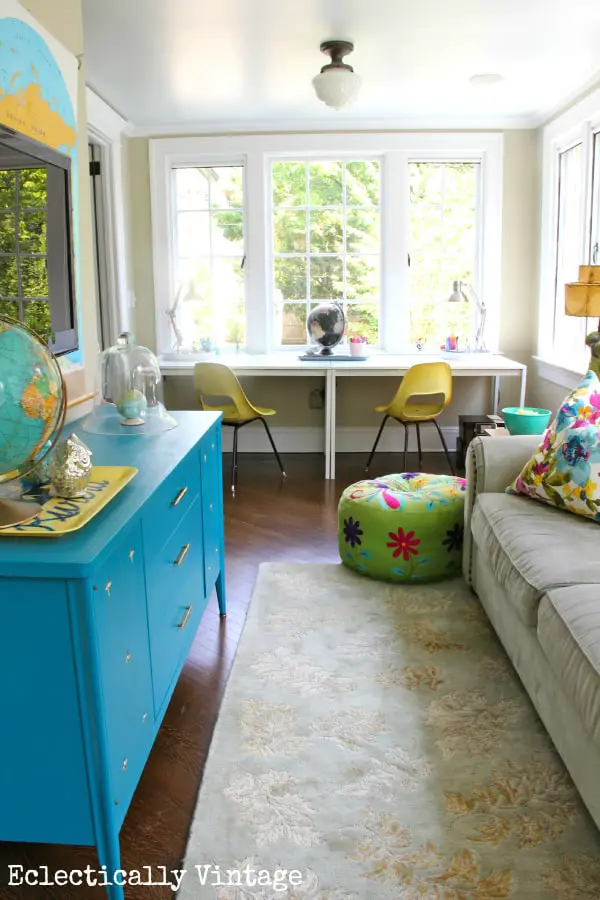 Multitasking Room by Kelly Elko
Two filing cabinets and a wood plank are all you need to create this awesome homework station desk area. Add shelving and a cloth covered bulletin board for storage, pinnable items and artwork.How To Make A Desk by North Story
Consider using a desktop carousel to corral all those pens, highlighters, and markers. If you don't have a dedicated table, this carousel can move to whatever surface it needs to be on. Decorative shoe boxes can also house supplies and are easily moved, as well.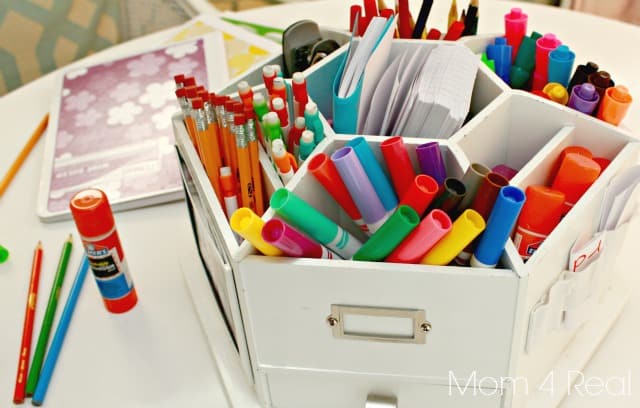 Carousel Homework Station by Mom 4 Real
Using a cart, storage baskets and chalkboard labels, this unit comes together quickly to keep school and art supplies organized and contained. This is a great idea if you have a dedicated desk but no room for additional cabinets or wall space, or if your child moves from table to table or room to room. The cart can roll along, too!


Homework Station On Wheels by Design Improvised
Other Posts You Will Love:
Backpack Storage Ideas For When You Don't Have A Mudroom
Toy Organization Hacks You Will Wish You Had Known Sooner
Like it? Pin it.