Do you have the baby book your mother filled in for you? I do because I am the first-born in my family. My mom says she is sorry to my younger siblings that the books are a little scattered and sometimes blank. When my babies were born I knew I was the type to fill out the first few pages but then forget the rest so I looked for alternatives to the traditional baby memory book.
I had no idea there were so many great ideas. I love creative mom entrepreneurs. They help make our lives as moms so much easier. One of my dreams in life is to come up with a great new baby product…I have a million ideas.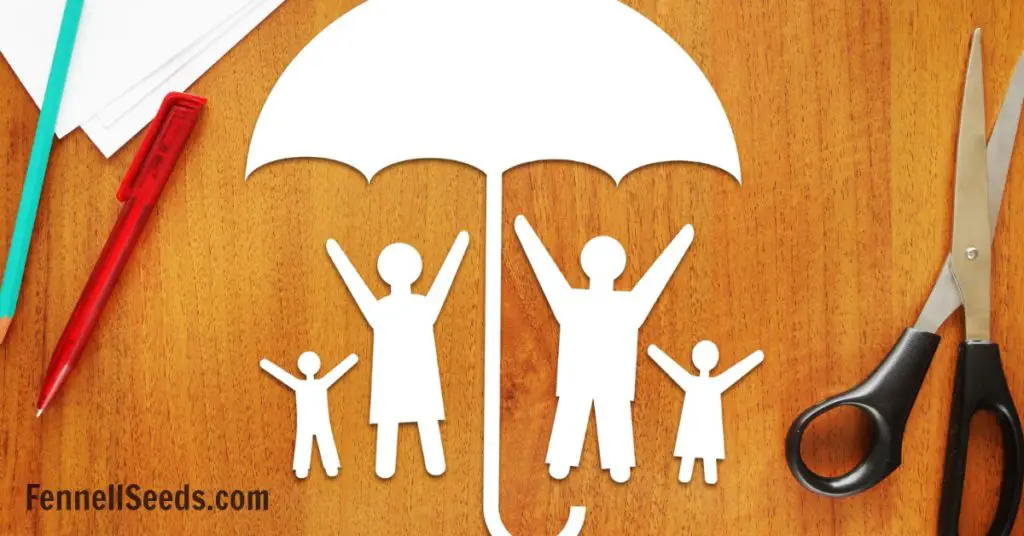 7 Alternatives to the Traditional Baby Memory Book
1.Baby Keepsake Box – These boxes are perfect for lots of items you will want to keep. I love how there is a little compartment for all the baby items you collect in the first year. I didn't know what to do with the tiny hat and shirt my baby had on in the hospital. This keepsake box gives everything a spot.
2. Calendar – For those that don't want to spend a lot of time writing a calendar is perfect. There are stickers for events such as First Smile, or First tooth and you just place them on the day that it happened. It is easy to look back and see when all the big milestones happened for your baby and you didn't even have to write them down. There is also a small spot on each month to write any special memories.
3. Blog – I have keeps a different personal blog since my oldest twins were born. If you love to write like I do then this is a great way to tell stories and have detailed memories of your day-to-day life with your little ones. Each year I print out the blog into a book and I have several copies made. One for each child and one for each grandmother and I gift it to them for Christmas. I can't tell you how much my kids enjoy looking through the memories. Plus, I am so grateful to read back at what it was actually like to have twin during their first year of life because I think my brain blocked out the memories so that I would want to have another baby. 🙂
My tip for keeping just a personal blog is to use a free platform like Blogger. It takes less than 5 mins to get a blog started. Then once a year I use a program like Blog2Print and it automatically loads all your blog posts into a book format and you can edit it a little if you want and then order.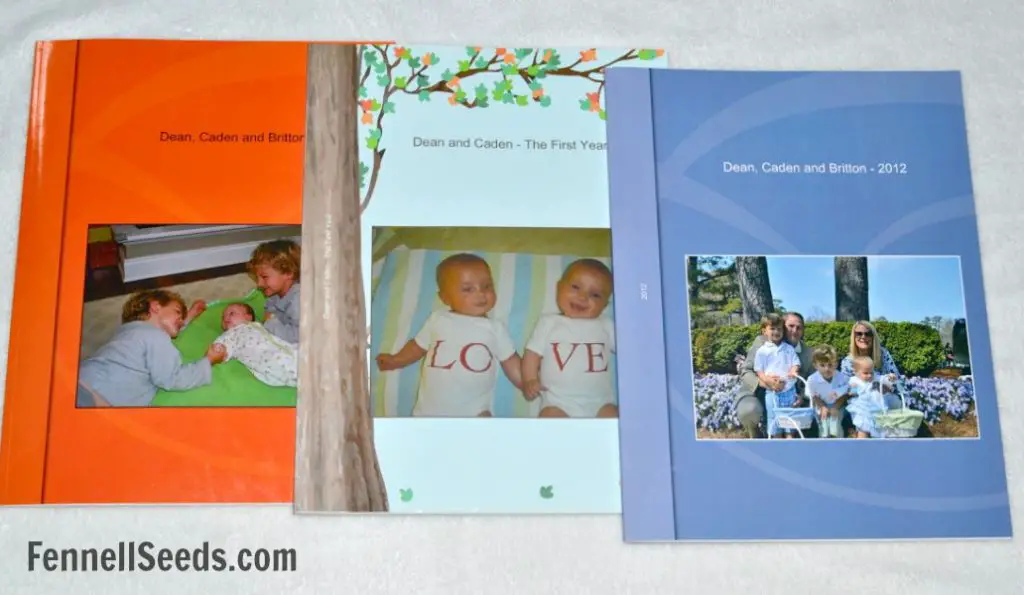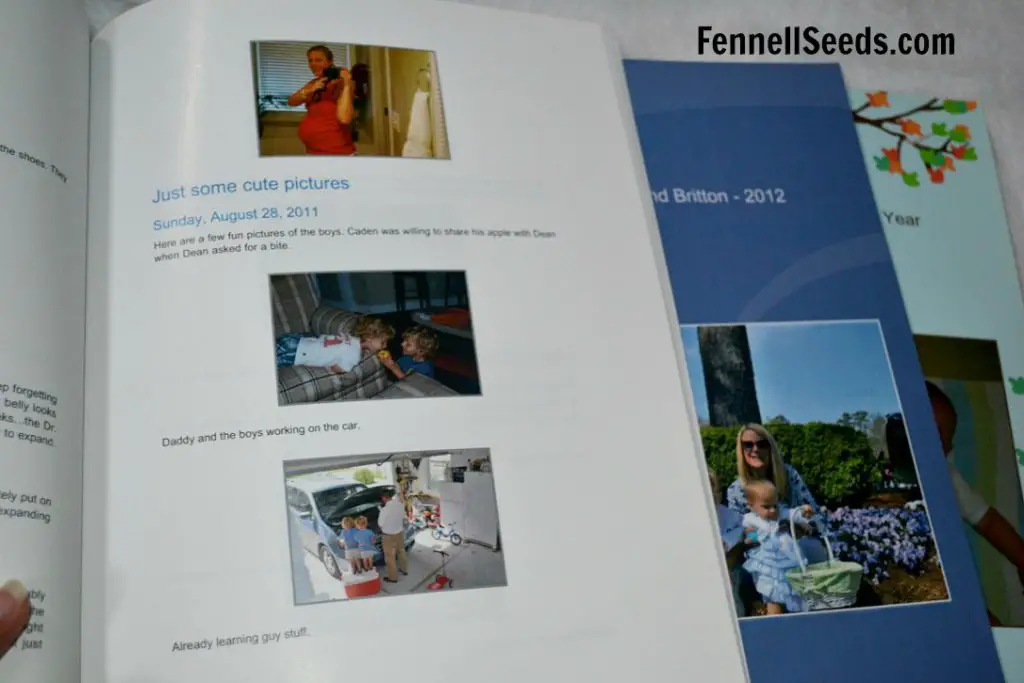 4. Memory Box – This is a super easy way to keep all the baby favorites together. I have a box in each closet to put the special items that I just can't give away. Here is a super cute one that The Realistic Mama put together for her baby.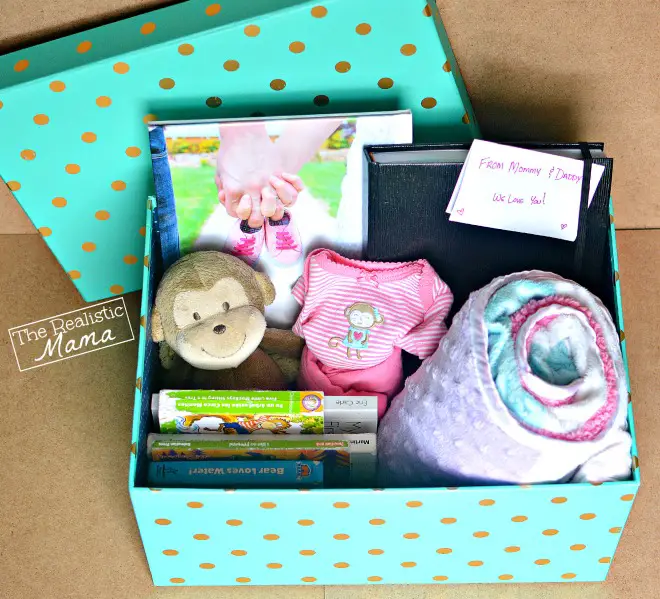 5. Apps on your phone – I can see the market for these apps becoming huge. We may not be able to  get to the baby book later to write down the milestone but we always have our phones near us. Plus it is easier to add pictures directly into the app versus having to print out a photo for a book. Here is a list of apps: Kid Capsule, Moment Garden, Sweet Baby and My Own Little Story. Most of these even have the option to print them out into a book.
6. Shadow Box – Keep your newborn items displayed in their room. I find it so sweet to look at these heirloom booties that my mother and my daughter both wore as babies. These cute boxes are easy to find in many sizes online.
7. Modern Baby Memory Books – Here is a list of some books that are not the typical baby memory books.
How ever you choose to keep your memories just be sure to do it. It is so fun to go back and relive all that you have been through nurturing your child. I also like to tell myself that my kids will be grateful for the record keeping but that remains to be seen. 🙂
Like it? Pin it!