When a baby is first born, starting from the very first days of their lives, their brains are being shaped and moulded. We all want to give our little ones the best start possible in life and a large part of that is supporting brain development in infants.
Stimulating your baby's brain growth may seem as though it's a daunting task, but it doesn't have to be complicated. In fact, it can be as simple as introducing a new routine.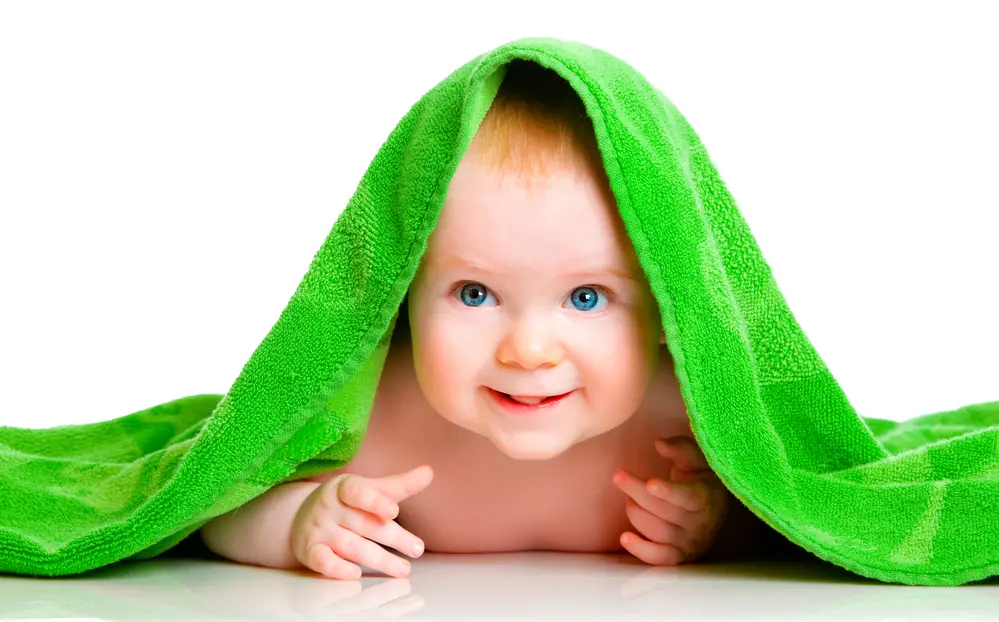 When your baby is exposed to an environment rich in sounds, smells, colors and movement, their brain pathways are stimulated allowing for connections to be made. In fact, babies who are stimulated often reach developmental milestones earlier than those who were not. They develop better coordination, keener senses and can develop a more positive self-image later in life.
There are several unique activities to stimulate brain growth in young babies, most are as simple as performing everyday tasks frequently.
Activities to Stimulate Brain Development in Infants
Touch
Simple touch has fantastic benefits when it comes to stimulating your baby's brain growth. Whether you are giving a baby massage, a quick snuggle or just burping your little one, simple touch can be beneficial to your baby's development.
Try different textures on your baby's skin. Use a soft blanket to lightly rub on their arm, then a nubby textured cloth. Go back and forth between textures so they feel the difference.
You can either learn to massage on your own or look for a baby massage class near you. I love classes with newborns not only to learn but to also make connections with other moms in the same boat as yourself. Great friendships are born in baby classes.
Eye Contact
Making eye contact with your baby is a simple way to encourage their brain development. When your little one looks at you and your respond by making eye contact, talking or smiling, this is how your baby learns to respond to you and others. Connecting with your child is a fantastic way to stimulate brain development in infants.
Related Post: 5 Actionable Strategies for Raising Smart Kids
Playtime
Simply playing a game of peekaboo with your baby can help their brains develop. This helps them to learn object permanence along with cause and effect. Essentially through playtime, you are teaching them that even when they can't see you, you are still close by, even when they are newborns.
Bath Time
A bath can provide a fantastic sensory experience for newborn babies. All the senses activated during a soothing bath, helps to boost your baby's brain. For a truly brain boosting experience, you can climb into the tub with them and maximize the skin to skin contact that is so important for babies.
Smells
Stimulate brain development in infants by introducing different scents to them. From rubbing lavender baby lotion on them after a bath to the smell of your freshly washed hair, different scents and smells play a big part in your baby's development.
This scented doll is a fun toy to introduce scents to your baby. I am a big advocate for safe sleep habits for babies so please don't leave this in the crib with your baby while they sleep.
Talk
Even when your little on is an infant you are helping them to develop their vocabulary by speaking to them. Babies often communicate in a variety of different ways from cooing to crying, this is what is called pre-language skills. The number of words a toddler knows is usually a result of how many words are spoken to and around them as they grow.
Simple Activities to Stimulate Baby's Brain
Build Trust – When you hold your babies, speak to and smile at them.
Rock – Rock your babies gently from side to side and sing or speak to them.
Make a Variety of Sounds – Snap your fingers, clap your hands and make other unusual sounds in different places around your baby.
Make Facial Expressions – Show your baby different facial expressions you can make.
Play Peekaboo – Gently play a game of peekaboo.
Show Your Baby a Mirror – This is something that can be done daily.
Give an Infant Massage – Starting from the feet, gently massage your little one, naming the body parts you are massaging as you go.
Cycle Their Legs – Slowly and gently move your baby's legs in a cycling motion. Soon your baby will be able to perform this motion on their own.
Stimulating the brain development in infants is an important part of having a new baby. Of course, most parents want their children to have the best start possible in life and will do anything to make that happen.
There are several simple ways to stimulate your new baby's brain and help them to grow. While it may seem like a complicated and daunting task at first, it can be as simple as gently cuddling, making eye contact, playing with them, bathing them, introducing them to new smells and talking to them.
Your baby is only a baby for a short period of time so many sure you are spending time engaging with them and supporting their brain development at every chance you get. Their future depends on it.
Related Posts:
5 Actionable Strategies for Raising Smart Kids
Game Changing Hacks For When Your Baby Won't Stop Crying
Like it? Pin it.