This past week we were on spring break and had a great time at the beach. Unfortunately the weather wasn't warm enough to be at the beach all day so we spent more time at the park than we normally do. Usually I can just let them run around at the park and I don't need to entertain but we were there every day for at least an hour so I had to get creative to keep it fun. My boys helped me come up with 4 favorite outdoor games.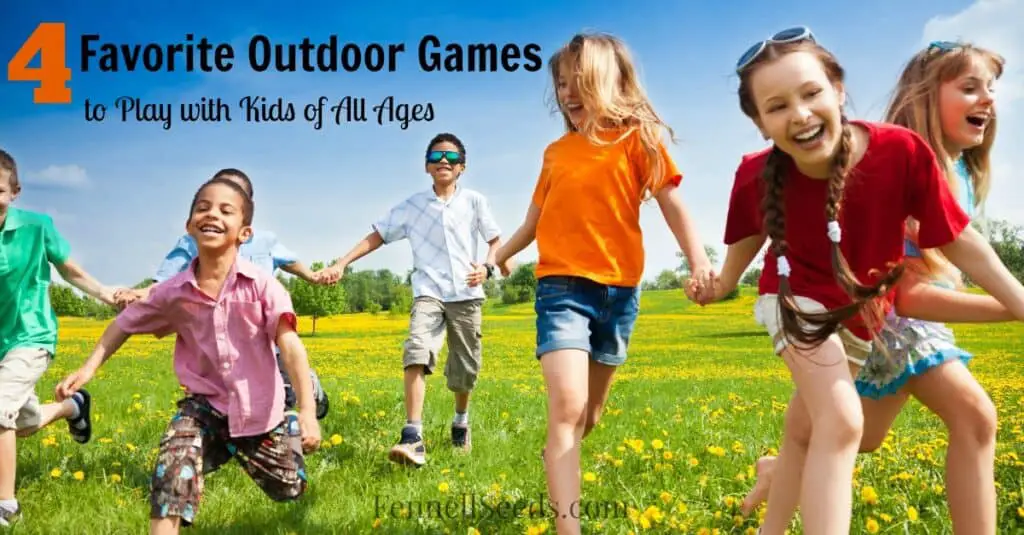 My boys actually taught me some of these games. They are 8 years old and they enjoyed them as well as my 4-year-old daughter. I did have to "help" her with some of them but it was still fun for all of them.
4 Favorite Outdoor Games to Play with Kids
4 Corners – My kids say they play this at soccer but you don't need any balls to play. We found posts using trees and playground structure and named each of them 1, 2, 3 and 4. One person stands in the middle and counts to 10. While they are counting, everyone else runs to a numbered spot. Then the person in the middle, while their eyes are still closed, calls out a number of the spot where they think someone may be standing. If anyone is in that spot then they are it and must count the next time. If there is no one in that spot then the person in the middle must count again.
This was fun even for me to play. My kids at first were very loud and obvious in which spot they were running to but once they saw me play they learned to be sneaky about the footsteps they were making. I would run towards the middle person pretty loud and then tip toe to my spot to try to confuse them.
Sardines – This game is similar to hide and seek but I think it is more fun. In this version one person hides while the rest of the group counts. We counted to twenty. Then everyone searches for the person hiding and when you find that person you hide with them in their spot. Everyone keeps hiding in that spot until there is one last person searching.
I loved that this changed up hide and seek. I am sure all mothers agree that the game is overused. Ha.
What time is it Mr. Fox? – I saw some other kids at a playground playing this a couple of months ago. One person stands about 30 feet from the other kids with their back turned towards the group. The group calls out to Mr. Fox, "What time is it?". Then the person who is Mr. Fox calls out a time such as 2 o'clock and the kids then take that many steps (2) or 4 if it is 4 o'clock. When they get close and ask the time, Mr Fox can call out "Midnight!" and turns around and chases the group back to the starting line and tries to tag someone who would then be the new Mr Fox.
Puppy on the Loose – This is a favorite of my 4-year-old. She learned it at school. It is essentially tag but one person is the dog owner. The other kids are lost puppies. The owner chases the puppies and when they are tagged they are now on a leash and they run with the owner to chase down the other puppies.
A new game you will see in parks:
GaGa Ball – This is an outdoor game that is played with a ball. You can find a GaGa Ball Pit at many parks these days. Check out GaGa Ball 101 – How to Play. We saw it played for the first time 3 years ago and since then have noticed several GaGa Ball Pits in several local parks. I love that it gets kids to interact quickly with other kids in the park.
Do you remember the show Supernanny? I used to love to watch it. One of the tips I remember is that if you are trying to get kids to play while you sit and do something else make sure you play a round or two with them first. Then you have a better chance of slowly backing out of the game and becoming an observer. Plus, it is easier to show them the rules of the game by doing it with them a couple of times. Then you can enjoy some time on the bench watching them.
These games helped me this week make all the time we spent at the park enjoyable for everyone. Darn that cool weather. 🙂 If you have any favorite games I should introduce to my kids please share!