This post may contain affiliate links. See my full disclosure here.
I woke up the first day of summer this year to one of my sons playing on his iPad. I said "Hey, I thought we were going to start off summer right with our chores?" and he said, "Already done, check out my bucket.". Whoa!! They still work!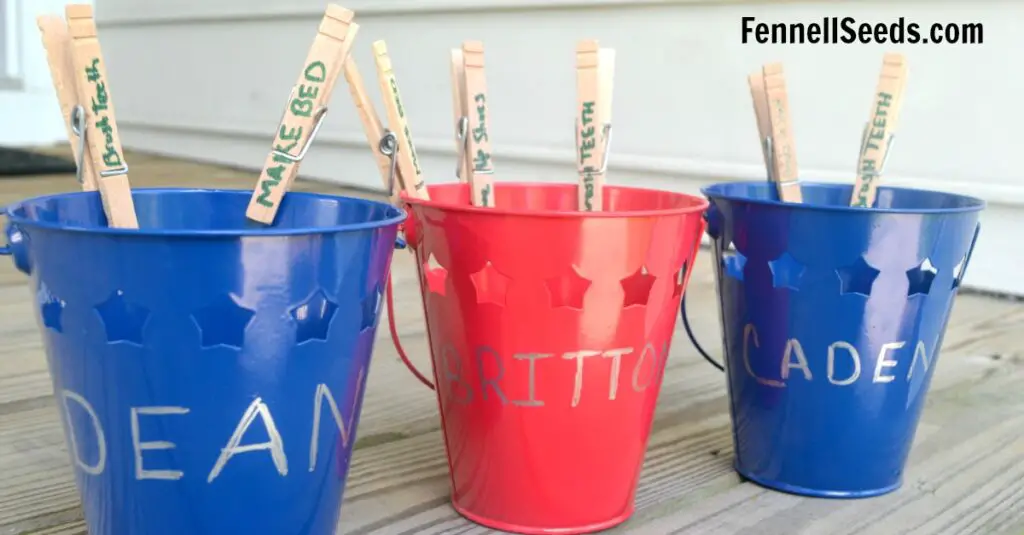 Last year I made these buckets the day before school was out and we used them most of the summer. They are a great visual reminder to the kids of what they need to do before we start our lazy summer day. I put them away during the school year. We don't do morning chores during the school year since we wake at 6:15 for the school bus at 6:50. That is way to early for me to even try to have them do chores as I can barely get myself out of bed much less them. 😉 I am so glad I remembered the buckets this summer.
I am just about the least crafty person you know. These things are so easy that even I can do it. I think the kids like to move the clothes pin off the sides and plop them into the bucket to show they are done. It is a satisfying sound to hear the pins hit the bottom of the bucket.
They have 3 chores that are mandatory every day:
brush teeth
brush hair
make bed
For the boys, I always add one chore plus one educational project, these vary between the following:
clean up room
vacuum downstairs
clean one room of baseboards with Magic Eraser
one page from cursive handwriting book
one math worksheet
10 mins of math game on ipad
dust a room
For Britton I have an easy chore such as:
line up shoes at garage door
clean up room
put books back on bookshelf
Here are your supplies:
 Bucket – I bought ours at the Dollar Tree but here is a cute one if you don't want to head to a store. Painted Bucket
Clothes Pins – once again at the Dollar Tree or craft store but here is a link.
Sharpie – Use a thin tip on the clothes pins.