Baby powder and talcum powder has a variety of uses for moisture wicking. While most people use the powder to absorb moisture inside shoes, on feet or to prevent chafing of skin that rubs together, one of the most common uses was for diapering babies to prevent diaper rash. You may have some baby powder inside your cabinet and wonder, does baby powder expire? 
There are many uses for baby powder. In my family we use it often in shoes to keep them from smelling and also take it to the beach to sprinkle some on legs and feet after a fun day to get the sand to easily brush off the sand before getting in the car.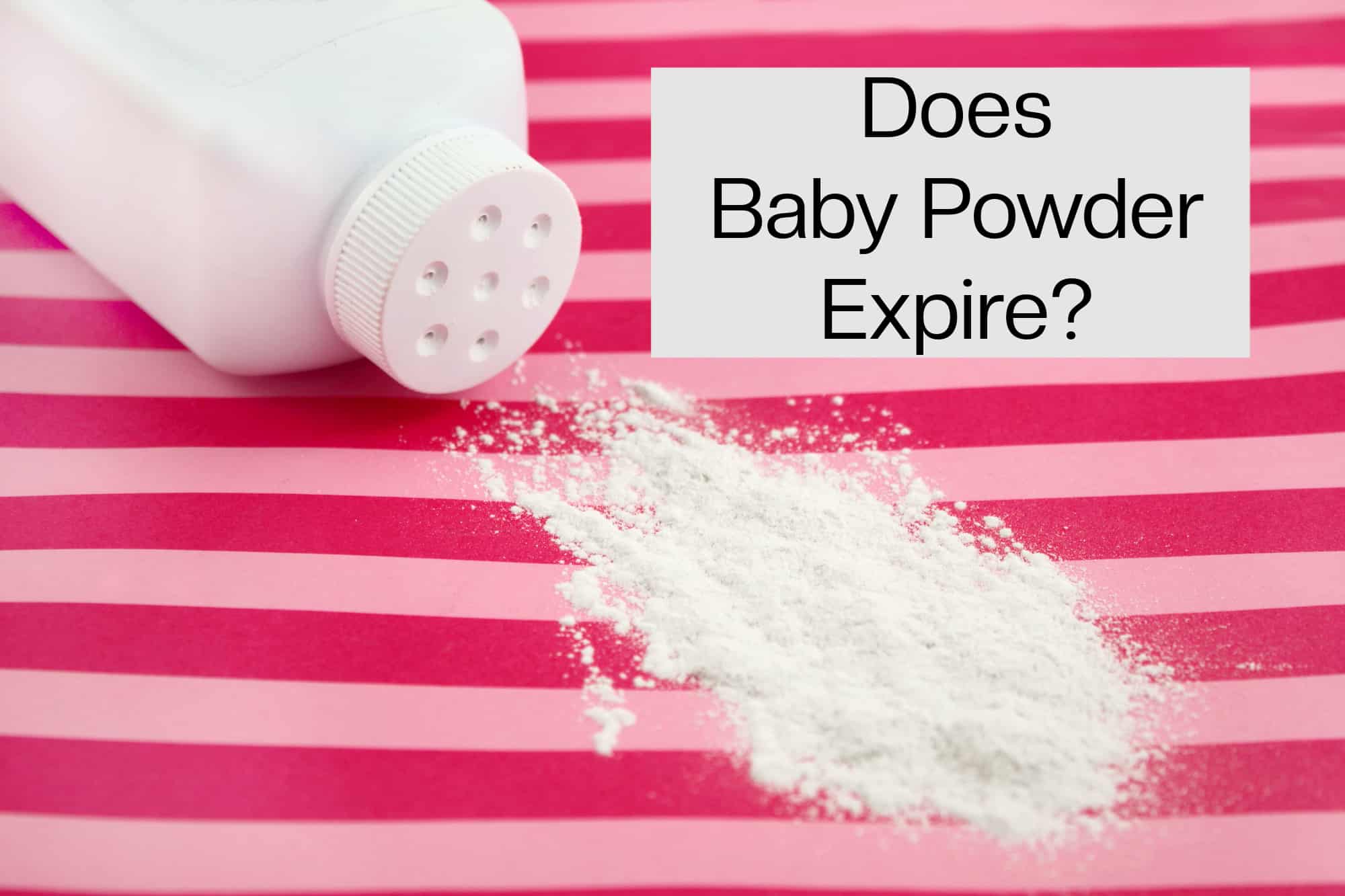 Does Baby Powder Expire?
Wanting to understand the effectiveness of powder and how long it actually lasts, we contacted Johnson & Johnson to inquire about their baby powder. Their customer service department is very helpful and shares with us that baby powder does not have an expiration date.
Johnson & Johnson suggested that the powder can be saved for up to 36 months and still retain its effectiveness if it is stored at room temperature. That is great news for those who like shop sales or use coupons to stock up on powder.
You can look on the back or bottom of the bottle to find the manufacture date (there is not a printed expiration date) and this will help you decide if it has been less than 3 years. The marking will say LOT, followed by four numbers and then a letter (like LOT 0918L). The manufacture date is the fourth number. (So Lot 0918L was made in 2018, and is good for use until 2021.) If you have any confusion feel free to give Johnson & Johnson a call and they will help. 
If you do find a brand of baby powder that has an expiration date and chose to use expired baby powder please watch for minor skin irritation.
What is the difference between Talcum Powder versus Corn Starch Baby Powder
There are 2 versions of baby powder products. The first and most common ingredient in normal talcum powder has always been talcum powder which is made of the mineral talc and fragrance. The mineral talc absorbs moisture. The second version is corn starch baby powder. This is made up of the main ingredient of corn starch and fragrance. Corn starch is another material that absorbs moisture. Fragrance in both is what everyone recognizes as that clean baby scent.
Johnson & Johnson is the largest manufacturer of talc-based baby powder and has announced that they are stopping production of talc based powders. Most powders being sold are now cornstarch-based baby powders. It is now known as Johnson & Johnson's pure cornstarch baby powder and most other manufacturers of powders also only use cornstarch as the primary ingredient. The main problem of talc is that it naturally contains small traces of asbestos which is known to cause cancer which is why powders are now being made with corn starch.
Other manufacturers of baby powder such as Gold Bond and Burt's Bees baby dusting powder have some talc and cornstarch options. Most boutique and modern baby powders are made with cornstarch.
Is baby powder safe?
One of the biggest questions is if baby powder is safe for babies. It is very controversial to use baby powder on babies and one of the main reasons why is the risk of inhalation of the powder. The APA (American Pediatrician Association) recommends to not use baby powder due to talcs small particles that are easily inhaled by a baby. This can cause choking and/or increased risk of respiratory illness.
Even cornstarch alternatives are not recommended by medical experts as it poses the same inhalation risks as any powder. 
If you must use powder the APA recommends you put some in your hands away from baby's mouth and then rub sparingly onto the baby's skin.
There is also many lawsuits alleging that long-term use of talcum powder near the bikini line or genital area can put women at higher risk of ovarian cancer. 
If you are going to continue to use baby powder please know the potential health risks and take precautions. Be sure to get medical help if you think your baby or yourself has inhaled the powder.
Related Posts:
Do Diapers Expire? I called the 3 largest manufacturers to find out.
Do Baby Wipes Expire? We called the manufacturers.
How to Make Baby Powder Last Longer
The key to making it last long is to keep them unopened until needed and protect the packaging. A sealed package of powder will stay dry a lot longer than one that has been opened.
How you store your store baby powder can also make a difference in how long it lasts. Make sure to store it in a clean dry place. If any moisture is near the packaging it can get clumps and become unusable.
If you have ever kept a bottle of baby powder in your car for emergencies, you know that it lasts a lot longer during the cooler winter months than it do during the heat and humidity of the summer.
A humid environment used as a storage location tends to make the opened containers of baby powder clump faster than their cooler counterparts.
The Basics of Baby Powder
Baby powder does not expire, but it can become unusable after a 36 month time period.
Storing it unopened and undamaged in room temperature, dry places will increase its shelf life and make it effective for years to come. 
The good and bad news about baby powder? Baby powder won't expire quickly but is controversial to use. Please keep the powder from being inhaled by your baby. 
Other Posts You Will Love:
Brilliant Diapering Tricks You Need To Know