One of the things they never tell you about having a child is that you will use a lot of baby wipes. Think pallets full of baby wipes and you will be close! So you may start to wonder, do baby wipes expire?
The good news is that there is no such thing as too many baby wipes and, while they do lose some of their moistness after a certain time, they do not technically have an expiration date.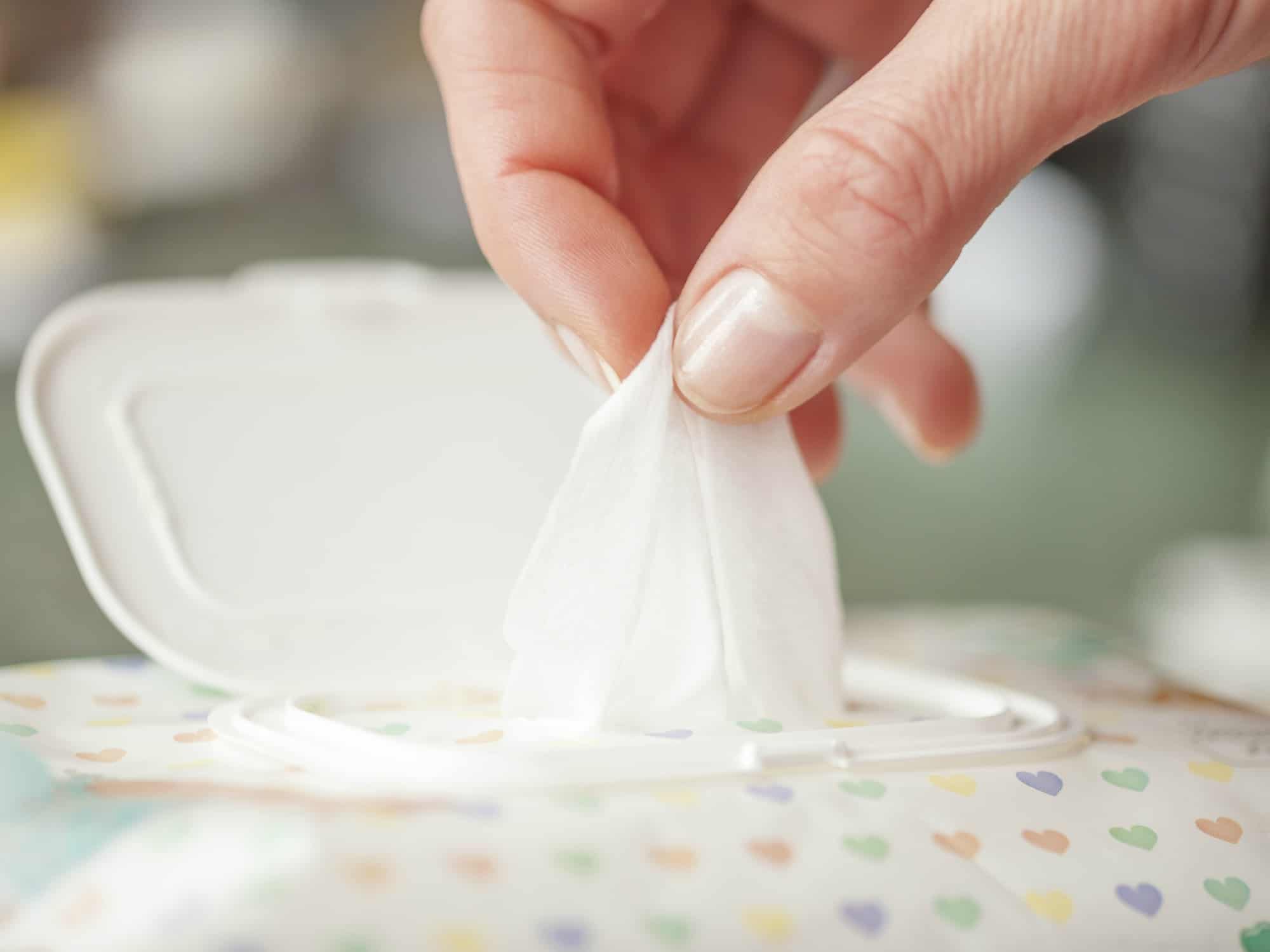 Related Post: Do Diapers Expire? I called the 3 largest manufacturers to find out.
Do Baby Wipes Expire?
Wanting to understand the effectiveness of wipes and how long they actually last, we contacted Pampers and Huggies to inquire about their baby wipes and diapers. Their customer service departments were very helpful and shared with us that the baby wipes do not have an expiration date.
Pampers suggested that the wipes can be saved for up to 30 months and still retain their moistness if they are unopened and the package has not been damaged. That is good news for those who like to stock up on wipes when there are sales or coupons.
After about 30 months, the wipes tend to lose their moisture and will not be effective as wet cloths.
The customer service representative at Huggies was in agreement that when the package is unopened and undamaged, the wipes will retain their moisture and last longer. Huggies recommends that wipes be used within two years of manufacturing for peak moisture content. The moister the baby wipe is, the more effective it is at gently cleaning your child's skin.
How to Make Baby Wipes Last Longer
While you cannot prevent wipes from losing their moistness over time, the keys to making them last longer are to keep them unopened until needed and protect the packaging. A sealed package of wipes will hold the moistness a lot longer than one that has been opened.
How you store your opened baby wipes can also make a difference in how long they last.
If you have ever kept a package of baby wipes in your car for emergencies, you know that they last a lot longer during the cooler winter months than they do during the heat of the summer.
Hotter climates and storage locations tend to dry out the opened containers of baby wipes faster than their cooler counterparts. Even sealed and undamaged packages of baby wipes can dry out quicker than the 24-30-month time frame that the manufacturers suggested when they are stored in a hot car in the summertime.
If possible, store your baby wipes in a cool, dry location. Not only will it help them last longer, but the coolness will feel good on baby's skin when changing diapers. Also, be sure that the package of baby wipes is always securely closed after use in order to keep the moisture inside.
What to Do If Baby Wipes Dry Out?
You are out running errands and your baby has a diaper explosion. You go through the baby wipes you have in your diaper bag but need to use the ones that you keep in your car to get him totally clean.
The only problem?
The wipes in the car have dried out because the lid was not closed tightly after they were last used. What should you do if baby wipes dry out and you need them right away? Use water!
Grab your bottle of water and slowly pour it over the dried-out wipes in the package.
The water will absorb into the wipes and rehydrate them so that they can be used again. It may take 10-15 minutes for the wipes to regain their moisture, but they will be wet enough that they can be used to clean baby's bottom.
Since water is one of the main ingredients in baby wipes, rehydrating them by pouring water on them is a simple solution to make them last longer.
If they dry out a second time, you may want to switch them out for a new pack instead or add a small drop of gentle baby wash to the water, mix it around, and then pour it over the wipes. That will keep them hydrated and ready to clean.
The Basics of Baby Wipes
Baby wipes do not expire, but they do lose their moisture over a 24-30-month time period.
Storing them unopened and undamaged in cool, dry places will increase their shelf life and make them effective for years to come. If they dry out, adding a bit of water to the package can rehydrate them and make them usable once again.
The good and bad news about baby wipes? You will probably go through so many baby wipes when your child is young that you will never have to worry about them expiring!
Other Posts You Will Love:
Brilliant Diapering Tricks You Need To Know