This is a sponsored post. As always my opinions are my own. 
Every mom at some point after having multiple children has to make a major decision. Minivan vs SUV.
Some people have a huge stigma with driving a minivan and think it is not cool and some people embrace it. I have had both a minivan and a SUV and love both for different reasons. If you are deciding which vehicle is right for you I will give you my pros and cons of driving both.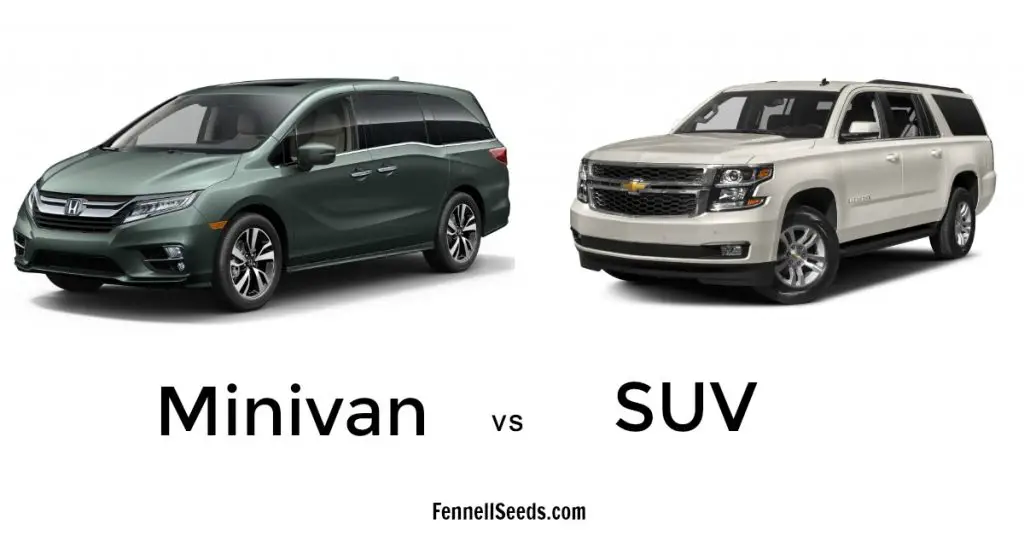 When my husband and I found out we were having twins we knew immediately that we would have to get rid of my little car. I had been wanting to be a mother for a long time and embraced the minivan. I was actually excited to get one because I had been wanting to join the mommy crew.
We bought a 2-year-old Honda Odyssey which is the most popular minivan in the preschool parking lots. It is super reliable and was an awesome car for me for 8 years. We trashed the heck out of it and it just kept on running. I said I was never getting rid of it but at over 150,000 miles and 10 years old my husband insisted that it was time to move on. I voted for a new minivan but he insisted that we test drive some large SUVs. We ended up purchasing a new Suburban. I have now driven this car for over a year and want to share the pros and cons.
Pros and Cons for Minivan versus SUV
Drive Style: Minivan is higher up than a car but not as high as the Suburban. I feel like I am king of the road in the big SUV.
Seating: They are very similar in seating arrangements. We have captains chairs in the Suburban. In the Odyssey we had an extra bonus seat we could add in between the captains chairs in the middle to have it seat 8 people that we actually used often. I miss having that extra little jump seat. You can get a Suburban to seat 8 if it has a bench seat in the middle but with the way my kids tackle each other to get into the car I knew they would be stepping on the seats to jump over and I wanted it to be easy for them to climb in even when they are 16 years old and adult size.
The minivan is so much easier when you have a child less than 5 years old. Especially when they are in the bucket snap-in seat. You can easily reach the seat to snap in a car seat or help your 3 year old buckle the straps whereas in a SUV you have to lift the heavy carrier up higher to get it to snap in properly.
It is car seat awareness week. If you notice the picture below there is a problem…do you see it?
It is that my 9-year-old son still needs a booster seat. No worries, he always rides in a booster. We were just taking this photo when I realized his booster was in our other car. I still have my daughter in a 5 point harness even though she is of the age and height for a high back booster but she still isn't at the correct weight. She weighs herself once a week to see if she is 40 lbs yet to get a booster, but really I am fine if she stays in the 5 point harness longer.
Did you know that Cars.com not only has tons of information about cars but they also have information about car seat checks? In this article, Cars.com tells how they test various car seats.
The driver's seat and passengers seat are more comfortable in the Suburban. I don't know why there is a difference but there is. When I get back into my sister's Odyssey her seat bottoms just aren't as comfortable. If you drive on very long car trips this may be important to you.
Parking: This is where I miss my minivan so much! The Suburban is a beast to park. I have to back up and try several spots before I can find a place for us to fit. We also can not fit it into the garage! I told my husband when he first brought a Suburban home for me to test drive. That's right, I make him deliver the cars to me to test drive. I refuse to go to the dealership with him after the last time he took me to one "just to look" and I sat there 8 months pregnant with twins for almost 4 hours . I took one look at it and said, "Does it fit in the garage?". Parking in the garage was a deal breaker for me. He tried and tried and our garage is just an average 2 car version and it was too long to fit. I told him to take it back, that I did not want it….well, you can see how well that worked. 😉
Storage: This is where the SUV wins. A minivan has more storage than a regular size SUV (Tahoe or similar) but the Suburban has even more amazing storage space even with the 3rd row up. We always have the 3rd row up because we have 3 kids and a dog that travels with us often.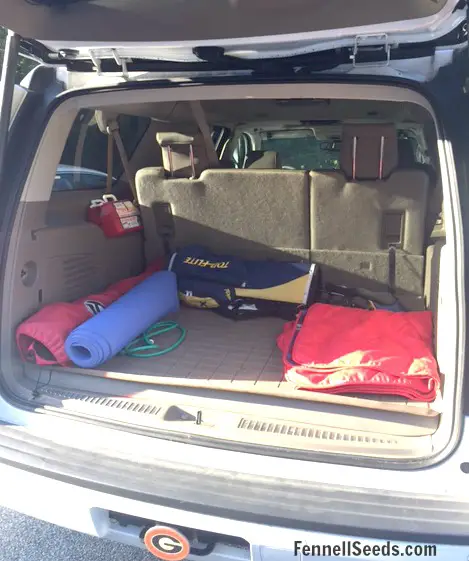 In this picture I have a tall outdoor chair laying on the left side. That is how long the cargo area is even when the 3rd row seat is being used. There is more room than just about any other SUV on the market.
If you will need the 3rd row seat up the majority of the time the smaller SUVs will not work for you. Especially if you still need a stroller. The minivan would work better for you or the larger SUV with extended cab.
Let me know if you have any questions. I would love to answer them if you are trying to decide between a minivan vs SUV.
The Winner
I really think it depends on the ages of your kids. When you have younger children the minivan wins hands down for convenience. Once the kids get a minimum of 5 years old the SUV is just as practical. I no longer have to help buckle them in their car seats so the SUV is just fine.
Like it? Pin it!