Keeping the family organized is easier when you put a command center in place. Not sure where to start? Browse these 20 genius home command centers for busy moms!
You'll find creative ideas for how and where to implement a designated space to house your command center. You'll learn how to figure out which components are the most necessary for your family's needs.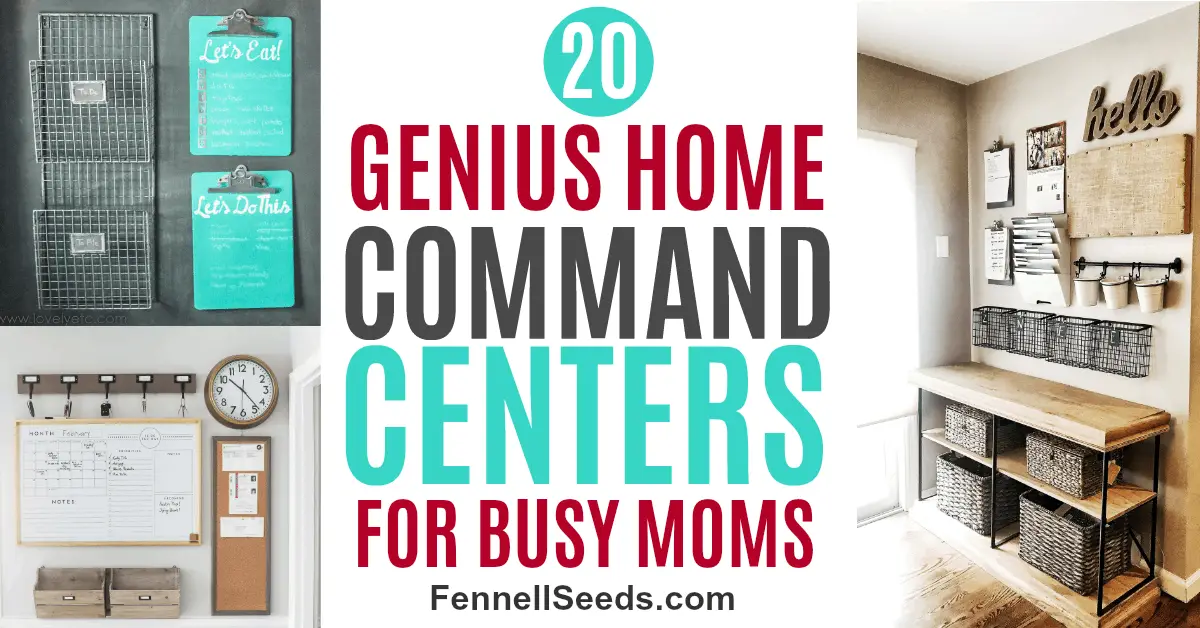 From modular systems to DIY systems, from industrial looks to farmhouse chic, you'll be inspired by these brilliant ideas to chart out and design a one-of-a-kind command center that works for your needs, your decor, and your budget.
Neutral tones of burlap, brown, and black set a cohesive look to this corner command station. File sorters, supply holders, memo board and a calendar are wall-mounted above a low bookcase. Use large baskets on the bookcase shelves to hold larger items.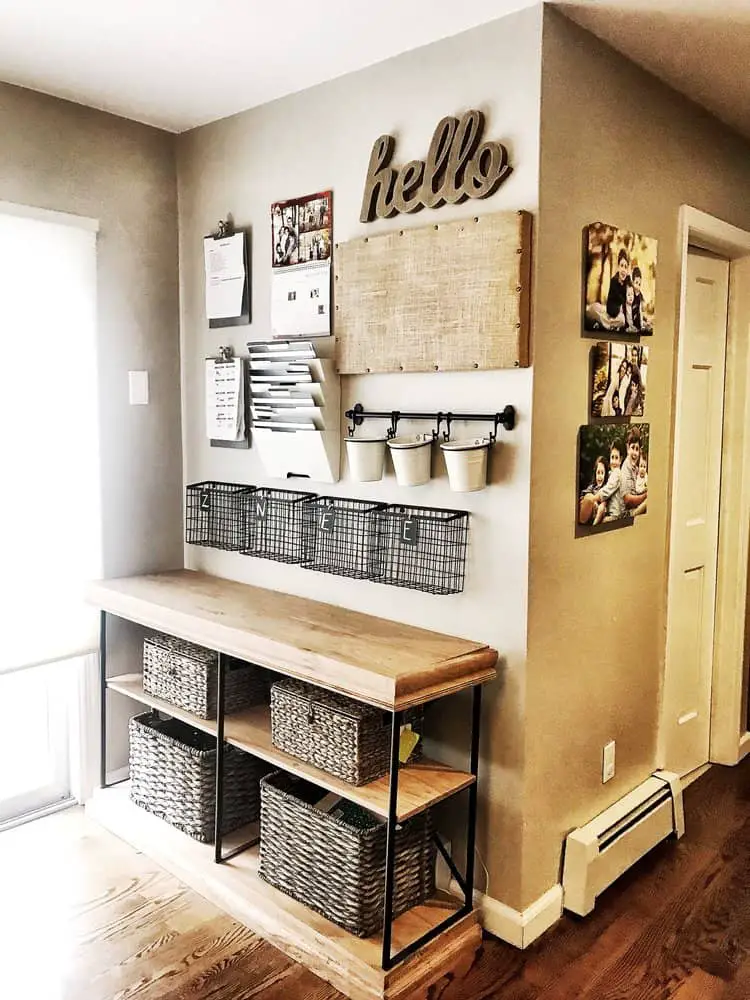 Organization Station by The Decor Formula
Chalkboard calendar, a dry erase board and wicker baskets mounted on the wall create a cozy and functional command center without being overwhelming. The trick is to make sure you have only the items you really need to create a functional center for your family's needs.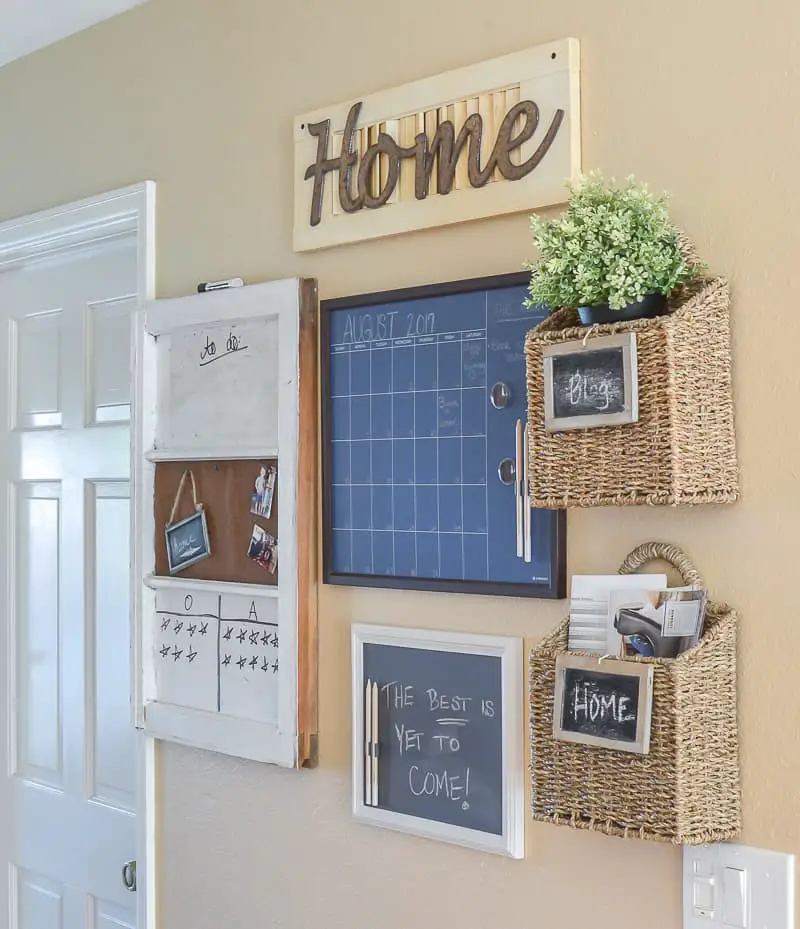 Farmhouse Style Family Command Center by Sarah Joy Blog
A white board calendar and memo board along with black mesh file holders contribute to this clean black and white wall mounted command center. A black wooden bin organizer also anchors the look. Be sure to see how she sketched this out before mounting anything on the wall. Smart and functional.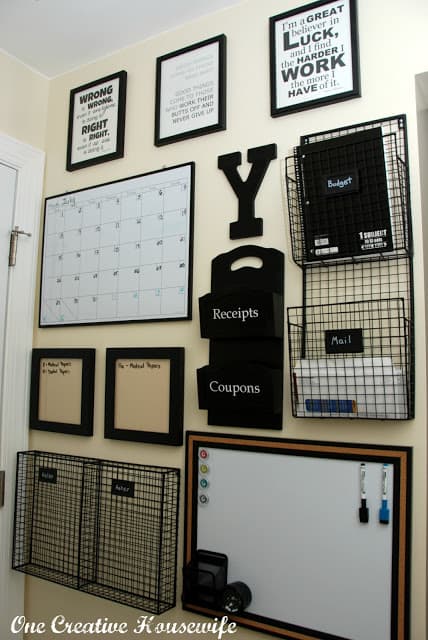 Black And White Command Center by One Creative Housewife
IF YOU NEED COMMAND CENTER ORGANIZATION ITEMS HERE ARE MY FAVORITES
(click on picture)
Rustic meets industrial with this magnetic chalkboard that's easy to make. Add metal envelopes and other metallic elements for the industrial feel. Keep it rustic with clipboards and wooden bins and trays. Beautiful!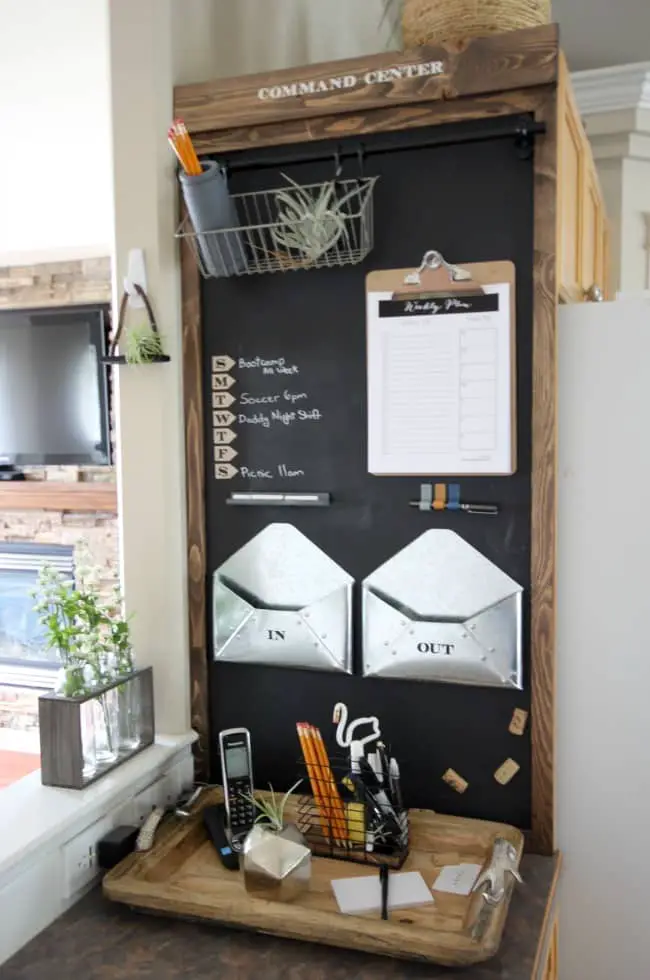 Industrial Command Center by Love Create Celebrate
This center has a place for everything: menus, bills, keys, pens, calendar and grocery list. Keep it monochromatic with a white command center to house files and and other small items. Group the rest of your wall-mounted items for ease of reach.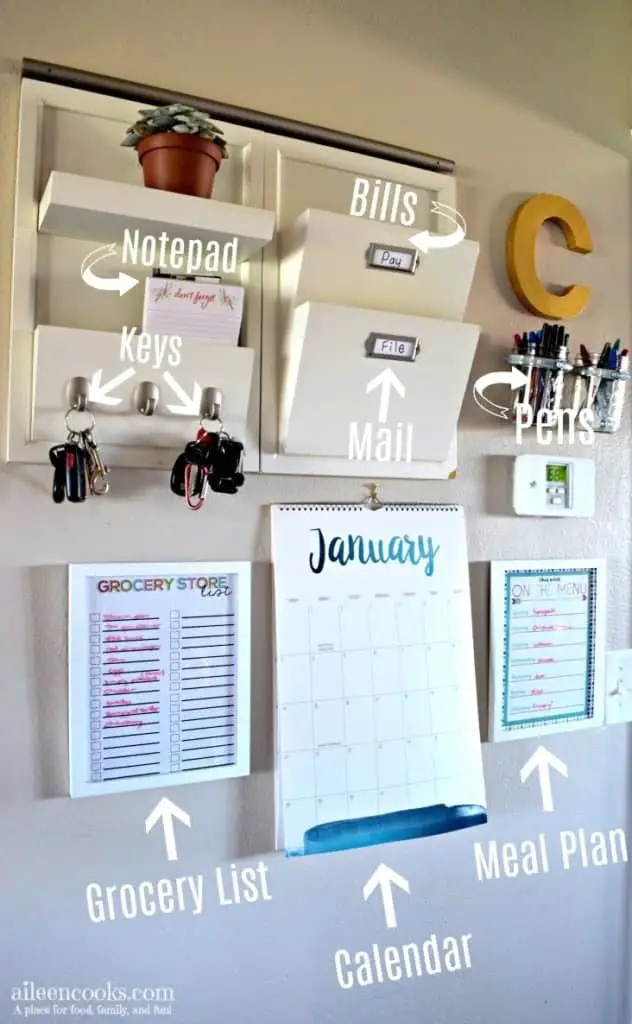 Parent Command Center by Aileen Cooks
A white dry erase board and calendar plus white wooden pockets and mason jars hang on corner walls near the kitchen making it a convenient place to keep track of schedules and notes. Easily mount the mason jars to the wall with hose clamps.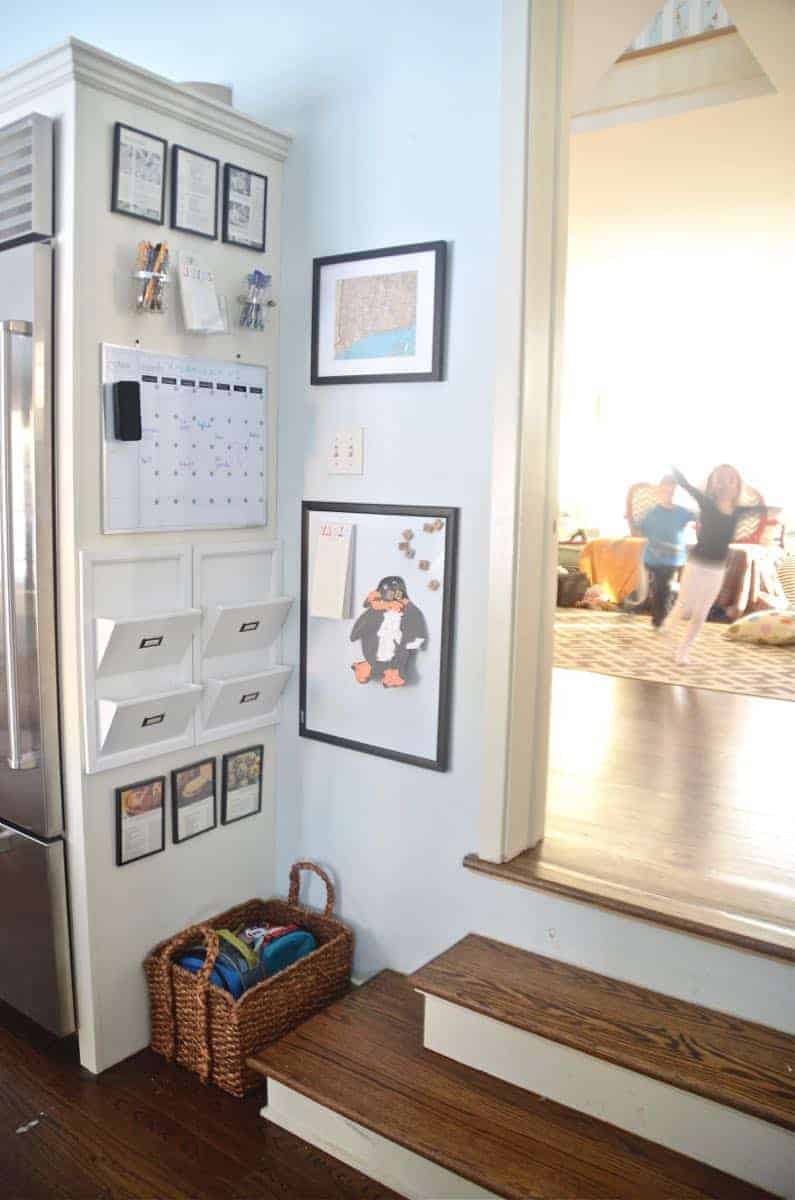 Kitchen Command Corner by At Charlotte's House
A chalkboard painted wall is the backdrop for this black and teal industrial inspired command center. Metal wall organizers share space with teal clipboards and a chalk calendar. Simple, functional, and eye-catching.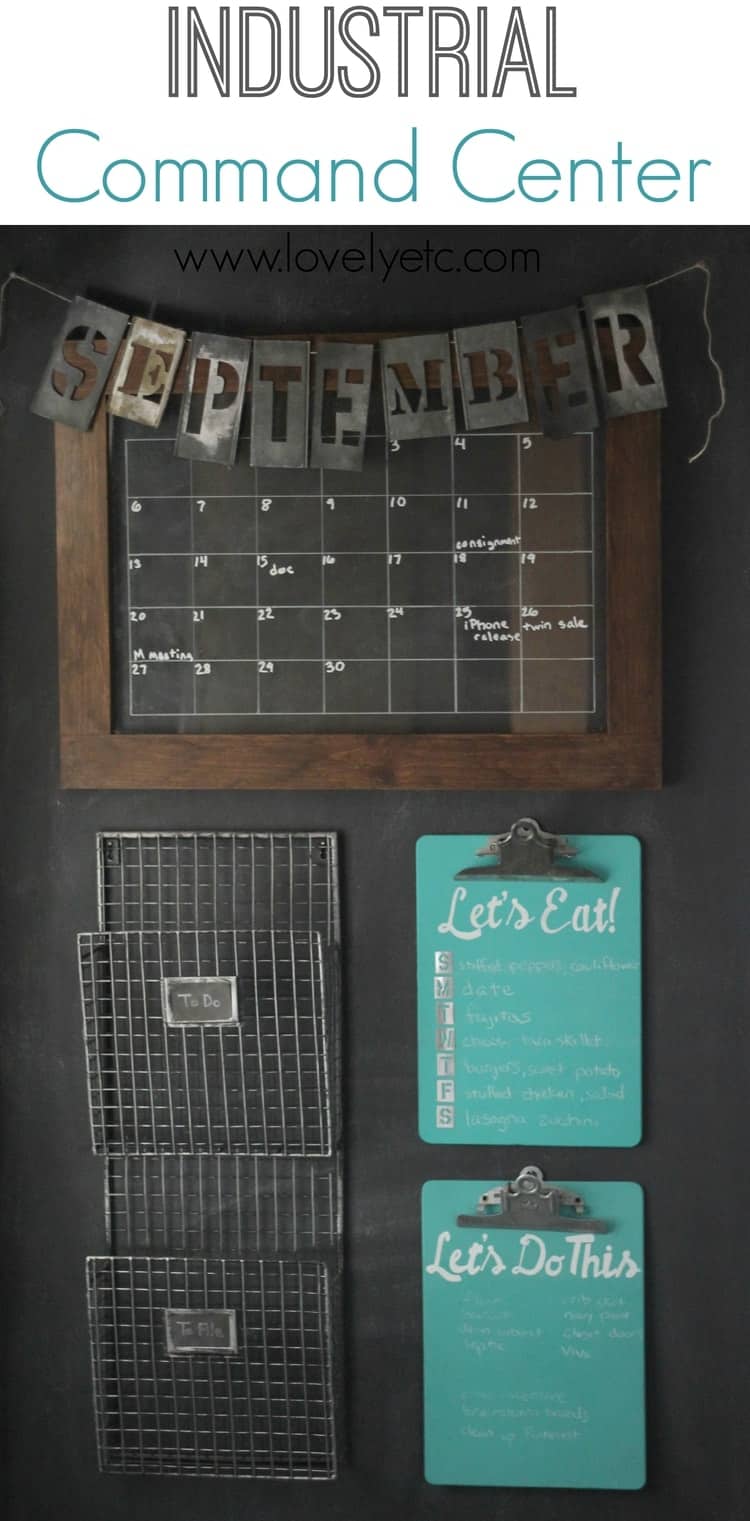 Industrial Family Command Center by Lovely Etc.
A large chalkboard is the focal point of this command center. If a calendar is the most important thing for you, this idea might work. Draw the calendar the board so you have ample room to write in each day's square. Add other items, such as file holders on either side of the chalkboard.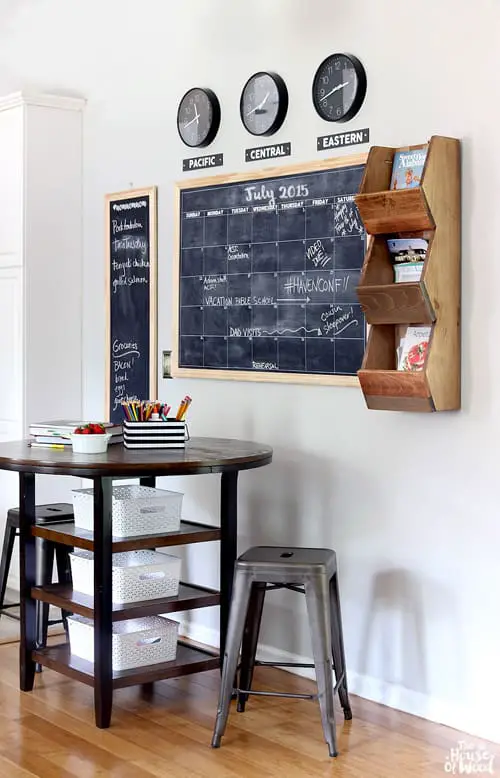 Taking Command Of The School Year by I Heart Organizing
Utilize a blank wall near your kitchen for a minimal and clean command center. This one consists of chore charts for each of the kids as well as a homework folder rack. Keep it all clean by choosing just one color; here, it's all white.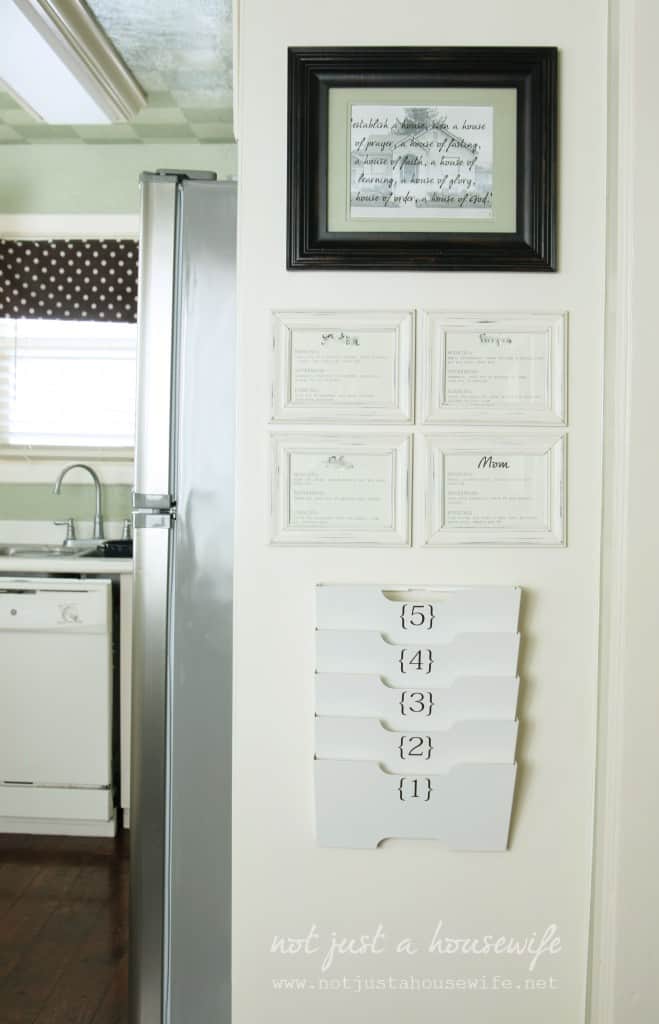 Kitchen Command Center by Not Just A House Wife
A cabinet in the kitchen serves as a command station with plastic bins, magazine holders, binders, and more. Use the inside of the cabinet door for calendars and clipboards. This system keep clutter to a minimum by shutting the cabinet door.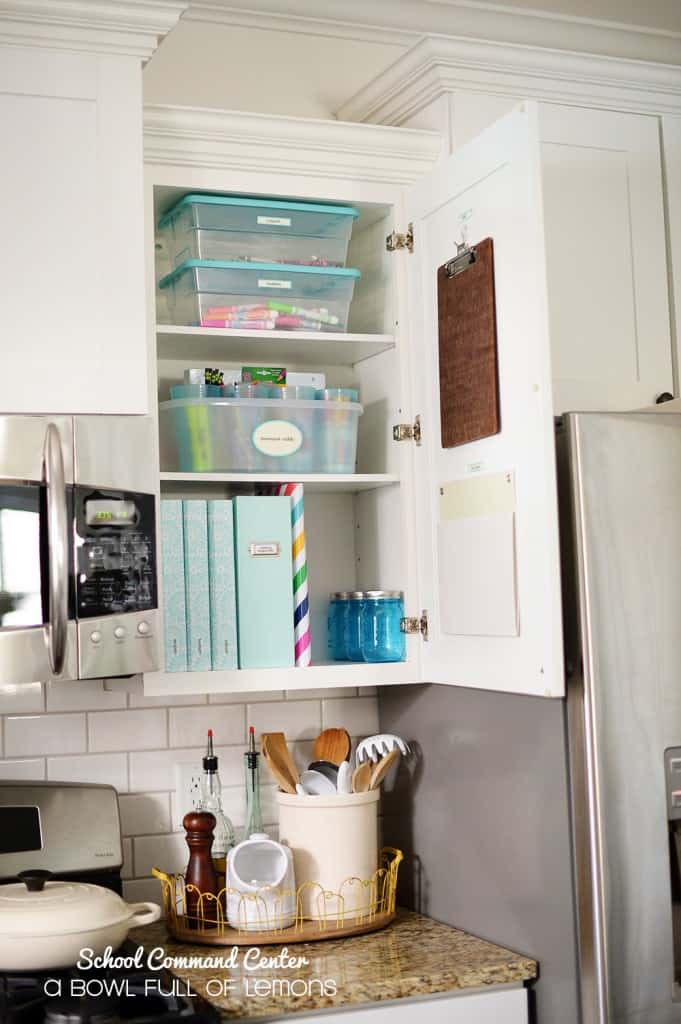 School Command Center by A Bowl Full Of Lemons
Here's a great example of having a command center that flows into the design aesthetic of an existing room. Keeping with a farmhouse rustic feel, she still manages to incorporate a chalkboard, metal pockets, push pin board, and lots of clipboards. Gorgeous!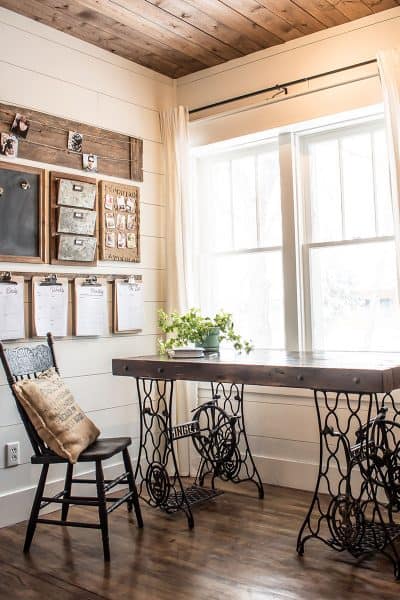 Small Space Rustic Command Center by Little Yellow Wheelbarrow
This command center makeover is now streamlined to include a hanging whiteboard calendar, a cork board, and wooden file holders. Neat, organized and uncluttered.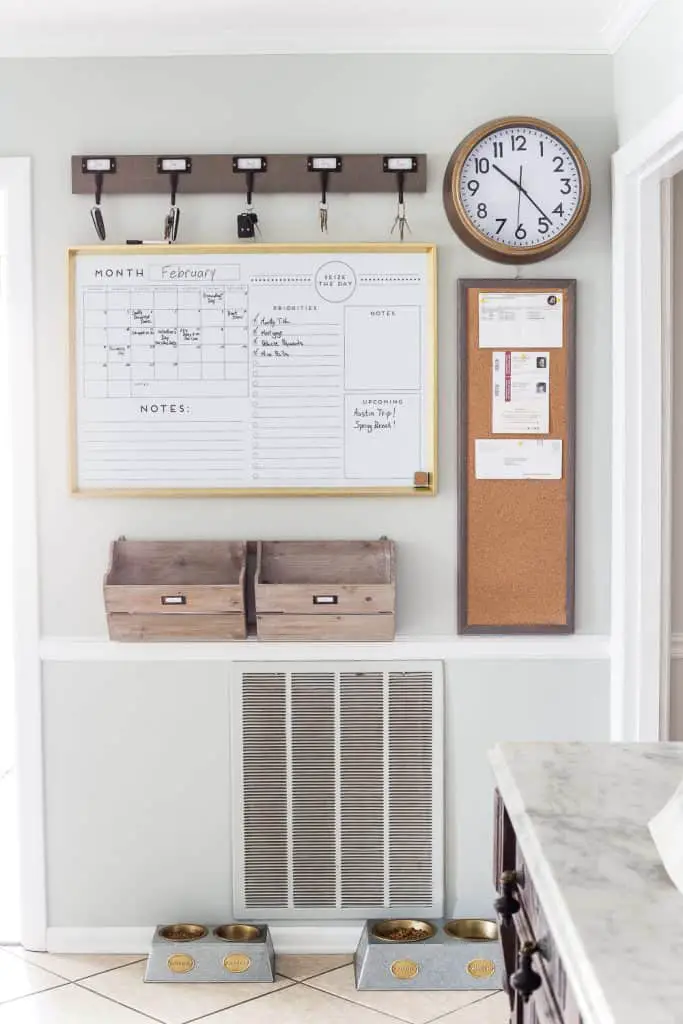 Organized Command Center by Blesser House
Colorful folders help create the organizational design of this wall mounted center. Every family member has their own folder while a dry erase calendar helps keep the schedules visible.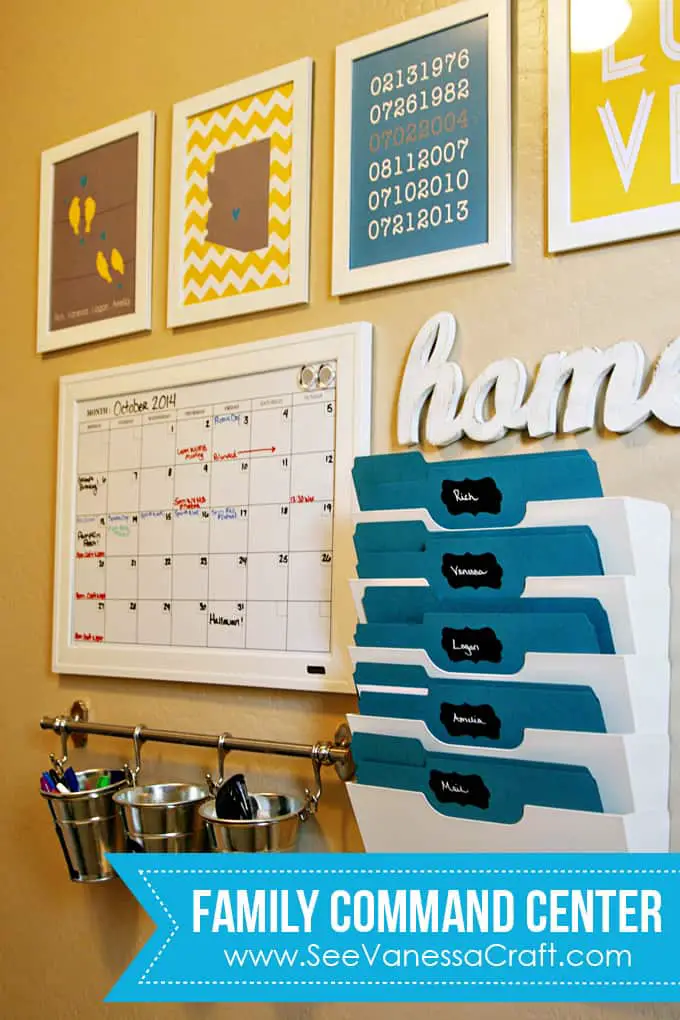 Organization Family Command Center by See Vanessa Craft
Utilize cabinets and the cabinet doors as a command center. If you need to keep track of lots of keys, add a pegboard to the inside of the door and add some hooks to hang keys. Add a magnetic board to the inside of the other door. Use colorful bins for the shelves, and magazine holders for file storage. Smart!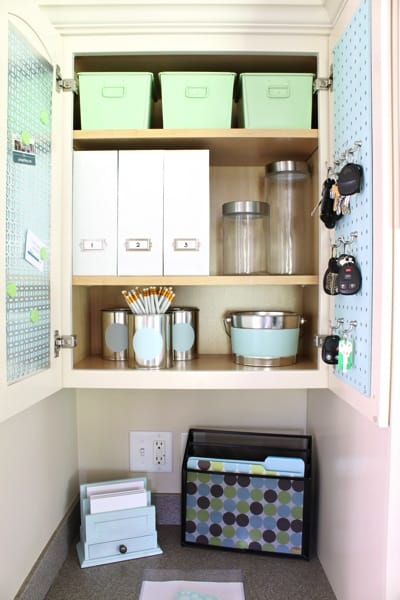 Organized Drop Space by Just a Girl Blog
Small space command centers can be very functional with just the right items that your family needs. Here, a calendar, a magazine rack and a cork board do the trick. Organized simplicity.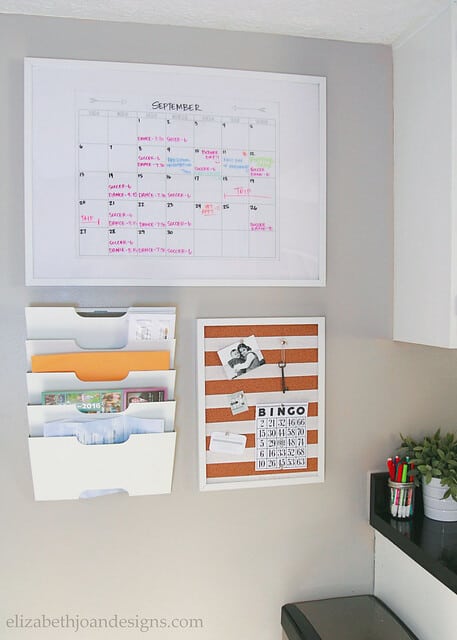 Simple And Functional Command Center by Elizabeth Joan Designs
For the parent who has to deal with tons of paperwork that's being brought home from school from multiple kids, as well as juggling everyone's schedule, this homework command center is one solution. A 16 x 20 message board per child makes up the command center. Each message board contains a calendar, clip board and notes section. Brilliant.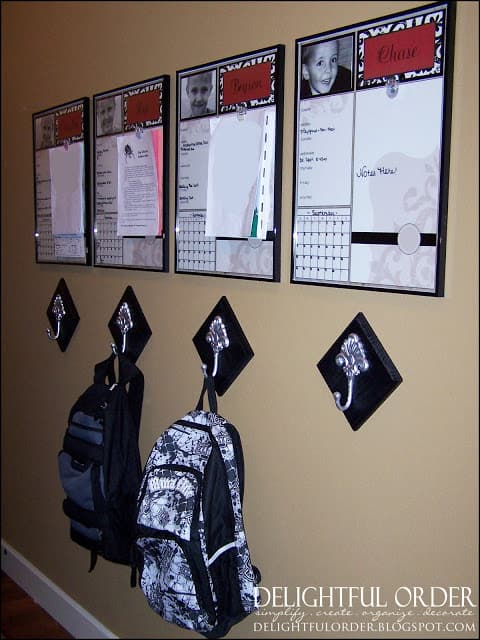 Children's Homework Message Center by Delightful Order
All you need is a little bit of wall to hang this a magnetic wall board, a floating shelf, several small white boards, and a few clothes hooks. An inexpensive cabinet or a cubed shelf unit can sit on the floor for larger items. Space saving functionality!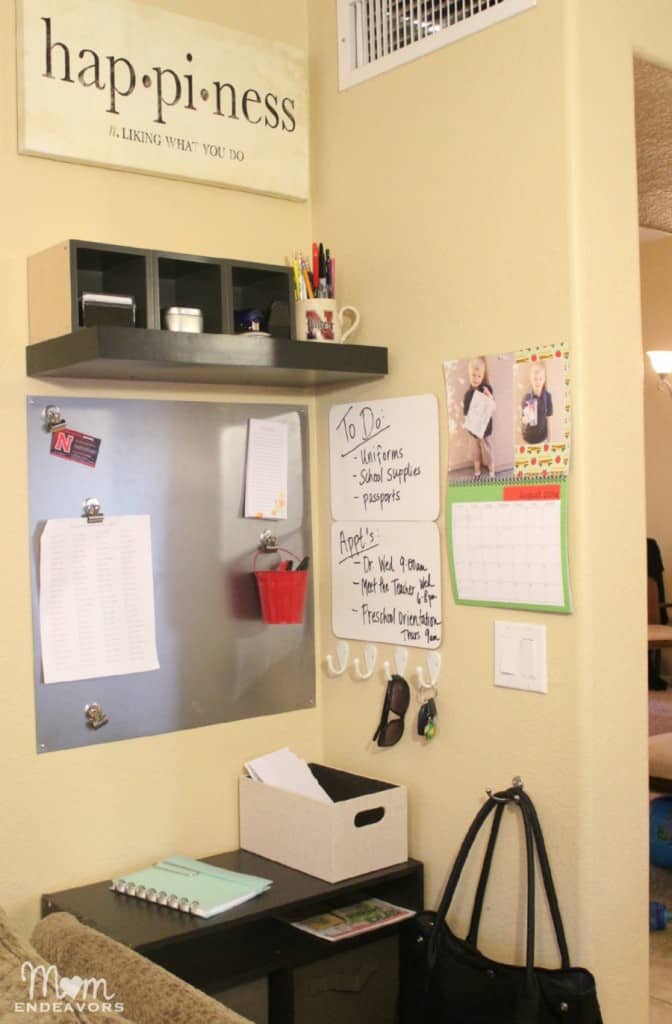 DIY Small Space Command Center by Mom Endeavors
If you have an oversized laundry room, consider housing your command center there. If you have wall and counter space, you could mount a hanging file system, a chalkboard, push pin board, and a white board. The counter top could include bins and baskets.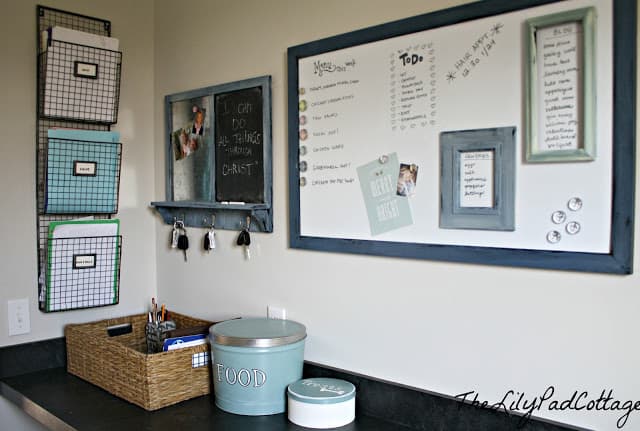 Laundry Room Command Center by The Lily Pad Cottage
Claim a patch of wall and chart out your command center. Plan ahead with this 2-month wall-calendar plus hanging clipboards and file pockets. Don't forget pen holders and a cork board, too.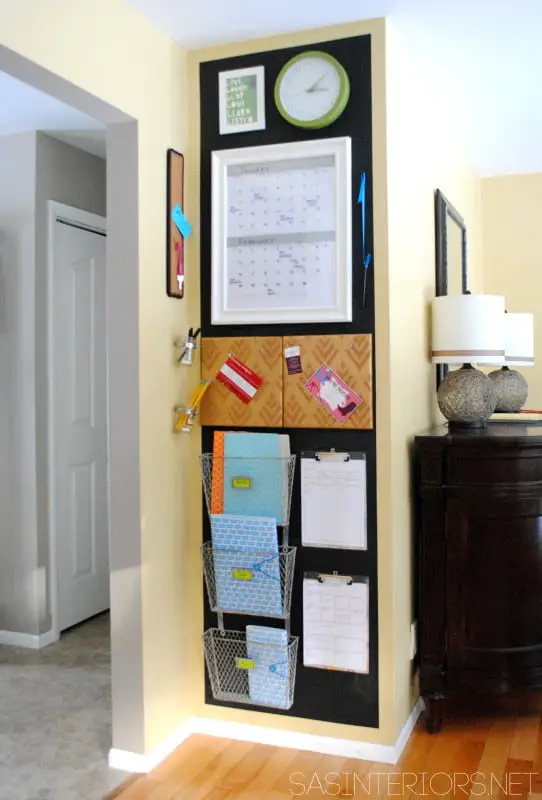 Central Command Center by Jenna Burger
For ease of design, consider a wall-mounted system that allows you to slide elements on and off the tracks as needed. File holders, cubbies and pockets can all be rearranged on the fly with this system. Install it above a desk or other surface to extend your command center area.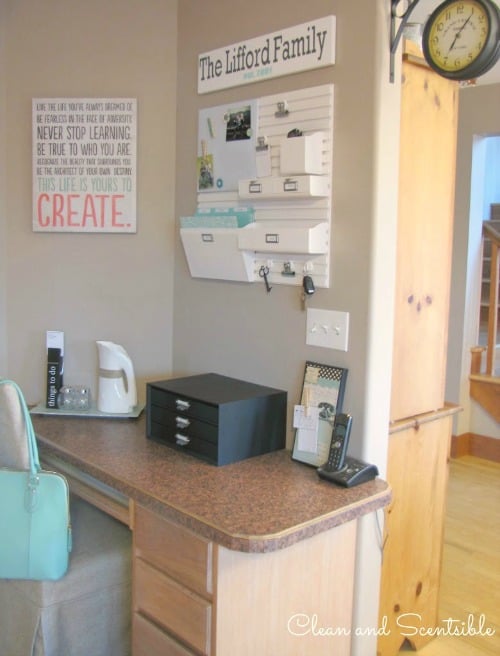 Kitchen Command Center by Clean And Scentsible
Other Posts You Will Love:
Backpack Storage When You Don't Have A Mudroom
Organization Hacks For Your Laundry Room
Like it? Pin it.