If you could use a little help getting organized in your laundry room, this collection of 20 highly organized laundry rooms will give you ideas and inspiration on how to best utilize your space.
Smart and efficient storage is the key to maximizing space while organizing and storing supplies, as well as caring for all your clothing. Here, you'll find tips on how to organize small rooms as well as spacious areas.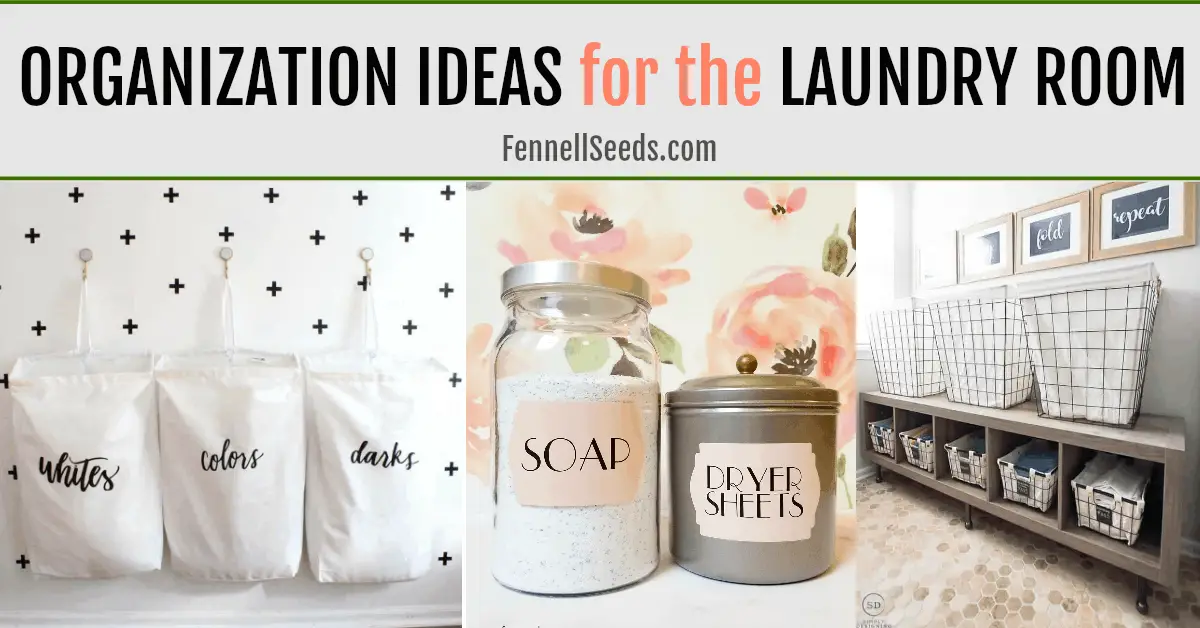 From cabinets to shelving, from bins to baskets, and from labels to hanging bags, you'll find clever and workable solutions to help you tidy up your laundry area. Turn your laundry room in a well-appointed and enjoyable place to complete one of your household's ongoing chores.
20 Laundry Room Organization Ideas
Flow walls are great for laundry rooms or garages. This is a modular system that you can easily customize to fit your space needs. Cabinets and draws are easily installed on a flow wall with a click-in design so that you can move the modular pieces around. Very inventive and useful. Check out how they used this system in their laundry room.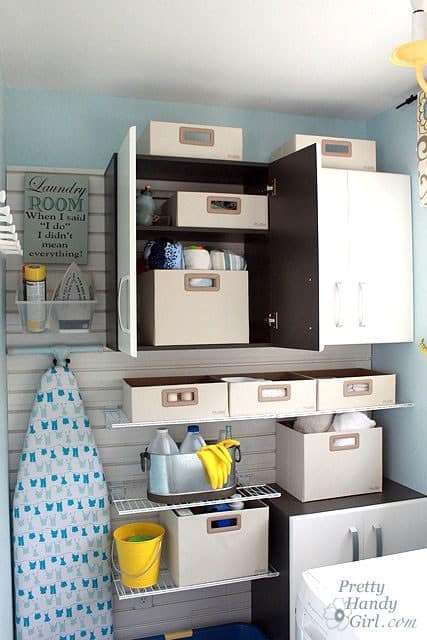 Flow Wall by Pretty Handy Girl
If you're short on floor or cabinet space, how about hanging canvas bags on your wall? This idea helps organize your laundry with darks, colors, and whites in an efficient and pretty way. Iron-on labels are easy to apply or you could even hand paint them on!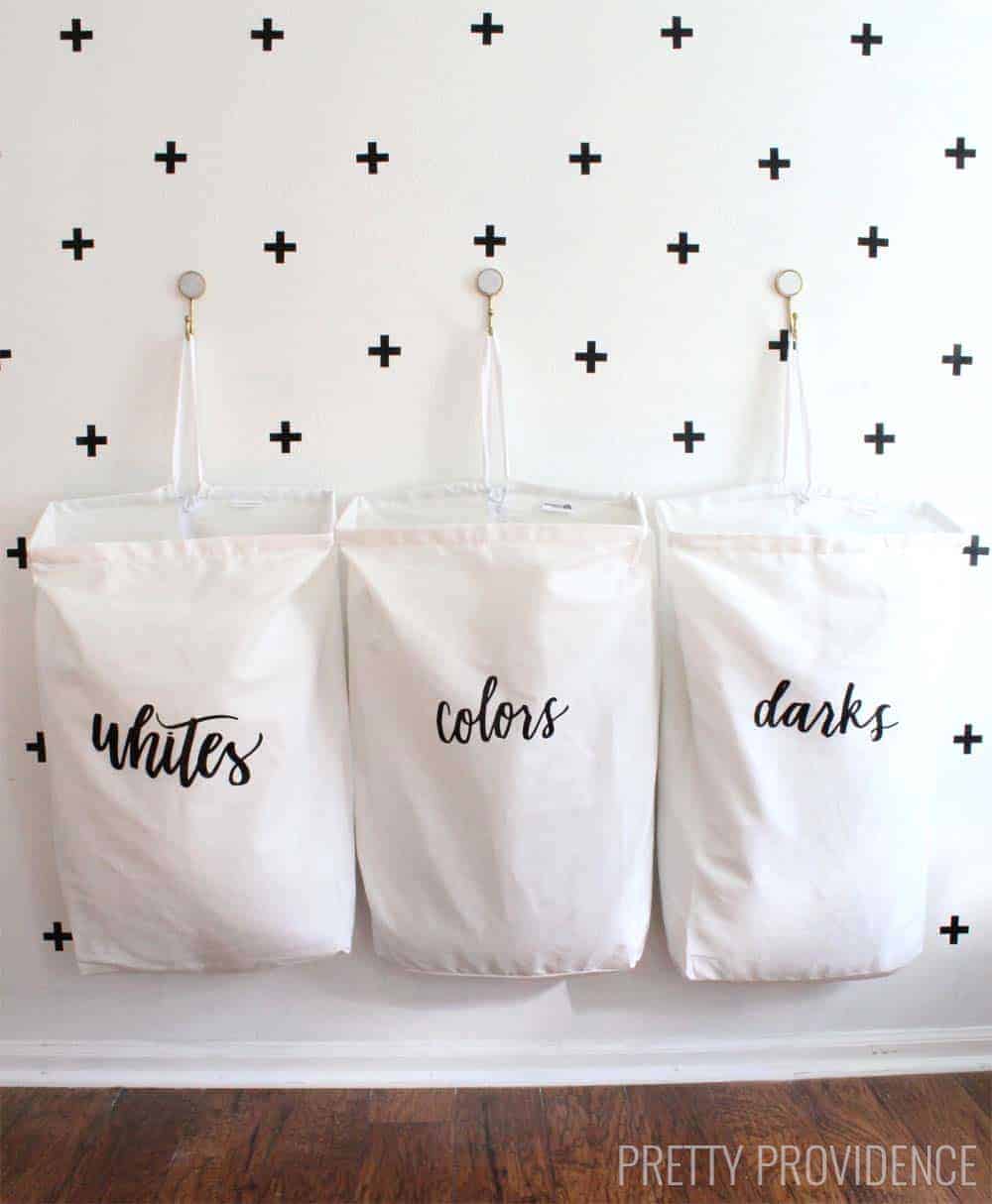 DIY Laundry Organization Bags by Pretty Providence
You probably already have all that you need to declutter, reorganize and make your laundry room more efficient. If not, check out her adorable little wall unit she set up behind her laundry room door. If you're pressed for space, maybe this idea would work for you, too.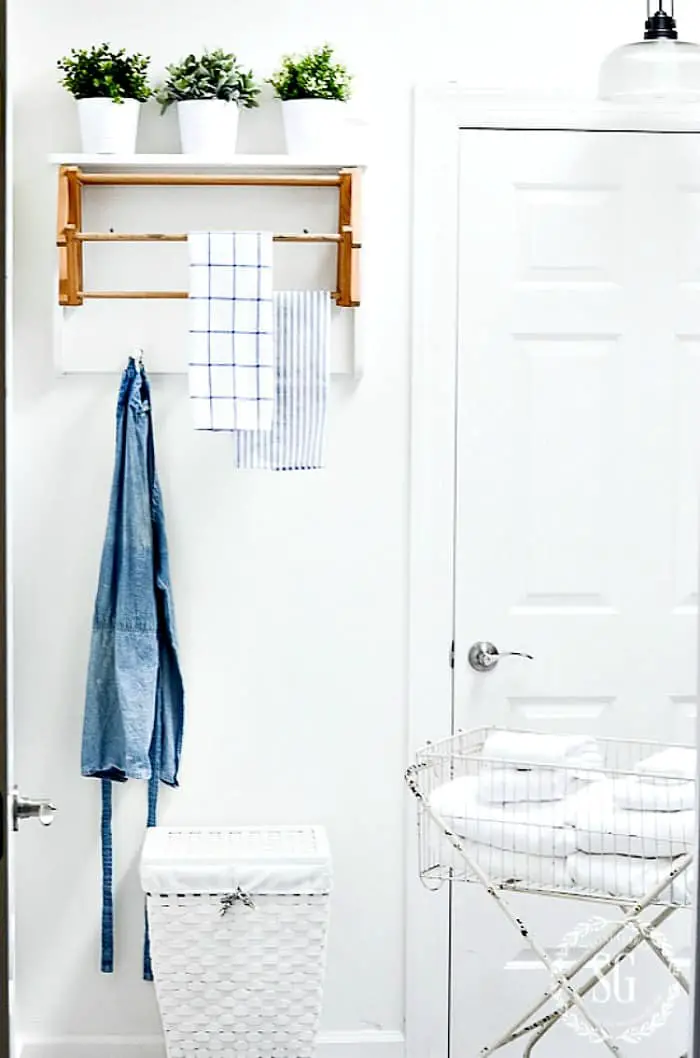 Declutter Your Laundry Room by Stone Gable Blog
If you have existing cabinets in your laundry room that are far from organized or that need a makeover, consider removing the doors and opting for pretty baskets, bins and jars to keep everything handy and elegant.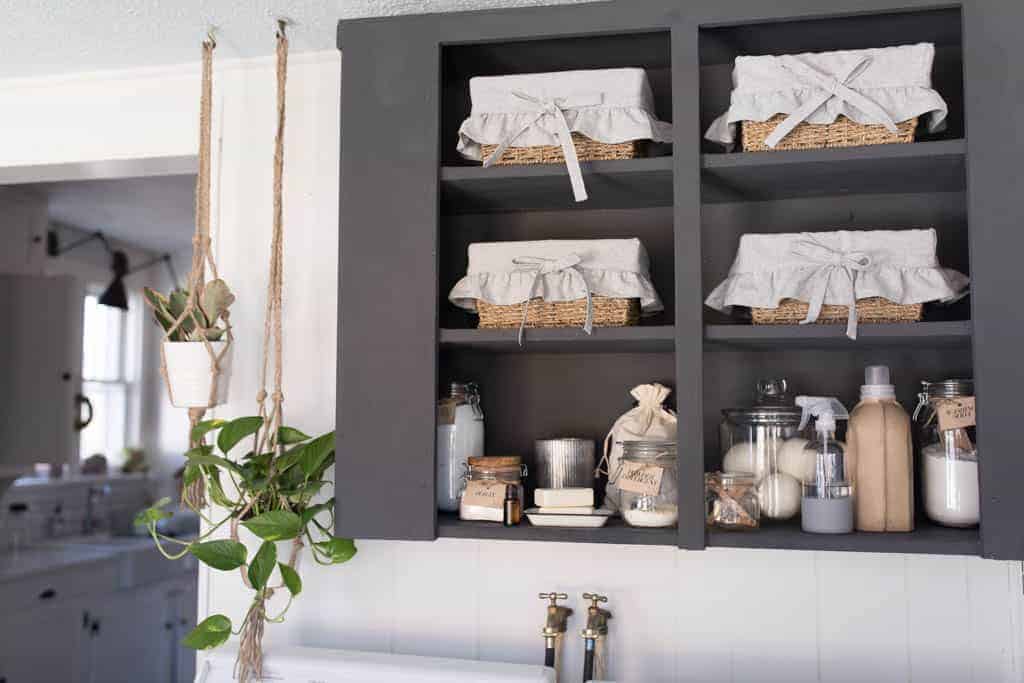 Cabinet Makeover by Farmhouse On Boone
Consider using inexpensive towel racks mounted on a wall to hang items and cleaning supplies. Decide how best to mount these to maximize your usage and space.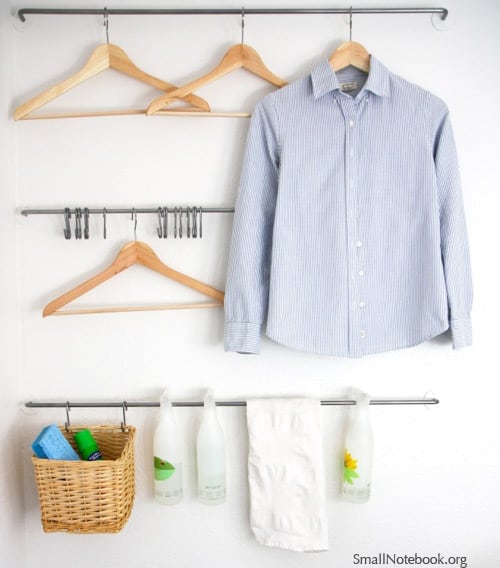 Towel Rack Hanging Organization by Small Notebook
If you're all about the bins and boxes and have that angle covered, consider labeling them to make everything cohesive, efficient, and pretty! Learn how to do this with the Cricut Maker.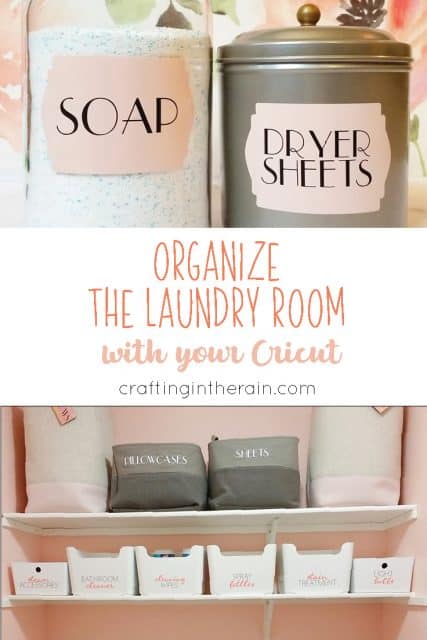 Laundry Label With Cricut by Crafting In The Rain
If you have counter space in your laundry room, consider this retractable under the counter drying rack that can easily be hidden when not in use. This is a great use of space!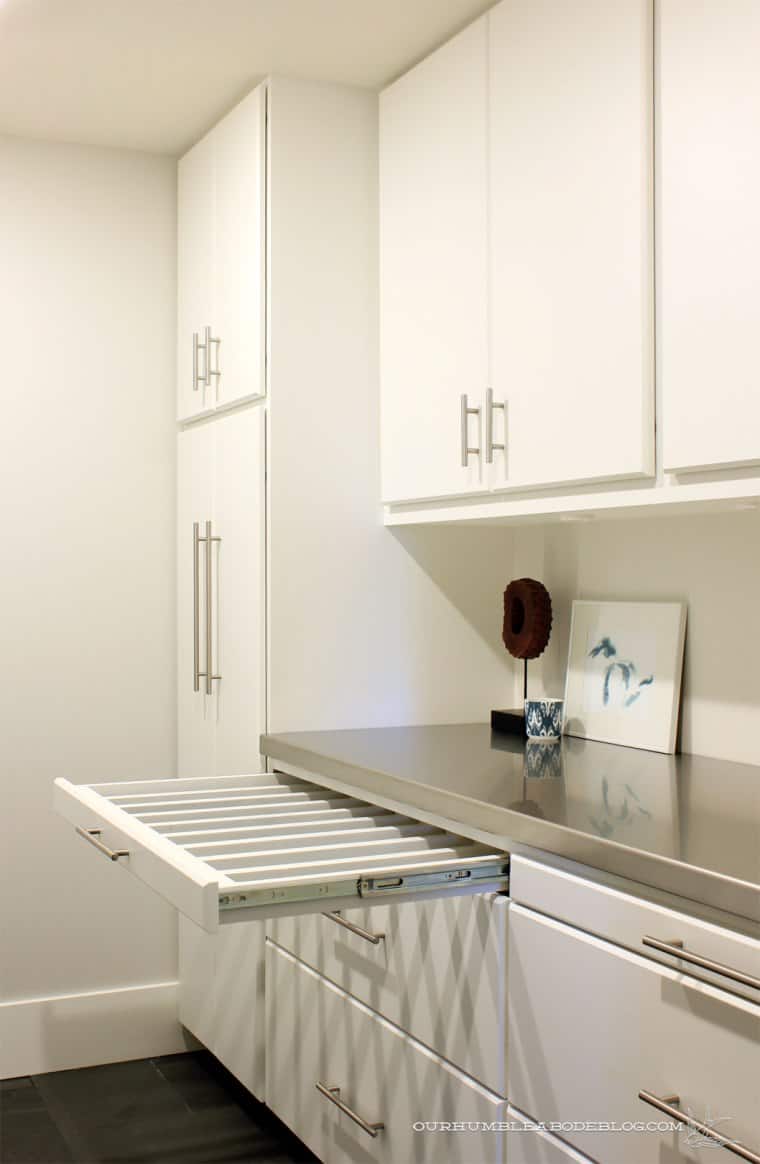 Pull Out Counter Drying by Our Humble Abode Blog
Here's a super great idea for a DIY lint bin to keep that fuzzy stuff contained. This tutorial will show you what type of container to use. how to paint it, personalize it and hang it where you need it.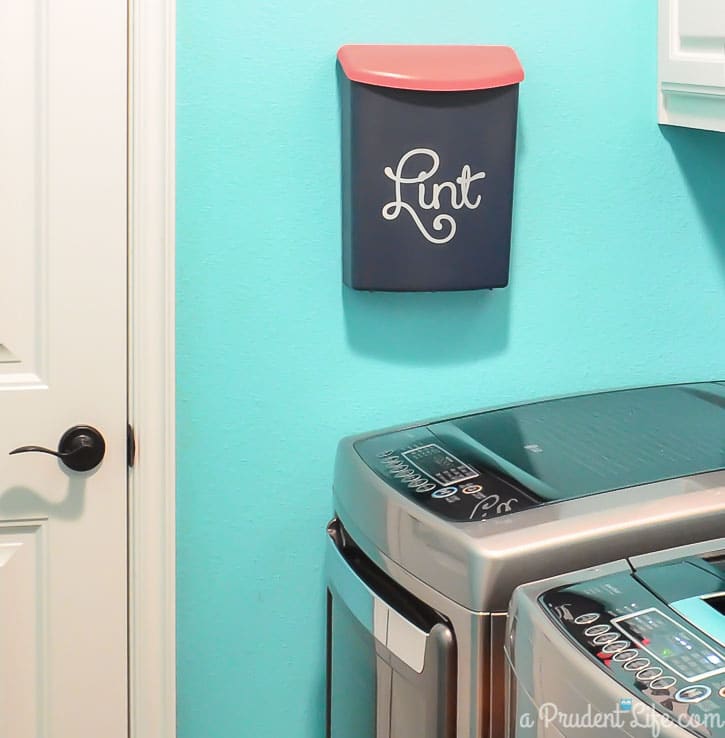 Lint Bin Tutorial by Polished Habitat
Make better use of the space on top of your washer and dry by installing a DIY plywood shelf. It's easy with this tutorial. Pick your paint and personalize it for your decor!
Easy Plywood Shelf by A Beautiful Mess
Functionality is the name of the game with this organization strategy. Get rid of unsightly plastic laundry baskets and opt for a more utilitarian wire basket look that's accessible and efficient.


How To Organize A Laundry Room by Simply Designing
No more reaching in the awkward box to grab a dryer sheet or two or three because they won't separate. Make your own dispenser with an old tissue box. Brilliant!
Dryer Sheet Dispenser by Sugar And Cloth
If you have a gap between your washer and dryer that's large enough to fit a slender vertical cabinet, consider installing one. You can even make one yourself. It's a handy way to store laundry detergent and other items to keep them out of sight when not in use.
You can buy a similar vertical cabinet here if you aren't handy to DIY.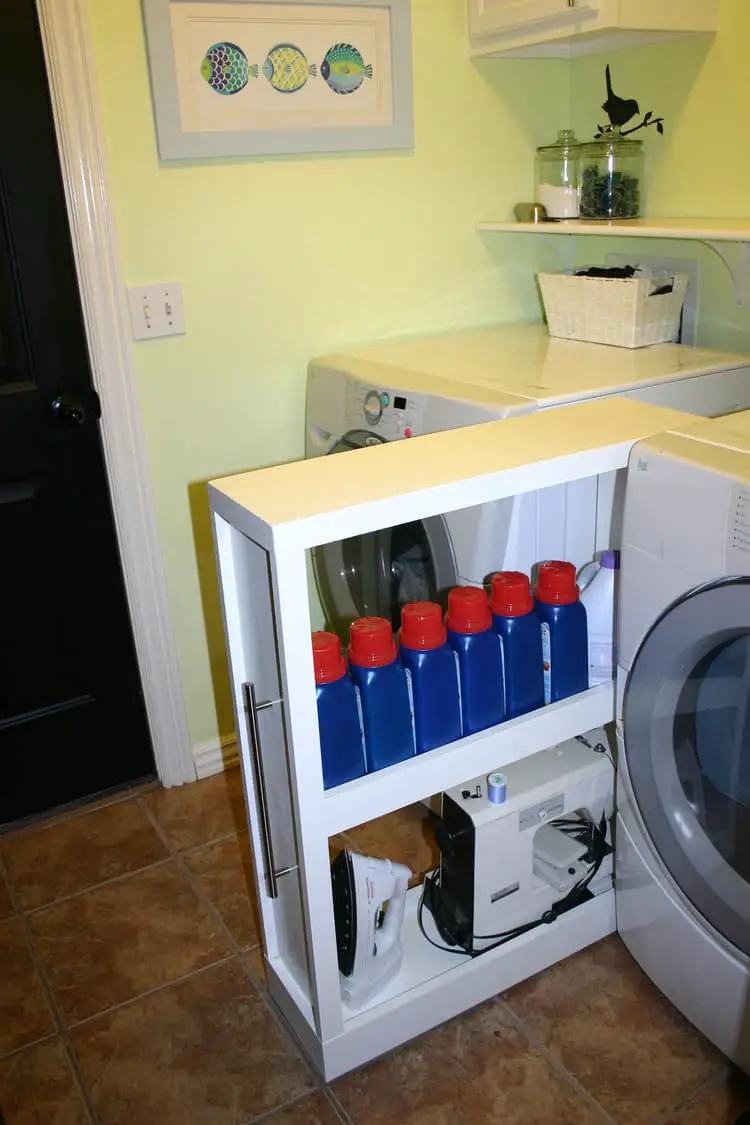 Vertical Drawer by Beckwith's Treasures
These easy-to-print clear labels look stunning on glass jars and bottles. This is a clean and minimalist look. If clear labels aren't your thing, just use white labels to keep the clean vibe going.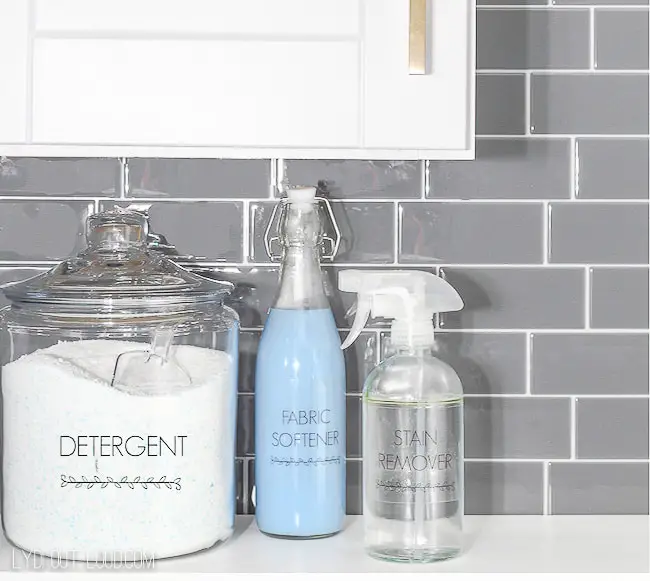 Printable Laundry Labels by Lydi Out Loud
This handy wall-mounted drying rack is perfect for small spaces because it folds back up and out-of-the-way when not in use. So easy you can install it yourself!
Wall Mounted Dryer Rack by Reading My Tea Leaves
How many times have you checked pockets only to find loose change in there? Well, pay yourself back by dropping that change in a handy mason jar that you've crafted and mounted on an adorable wall sign. Decor and organization all in one! If you don't want to DIY the one below you can purchase this Keep the Change Jar.

DIY Keep The Change Sign And Jar by Lil Luna
This awesome pegboard wall creates a space to hang items for easy storage as well as a visual representation all in one place. You can easily grab what you need, but just remember to put it back where you found it!
Pegboard Organization by A Beautiful Mess
If you have the space, consider combining a mudroom section in your laundry room. You'll need a large enough wall dedicated to either building your own vertical cubby dividers or purchasing a pre-made unit. This is a great way to keep the family organized but at the same time keep their "stuff" contained in one room.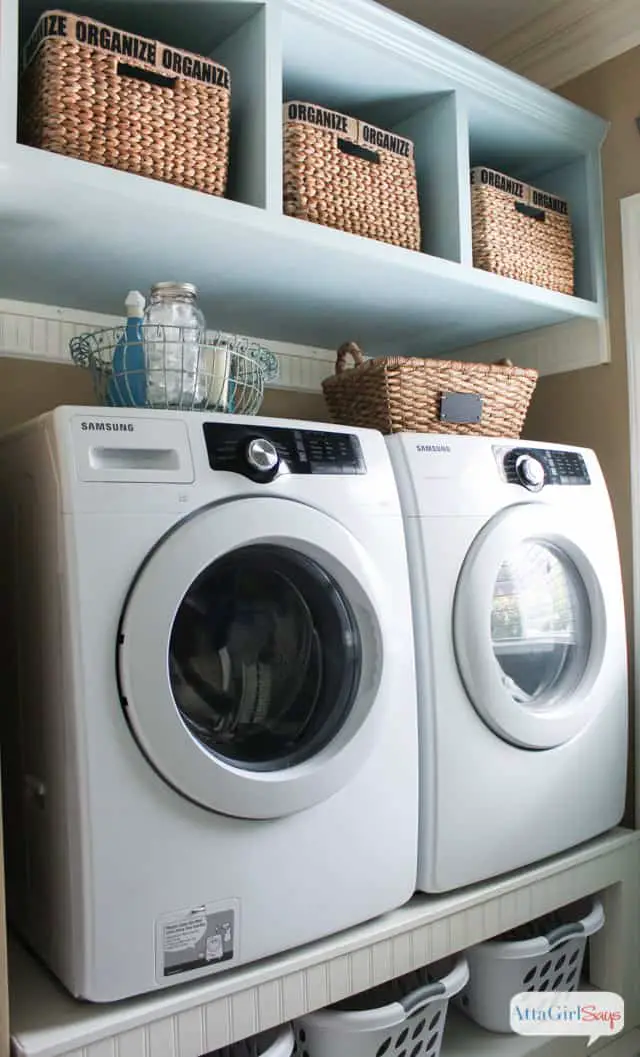 Mudroom Laundry Room by Atta Girl Says
You can easily hide vertical and long-handled items such as ironing boards, brooms and mops on a wall using a utility board to keep them up and off the floor. You can also add shelving using this type of utility board. You can find a similar utility board here.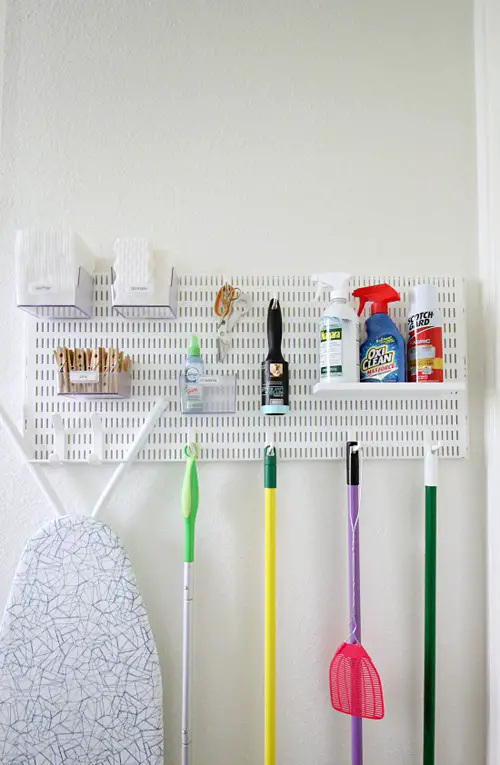 Hanging Ironing Board and Brooms by I Heart Organizing
Utilize your laundry room door for storage. What works in a pantry will work here, too! If you have limited cabinet space, hang a simple over the door rack and organize away!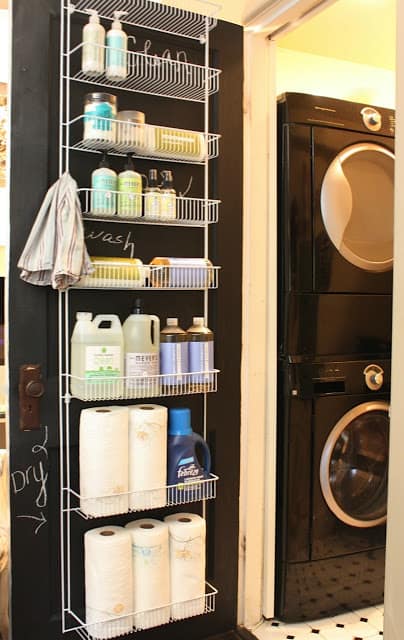 Back Of The Door Storage by My Sweet Savannah Blog
These large wire basket organizers are a great look for a laundry room that has the floor space for this type of organization. The baskets have cloth inserts for ease of use so you can just throw them in the wash when needed.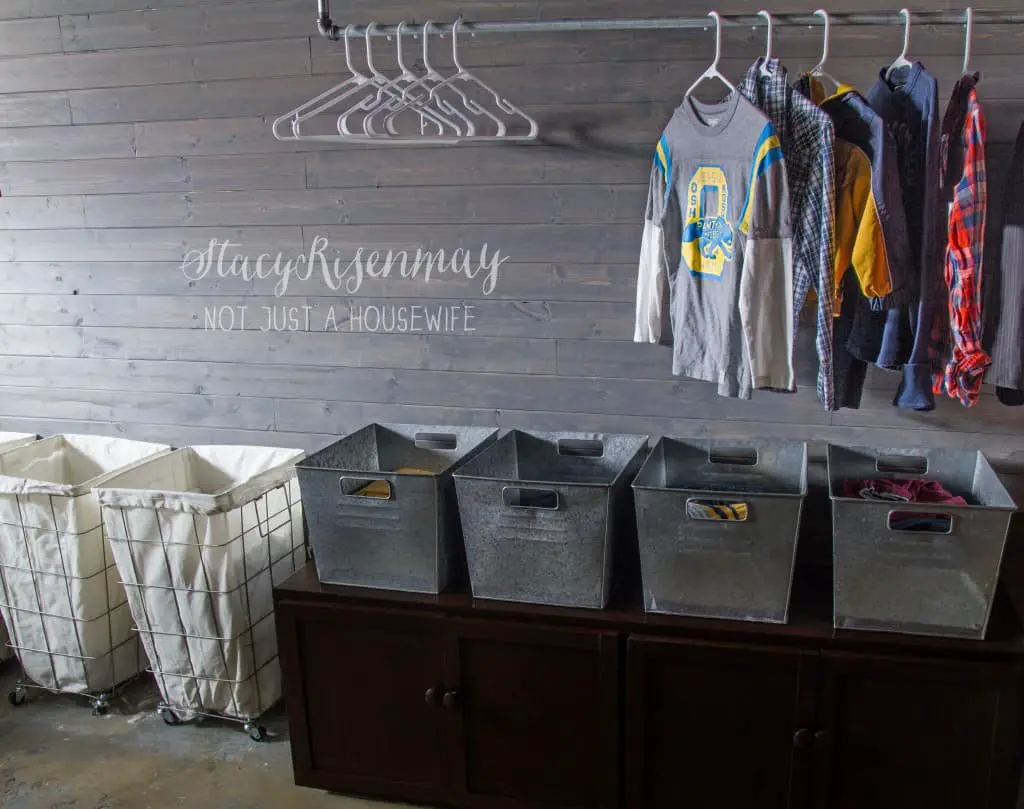 Wire Basket Organization by Not Just A Housewife
I love all these great ideas to get my laundry room under control.
Some other posts you will love:
8 Easy Ways To Organize Your Pantry
11 Backpack Storage Ideas For When You Don't Have A Mudroom
Like it? Pin it.