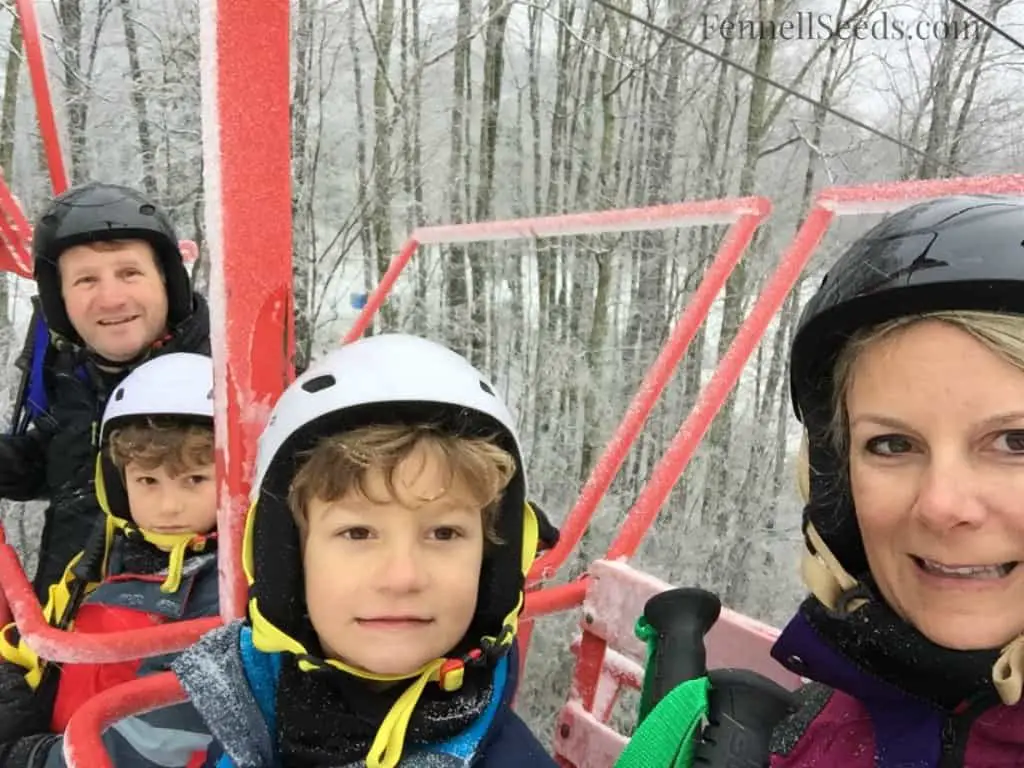 What a great introduction to skiing. We met up with family in Gatlinburg for a trip to introduce my twin boys to snow skiing. I have only been to Gatlinburg one other time when I was very young and didn't really remember much of it. So I didn't really know what to expect.
The first day  we arrived in the afternoon we unpacked at our cabin. We stayed at Parkside Resort in a 4 bedroom cabin. It had a hot tub, fire pit and movie room. It was beautiful and perfect for our crew. It is a little bit out of town but had great amenities. That evening we decided to walk around Gatlinburg and pick a place to eat dinner. I had no idea that Gatlinburg was like walking through a state fair. Candy shops, arcade games, indoor putt putt places, etc all lining up the street. It was so fun. I think the kids could have stayed busy on that street for the entire trip.
We went to dinner at Cherokee Grill. It was probably the most fancy restaurant we saw in the entire town. My parents like nice gourmet style restaurants and I must admit that I don't mind them either, so we had a great meal of steaks and seafood. My little girl had quite the meltdown when she had thought ordering grilled cheese was the same thing as Macaroni and cheese and I was super impressed that the waitress immediately said she was going to go get her a bowl of macaroni and cheese and she ran to the restaurant across the street and got her a bowl!! Wow!! She was amazing.
The very next morning we got up early to get to the slopes for ski equipment and ski lessons. We laughed because we were rushing to get there and showed up and we were the very first people to arrive for the day. Seriously, we parked in the very closest parking spot. I guess skiers sleep in, unfortunately my kids do not know how to sleep late.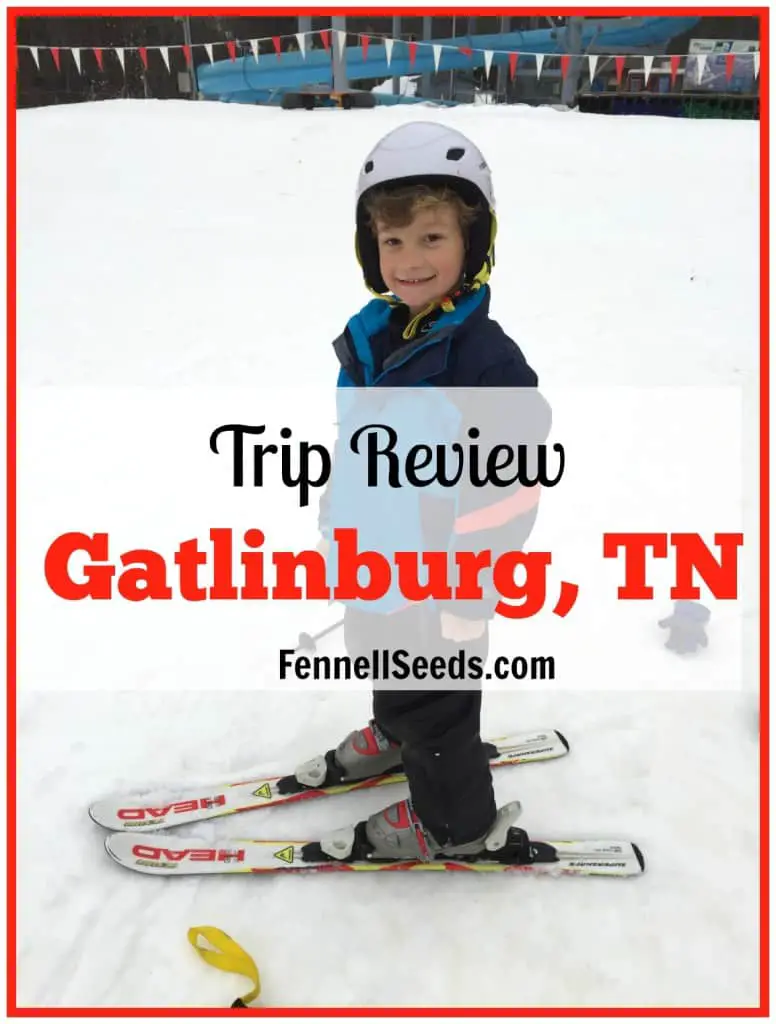 With our rentals taken care of and while the kids and my husband took lessons,  I went up the lift to take a few runs to refresh my body on how to ski. It had been 13 years since my last ski trip. I forgot how much I love to ski. I used to go for a week out west each year so have lots of experience but need to take a few runs by myself before I could think of helping others.
If you arrive early the process to get ski equipment and lessons was super easy. If you arrived after 11:00am I noticed that the lines were super long and the parking lot was so full you had to park at the bottom of the hill and take a shuttle so a much longer trip.
We ate at the restaurant upstairs that had a great view of the ski slope. I must say that my reuben was so good I ordered it 2 days in a row. It is a pretty good place to grab a bite to eat in the middle of the day. I looked like they have a great set up for Apres Ski at the end of the day too but unfortunately we didn't get to partake in that tradition.
After lunch we went tubing. Make sure to buy your tickets the day before downtown at the office at the bottom of the Tram. This was a hit with all the kids. Even my 4 year old and my 3 year old nephew absolutely loved tubing and went every day. The tickets are for 90 minute sessions and for the first 30 mins of your session it is a little more crowded and then quickly the crowd dwindles and then there isn't very many people tubing. I am surprised that so many people buy the ticket and only go down the hill twice. But I will say that 90 mins is plenty of time. We were about 15 mins late to get there every day and were ready to be done about 15 mins early.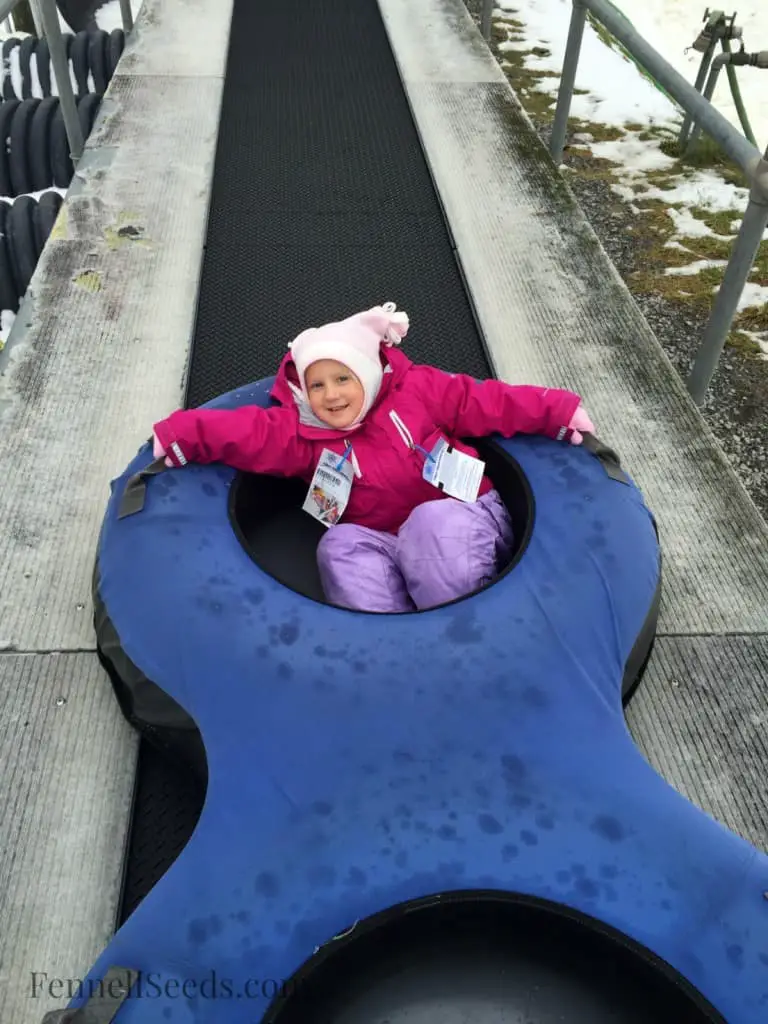 I will say that my boys at almost 8 years old were the perfect age to learn to ski. They took to it very fast and we were going down the green hill the 2nd day and even went down a blue the 3rd day. I about had a heart attack watching them go down the blue (intermediate) hill super fast and a little out of control. I told them only the green hill after that.
My 4 year old did not do as well and was not as interested. We did a lesson for her the first day and she could just barely go 4 feet down a small incline into my arms by the end. Then the 2nd day she only put on skis for 15 mins and the 3rd day not at all. She went tubing both of those days instead of skiing. My husband only likes to ski for a little bit and then would take our daughter to do other things the rest of the day.
Tomorrow I'll write about our experience at the Dixie Stampede. All 12 members of our family went and I would love to share about it in case anyone is thinking of going.
Sorry this is so long but I love to read about what other people did on trips before I consider going to the same place. This was a perfect trip for 4 nights and really we could go back and do even more. I especially would love to go in the summer.
Have you ever been to Gatlinburg, TN?
This post will be shared at my favorite linky parties.