This post may contain affiliate links. For full disclosure, click here. 
My daughter Britton is 4 years old and just recently made over her room into a little girl's pink and blue bedroom. The first thing we did was upgrade her to a big kid bed. Yes, we kept her in a toddler bed just a wee-bit too long. 😉 I am a firm believer in lots of sleep for kids therefore I stick with what's working. My kids stayed in cribs until they were 3 and I kept her in a toddler bed until 4 1/2.
When I finally decided to make over her room, my only caveat was that I had to keep the blue rocking chair in her room. She really likes girly colors so I had to scour the stores and internet to find a girly comforter that made the blue chair work in the room.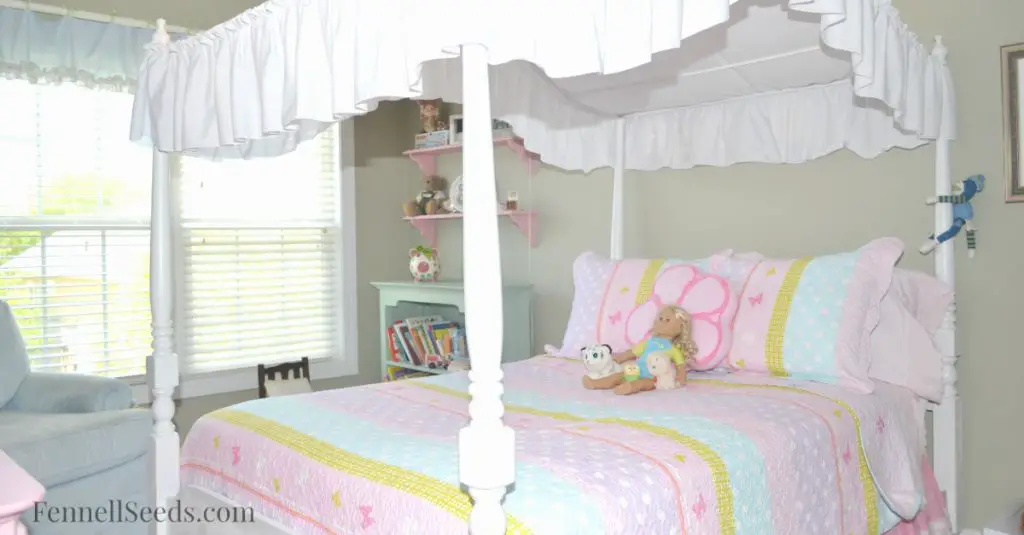 You may not be able to tell from the pictures but she has a very small room. All the other bedrooms in this house are very large. For some reason this one is not, but it worked for her nursery and now with a regular bed is pretty cramped. We are making it work for now or until she grows up and realizes there is a nice size room across the hall that is barely used as our guest room. We have to make it work because our guest room furniture won't fit into her room so when we she grows a little we will have to figure out some major furniture changes.
I went to a lot of stores looking for girl bedding that incorporated the color blue. I couldn't find anything I liked and then I started looking online and couldn't believe I found everything that I wanted on Amazon including the mattress!
This comforter is great quality. I like that there is light pink, dark pink, purple and blue in it so we can mix the colors in her room. I prefer comforters for the kids rather than duvets because it is easier for them to make their own beds. Also, my boys don't sleep with a flat sheet, just their comforters so it is easier to wash and throw back on their beds than a duvet cover. This comforter in the twin size is only $49!
The bed skirt is so cute! I didn't even think about getting something other than a plain light pink skirt until I saw this one for the same price. I love the ruching, it really dresses it up. It comes in purple too.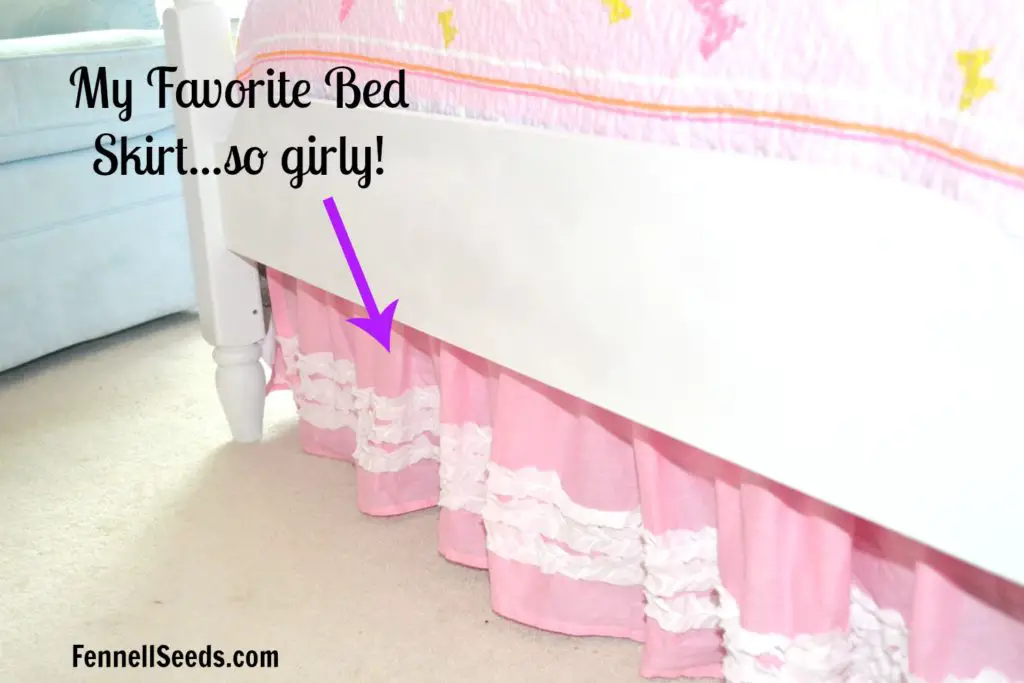 I also ordered the canopy from Amazon. They just have everything don't they? 😉
Can you believe that you can order mattresses online?! I was dreading going to a mattress store and haggling on price. It feels like a car dealership where you have no clue if you are getting a good deal. Here is the one that we purchased. You do have to be home when it is delivered but you can pick your time. We love it.
I paid about $280 and now I see that it is over $400. Make sure to look at different versions of mattresses to be sure you are getting a good deal. I made sure I read all of the reviews. This one said so it only looked like a pillow top but actually is not, it just looks like it in the picture. For a 4-year-old I think this mattress is perfect but an adult may need more support.
The actual canopy bed I found on a Facebook Mom Swap group for only $75. We had to touch it up a little with some white paint but it turned out great.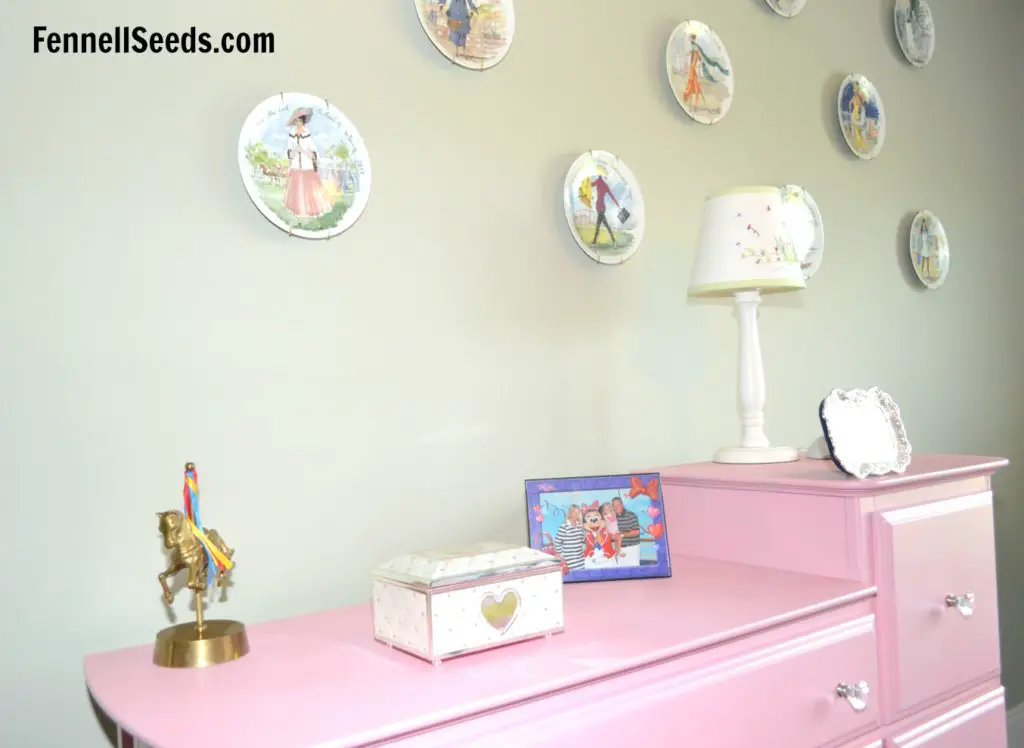 I added in a picture of her former changing table now fun dresser. We spray painted it pink and changed the knobs and it is perfect for her girly room. We also spray painted some shelves above her bookshelf the same color to try to tie it all together.
I inherited these plates from my grandmother. I always loved looking at all of them when I visited her so I am so happy to use them.
So Ta-Dah!! That's my little girls bedroom. I am so happy with it. And so is my little super girl!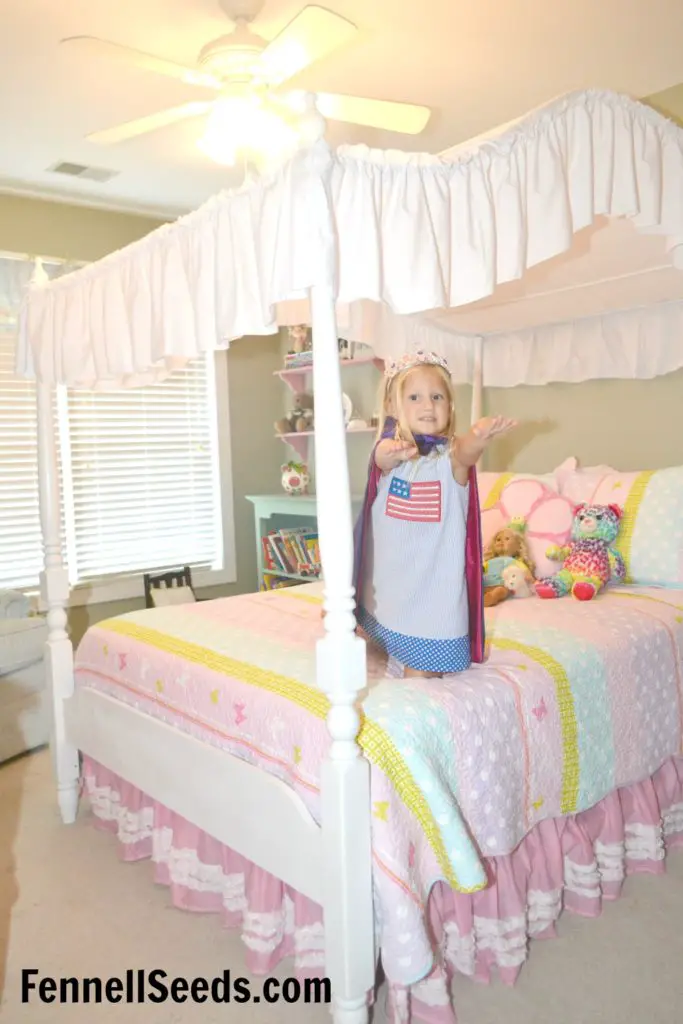 Like it? Pin It!