Since we just got back from our first family ski trip, I thought it would be helpful to share what worked for us and made our trip a success.
We went to Gatlinburg, TN for our first trip. I have 3 kids, twin boys who are almost 8, a daughter that is 4 and my husband who is a beginner as well. It was a little intimidating planning the trip and worrying how everyone would handle learning a new skill. Especially because I was the only one in our immediate family that is an experienced skier. I really wanted them to all have a good experience and love it.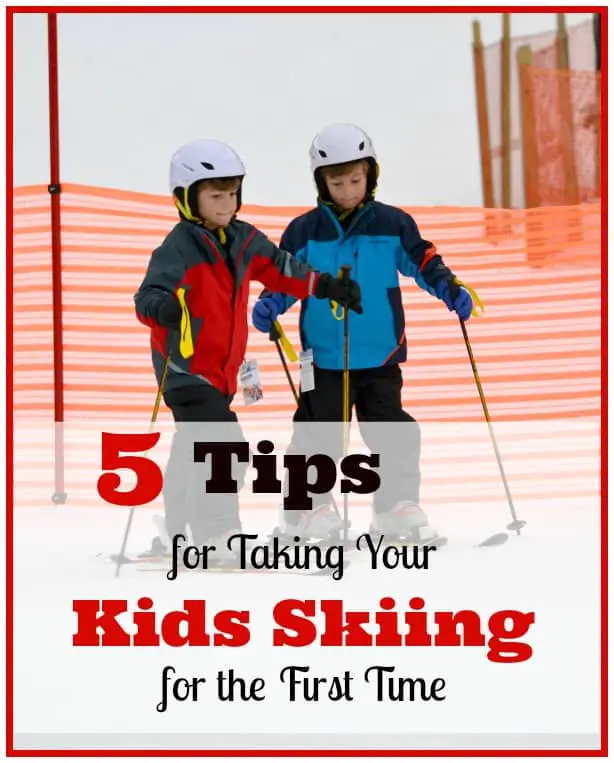 Here are the top 5 tips for taking your kids skiing for the first time.
Book your lessons before you get there. Let the experts teach them the proper technique for their first time on skis. I am an experienced skier but I am not at the level to teach others. Plus, I am not the most patient person in the world (both my sisters are cracking up right now if they are reading about me talking about patience).
Get a locker for your shoes and extras. Don't think your kids will walk from the car to the slopes in their ski boots like you have in the past. The first time they are in the ski boots they have a very difficult time walking. Have them walk as close as you can to the slopes then put their ski boots on and we have one adult take all the shoes back to the locker.
Get to the slopes early. Most people don't show up until about 11:00am. My kids are early risers so it was no problem for us to get there right when the slopes opened at 9:00am. This means we had over an hour with hardly anyone on the slopes. This helps make the whole situation less stressful and intimidating. If we had a bunch of people around like I saw in the afternoon it would have been very distracting.
Plan on an early lunch. My kids were hungry at 11:00am. The first day they had their lesson at 9:00 am and then had worked on the bunny slope for another hour and after 2 hours of really using their brains and bodies they were ready for a break. I find eating at the real restaurant with servers is a good idea for our crew. It is too stressful for me to try to deal with carrying trays of food and drinks for a lot of people. Plus we needed a break so actually sitting down at a table was a good idea.
Leave them wanting more. Isn't that a classic saying? 🙂 But it is true! Be sure to leave when you hear the first "I'm cold" or "I'm tired" statement. Don't push beginners past the point of exhaustion. We made sure to only do about an hour more after lunch and then went tubing. This made them really excited to go back the next morning.
Using all these tips helped make our trip way more successful than I expected. I had planned to only have them ski 2 days and they ended up begging to ski all 3 days. I just love ski trips so am looking forward to having a new family activity.
Any recommendations on where we should go for our next ski trip?
For my post on our thoughts of Gatlinburg as a ski destination. Click Here.
This post will be shared at my favorite linky parties.