Sometimes you just need a mental break. If it has been a long week or I am stressed out with a long to do list I just need to sit down for few minutes and regroup. This is when I find I am turning on House Hunters over and over. Why is this?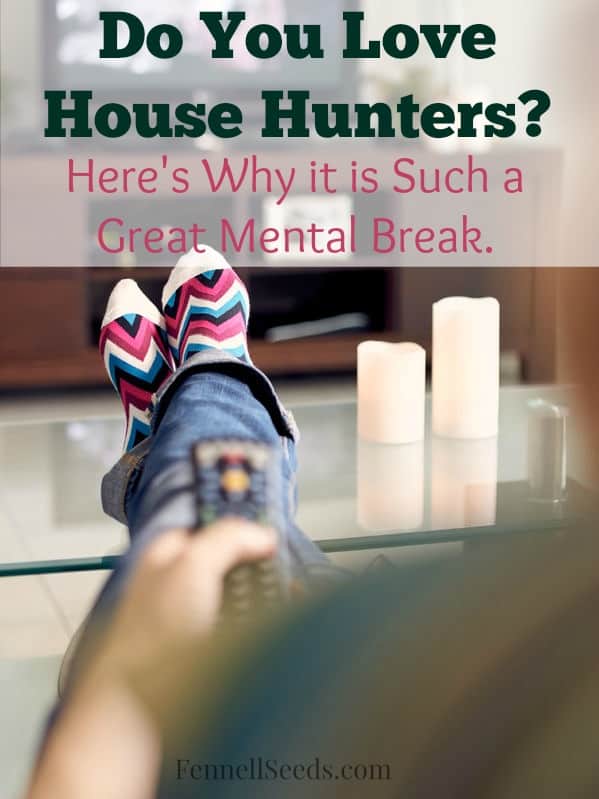 I find myself even using it as motivation to get a dreaded chore completed. Such as, if I clean the kitchen as quickly as possible I will allow myself 1 House Hunters. When I really thought about this the other day it struck me as odd. I have watched so many that I can barely find any that I haven't already seen. I even like lots of other shows much better so why is it this particular show that helps me regroup? This is when I started to look at it and see why it is so mentally relaxing.
It has the same format each show. Every time you watch, you know that they are going to be introduced, you look at 3 homes and then they decide which home is their favorite and then there is a short segment where they show the family after they move in.
There is always a happy ending. They may have been saving for a new and bigger house or just moving to a different area but everyone always ends up with a house.
It is short. I DVR these shows so I never watch commercials. This means it is only 20 mins to watch it. This is a perfect amount of time to regroup and be mentally ready for my next task.
This show has been on for 13 seasons. This must mean that I am not the only one who watches it. I even remember when they had the other female host and the doorbell would ring whenever the next house would be shown. 🙂 Anyone else remember that? They certainly have improved and perfected the show and even my kids are now willing to watch it. This makes me super happy when I am tired of cartoons.
Anyone else watch these to decompress or find them very relaxing like I do?