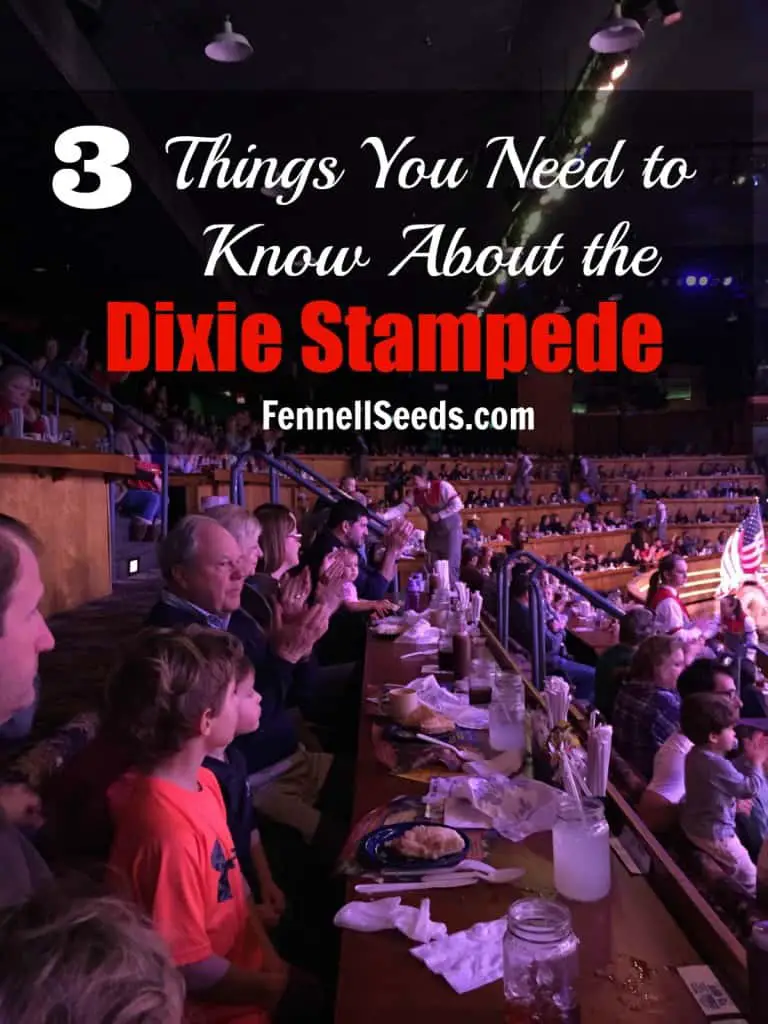 While we were in Gatlinburg, TN over the long weekend we decided to book tickets to the Dixie Stampede dinner show. A family member told us that it would be great for our group. Traveling with us were 7 adults and 5 kids that were age 7 and under.
There are 3 things you need to know before you go to the Dixie Stampede.
They do not provide silverware. You eat with your hands, or if you are like us, you bring in your own plastic silverware.
They do not serve alcohol. This was surprising news and I definitely heard lots of groans from some of the men in our group. To be honest, I would have liked a glass of wine myself. 🙂
It is actually a pretty impressive show. We all agreed that we liked it, even the men.
The dinner show we signed up for started at 6:00pm. They told us that there was a preshow that started earlier and we meant to get there in time but we didn't arrive until 5:45….big group problems. 🙂
We got there just when they announced that it was time to move into the big arena. We saw everyone get up at the same time and while it looks like the pre-show was good, it was in a big room that had lots of popcorn and frozen drinks for sale so I was glad we hadn't arrived in time because it would have cost us a lot more money and ruined my kids appetite for dinner. So happy that arriving late worked to our advantage this time.
We were seated and everyone sits at a long table facing the arena. Luckily, there is a way to get out of your seat without having everyone in your row get up. I was worried about that with young kids that you never know when they need to go the bathroom. The servers quickly came to take drink orders.
A big thing we were unaware of is that they do not serve alcohol. A few of the men in our group, that will remain nameless (cough, cough), were a bit put out by this news. 🙂
The servers all come out at the same time with all the parts of the meals. Everyone gets the same meal so there isn't any ordering. But for example, when it is time for soup, all the servers come out of the kitchen at the same time. The food was ok, nothing amazing and nothing terrible.
The show was absolutely fantastic. I was impressed. Honestly, I wasn't expecting much and I was pretty blown away. It kept all the kids attention the entire time, even the 22 month old in our group stayed in her seat the entire time. That says a lot!
My father was actually picked to be a part of the show. I don't know how that happened. He did get up to go to the bathroom in the middle of the show so maybe they grabbed him while he was out of his seat? But the kids were super excited to all of a sudden see their Grandpa in the middle of the arena. A great memory.
I will say that it was expensive but if you can afford it it was worth it. I would actually take the kids again in 2 years and I think they would enjoy it again or I hear they have a Pirate themed dinner which may be a good option for us.
Let me know if you have even been to the show? Was it worth it to you?
This post will be shared at my favorite linky parties.