If you're looking for ways to entertain your 2-year-old while at home here is a great list of the best Montessori toys for 2 year olds. The Montessori method of teaching and learning can be a great way to let children develop skills and build independence.
With its focus on hands-on, self-directed activities with simple materials, Montessori allows children to engage their young minds and bodies in meaningful explorations that help develop important skills like problem-solving and creativity. To get started on this worthwhile journey of discovery and play, we've rounded up the best Montessori – approved toys perfect for younger toddlers aged two years.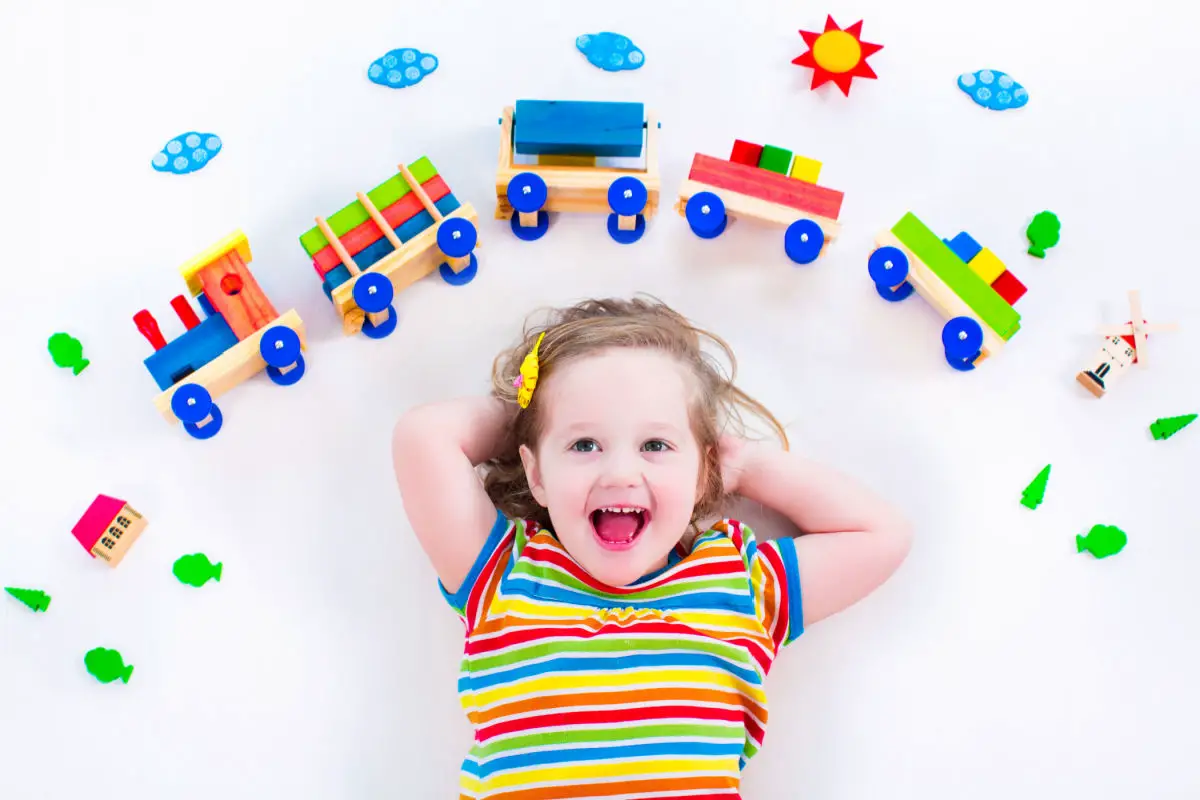 Read on as we explore the best Montessori toys for toddlers that'll keep them entertained and sharpen their sensory skills alongside! 
Best Montessori Toys for 2 year olds
You can't go wrong with this classic. We have kept our wooden blocks thru all 3 of my kids. It's like the ultimate toy for kids. I mean, who doesn't love building stuff, right? Wooden blocks are perfect for tiny hands and building fine motor skills, plus they're made from wood, so they're eco-friendly and durable. 
They encourage creativity, imagination, and fine motor skills. Plus, you can build castles, towers, and whatever else you and your little one can dream up together. The best part? When they grow older, they can still enjoy these blocks and create even more complex structures.
A cool balance board will be fun and help improve your kiddo's balance, coordination, and motor skills. Picture your little one rocking back and forth on the board, giggling with delight as they find their balance. 
It's also a way for them to burn off some energy indoors, especially on those rainy days when you can't make it to the playground. They'll be having so much fun they won't even realize they're learning to balance.
The Pikler Triangle is a classic Montessori climbing apparatus made out of natural materials that helps with physical fitness and balance. Creativity abounds with different variations of set up and little ones can build strength and hand-foot coordination. 
The triangle can fold flat for easy storage. My boys love to climb and with all the different variations it never gets old. We also throw a sheet over it and it becomes a tent.
Reel in the fun with a magnetic fishing game. Your kiddo will love the thrill of catching colorful items with their magnetic rod. This seemingly simple game packs a powerful developmental punch – great for fine motor skills, hand-eye coordination, and concentration. Plus I love the matching of colors that is perfect for 2 year olds.
Plus, the adorable shapes can double as props for imaginative storytelling, sparking creativity and language development. Your little one will be "hooked" in no time!
Toddlers love to make noise. These fun musical instruments inspire movement. We have had our set for so long because they are some of our favorite Montessori toys.
We love this busy board and we also have a homemade busy board with lots of different locks. Kids love busy boards especially if they are similar to real life opening and closing devices.

You know how kids just adore stacking things? Nesting and stacking boxes are perfect for that. These versatile boxes encourage their natural curiosity when they explore different ways to stack and nest them. I couldn't help playing with them as well.
As your child figures out how the boxes fit together, they're actually working on their problem-solving skills and refining their hand-eye coordination. Plus, it teaches them about sizes, shapes, and spatial awareness.
Now, this is one of those toys that I secretly enjoy playing with, too (shhh, don't tell anyone.). Shape sorters are fantastic for helping your little one recognize different shapes and colors and improving hand-eye coordination. 
As they grow, they'll love the challenge of fitting the correct shapes into their respective slots. And there's a certain sense of satisfaction in watching them master this task, isn't there? It's like a little victory dance for both of you.
Oh, the simple joy of stacking rings. This is another classic Montessori toy that's perfect for 2-year-olds. These rings come in various sizes and colors, perfect for little hands and can help young children learn about size comparison, color recognition, and counting. 
Stacking the rings also develops their hand-eye coordination and fine motor skills. Also, let's not forget the excitement on their faces when they finally stack that last ring on top. Priceless!
Who doesn't love animals, right? I would set out all our animal puzzles with the pieces right in front and it kept my boys busy for a while. These simple puzzles are not only adorable, but they're also perfect for developing problem-solving skills, hand-eye coordination and spatial awareness. Animal puzzles can also be a fun way to introduce your little one to different animals and their habitats. 
They'll feel a sense of accomplishment and satisfaction as they complete the puzzle. You can even use this as an opportunity to bond with your child as you help them learn the names and sounds of each animal.
RELATED POST: 8 Ridiculously Easy Toy Organization Hacks You'll Wish You'd Known Sooner
These colorful little gems are eye-catching and perfect for developing your child's fine motor skills and hand-eye coordination. Lacing beads will introduce your LO to math concepts like counting, sorting, and pattern recognition. 
Your two-year-old will be engrossed in stringing beads onto a lace, creating their little masterpiece. It's adorable. And as a bonus, lacing toys will improve the little buddy's concentration and focus, so you might even get a bit of quiet while they're busy at play.
This versatile play station is an absolute must-have for your two-year-old's sensory development. They'll have a blast splashing in the water, digging in the sand, and pouring and scooping to their heart's content. 
It's not just about having fun, though. Playing with a sand and water table helps improve fine motor skills, hand-eye coordination, and even early science concepts like cause and effect. Plus, it encourages social play and sharing when their little friends come over to join in the fun.
Get ready for some tasty make-believe with a pretend play kitchen. Let your 2-year-old cook up a storm as they explore the world of grown-ups through imaginative play. I love that this kitchen will blend in with any decor and is gender neutral. Playing a chef nurtures creativity and enhances practical life skills and their social skills. 
By engaging in role-play scenarios, your child develops empathy and learns about cooperation, sharing, and taking turns. Plus, all that stirring, pouring, and opening cabinets works wonders for their fine motor skills. Bon appétit.
Nothing quite beats the feeling of accomplishment when your little one fits a puzzle piece into place. And with alphabet and number puzzles, that satisfaction comes with an educational twist. 
These puzzles help familiarize your child with letters and numbers in a fun, hands-on way. As they learn to match the pieces, they're also honing their problem-solving and fine motor skills. And hey, it's never too early to lay the foundation for literacy and numeracy, right?
Toddlers love sorting things, and color-sorting toys hit the sweet spot between entertainment and education. Your 2-year-old will be captivated by the vibrant colors, and as they sort objects by hue, they're learning to recognize and name colors. 
This engaging activity enhances toddlers' cognitive development along with improving their fine motor skills and hand-eye coordination. It's a win-win for both fun and learning.
Last but not least, let's bounce into the world of texture sensory balls. These squishy, bumpy, and fascinating balls are not just a blast to play with – they're also great for sensory exploration. Your little one will love discovering the various textures while strengthening their fine motor skills and hand-eye coordination. And guess what? Rolling, tossing, and catching these balls can even help improve your child's gross motor skills and balance.
Go On And Pick The Best Toys for Your Bud!
When shopping for Montessori toys for two-year-olds, your goal should be to provide an at-home atmosphere that encourages learning and exploration. 
Finding just the right balance of activities and toys will teach them critical thinking skills, as well as independent play. 
All of these amazing Montessori toys are designed with love and care by professionals who understand the importance of early access to developmentally appropriate learning experiences. 
Whether you choose activities that integrate fine motor coordination, creativity, or math and science experience, you can't go wrong in selecting Montessori materials for your little one.
Like it? Pin it.