Are you tired of trying to measure formula and heat the water to the perfect temperature in the middle of the night? An automatic baby formula maker may be the answer to all of your infant feeding woes!
Here are some of the best ones on the market and why you might want to consider them as your next purchase.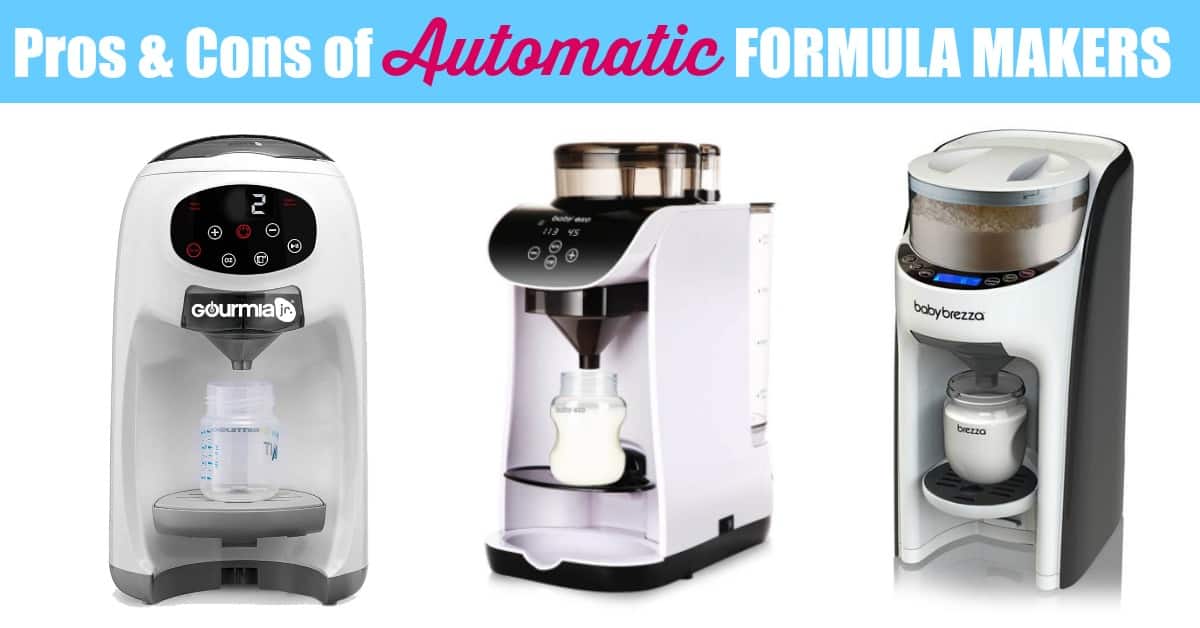 Why Are Automatic Baby Formula Makers So Popular
Baby formula makers are a relatively new gadget in the baby supply world. They have gained popularity amongst new parents who are looking for efficiency and cost-effectiveness. Since most of the formula makers automatically dispense the formula and heat the water for you, there is little wasted formula or water.
They also save busy parents time, especially for the middle of the night feedings by completing the bottle making process automatically. This means more sleep and less waste all with the help of one small machine.
Benefits of Using an Automatic Baby Formula Maker
In addition to making nighttime feedings easier, automatic baby formula makers make all feedings in general easier. Juggling a crying baby, a can of formula, a bottle, and water can make anyone feel like they need another set of hands. An automatic baby formula maker is, essentially, that other pair of hands you need.
Whether you are feeding your first child or trying to feed the baby while you have a toddler in tow, the almost hands-free ability to prepare a bottle is priceless.
Formula makers are also fabulous for when babysitters or grandparents come to help.
It takes the guesswork out of preparing the bottle and gives you peace of mind knowing that your child will be getting the right amount of formula at the right temperature. That means you can enjoy your time out without one more thing to worry about.
Top 3 Automatic Baby Formula Makers in 2020
We searched and researched some of the most common baby formula makers out there to bring you the three best options for your baby's needs. Each is slightly different, so weigh the pros and cons before settling on one.
Remember, ultimately, the best machine is going to be the one that will work best for your family's needs.
Baby Brezza Formula Pro Advanced
The Baby Brezza brand has been around for a while and is a well-known name in the automatic baby formula makers world. This version includes advanced settings, works with almost all brands of powdered formula, and the removable components are dishwasher-safe for easy clean-up.
Pros

It works with many different types of formulas and bottles
It heats the water to the perfect temperature
It dispenses the exact amount of water and formula required and the dispensing amount can be adjusted for your baby's needs
It does not take up a lot of counter space
It comes in a variety of colors
Cons

It is known to clog easily but can be cleaned out with a sandwich pick
It requires more in-depth cleaning after every few bottles
It does not mix the formula well
Gourmia Jr. JFM Electronic Baby Formula Maker 
The Gourmia Jr. Baby Formula Maker has a 6 cup water tank capacity and user-friendly digital controls. It is compact to take up little counter room and is designed to accommodate the most popular baby bottle brand and sizes.
Pros

The large reservoir tank means fewer water refills are needed
It heats water and milk to the ideal temperature
The compact size makes it good for small spaces
It is BPA free, phthalate-free, lead-free, and FDA approved
It works with many different formula brands to make the perfect bottle
Cons

Requires frequent cleaning which uses a lot of water
Older versions were not as consistent with the dispensing of formula
Has been reported to leak
The BabyEXO Baby Formula Maker works with virtually all brands of formula and the bottle size that works best for your baby. This automatic bottle maker is relatively inexpensive and stylishly designed. In about 10 seconds you will have a bottle of formula without air bubbles for your hungry baby.
Pros

It is less expensive than some of the other well-known brands of formula mixers
The digital control panel makes it easy to set the amounts for the perfect consistency
It is very fast
Solidly made
Highly consistent in dispensing the correct amount of formula and water
Cons

Needs to be cleaned frequently
Can leak if not placed on a level surface
Not as convenient if making bottles for more than one child at a time
The Final Word on Automatic Baby Formula Makers
If you are considering getting an automatic baby formula maker, do your research and take the time to look at the models if they are available at a store near you.
If a friend has one, ask to look at it and get her opinion on how it works and what she would like it to do differently. There may not be the perfect machine, but there are plenty that will help make your life easier and help you get even a few more minutes of sleep.
Other Posts You Will Love:
Bottle-feeding – Am I feeding my baby too much or too little?
Dream feed 101 – How and When to Do a Dream Feed
Like it? Pin it.