This post may contain affiliate links. See my full disclosure here.
Did you think Keurigs were just for people making coffee? Well, guess what. You can make other things too. When I found out that you can make soups and drinks that aren't coffee in the Keurig I thought I would give it a try. Here are my top 3 delicious non-coffee drinks plus my thoughts on making soup in the Keurig.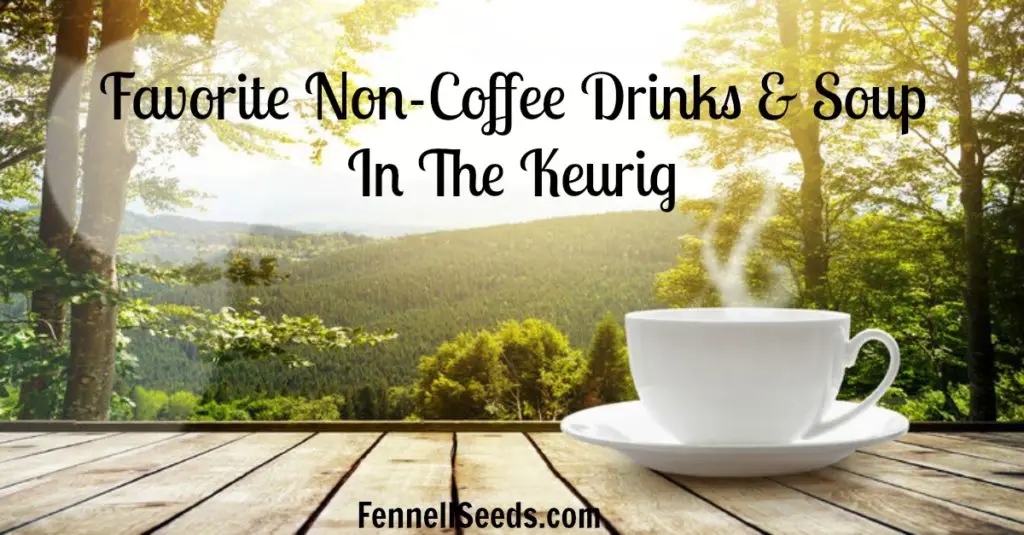 First I put out a call to my friends via Facebook asking for their favorite non-coffee drinks. I bought several kinds plus a couple friends gave me a pod or two to be able try them out and here are my favorites.
1. Celestial Perfect Iced Tea – Sweet Peach Flavor – Who knew you could make iced tea in the Keurig? I didn't! It makes perfect sense though. I tried a plain sweet tea K-cup but I think this peach flavor is much better. It has a nice sweetness that is not too overpowering. Just brew and pour over ice and you have a refreshing glass of iced tea.
2. Green Mountain Naturals Hot Apple Cider – I haven't had apple cider in years and a friend suggested this option for the kids. We tried it and I have to say that I liked it and the kids did too. Honestly, when she suggested it I was thinking, maybe for the kids but I probably won't like it but I was so surprised how flavorful it was. This is one that I will keep in the cupboard for sure.
3. Starbucks Salted Caramel Hot Cocoa – Do I even need to go on? Who in the world wouldn't love this? As soon as I saw this I placed my order right away. 🙂
I am sure you want to hear about the ones that I didn't love. The drinks that didn't make this list are Celestial Perfect Iced Tea Southern Sweet, Swiss Miss Hot Cocoa and Twinings Chai Black Tea. While they weren't terrible they just didn't have enough flavor for me.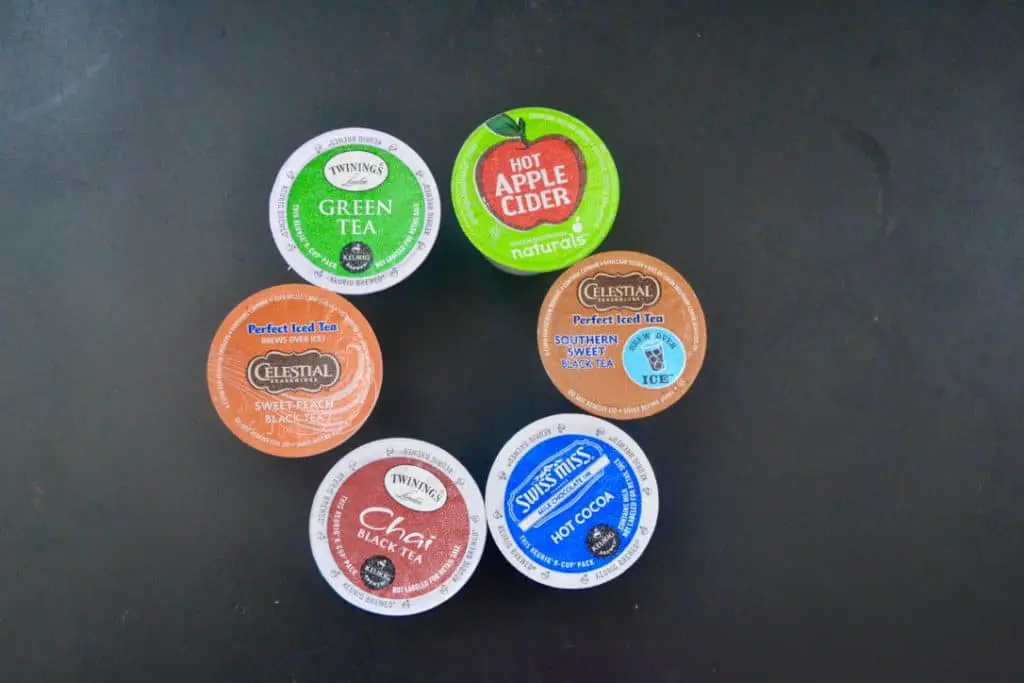 When I saw that you could buy Campbells Chicken Noodle Soup K – cups I had to give the soup a try as well. It was perfect timing last week because I was very sick and soup sounded perfect. I was worried it would taste a little too powdery and fake but to me it tasted the same as the can. Not as good as homemade but amazing when you are so sick you have no energy or desire to make anything.
I am going to keep trying new ones and will report back. I really want to try the Dt. Snapple Half and Half – half sweet tea/half lemonade which we call an Arnold Palmer. I think my husband would love it. There are just so many to try, this is fun.
If you are interested in iced drinks for summer check out my post My 4 Favorite Iced Drinks Made with My Keurig.
What are your favorites? I'd love to add to my collection.
Like It. Pin It!