We went to Napa this June to celebrate our 10th anniversary. We went with another couple we are great friends with and have traveled together several times. I love planning trips. The anticipation is half the fun of traveling. Although we don't have an unlimited budget I do like to feel like a VIP when I am traveling. Who doesn't, right?? 🙂
One of our biggest questions when planning a trip to Napa was "How do we get around?". We had a rental car but I was talking about from winery to winery. We all wanted to drink. Was it best to use a car/jeep tour where they drive you from place to place or is it easy to get an Uber in Napa to come pick you up whenever you are ready to go to the next place?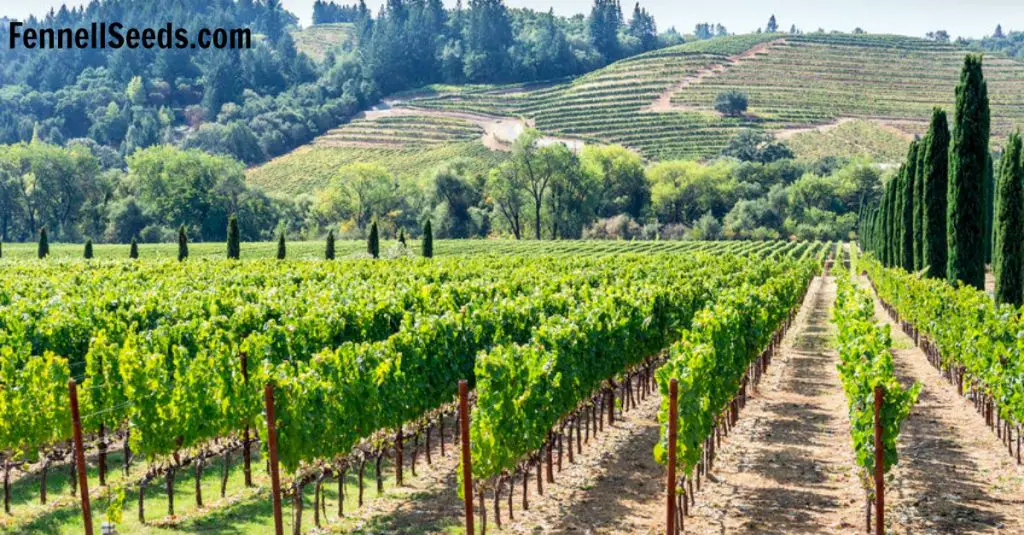 Some of the older trip reviews on trip advisor said Ubers were sometimes scarce. And some of the tour operator companies had great reviews but are so much more expensive were they worth it? I am a fan of reading guides and trip reviews before I go anywhere, here is an awesome guide book for Napa. Fodor's Napa & Sonoma
We decided to have one day of going to 3 wineries using Uber and one day using a tour operator to set up visiting 3 wineries.
Day 1: Using Uber
Uber Ride #1 – We went to the lobby of our hotel (Meritage) and my friend used the Uber app. Someone was within 5 mins and came and picked us up. He was a friendly retired man. Super nice and acted like a tour guide on our drive to Mumm winery. He told us so much information and said he loved driving for Uber. He even drove a little out of his way to show us downtown Yountville. We said our good byes at Mumm and hoped we would see him again.
Uber Ride #2 – After trying the delicious sparkling wines we used the app and had a car come within 10 mins. I was surprised at how fast and close the cars were and this seemed so convenient I was getting nervous that the expense of our tour the next day would not be worth it. This next driver was very nice and helpful and fun to talk to and told us his favorite things to order at the restaurant we were headed to for lunch.
Uber Ride # 3 & 4 – These were quick rides to another couple of wineries and they were fast and easy. Not quite as friendly as the first 2 drivers but we had absolutely no complaints.
Day 2: Using a Tour
We used Julie at Hidden Napa Jeep Tours. She was super friendly and had picked the 3 wineries we were going to be visiting that day. Off we drove to the first place of the day. This was Bell winery. It was gorgeous and she seemed to have hand-picked which person would be doing our tasting before we arrived. He was so friendly and knowledgable. We had a beautiful private table overlooking the vineyard. A special cheese plate that we tasted a cheese with each wine. It was our favorite experience by far and we would never have found that winery on our own. This is one of th main reasons to use a local tour operator. They have connections and experience to match your favorite types of wine with the type of winery to take you to visit.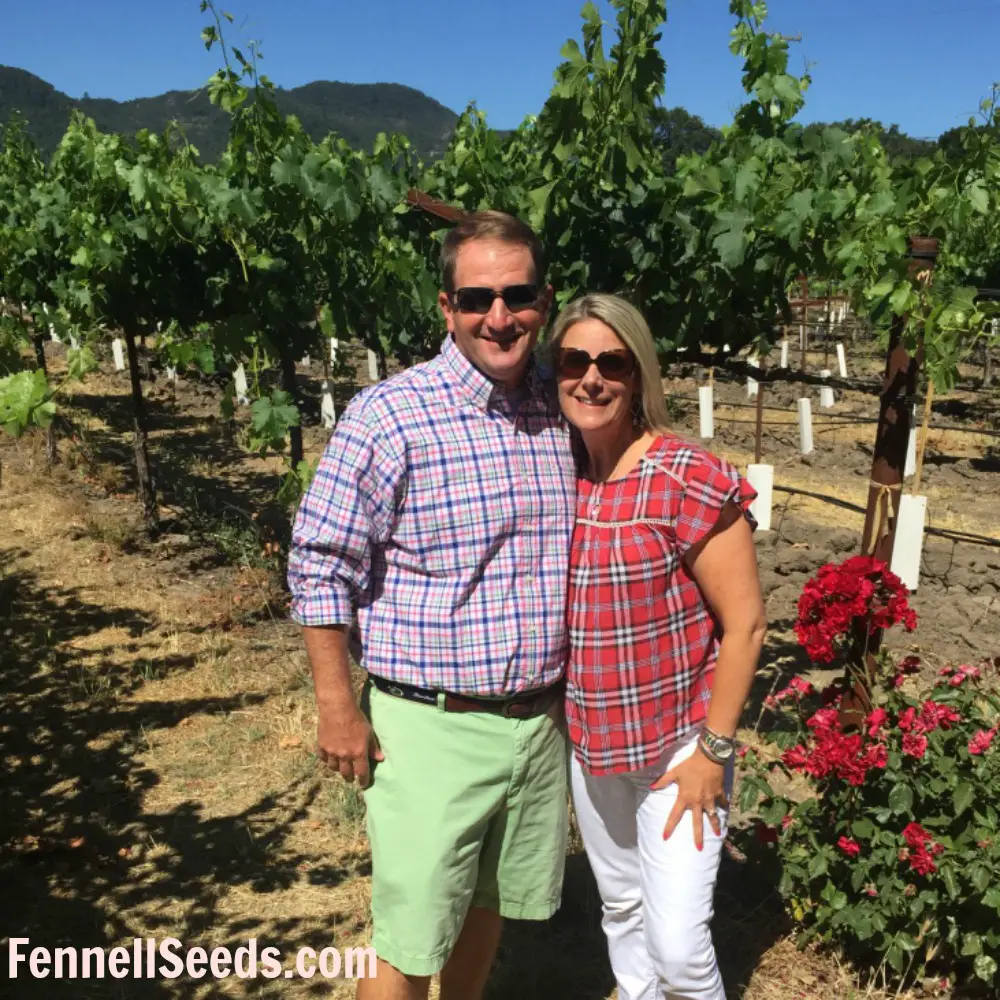 Our second winery Fontanella was the same type of experience. We would never have discovered it on our own and their story was fun to hear. The girl leading our tasting was so much fun and our favorite of the day.
The last winery we went to was a bummer. It was neat to see his vineyard but he wasn't that interesting. He had inherited the winery and you could tell he wasn't really that passionate about it. He even mentioned how he had to start working there when he lost his job in San Francisco and couldn't find another…downer!  It was downer for our last winery to be this one as we were on such a high on our trip. We knew we were headed to an awesome dinner after we got back to our hotel so our spirits were lifted pretty quickly.
Overall the experience with Julie/Jeep tour were 2 of our absolute favorite wineries that we wouldn't have found without her.
Conclusion: You can definitely use Uber in Napa Valley very easily and Yountville (we didn't try Sonoma yet so not sure about that area). You must research where to go on your own and I would definitely set up some special tastings so you don't blindly walk in and just sit at the bar.
The experiences that Julie with the Jeep tour set up made every place extra special with a personal touch. You could tell she had used her connections to upgrade our experience with special tastings and the best person to show us around.
That saying, I would not be afraid to plan my trip using Uber. I would just have to do a little more research on where to go and make a reservation for a special tasting experience.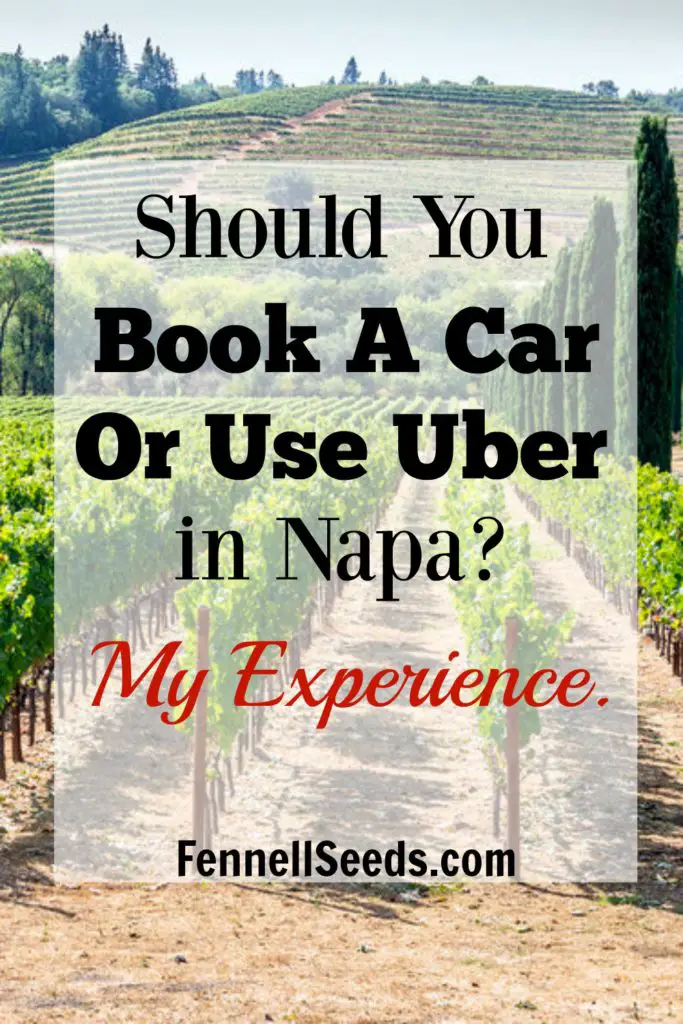 See my posts about our other travel experiences.
Why our 3 Night Disney Cruise Stressed Me Out. Don't make these mistakes.
Gatlinburg, TN Ski Trip – Trip Review
Linked to Calypso In the Country Travel Link Party.