When you are stuck at home with little ones, whether it is for snow day or sickness it is hard to keep the kids occupied. And usually it isn't the time to head to the store.
I gathered lots of ideas for playing that use items you may have around the house.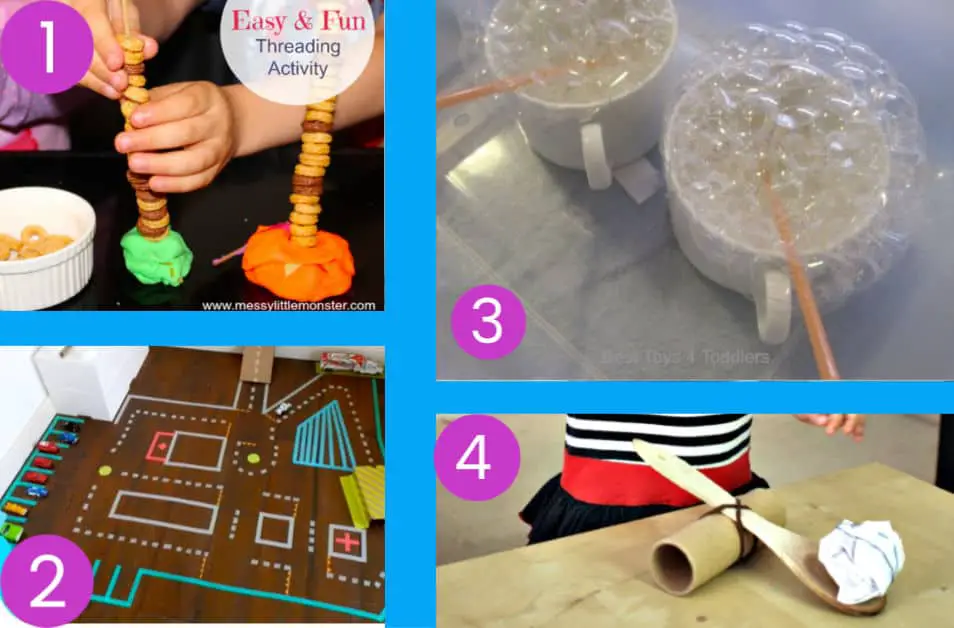 No-Prep Activities for Kids at Home
Cereal/Pasta Threading – You can use either pasta or yarn to thread cereal that is already in your cabinet.
2. Make a Masking Tape City – Your kids can use cars, trucks, people and animals and have a whole town. Run masking tape or painters tape on your floors and carpet to make roads and parking lots for a whole town. We used this all the time for our twin boys.
3.Blowing Bubbles Inside – Blow your kids mind with the ability to blow bubbles inside. A mix of shampoo and water which are 2 ingredients we always have make this something you can do right now.
4. Easy Homemade Catapult – Use soft wadded up paper or some small toys and your kids will love watching things fly.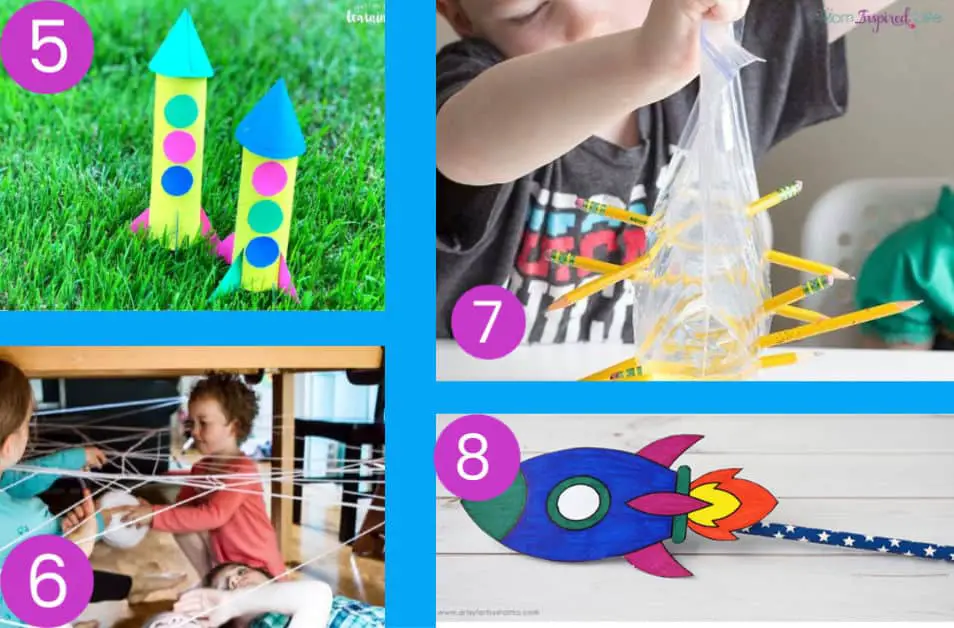 5. Toilet Paper Roll Rocket – Save up your paper rolls and let your kids have fun making rockets.
6. Spider Web Obstacle Course – Kids can pretend they are trapped or find ways to get around without touching the yarn. Do this under a table using the 4 table legs as the anchors of the yard.
7. Leak Proof Bag Experiment – Make your kids say "Wow" with this fun experiment. It's amazing when the water doesn't leak.
8. Straw Rocket – Anything that can shoot in the air in my house is fun. I like that this is will take them a little time to put together.
My kids love when I break out new activities. Some last for 5 minutes and some for an hour. Anything to help break up a day at home is good in my book.
Other Posts You Will Love:
Physical Activities to help Tire Out An Active Child
Like it? Pin it.