Tracking your baby's routine is a great way to ease your worried mind. Gone are the days of a notebook and pen to nonsensically write things down. Now, there are several baby tracker apps and printables that can allow you to quickly and easily track your baby's life in an organized way.
Chances are, as a parent, you will spend most of your time worrying about your baby's health, schedules and habits. It's natural to struggle with worry and only want the best for your little bundle of joy.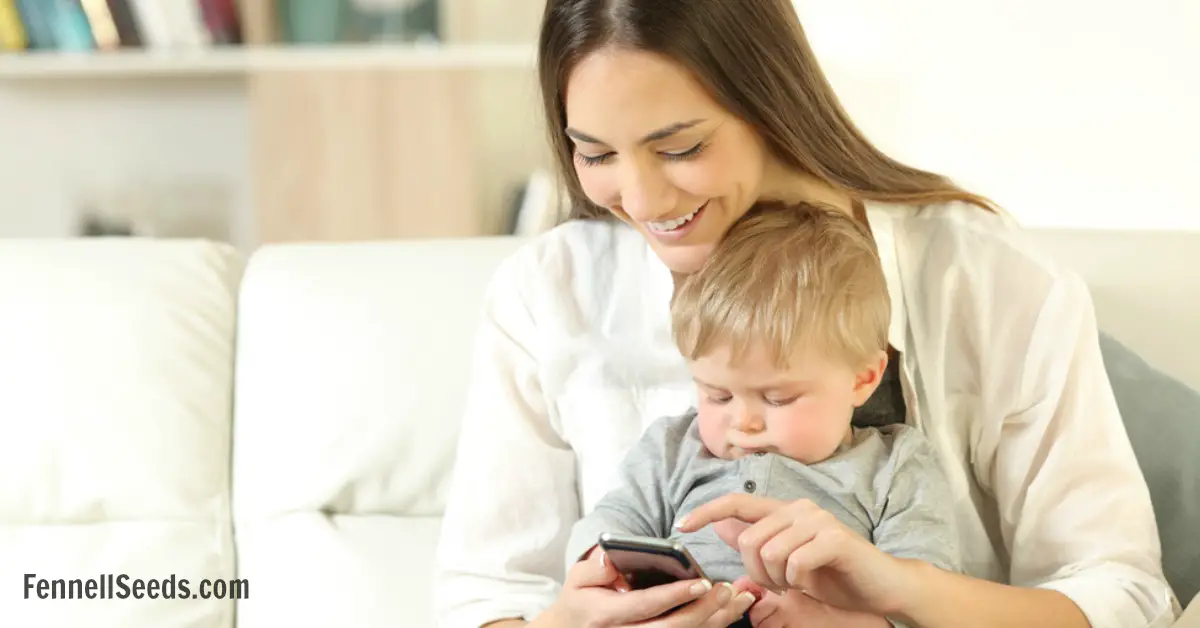 The Best Baby Tracker Apps & Printables
Baby Connect
The Baby Tracker App allows you to track daily information about your little ones.
What you can track
Diaper changes
Feedings
Sleep
Mood
Medicines
Activities
Photos
and more!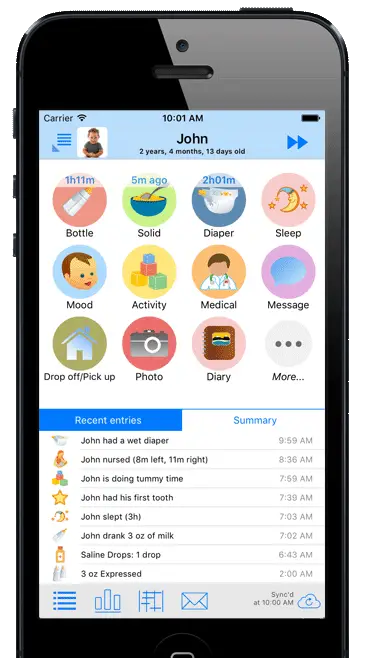 With Baby Connect, you can authorize several different users for each child. Whether it is the daycare staff, another parent or other family members, everyone can add in important information about your baby's day. All entries made are securely synchronized on each different account immediately. This baby tracker app also helps it's users to exchange photos and messages using the app.
Baby Tracker
The Baby Tracker App is available on both iTunes and the Play Store.
What you can track:
Feedings
Diaper changes
Sleep
Growth records
Milestones
Health
This comprehensive baby tracker app is easy to use and records very in-depth data accurately and conveniently. With an amazing data interpretation program, and data sync and back up, the Baby Tracker app helps to ensure that all your information is easily accessible and ready to read. Designed for busy parents, by busy parents this baby tracker app is an amazing way to record all the important information you need about your baby.
Tinybeans
Tinybeans is a wonderful sharing app for all parents.
What you can track:
While Tinybeans doesn't track as many aspects of your baby's life as others may, it does allow you to share a virtual baby book of photo updates via email. All you have to do is simply upload your images into the app and it will then send a daily email out to those you wish to receive one. No fuss required. In the milestone section you can track all of your child's important milestones and track them with images. This baby tracker app offers a photo editor so that you can fix photos before they are sent out and if you require some to hang on your wall, or want a photobook you can order them directly though the Tinybeans app.
Sprout Baby
This incredibly comprehensive baby tracker app is the one stop shop for all you need.
What you can track:
Feedings
Medical information
Growth
Memories and images
Data
Development
Sprout baby doesn't require a log in to use it, making it easier to download and jump right in. There is also a doctor report generator that records you child's heath information, which comes in handy when visiting the doctor with your little one. If your baby gets sick, you can track symptoms and medications in one easy to access spot. Use the memories section to export your images to create a gorgeous eBook. With an entire world of information at your finger tips, you will have access to daily tips, updates and datasets. Have an issue? That's ok, the customer service is amazing.
Newborn Printable Pack
If you prefer to track your baby's patterns and habits in hard copy using a pen, it is a great idea to use this Newborn Printable Pack.
I am still a paper and pen person and I loved being able to track feedings with paper. Sometimes writing little notes in the margins about funny things that happened. This also helped me with my next baby. I could go through my old notes and see when the older one started sleeping through the night and even figure out how much they were eating when that event actually happened. It was an invaluable resource.
What you can track:
Eating
Sleeping
Babysitter information
Childcare recorder
And more!
This wonderful newborn printable pack consists of 6 different pages in an easy to download file. Print as many copies as you require and organize all your baby's information in one easy and convenient location. Using a printable pack to track your baby's patterns will help you to manage sleeping and eating routines and help your little one get adequate sleep.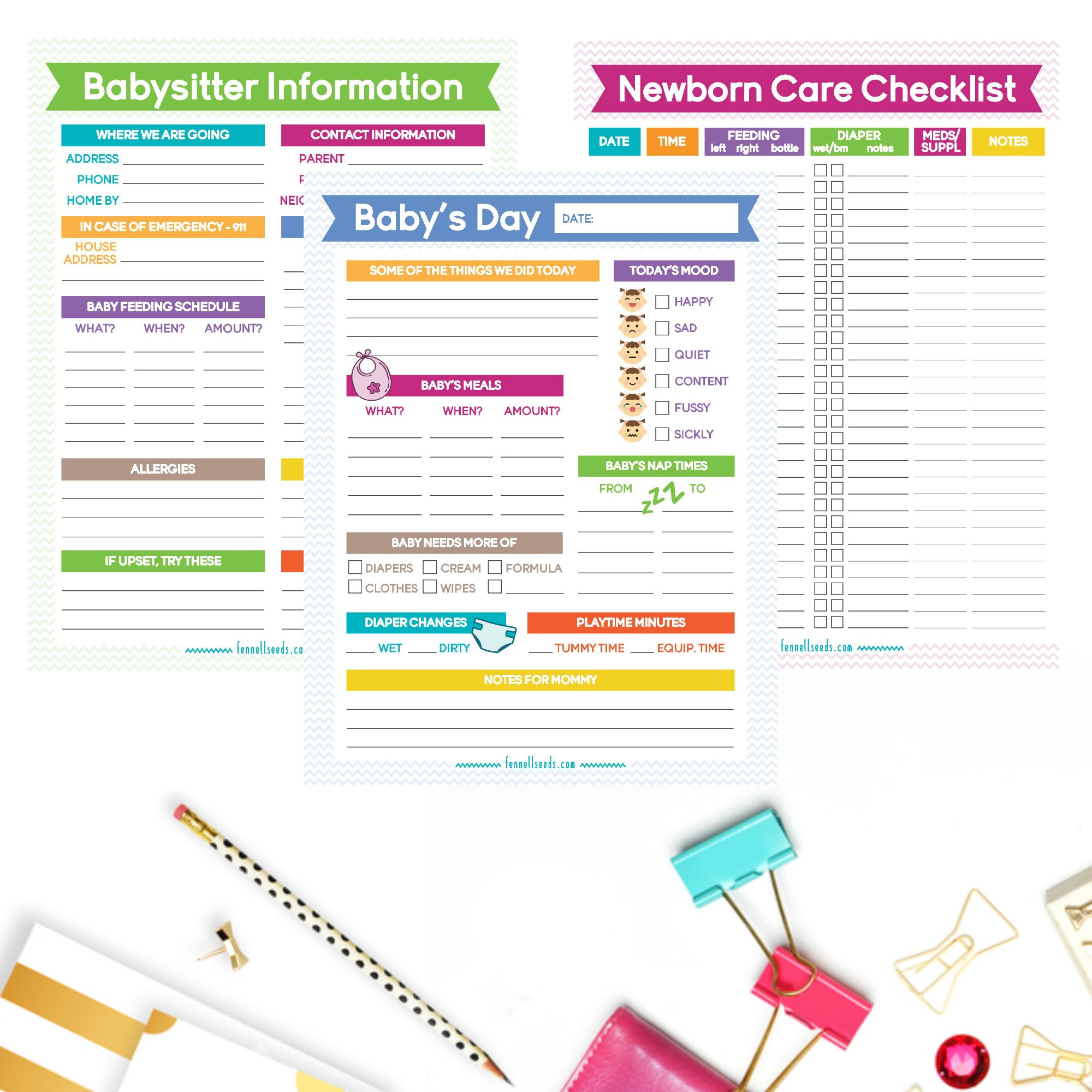 How Using a Baby Feeding and Diaper Tracker App or Printable Helps
Having information about your baby's routines, health and development recorded is a great way to be prepared for doctor's visits and help to develop a routine. Children thrive on schedule and routines because they allow for predictability.
Tracking your baby's information will help to ensure that they are getting adequate food, sleep and more and help to give you the peace of mind you need as a parent.
Need more tips? Check out…
Experienced Parents Tips For Transitioning From Formula To Milk
Week At A Glance To Do List For Moms ** Free Printable**
Like it? Pin it.