If your day needs to start off with coffee, what better way to honor this morning ritual than with a dedicated coffee station. Kick start your inspiration right here with these 20 stunning coffee station ideas for your kitchen.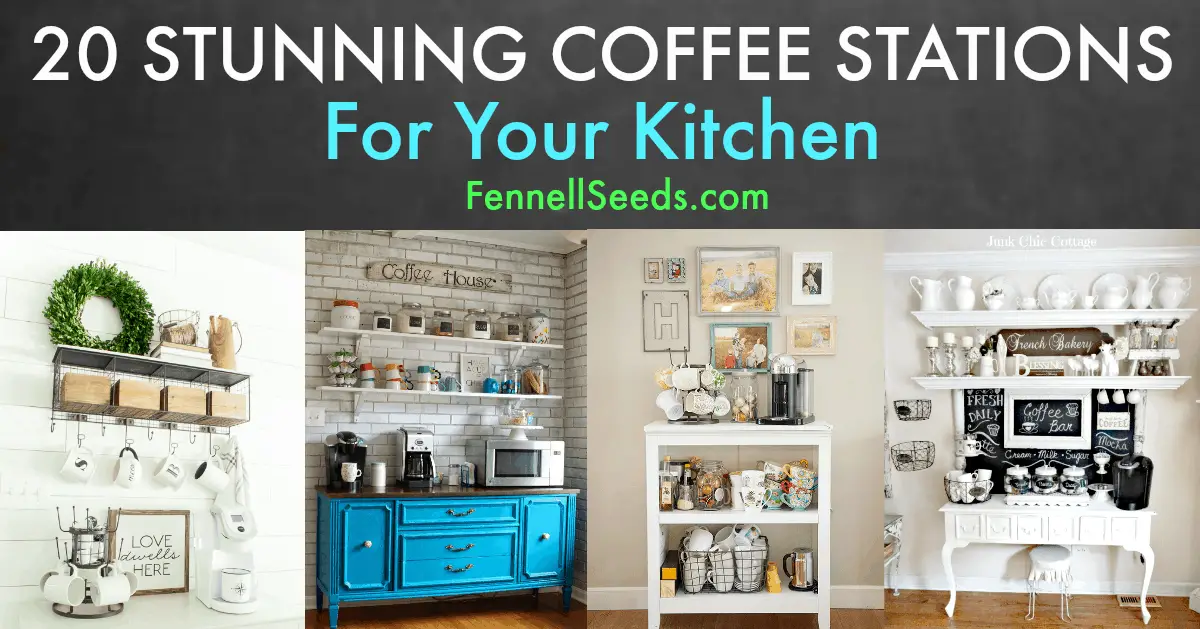 If you love DIY projects, there are plenty here for you to build as well as refinish and repurpose for your needs. There are also budget-friendly ideas to bring your look together to fit your space.
From dressers to cabinets, from carts to kitchen counters, you'll find creative ways to make a coffee station that's beautiful, functional and organized. You'll find brilliant ways to display and store cups, mugs, coffee pods, and coffee accessories.
Black and white with a touch of copper is a fresh and elegant look for this kitchen coffee station that sits on top of a small cabinet. Use a tray with wire containers to hold accessories. Above the cabinet, install a wall cup holder for visual effect. Pretty!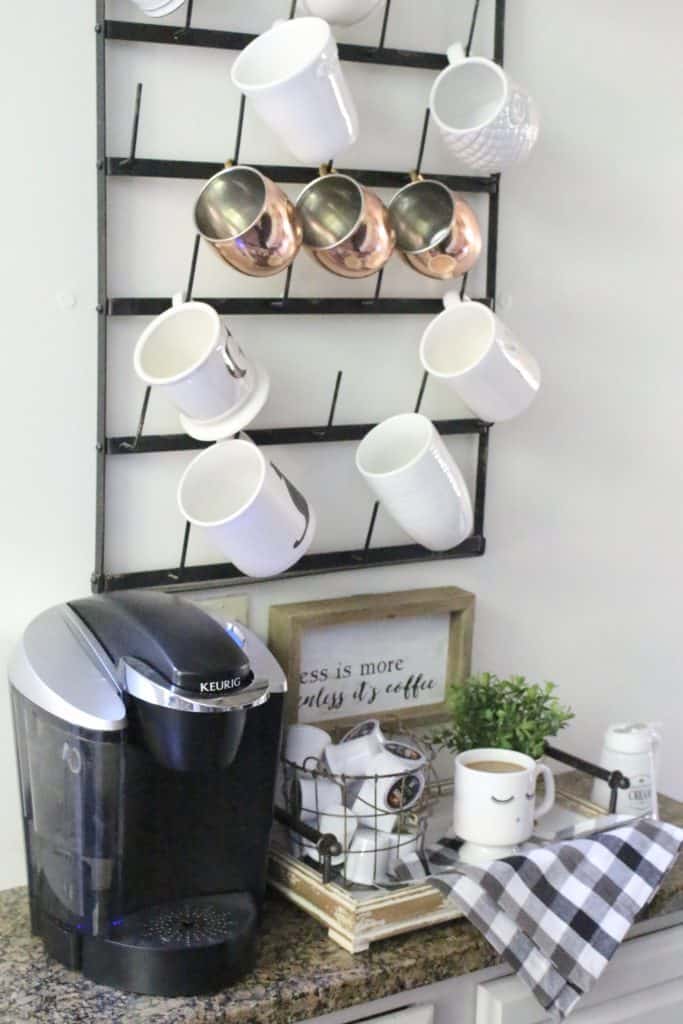 Kitchen Coffee Station by White Cottage Home And Living
This highly organized cabinet is full of labeled canisters for easy access to all your coffee accessories. Stash everything you need in a cabinet above or near your coffee maker. Keep your counter clutter free with this method. Beautiful!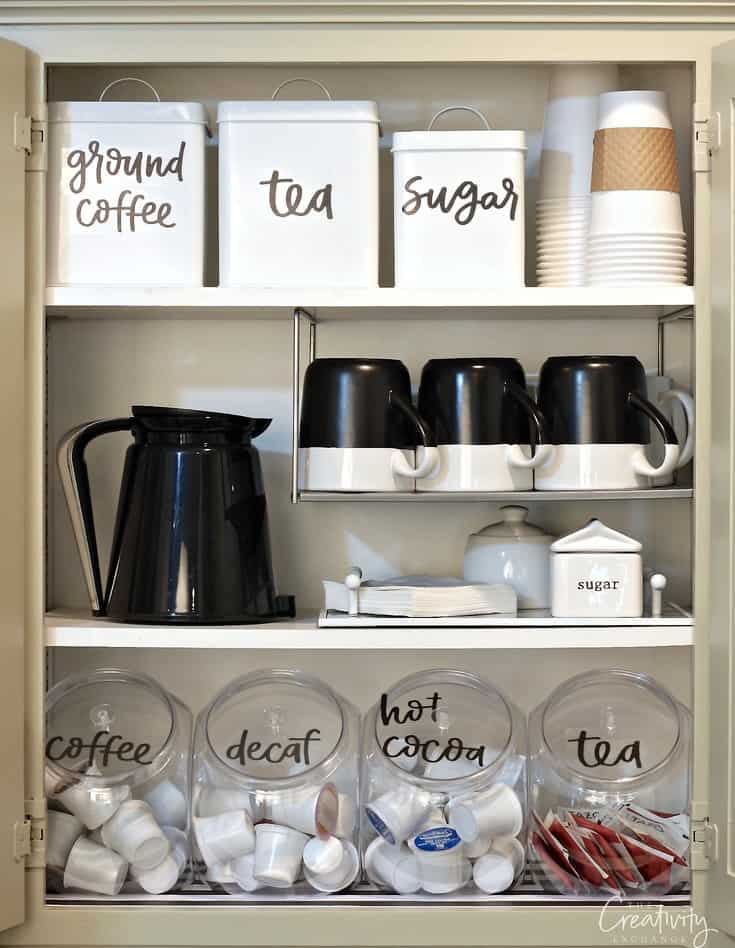 Organized Coffee Cabinet by The Creativity Exchange
This all white coffee station blends seamlessly into the white of the walls. Take it further by investing in a white coffee maker to keep the color flowing. Wire baskets and a bit of greenery provide a bit of color relief from the white. Clean, efficient and beautiful.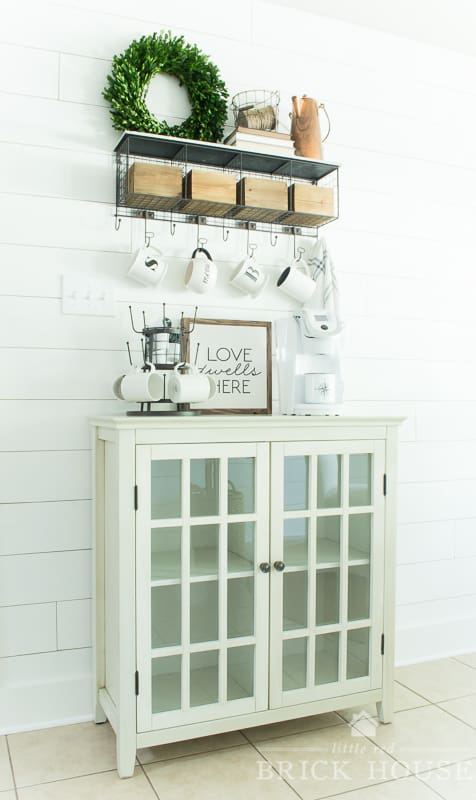 Industrial Farmhouse Coffee Station by Little Red Brick House
Repurpose a bar cart into a sweet coffee buffet. Since most carts are small, keep it simple with just the necessities for that awesome cup of coffee that you're craving. This also makes a great coffee bar for guests when entertaining, so make sure you have it fully stocked for company!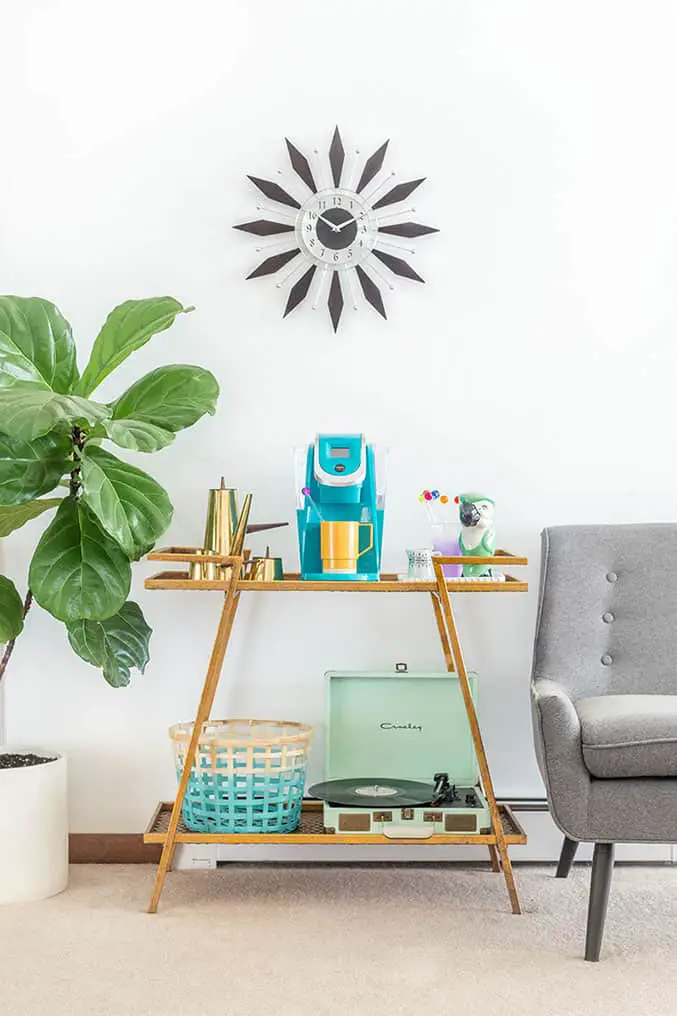 Bar Cart Coffee Budget by Dream Green DIY
White and black are the perfect duo for this Parisian inspired coffee station. The blackboard is the central focal point of this coffee ensemble. Surrounded by white shelves and white coffee cups and pitchers, this station is anchored by the painted buffet which holds all the coffee goodies. Very chic!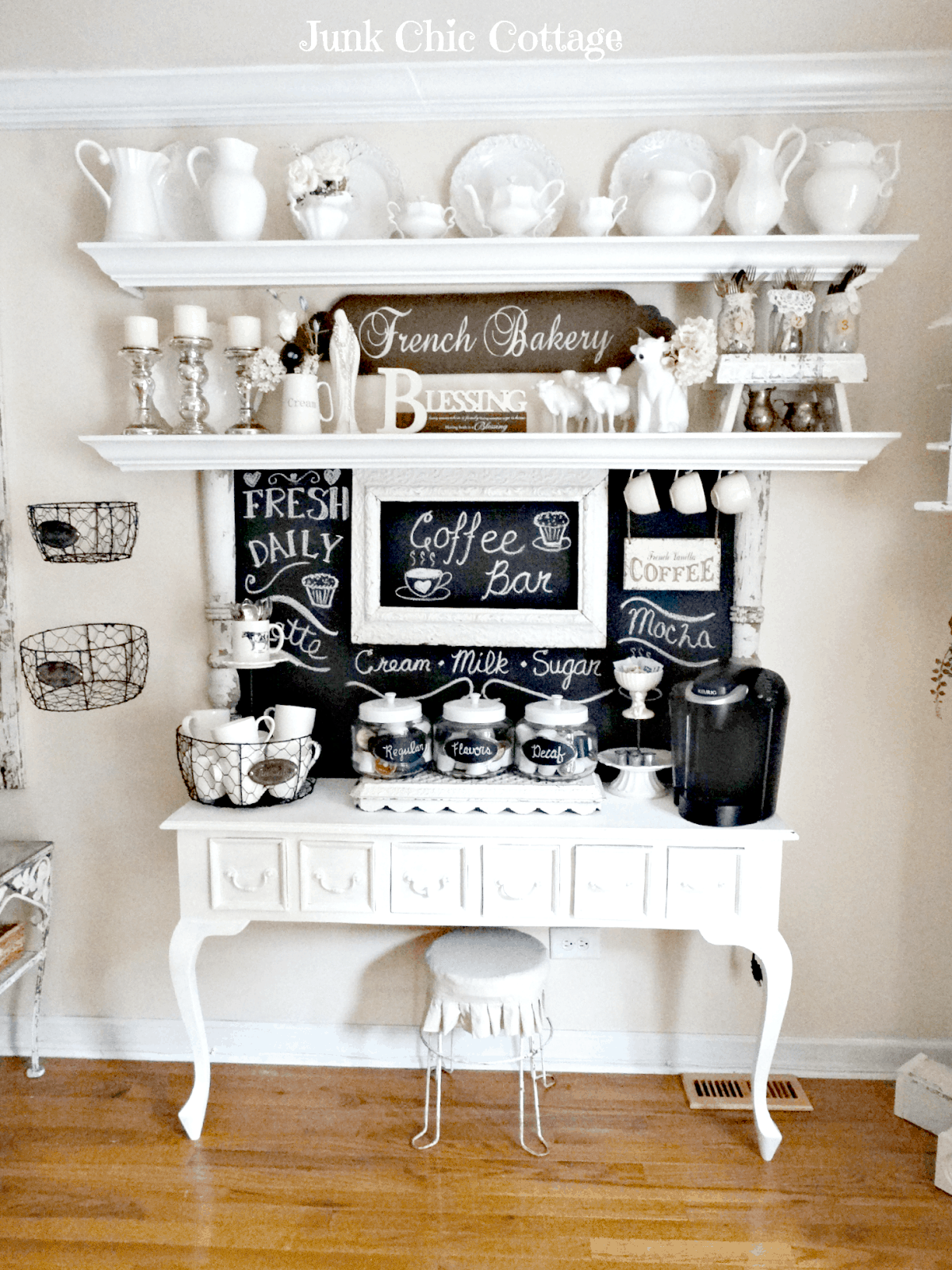 Parisian Inspired Coffee Station by Junk Chic Cottage
If you have a kitchen counter corner available, consider creating a coffee station right there. This example uses a wooden crate to hold sugar, coffee, machine pods, and tea bags. Use a coffee tree to hold the mugs. Sweet and functional!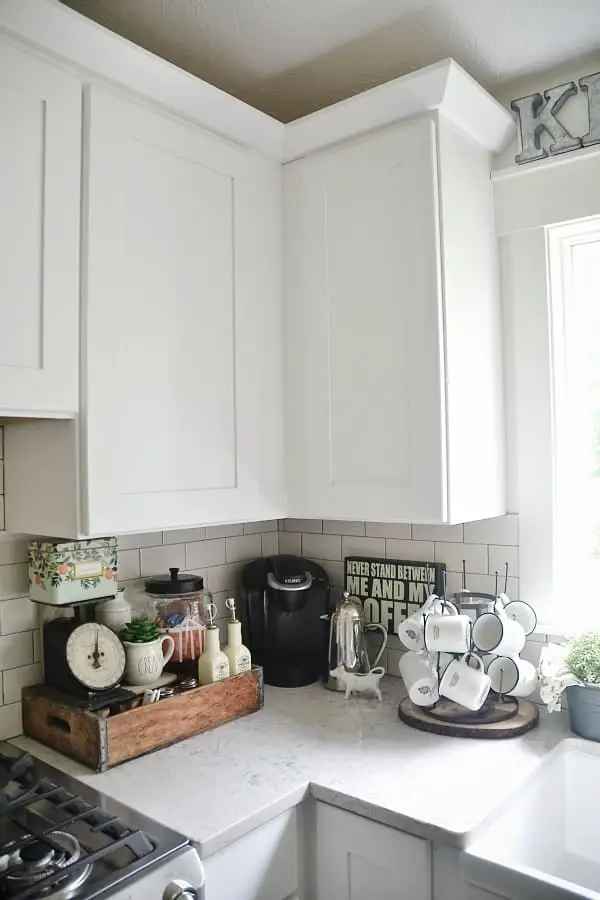 Kitchen Counter Coffee Station by Liz Marie Blog
The clean lines and minimal look of this setup is Norwegian-inspired, right down to the word Kaffe that's mounted on the wall above the coffee station. Use small clear jars to hold accessories and keep the color scheme minimal to achieve this look.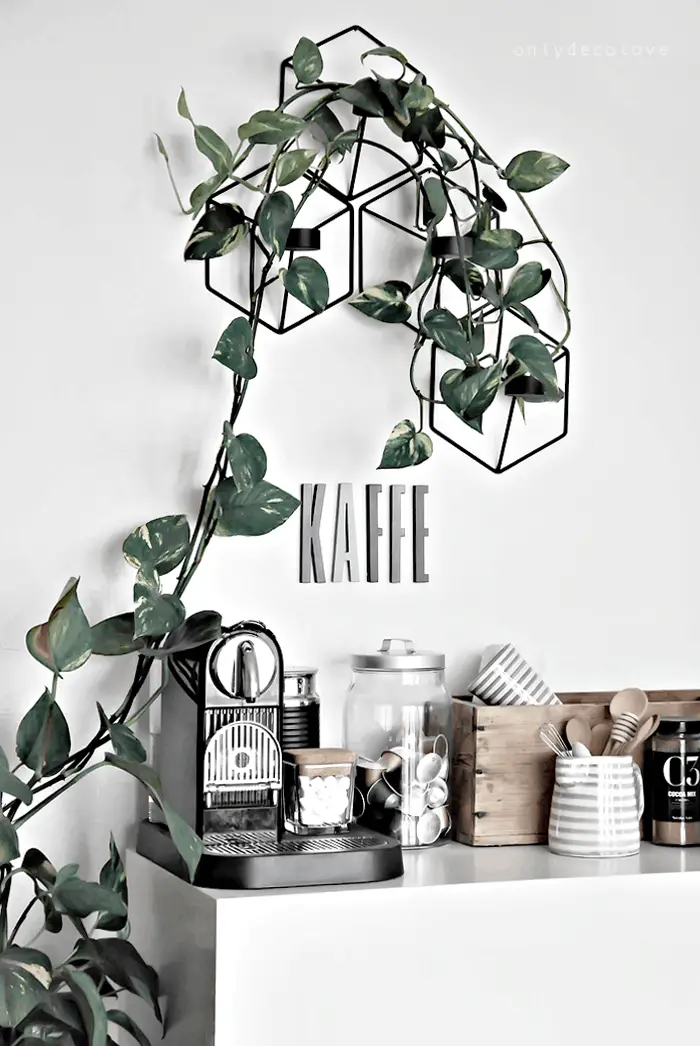 Norwegian Inspired Coffee Station by Only Deco Love
This small office needed a coffee station to keep their workers caffeinated and this one packs it all in – even for the tea drinkers! Filters, cups, flavorings, and 4 different ways to make java: coffee maker, espresso machine, French press and pour over are all packed in here. Choose a cart large enough and with rollers for when you need to move this station into the conference room!
Office Coffee Cart by A Beautiful Mess
This station houses not only coffee but hot cocoa! This long sideboard holds the coffee maker as well as a small microwave for heating water for cocoa or tea or just warming up your coffee. Keep clear jars with lids full of coffee pods, cocoa, sugar, marshmallows, and chocolate bits. A beautiful multi-functional cozy beverage station.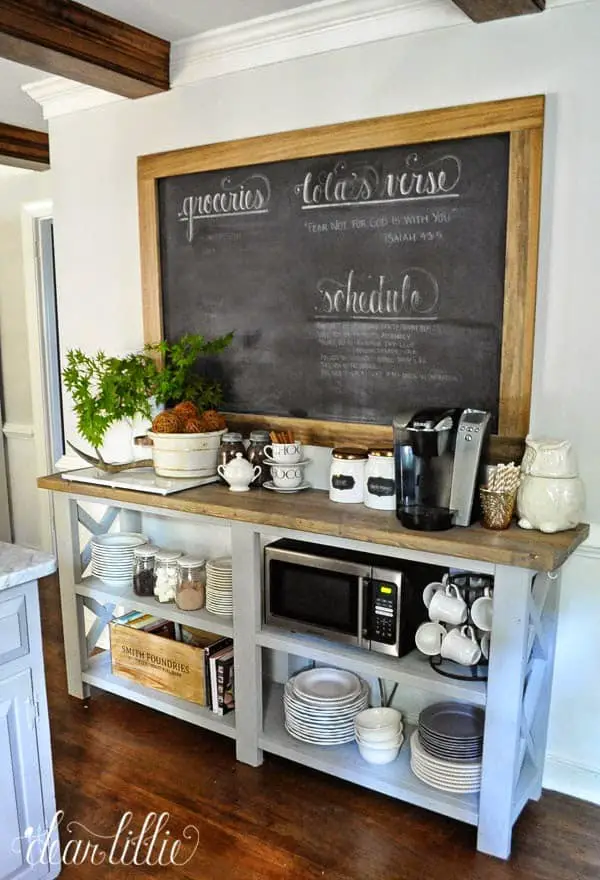 Coffee And Hot Cocoa Station by Dear Lillie Blog
White, black and wire baskets keep this coffee station organized and on point. Keep a small counter area free for making the coffee and adding the goodies by hanging your cups on the wall. If you can find a cabinet with drawers in it, you can stash stirrers, napkins, and extra coffee pods to keep them organized and out of the way.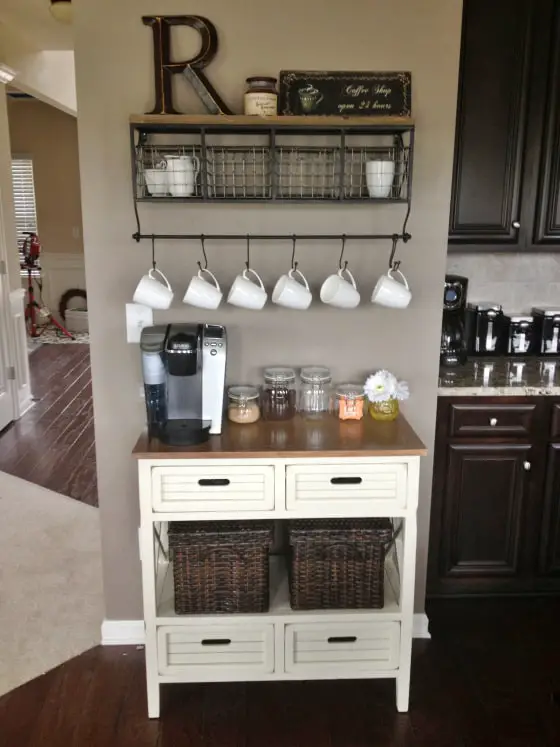 For The Love Of Coffee Station by Forever In Pursuit
Mix old and new together for this eclectic look. Keep cups on the wall with floating shelves for added visual interest. Use antique or retro finds to add to the charm of your coffee station.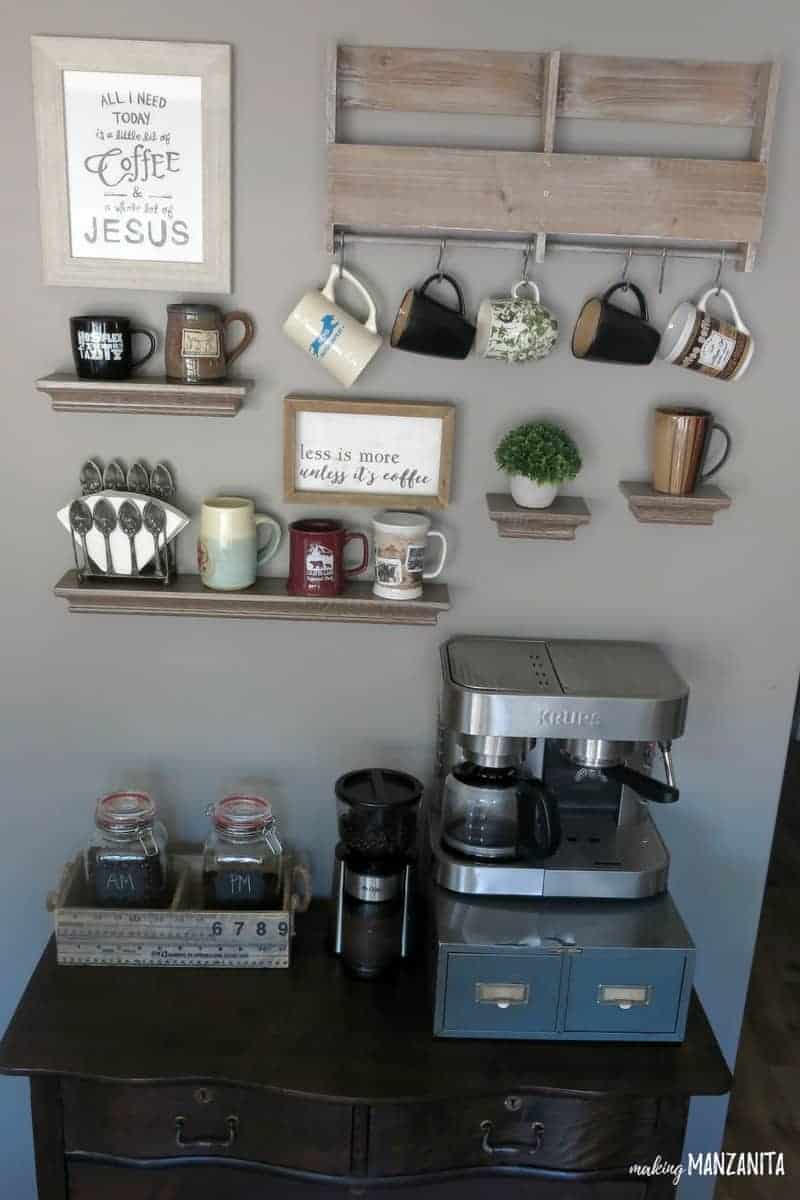 Home Coffee Station by Making Manzanita
If you have kitchen counter space with a drawer for organizing coffee accessories close by, consider stashing your coffee necessities there, but within easy reach of your coffee machine. Use clear boxes from the dollar store as dividers for all the coffee goodies. Clutter free and organized!
Kitchen Drawer Coffee Station by Unlikely Martha
This beautiful wall mug rack is the focal point of this coffee station. You can paint it any color to match your decor. Here, navy blue is paired with copper for a stunning visual. You can easily add this type of mug rack above any free standing counter or surface. Accent the rest of your setup with copper accessories for a cohesive look.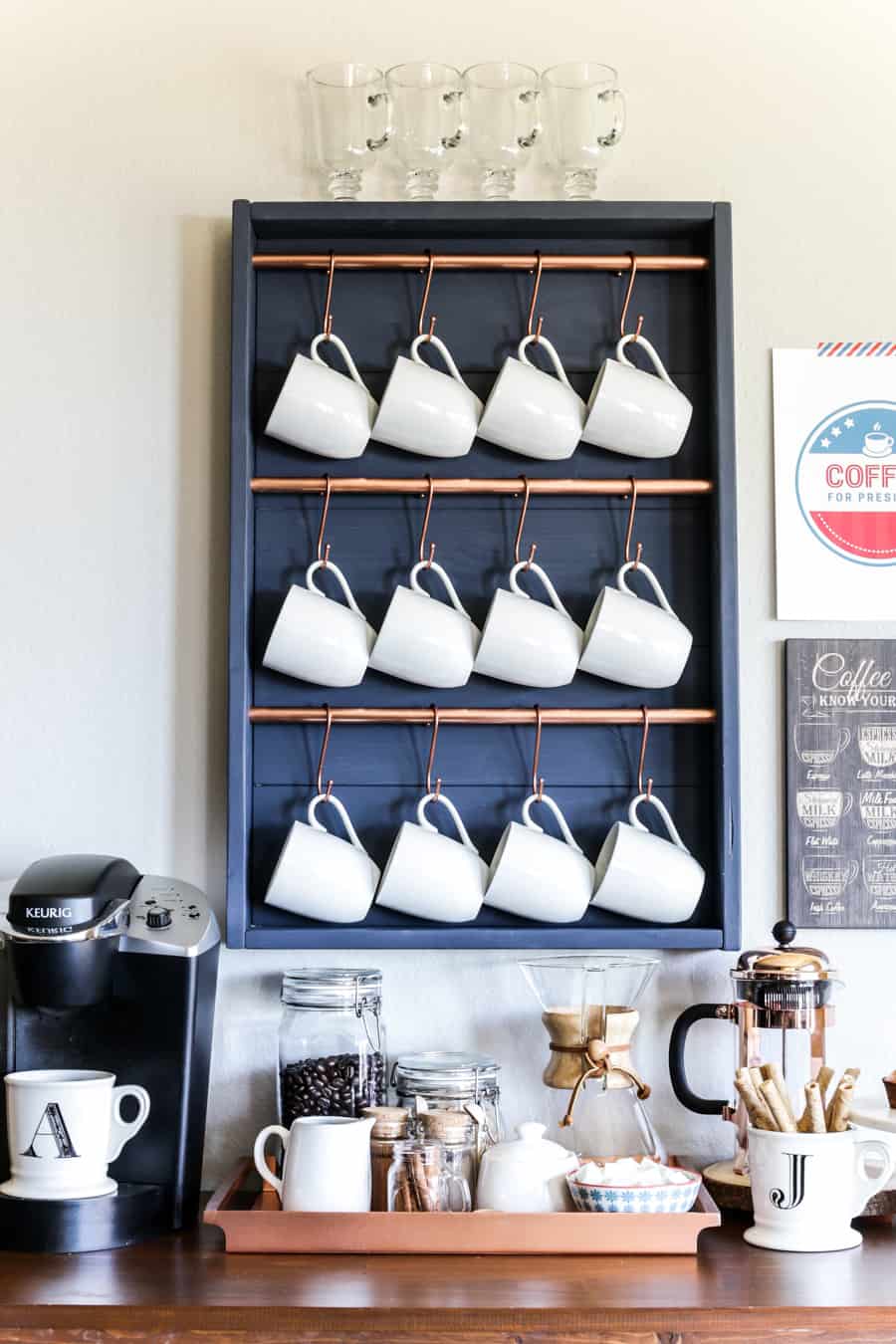 DIY Coffee Bar by Jen Woodhouse
If you love the shabby chic look, here's some great inspiration. Upcycle an old cabinet or build yourself a new one with plywood. Doors with hardware cloth for the wire look are added and can keep other coffee equipment hidden away when not in use.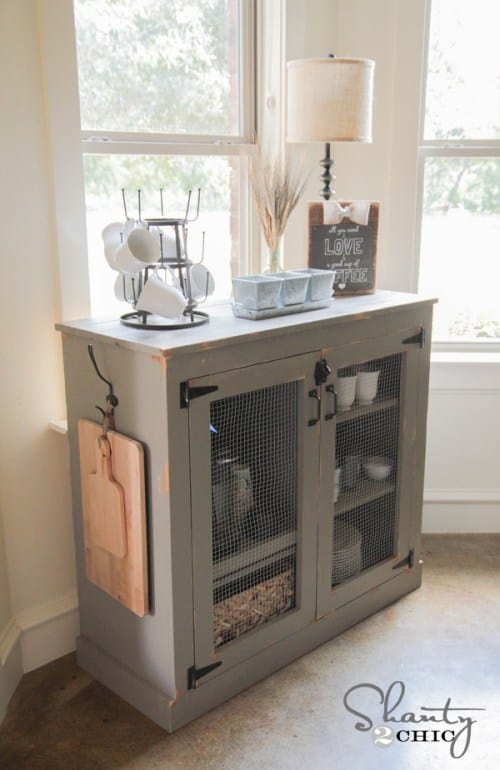 DIY Farmhouse Coffee Cabinet by Shanty 2 Chic
This very French station is perfect for a warm cup of cocoa or coffee. In shades of cream and black with a touch of pink for whimsy, this adorable station uses a framed chalkboard as wall decor. An old cabinet was painted and distressed, with touches of gold accent pieces adding to the charm and to hold coffee accessories. Add a lamp to keep it cozy!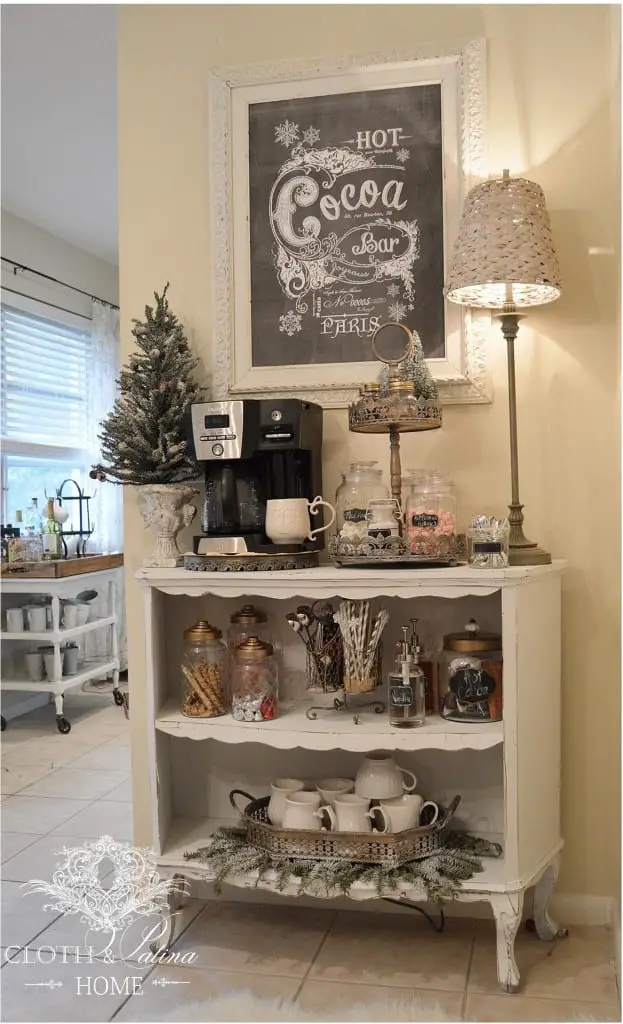 Cocoa and Coffee Bar With French Flair by Cloth And Patina
If you have a built-in desk area in your kitchen, check out this makeover into a gorgeous coffee station. Define the space with chalkboard paint, hang some shelving for cups and such, add your coffee maker and enjoy!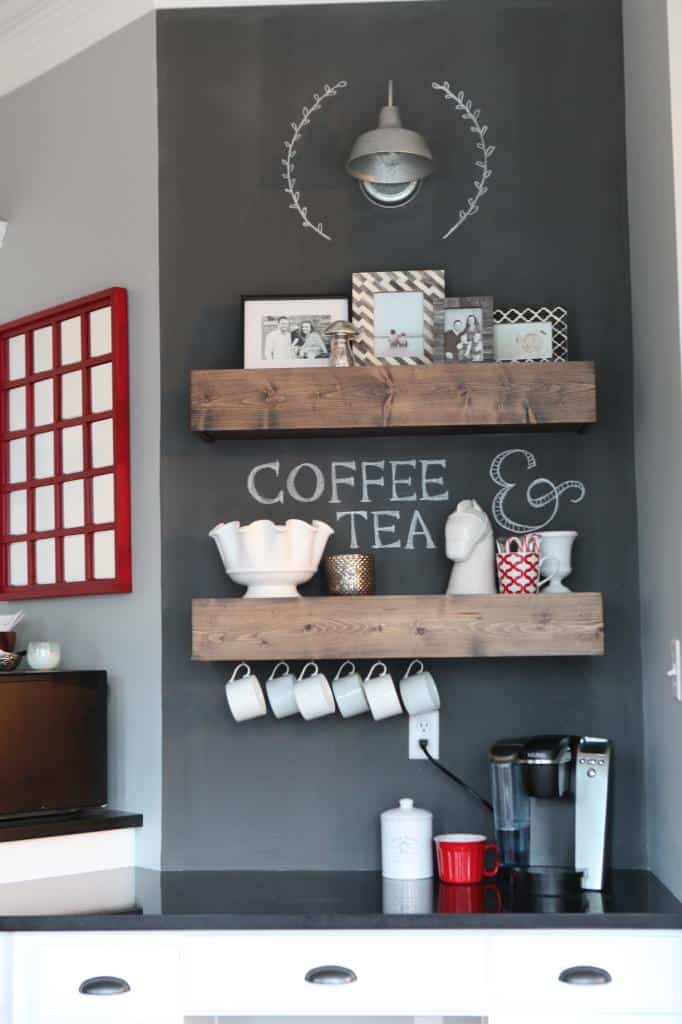 Desk Turned Coffee Bar by Bower Power Blog
Everyone has that space that's just awkward to decorate. Maybe yours is perfect for a coffee station. Use chalkboard paint to frame out your little nook and provide an appropriate background for the coffee station. Hand shelves for storage and decor. Use a small cabinet for the surface and extra storage.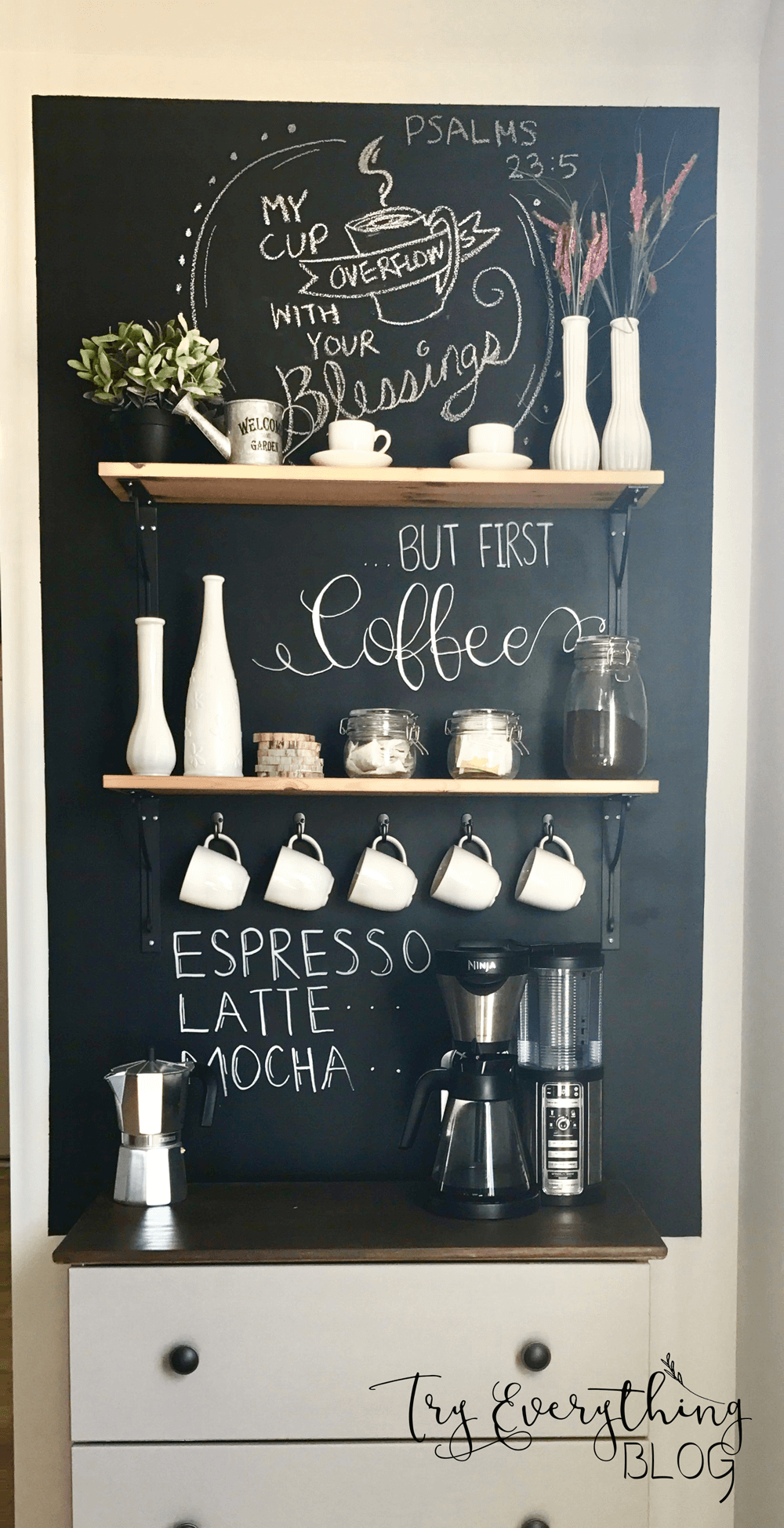 Awkward Corner Coffee Bar by Try Everything Blog
Here's an awesome way to repurpose a dresser. In this makeover, the dresser was painted an accent color to work with the decor. All the drawers act as an awesome organizational tool for all things coffee, plus some pantry items. Win-win! On the surface, the coffee maker shares space with a toaster, making this a true breakfast and coffee buffet that anyone would love to wake up to!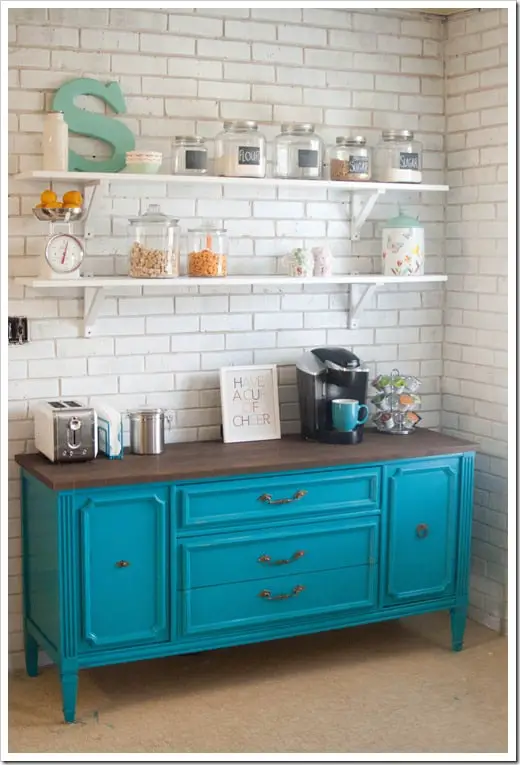 Kitchen Buffet Coffee Bar by Jaime Scott
Add some floating shelves above a coffee nook for added storage. For a DIY touch, how about a concrete top for your surface? This article details how to do it and have a one-of-a-kind coffee station for your space. Rustic and functional!DIY Concrete Top Coffee Bar by The Merry Thought
A simple bookcase can be turned into a coffee station with just a coat of paint and some creative decorating with photos, art and your colorful collection of coffee cups. Add a few small baskets and canisters for storage. Sweet!
Bookcase Coffee Station by Baked Bree
From baskets to bins and eclectic to modern, you'll find endless ideas to easily customize a stunning coffee station for your own home.
Other Posts You Will Love:
20 Genius Home Command Centers For The Busy Mom
Homework Stations You Will Love
Does Sweet Tea Have Caffeine in it?
Like it? Pin it.