So it happened! The big mommy fail yesterday. One of my children woke up at 6:05 am on a weekend morning and after having him poke me in the back a hundred times I just handed over my iPad and told him to go entertain himself in the family room while the rest of us all slept. Over an hour later, I come out and just heard cartoon type voices so think nothing of it until…Bam…all sorts of inappropriate jokes. I find out he is watching American Dad. An adult cartoon. This one is about women who work the pole (I don't even want to type the name here due to internet searches) and there are lots of jokes about crabs and other totally inappropriate things.
OMG!!!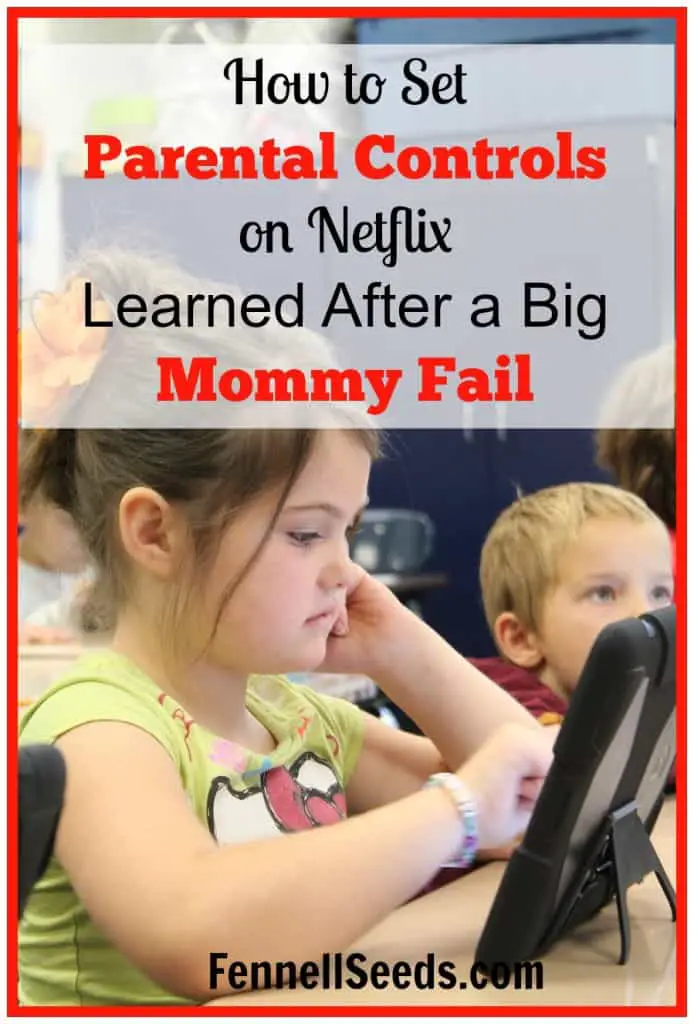 I completely freak out but try to hold myself under some control because it is my fault. I never set up the parental controls on his Netflix profile and I have been meaning to do it. A few months ago he was watching a teen movie that I didn't really like but it wasn't as completely inappropriate like the show yesterday. It had made me think I needed to set up the controls but of course I never got around to it.
So this morning I started my research on how to get the controls set. Turns out you must be on a computer, not a mobile device to do it. Probably reason number 1 why this wasn't done before now because we only watch Netflix on our mobile devices.
It was very simple once I figured out my password. I can never remember them so I had to have them email me to reset it.
How to set Parental Controls on Netflix
Be on a computer, not a mobile device.
Sign in and go to My Account
Click My Profile – Manage Profiles
Click on the Profile you want to change the controls. Everyone in my family has their own profile. So I clicked on my 2 boys and made their choice for Older Kids and Below. My daughters I selected Little Kids Only.
Then hit Complete
I feel so much better!!
Here are the 4 choices you have as control options
Movies:
| Little Kids | Older Kids | Teens | Adults |
| --- | --- | --- | --- |
| G | PG | PG-13, TV-14 | R, NC-17, NR, UR |
TV:
| Little Kids | Older Kids | Teens | Adults |
| --- | --- | --- | --- |
| TV-Y, TV-G | TV-Y7, TV-Y7-FV, TV-PG | TV-14 | TV-MA |
Go take the time to do it for your kids and save yourself the awkward conversation I had to have with my almost 8 year old about what he saw.
By the way, want to know the show my kids are obsessed with lately? The Little Couple! I am thrilled they want to watch a show that I also like to watch. I am so tired of Curious George and Doc McStuffins.