Is your kid obsessed with kid Youtube channels like mine is? She is watching certain channels like Elsia and Annia over and over and I am trying to figure out whether these are good or bad. I was looking for a guide to kid Youtube channels and couldn't find anything online. What in the world are these things and why are all the kids just sitting mesmerized by what's on the screen?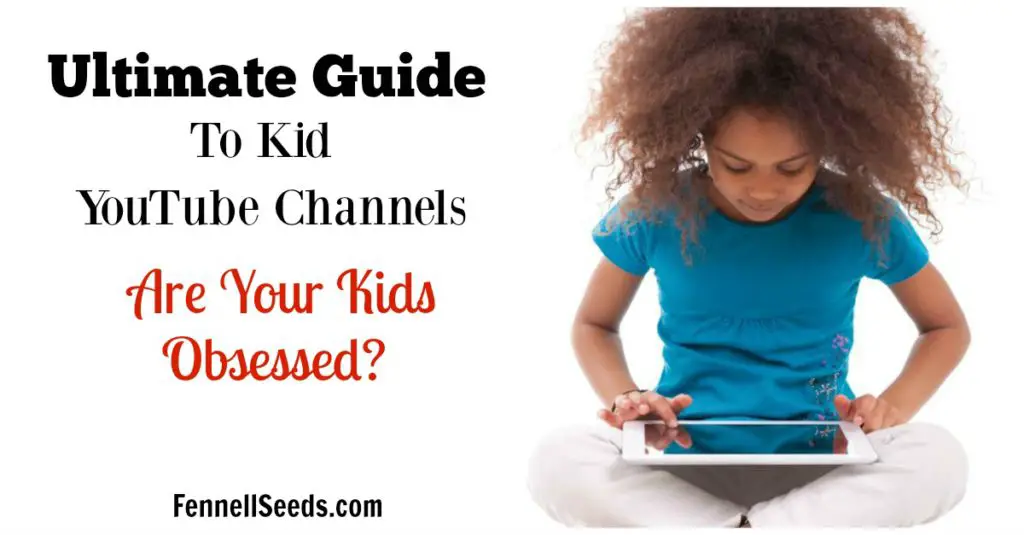 For our family, it all started with surprise eggs. She was watching her iPad in a trance like she used to watch her Baby Einstein DVDs. Now she has slowly moved into watching kids playing with dolls and reality type shows of families doing fun activities.
I have been listening to the videos and there are some that seem funny and nice for her to watch and I have also have listened to kids not being nice and back talking with their dolls.
Are these a good influence or not? Part of me thinks watching other kids play with dolls and playdoh will help her creativity (I am not the best at imaginative play) but then when I hear her whine for another toy I think these things are terrible. So which is it?
When I started asking my friends I found out that all of us are confused and none of us knew which were the good channels and which ones we should avoid.
So, I nominated myself to watch a bunch of videos from all the popular channels my friends listed for me. My husband was definitely looking at me funny when I was sitting with my computer last night watching kid Youtube videos. 🙂
YouTube Channels that in my opinion are just fine:
DCTC – Amy Jo & Brandon – This is a fun couple doing crazy contests. The guy is usually dressed as batman or spiderman. They either make food or do a candy eating contest. Nothing too crazy and she is super perky so I can see why kid would enjoy listening to her.
ChuChu TV – These are just animated nursery rhyme cartoons. My daughter started with these when she first found Youtube.
Family Fun Pack – Follow a cute family around while they go out day trips. They go to parks, pools and do crafts. It is really just a reality show with a large family. There are 5 kids and the parents are pretty fun.
Youtube channels that are just ok
Hailey's Magical Playhouse – a little girl who says "Hi Friends" at the opening of each video. She is opening up a new toy in each video. There is a Dad off camera asking her questions and prompting her what to do next.
FunToyzCollector – boring, just a woman off camera all you see are her hands and hear her voice and she opens up lots of little toys.
Come Play With Me – two girls who seem like they are around 11 years old. They play with 2 dolls mainly. They are Elsa and Anna dolls but they call them Elsia and Annia and they take them to the pool or outside and play different scenarios out. I find their voices irritating as a parent but for some reason this is one of my daughters favorites.
Just plain bad
Hobby Kids TV – This is all about opening a new toy. It is such a commercial and you can tell they receive a lot of money from certain sponsors. They seem so fake when they say "Look a package from Amazon!" and you see a big Amazon sign and then they open up a toy. This is the type of video that made my daughter start asking when she was going to start getting toys delivered to our door.
The videos of kids opening toys were really bad for my daughters attitude. She started expecting new toys and seemed to be a little more sassy to me. I like that she is getting into the girls playing with the dolls and Family Fun Pack where they are out doing things as a family.
Since we are talking about monitoring what our children watch, I should mention that we have removed the regular Youtube app from their iPads and only allow the YouTube Kid app. So if you didn't already know there is a different app for the kids, download it. It makes me feel a little better about what they could end up watching.
We learned to keep up with parental controls when we had a scary moment with one of my 8-year-old boy. He was watching Netflix and got into some nasty shows that were completely inappropriate. Read about it at Learn How to Set Parental Controls on Netflix – Learned After a Big Mommy Fail.
It is so hard to know what is good and what is bad when it comes to these new ways of consuming media. I hope this helps and let me know when there is a new one I should add to my list.
P.S. I feel I must say this because there are some people who think kids should have no media in their lives.  My kids are super active, in a million sports and would rather play outside than inside but we do allow them to watch some media so this is to help those of us that do allow our children some access to it.
Like This? Pin It!