The rules for babies change so quickly. When my oldest were babies there was no doubt about should I feed my baby cereal. I automatically bought the box of rice cereal when they were 4 months old with no question in my mind.
Now the rules have changed. The experts now say that we don't need to automatically start with the iron fortified cereals. That, in fact, starting with real food is showing a lot of benefits in the long-term of our children's diets and the foundation of their eating habits.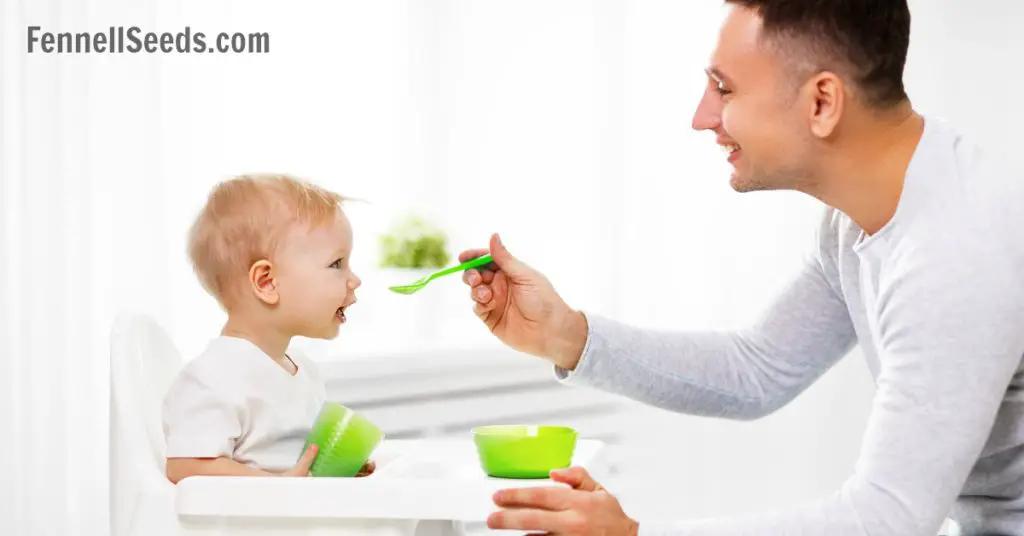 When to Start Solids
The quick answer is when your baby is between 4 and 6 months old and also shows signs of readiness.
The signs of readiness for solids are:
Sitting with support – can your baby handle being seated in a high chair?
Good head and neck control – can they hold their head up and lean their head forwards towards a spoon?
Leaning forward and opening mouth when introducing foods on a spoon and leaning back or turning away when uninterested.
Ability to move the food from the spoon to the back of their mouth to swallow.
If your baby is unable to do these movements then wait a couple of weeks and try again.
How to Introduce New Foods:
Start with non-allergy foods such as meat, sweet potatoes, applesauce and bananas. Wait 3 to 5 days before introducing each new food in order to determine if your child has any bad reactions to the new food.
I had my first real issue with my daughter when I started introducing baby food to her diet. We had known from the first week of her being born that there was something wrong with her eating habits. We even took her to a feeding therapist because she would not drink more than a half ounce of formula or milk at a time. Everyone had lots of opinions and I had even changed her to a formula that was free of all allergens in case her problems were due to an allergy (side note…it smelled so bad, I was sad she never had that great baby smell). When we introduced sweet potatoes she immediately had a rash. This was the start of us knowing that she had an allergy.
What Baby Foods Do I Introduce First:
The AAP recommends the following foods with the least amount of allergic reactions.
Meat, sweet potatoes, squash, applesauce, bananas, peaches and pears are all on the list of first foods.
Now the evidence is showing that we should go ahead and introduce foods with a higher allergy risk before the 1 year age mark. Eggs, peanuts, dairy, soy and fish can all be introduced in a baby-safe (soft) method. Speak to your pediatrician if you have any allergy history in your family or a baby with eczema as they will have a higher likelihood of food allergies so please have your pediatrician supervise the introduction of foods.
Notice that none of the foods mentioned include cereals.
Why Do We Use Cereals?
There are 2 reasons.
The idea was to introduce bland foods and babies were less likely to dislike the taste. Now research shows that babies that are breastfed have already been able to taste the different flavors that the mother has eaten.
Past research showed that babies that were fed cows milk based formulas or were breastfed became low in iron at around 6 months old. The AAP started recommending iron supplements at 4-6 months old. Iron was added to cereals as a way to increase iron in a babies diet. Therefore pediatricians recommend cereals as a way to get the recommended amount of iron. Here is an article on KellyMom that discusses if iron supplementation is necessary. It is still a controversial topic and new research is being done.
Other Ways to Get Iron In Your Babies Diet
While it is becoming controversial on how much iron a baby should have in their diet there will always be a small amount needed.
Foods high in iron
winter squash, sweet potatoes, meat, prune juice, mushrooms, spinach, grains and dried beans.
Conclusion
Research is changing the way we introduce new foods to babies. There has recently been a change in introducing peanuts and eggs to babies (see AAP) and soon there may be a change with iron supplements. Overall my thoughts are that introducing real foods instead of cereals is a good choice because that is how humans have introduced babies to foods for thousands of years. Isn't it funny how things always come around in full circle.
If you want to go even further with this subject a great article is by The Food Renegade.
As always, ask your pediatrician for any feeding advice.
Like It? Pin It!