Hockey is a fantastic sport. Great exercise, fun to play, plus super competitive for kids and adults. Unfortunately one of the downsides of hockey is all the equipment. It is amazing how important it is to keep things dry and organized so here are my favorite hockey equipment storage ideas.
This is part of my series on Sports Equipment Storage Ideas.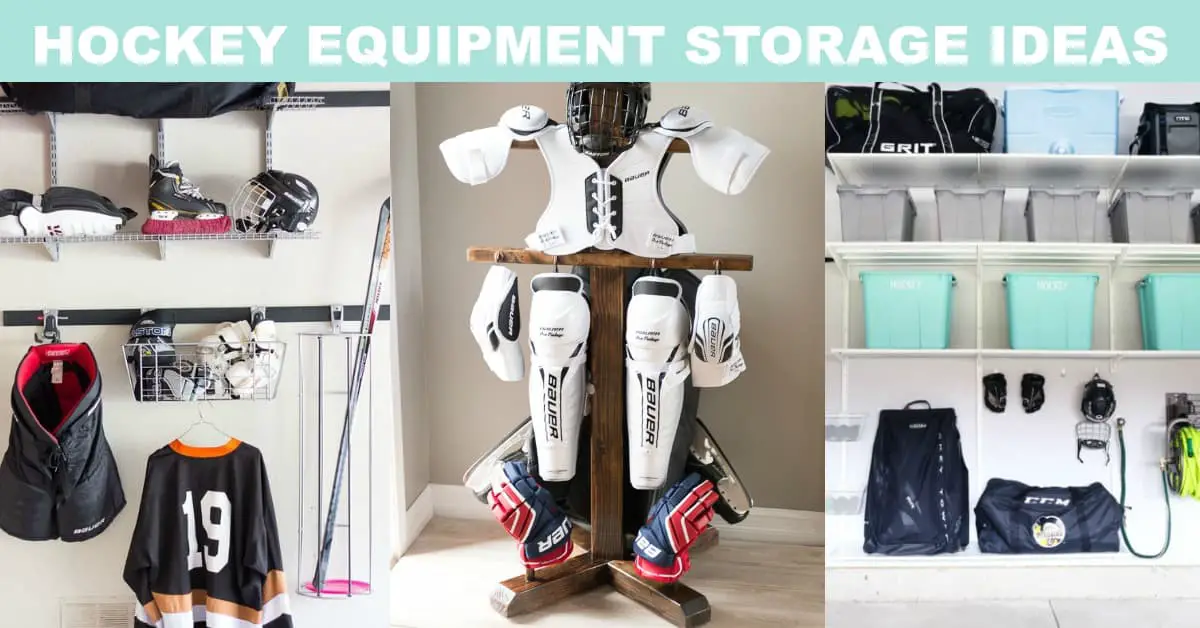 With hockey sticks, pads, uniforms and bags, it can easily take up an entire room or half of a garage. There is nothing worse than your kids leaving their bags and helmets all over the floor. Not only does it look bad but it also doesn't help the equipment dry between ice time.
I have researched some great ways to contain the hockey equipment and have it ready for the next practice.
How to Store Hockey Equipment
This hockey dad built a beautiful way to store the equipment and have it all dry and ready for the next practice. I love that the skates hang upside down to dry. Plus you can stain it and it actually looks good in your home.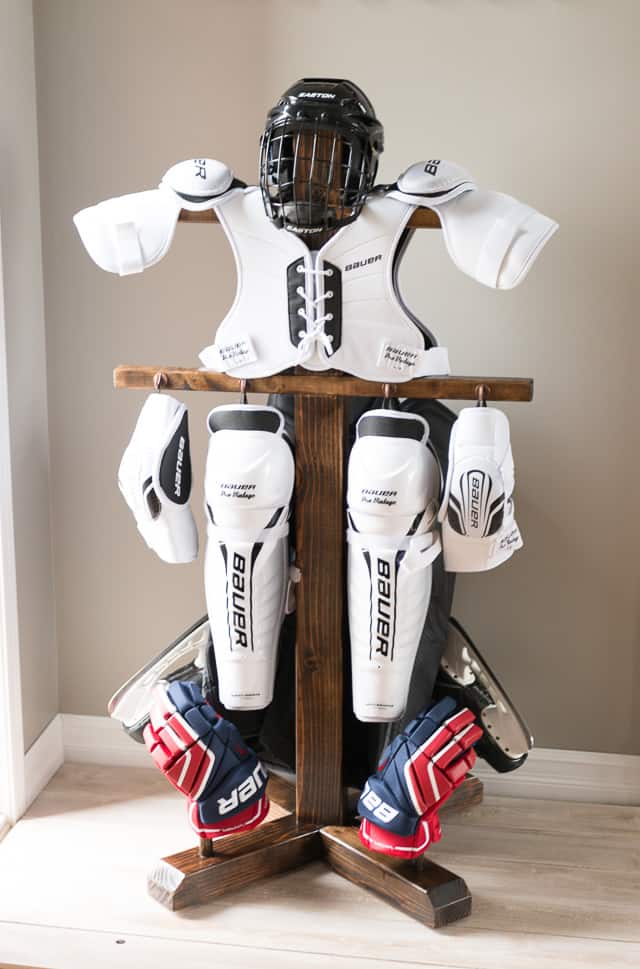 via Matt Stenzel
Sometimes keeping the smelly equipment out in the garage is the best method. With extra hooks and the IKEA ALGOT system the helmets, pads and pucks are all kept off the ground.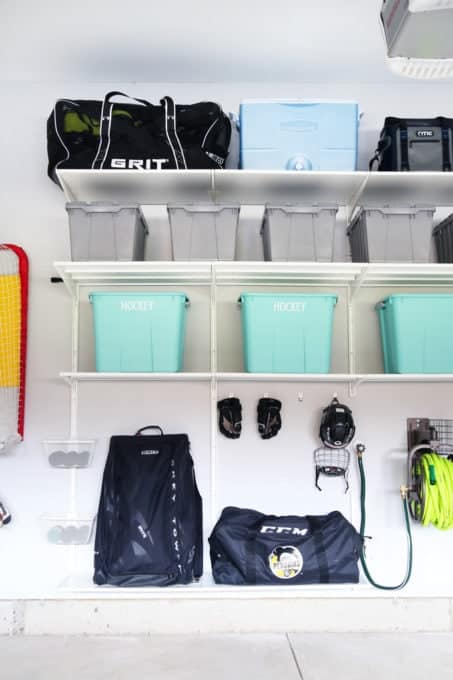 Are you a DIY-er? This is a creative project to store not only the skates and helmets but also hockey sticks. I love that you can paint it and make your own saying on the front.
There are easy instructions on how to make it yourself in the blog post at 100Things2Do.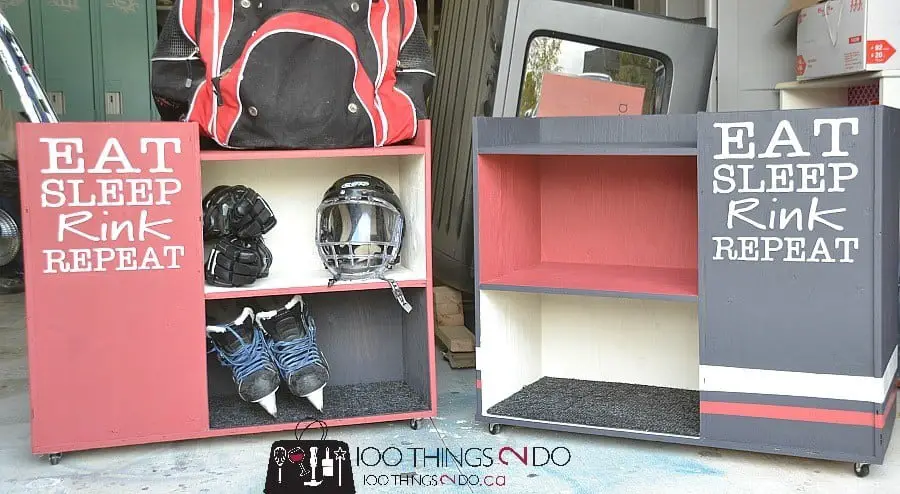 via 100Things2Do
If you just need to store hockey sticks. This is a great pallet craft. I love that you can stain it and paint a cute quote on it. Of course, my boys don't want cute..they want tough! 😉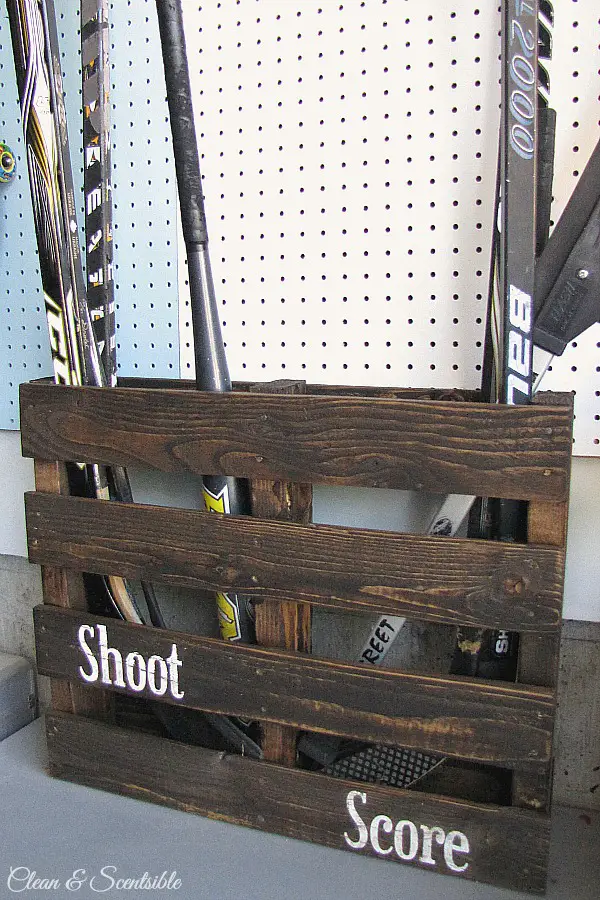 I hope this gave you some great ideas if your child is starting the sport or if you have been in hockey for a while and are just overwhelmed by all of the equipment.
There is no need for it to be all over your house. Once you set up a specific spot for everything it is a great way for your kid to be responsible for putting away their own equipment.
Other Posts You Will Love:
Backpack Storage Ideas when You Don't Have a Mudroom
Tennis Equipment Storage Ideas
Like it? Pin it!