Working moms are the ultimate balancers. They navigate between work life and family life like pros.
Balance? They rock at it.
Scheduling? They're superstars.
Except in those moments when they are not, and life feels more overwhelming than exciting. Being a working mom is a tough role and one that requires constant negotiation, compromise, and flexibility.
So how do the most successful moms handle it? They tend to do these seven simple things each day to feel successful and organized.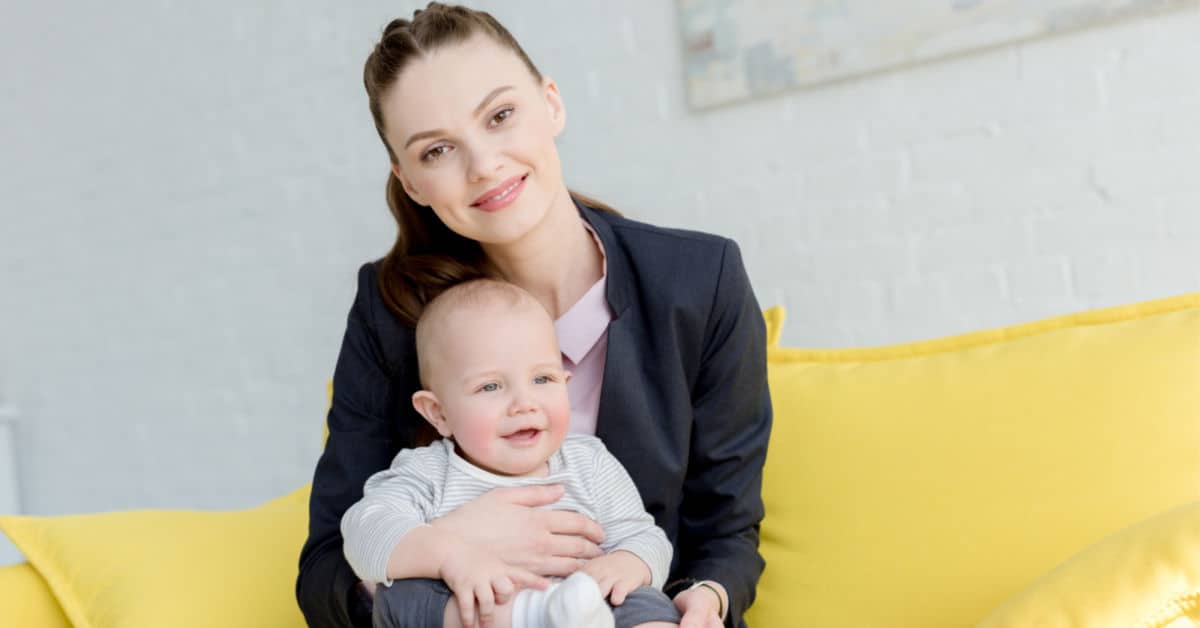 Habits of Successful and Organized Working Moms
Get Enough Sleep
If you are constantly tired and overworked, you are not going to function at your best and be able to balance the things that life demands of you. Successful working moms know that shutting off the television and heading to bed early is key to feeling well-rested the next day.
No one can function well on 3-4 hours of sleep each night. Getting enough sleep is essential for both your physical and mental health.
Keep a Family Schedule/Calendar
Working moms not only have their own schedules to deal with, but they are also typically in charge of the family schedule. Making sure everyone gets where they need to go when they need to be there is a mentally taxing job.
One way to master it is to keep a family schedule or calendar. It can be a wall calendar with each person's name and activities written in a different color if that works best. Check out these Amazing Home Command Centers for inspiration
For more tech-savvy families, an app like Cozi might be a better option as it can be shared amongst family members and everyone can see the daily, weekly, monthly, and yearly obligations. My husband and I use Amazon Alexa with our Echo and Dot to yell out "Alexa, add milk to the shopping list." and then at the store either of us can pull up the list on the Alexa app on our phones.
Use a Daily Planner
In order to know what needs to get done, you have to know what actually needs to get done. Working moms who use a daily planner are more likely to be better organized and task-driven than their counterparts who keep the day's responsibilities in their heads.
Writing down and then crossing off tasks and activities helps keep you accountable and frees up brain space and energy so that you don't need to remember everything that needs to be done. Write it down once and then complete it when it's time. A daily planner with a yearly, monthly and weekly views is particularly helpful as it allows for long term planning, as well as day to day activities.
Check Out My Ultimate Mom Organizer Pack
Plan Ahead
Forget flying by the seat of your pants, if you want to feel successful and organized you have to plan ahead. For working moms that means meal planning and grocery shopping ahead of time. It means planning errands and doctor's appointments in ways that fit in with the schedule instead of being reactive and doing them at the last minute.
By planning ahead, you free up valuable time spent at the grocery store and trade it for family or personal time instead.
Have Systems in Place
Any household functions better when there are systems in place, but for working moms, that is especially true. Systems for laundry and chores to systems for homework completion and bedtime routines are all vital for a smooth-running, organized home.
If you do not have systems in place already, it is easy to create them. Think about the things that work in your house and the things that do not. Then think about what it would take to make those things run more smoothly. Jot down the procedures in bulleted lists and share them with family members so that everyone is on the same page.
Delegate
No one person can do it all and that includes even the most efficient and organized working moms. One of the keys to being successful is being willing and able to delegate tasks. As women, we often feel like we have to do it all. Unfortunately, that attitude leaves us overwhelmed, depressed, and in an unhealthy state both physically and mentally.
Instead of taking it all upon your shoulders, delegate tasks to others in your family and, if you're able, hire help. For some that might mean having a cleaning crew come in once or twice a month. For others, it might mean hiring someone to cut the lawn in the summertime. Remember, delegating the tasks that take up a lot of time frees up the time available to spend with those you love.
Practice Gratitude
When you practice an attitude of gratitude, it changes how you see life. Instead of focusing on the hustle and bustle, jumping from one to-do list to the next, when you spend time reflecting on what makes you grateful, you are in the moment.
Successful and organized working moms know that life is not all about work and that the things that matter most are the people they love. Try starting a gratitude journal to keep track of those things that you are most thankful for. I personally have this gratitude journal. I wanted one that was easy and fast.
Successful working moms know that there is no such thing as the perfect balance between work and home, but it does not stop them from trying to achieve homeostasis. With some thoughtful reflection and planning, any mom can feel successful and organized!
Other Posts You Will Love:
10 Things Organized Moms Actually Do
5 Quick Tips To Get the Kids Out The Door In the Morning
Like it? Pin it.