This post is sponsored by General Mills but all opinions are my own.
"Hurry! You're going to miss the bus!"
"Where are your shoes?"
I was constantly saying these statements each morning. The frustration everyone felt in the house for the last few moments before I said good-bye didn't make any of us feel good. And the guilt when they got on the bus was not good.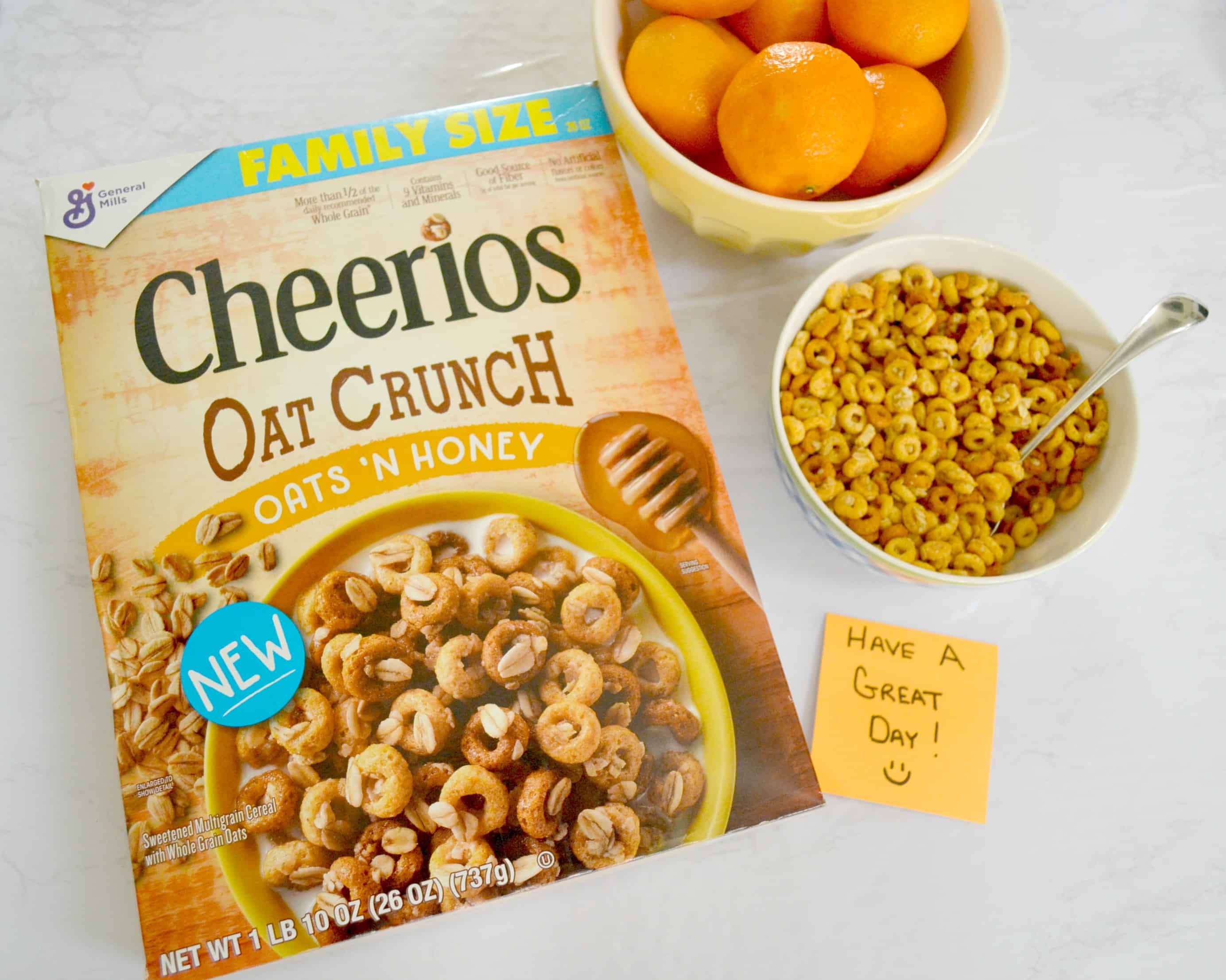 I knew we needed some help so I enlisted a bunch of my mom friends to find their best tips for getting everyone out the door in the morning without tears and drama.
5 Quick Tips To Help Your School Mornings Run Smoother
1.Line up shoes by the door: Shoes are my family's most lost items. We have a shoe area right outside our garage door but the kids seem to leave their shoes in our cars, bedrooms or on the back porch and we have to search for them. I implemented that when they pack their lunch the night before they must decide what shoes they are going to wear and put them by our front door.
2. Routine Chart: A list of 5 things that each kid must complete on their own. They earn rewards for completing all task before a certain time. Ideas can include: Brush teeth, make bed, get dressed, socks and shoes, feed pet, etc. There are some fun and colorful ideas on Pinterest.
3. Delicious and nutritious breakfast: We love cereal in this house. It is a regular choice during the week when we need to get ready for school and work quickly.
We were so excited to be able to try the new Cheerios Oat Crunch Oats 'N Honey. This is a new flavor in the Cheerios line of cereals that can be found at Walmart.
This cereal is the original Cheerios with the addition of whole grain oats and real honey combined to make a delicious combination. I love the crunch of the oats and the slight sweetness of the honey. I am thrilled to add this hearty cereal to our family's breakfast routine.
Click this link to purchase at Walmart: Cheerios Oat Crunch Oats 'N Honey 
It makes a delicious and nutritions breakfast for the whole family.
4. Get yourself ready first. If you are leaving the house with your kids it is much easier to get yourself completely ready before getting the kids ready. Don't try to multi-task as it is too easy to forget something for yourself or the kids. Plus it takes longer when you keep getting interrupted by little ones.
5. Screen time only when tasks are complete. – You will be amazed how fast kids will get all their tasks completed if they can get their eyes on electronics.
These tips have helped us end some of the chaos on weekday mornings.
Do you have some tips? I'd love to hear.
Like it? Pin it.