Say it isn't so. That sweet little one has figured out how to escape their crib. Most kids get to this point at one time or another. It happens at different ages for every child, making it pretty unpredictable. If you are one of the lucky ones, your child may not do this but, more often than not;  your baby climbing out of crib is going to test your parenting.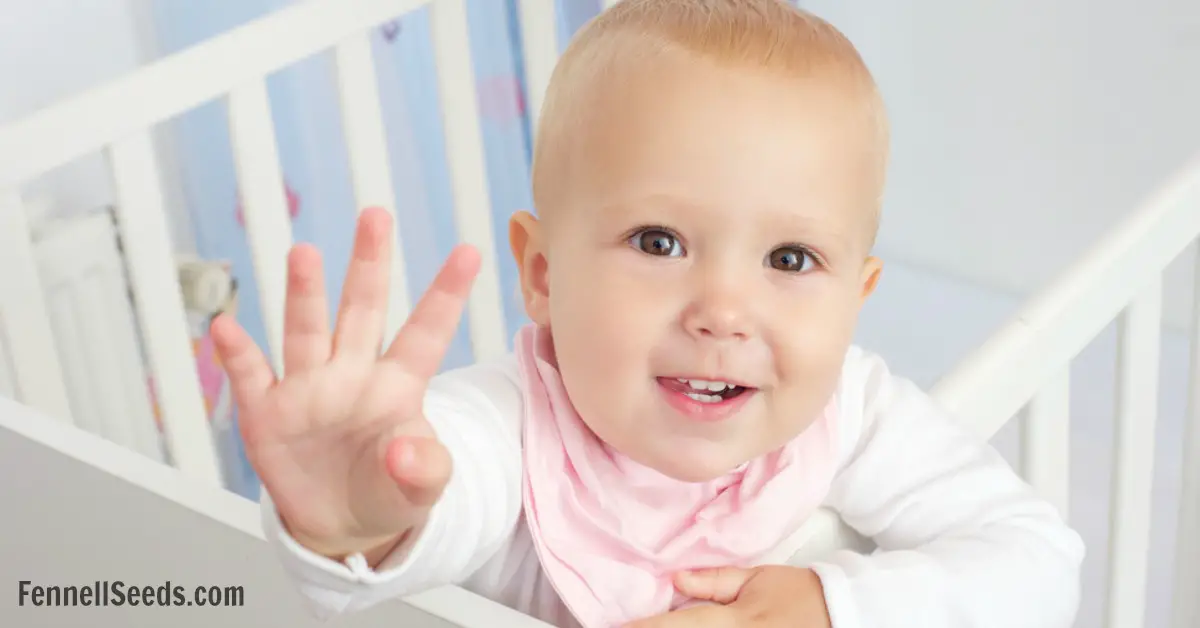 Why Do They Climb Out?
There are many reasons why kids climb out of their cribs.
One of which is because they don't want to miss anything. Just like when they were babies and fought sleep, they really don't want to miss anything that is happening outside of their room. You will know this is the case if they also come out of their room when they get out.
Next, they aren't ready for bed yet. Many times, kids will climb out of their cribs but, stay in their room. They will play with their toys until they are ready to go to sleep. At that point, they will either climb back in the crib or, fall asleep on the floor.
When will it Happen?
It happens at different ages for each child but, it can be expected anytime after your child becomes more mobile. Once your child can pull up and climb on pretty much anything, that is about the time to expect them to try to climb out of the crib.
The hardest part is it is totally unpredictable. One time you will put them down to sleep and be fine and the next, they are out and free.
5 Tips How to Keep your Toddler in their Crib
1.Sleep sack – These are one of the best mom inventions. Not only are they a safe way to keep your child warm at night; they also help prevent your child from getting their leg over the side of the crib.

2. Video Monitor – Watch on video monitor and go in a soon as you see them start to climb. Make sure they lay back down and know that it is not acceptable to climb. This can happen over and over for a couple of nights until they understand that they have to stay in their cribs.

3. Toys – Put toys in with them that they only play with in their cribs. Quiet books, water pages, Little People are good options. They have something to play quietly with while their bodies relax. Once they fall asleep, you can remove the extra items.

4. Bribe them/Talk to them – You can come up with a reward they receive in the morning if they do not climb out of the crib. I find at this age that they need instant gratification when they wake up rather than earning stickers on a reward chart. I find that a special cereal in the morning that they normally wouldn't have for breakfast works great at this age.
5. Move the Mattress – some people have luck dropping the mattress all the way to the floor. Make sure there are not any gaps between the mattress and the start of the crib.
Other ideas for why your toddler Is climbing out of their crib:
It could be that they don't want to miss anything.
I have FOMO (fear of missing out) myself so I can understand when that our little ones may wonder why they have to go to bed when everyone else is still awake. If they are getting up because they don't want to miss anything than, your best bet is to minimize extra sounds coming from outside of their room. Now, this doesn't mean make the house silent but, it is helpful to help drown out the noise. You can do this either by having a sound machine playing or, using a radio and turning on a classical station. I have also used meditation CDs as well. If your child can't hear much of what is going on outside of their room, their temptation to get out and see what is happening is lessened.
Just for Fun
On a rare occasion, they are only climbing out to get a rise out of you. They know that you will come in their room and they are getting that little bit of extra attention. Plus, it keeps them awake. If this is the case, than minimize any and all talking that goes on. It is best to not say a word but, just simply put your child back in their crib. If something needs to be said leave it short and sweet. "Bed time" is all that needs to be said and leave the room.
Remain Calm
No matter the reason your child is climbing out of their crib, be sure to stay calm. Getting them (and yourself) worked up will simply just delay bedtime even further. If you can reassure them that they can play when they get up or that nothing is happening because everyone is going to bed, it will help them to relax.
Consistency
Consistency will be key no matter what option works best for your family. Make whichever option you choose part of your routine. For us, I found it best to let my kids take books to bed so, we made picking them out part of their bedtime routine.
Kids usually have a reason that they want to be up so, helping them to solve their need or problem will help to keep them in their crib and get a good night's sleep.
You may be interested in the following articles:
5 Fun (Less Traumatizing) Tips to Wean Pacifier Use
Is Your Kid Sneaking Into Bed? Real Moms tell 5 Ways They Successfully Stopped It.
Like it? Pin it!