Oh, the joys of teething and trying teething remedies. At such a young age, our poor little babies are not easily able to communicate their woes.
Except for crying.
Day after day, night after night of endless, inconsolable crying.
When my children were teething, the distress and pain they experienced broke my heart. As adults, we likely do not remember the struggles of this stage of growth as babies. The main cause of our child's distress can be difficult to identify and can often be frustrating not only for our child, but for us as concerned – and exhausted – parents.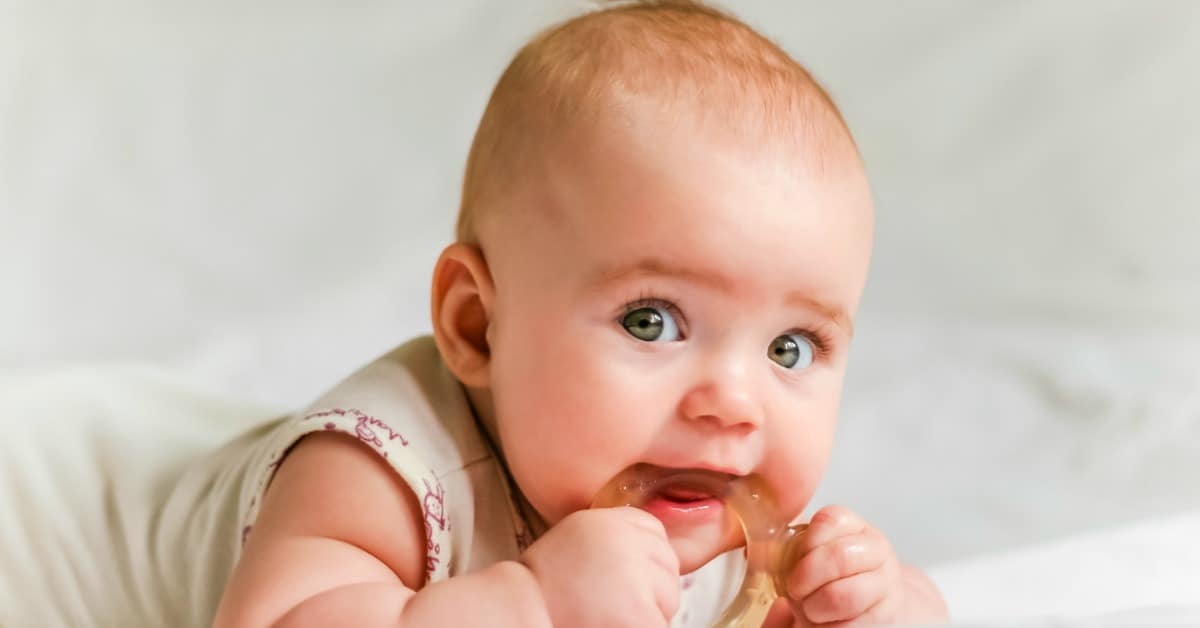 This comprehensive list of teething remedies will not only aid in your little one's comfort but will give you peace of mind that you may sleep just a bit more soundly tonight.
8 Teething Remedies for Your Little One
1.) Chilled Fruit – If your baby has taken an interest in solids, introduce them to a cool, soothing apple chilled in the fridge. You can also pop a frozen banana in a mesh or silicone feeder for a yummy snack. Such sweet relief!
I had these Munchkin Fresh Food Feeders.
2.) Cool Washcloth – Run a clean washcloth under water, snap it into a clean container and chill in the fridge. Once cool, let your baby gnaw at the washcloth to soothe their aching gums.
3.) Rubbing the Gums – With clean hands, let your child gnaw on your finger and if they let you, gently sway your finger on their gums. Your child will appreciate the subtle, yet effective pressure applied and will likely calm down… at least for a little while.
4.) Momma's Cuddles – Nothing beats the soft, warm embrace of Mom or Dad. Trust me, your child will almost always opt in for snuggle time when they're uncomfortable. Soak it in; these moments don't last forever.
5.) Amber Teething Necklace – Whether or not Baltic amber has proven facts to help tone down the teething blues, many parents swear that these necklaces have helped, if not saved, everyone's sanity. If you gift your baby an amber necklace, please practice safe usage and always completely remove the necklace from their neck before they sleep.
6.) Frozen Milk Pops – Frozen Breastmilk or formula pops are a fun and soothing way to help your baby numb their aching gums. This could get messy, though, so change your child into clothes that you wouldn't mind getting slobbery and wet.
7.) Keeping Baby's Skin Dry – Teething will likely induce excessive drooling, so keep a clean and dry towel on hand and gently dab their face. Saliva can often irritate their delicate skin, so keep the skin clean even if your baby protests. Don't forget their neck and hands!
8.) Over-the-Counter Remedies – If worse comes to worst, ask your child's pediatrician about over-the-counter medication for a last-resort method of relief. Their pediatrician may even advise additional ways to help your child feel better.
Different remedies to aid teething babies will surface over the years and gain popularity. Regardless, it's always best to listen to your child and follow their queues to help comfort them.
I hope this list will help you and your child in desperate times; it certainly has helped mine.
Other Posts You Will Like:
How to Keep Your Baby's Head from Getting Flat
Game-changing Hacks for When Your Baby Won't Stop Crying
Like it? Pin it.