Have you noticed how many babies now wear helmets to fix their flat heads? We all want our babies to avoid the whole hassle of those helmets and prevent flat head syndrome.
I have had 3 babies with perfectly round heads and my sister used these same tips and she has 3 kids that all avoided having flat head syndrome. (Did you know there is an official name for it? I didn't. It's plagiocephaly and can also be caused by torticollis.) Here are our 3 easy tips to keep your baby's head from getting flat in the back.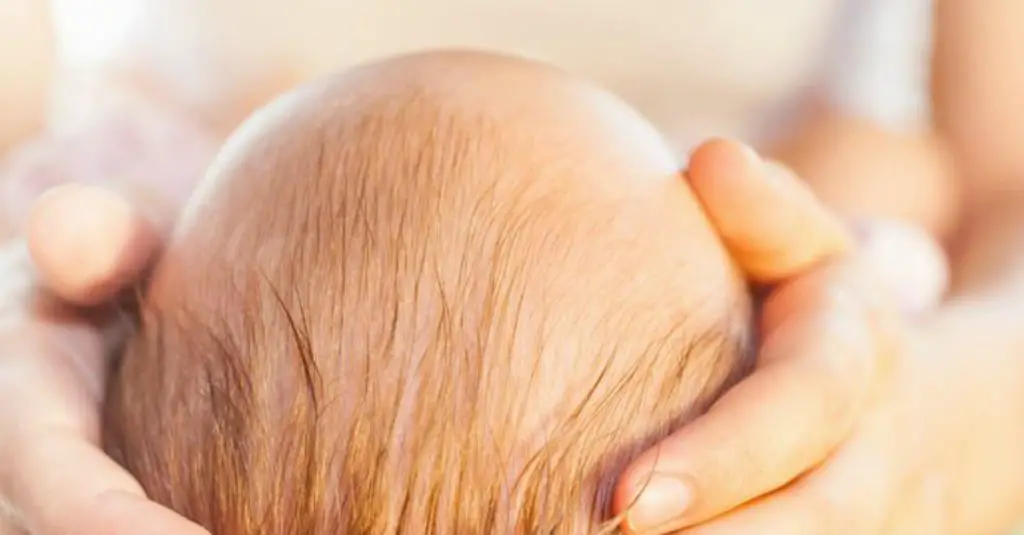 3 Easy Tips for How to Prevent Flat Head Baby Syndrome
1 or 2 naps when they are newborns should be done in a bouncy seat or swing. The idea is to mix up the angle your baby is on its head. At night your baby may be in their bassinet or crib, then mix up where they sleep during the day or even at night if your baby hates the crib. Alternate the swing, bouncer, Mamaroo or wherever your baby likes to sleep.
Alternate which way you lay your baby in the crib so that one night their head is at what you consider the head of the bed and the next night lay your baby with their head at the foot of the crib. This tip came from my sister's pediatrician.   Babies naturally want to look towards door because there is a shimmer of light in that direction. If you alternate putting their head at the head and foot of the crib they naturally look in different directions which shifts the weight on the back of their head.
Use a baby wearing device or just hold your baby for the last nap of the evening. Once the other kids are in bed and you are resting on the couch let your baby lay on you. Give them a rest from putting any weight on the back of their heads. This is easier said than done. I didn't do this every night as sometimes I just wanted a break from kids touching me.  Sometimes I would suggest to my husband that he let the baby lay on him and it was good bonding time

FREE PRINTABLE BABY MILESTONE TRACKER

Print out this fun milestone tracker to keep track of your baby's growth and join our newsletter.
I am not against helmets for kids. They are awesome if the baby's head gets a large flat spot that needs to be corrected. The problem is that they are such a hassle and expensive.
There are also some hats and pillows that help with preventing flat heads in infants.
I think of helmets as similar to braces. We want our kids teeth to be straight so we use braces and now we want our kids to have perfectly round heads so some people need to use helmets. We all want to do everything in our power to avoid the expense and hassle of helmets.
Related Posts: High Tech Baby Gadgets That Will Make Your Life Easier
If your mother is like mine and is saying, "Why are you so worried about this? We never worried so much about babies with flat heads." This is a relatively new problem. Back in 1994 the Back Is Best campaign was started to educate parents that babies should be put to sleep in their back instead of on their stomachs which was the previous preferred method. Babies before 1994 had hours and hours of tummy time while they were sleeping and therefore babies with flat heads were not a huge problem.
Now we know that to best prevent SIDS we need to put our babies on their backs to sleep but that means taking more preventive measures to help our children spend more of their waking hours on the tummies.
Have you had a problem with flat head syndrome? Any tips that you have used to prevent it?
Like It? Pin It.