As the mom of three active kids, one of my biggest challenges has been learning how to store old sports equipment so that it can be used again in the future. We have more baseball gloves, tennis rackets, ski equipment, and scooter and skateboard equipment than I ever thought possible.
While I've written before about sports equipment storage ideas, I realized that there is a lot more to it than simply putting things away in an orderly fashion. Storing the equipment properly to keep it from deteriorating is even more important than keeping it organized.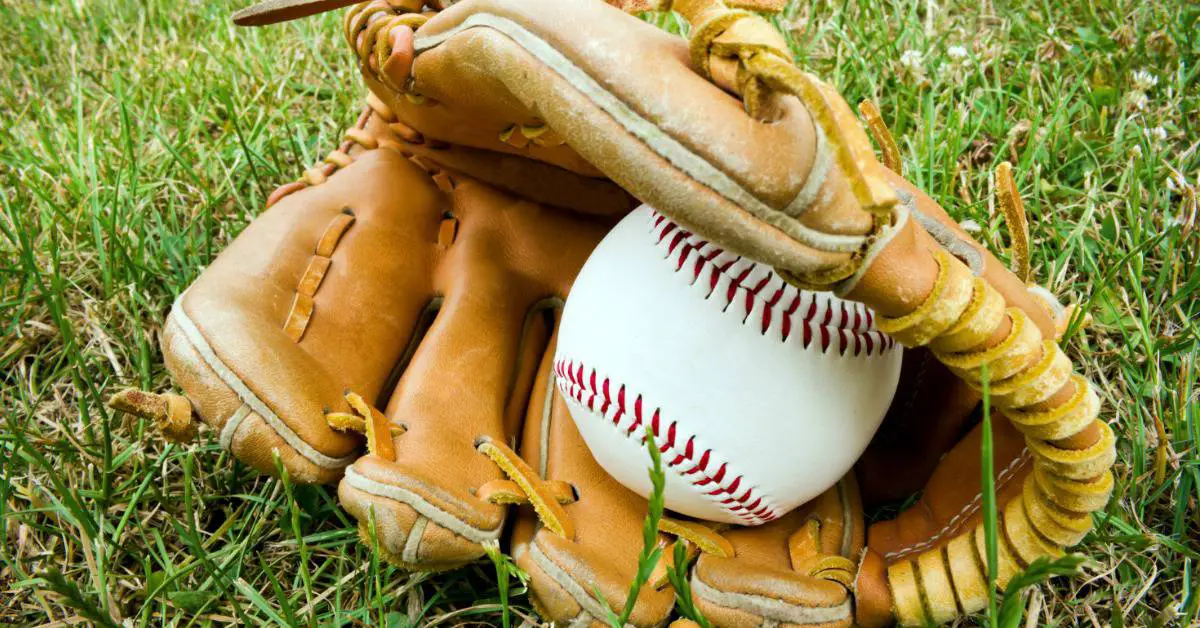 Unfortunately, I learned the hard way that taking care of leathers like those in baseball gloves is an essential step before storing them. Here are some things I have learned about baseball glove care to make sure it lasts for years to come.
How to Clean a Baseball Glove to Store It
Regular cleaning is essential for any baseball glove, but it is even more important before you get ready to store it for any length of time. Even if you are only storing the glove from season to season, cleaning it beforehand will help keep it in great shape for next year.
The three main steps to cleaning a baseball glove are:
Scrub
Using either a stiff bristled brush or a cloth, scrub any dirt and debris off your glove. If you are going to be storing your glove, you might want to consider removing the laces to do a more thorough clean. Use caution doing this as it can be difficult to re-lace a glove or costly if you have to take it to a sporting goods store to have it professionally re-laced.
Clean
After you have removed all of the dirt and debris, use a leather cleaning agent and a soft rag to wipe down your glove. Before investing in a leather cleaner check with your glove's manufacturer as some of them require specific cleaners to be used to keep the warranty intact. Many leather glove cleaners are also combined with conditioners so make sure that you are not applying too much conditioner as it can damage the leather.
Condition
Before putting your baseball glove away for storage take the time to condition it thoroughly. Rawlings Gold Glove Butter is especially suitable for deep conditioning before storage or if restoring an older glove. Always use a soft cloth when conditioning a glove to help get into the crevices and creases around the laces and fingers. Let the conditioning agent dry completely before putting the glove away in storage.
How to Store Old Leather
The key to storing old leather is to keep it clean and dry. Humidity is the killer of leather, so keeping a baseball glove in a cool, dry place that doesn't have a lot of temperature fluctuations is essential. Instead of storing leather gloves in an unheated garage, keep them inside the house where the humidity level and temperature are more constant.
If you live in a drier climate, your old leather will need more care than ever because it will be more prone to dry out. Make sure that you use a bit more oil than usual before you store it to help it retain the moisture.
How to Keep Dust and Dirt Off of Baseball Gloves in Storage
Keeping dust and dirt off of your baseball glove while it is in storage is just as important as making sure that it is adequately conditioned. One of the challenges with that is that the leather needs good airflow to keep it from cracking and getting moldy.
While the temptation to leave it in your baseball bag until next season may be strong, consider keeping it in a closet or storage cabinet where it can still benefit from the air flow but is protected from dust and debris. Since storing the glove inside the house is better than in the garage, opt for a spot in a bedroom or hall closet that will not be disturbed too much.
How to Store a Baseball Glove to Keep the Shape
When storing a baseball glove, it is important to think about how to make sure it keeps its shape. Keeping the pocket intact makes the glove more comfortable to use again as it already has that catching curve. There are a few different ways to ensure that it retains the pocket and no one way is better than another, so choose which works best for you.
Place a large softball-size Wiffle ball in the pocket. A Wiffle ball is preferred over a solid softball because it allows for good airflow that will help prevent mold. The softball size is also recommended over a baseball because the larger size helps hold the shape better.
Store the glove over the top of a batting helmet. This can stretch the glove out a bit more, but it helps keep the glove open.
Use a glove guard to help hold the shape. If you decide to go this route, make sure that the plastic has holes in it to allow air to flow around the leather.
Summary
Keeping your baseball glove protected and stored properly when not in use ensures that it will be useable for seasons to come. The time it takes to clean and store it will be well worth it when you pull it out next year.
Other Posts You Will Like:
Amazing Sports Equipment Storage Ideas
Like it? Pin it.