Hardwood flooring is a popular option among homeowners, and for good reason! This natural flooring adds a ton of warmth and character to a room. And while hardwood floors are designed to last centuries, they can take a lot of abuse through the years.
Luckily, this resilient flooring option can bounce back from most wear and tear, if you know how to take care of them properly. Here's how to keep your hardwood floors looking like new: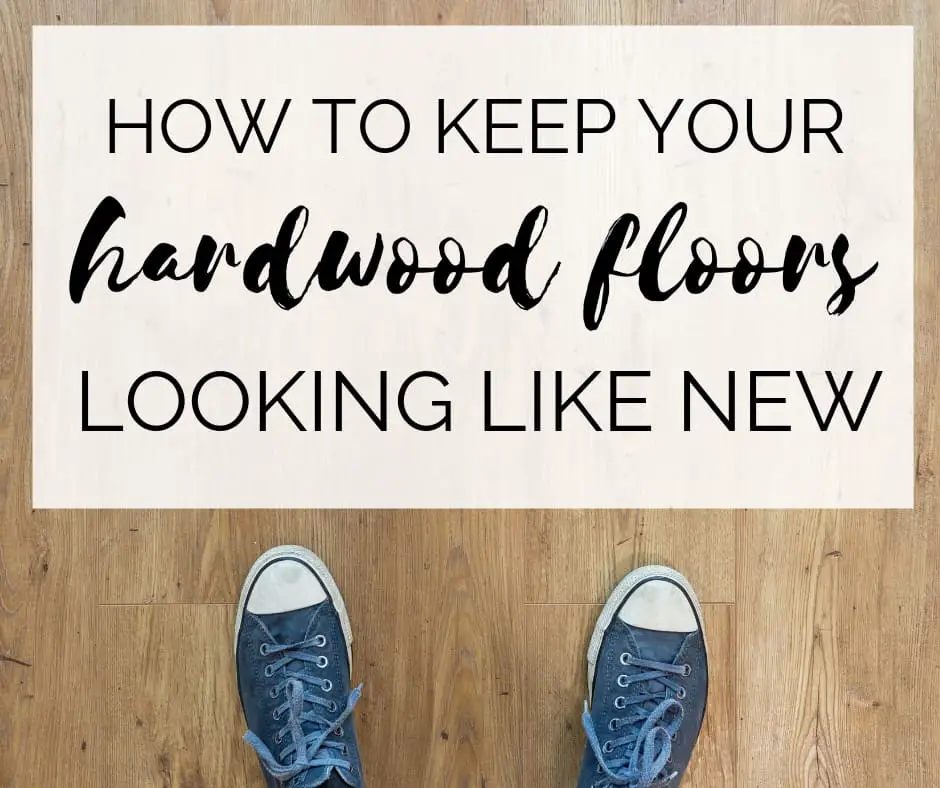 How to Maintain Hardwood Floors
Keeping your hardwood floors clean is essential to ensuring they continue to look like new. The first step to keeping your wood floors clean is removing stray dust and dirt with a dust mop or vacuum on a regular basis.
I like this mop the best because you can throw the pads into your washing machine and reuse them: Bona Hardwood Floor System
Removing hazardous dirt from the floor's surface regularly will help prevent scratches and nicks in the floor later on. For high-traffic areas, like the kitchen and hallways, vacuum or dust mop every day. Rooms that don't receive as much traffic can be cleaned once a week.
Occasional deep cleaning of your hardwood floors is also necessary. While it may be tempting to mop your hardwood floors regularly, you should try to limit your mopping to once a month (or less). The only exception to this rule is if you have neglected dry cleaning your floors for weeks or have mud or stuck-on grime on your floors.
How to Deep Clean Hardwood Floors
To deep clean your hardwood floors, use a damp mop and a cleaning solution especially designed for wood flooring. Never use a wet mop when deep cleaning your hardwood flooring. A dripping wet mop can cause serious damage to your flooring, like buckling, that can't be repaired with by simply refinishing the floors.
The type of cleaning solution you choose will depend on your floor's finish.
Sealed hardwood flooring should be cleaned with commercial cleaners, while unsealed floors should be shined with wax.
It's also important to avoid harsh cleaners with bleach, ammonia, vinegar, or pine oil, all of which can damage hardwood flooring. To successfully mop your floors, always mop in the direction of the floorboards as you clean and avoid using too much cleaning solution each time you mop. After the floor is clean, use a clean towel to buff and dry the floor, making sure to wipe up any standing water as quickly as possible.
How to Prevent Damage to Hardwood Floors
Even if you keep your hardwood floors clean, you still run the risk of damaging your floors on a daily basis. But there are a few different steps you can take to ensure you avoid adding any further damage to your existing floors.
1.Remove Shoes – Start by removing your shoes each time you and your family members enter your home. Asking people to remove their shoes before stepping on your hardwood floors will help you keep outside dirt and grime from being tracked across the floor. In addition to helping prevent dirt buildup on your wood floors, this tactic will also help prevent scratches from larger pieces of dirt and rocks that may get tracked onto the floor.
2. Felt Protectors – It's also important to protect your wood floors from scratches from other hazards, like furniture. Start by placing felt protectors under each piece of furniture to prevent scratches when the furniture is moved. This is especially important on pieces of furniture that are moved often, like dining room chairs or office furniture.
3. Rugs – Consider placing rugs on high-traffic areas to protect the flooring underneath. Rugs are also great for placing in doorways to help minimize outside dirt from coming in contact with the wood floors.
How to Repair Hardwood Floors
If your hardwood floors are in need of more than a deep clean, you might need to consider tackling some basic repairs to get the floors looking like new. Luckily, there are a couple of different repair techniques that can improve the look of your flooring.
1.Crayon/Wax – One simple way to repair your hardwood floors without the use of heavy equipment is to repair scratches and dents with a crayon or wax stick. Simply find a crayon or wax stick that closely matches the color of your floor and color of the scratch or ding. Then, use a hair dryer set on low to melt the wax from the crayon into the floor. After the wax has dried, buff the area with a soft cloth or towel. I love keeping this wood repair kit on hand. It is great for wood furniture too.
2. Marker – For a long thin scratch we use a brown Sharpie. Although they do make special floor repair markers we found a Sharpie our floor color. We have had several long super thin scratches made my our kids. One was a new doll stroller that we didn't realize the plastic wheel wasn't smooth. After a long push down our hall we looked back and realized it had left a long mark. Using a small marker along the scratch made it blend in perfectly.
3. Recoat – Another great way to improve the look of your hardwood floors is to recoat them. Start by removing all the furniture from the room and repairing any holes and deep scratches. Then, clean and mop the flooring as you normally wood. Using a floor polisher, scuff away the old coat of finish from the floor and use a vacuum to clean the dust away. Finally, apply a new finish to the flooring. You'll need to allow at least three days for the finish to cure before moving your furniture back into the room.
If you maintain your hardwood floors they can last the lifetime of your house. Just think of all the 100-year-old homes with the beautiful original hardwood floors.
Other posts you will love:
How to Organize Paper Clutter Once and For All
8 Easy Ways to Organize Your Pantry
Like it? Pin it.