Busy boards can be amazing for kids but this one takes it to the next level. Even older kids love this Montessori busy board and it keeps them occupied for a long time. 
This idea first started when my oldest nephew was obsessed with keys. He would want everyone's keys that came to their house. My father ended up going to a hardware store and having a bunch of keys made and a key ring to be able to give him his own set of keys just alike the adults. 
Then when my nephew got a little older he wanted to use his keys and my father came up with the idea of this busy board with lots of locks and a special place to store things.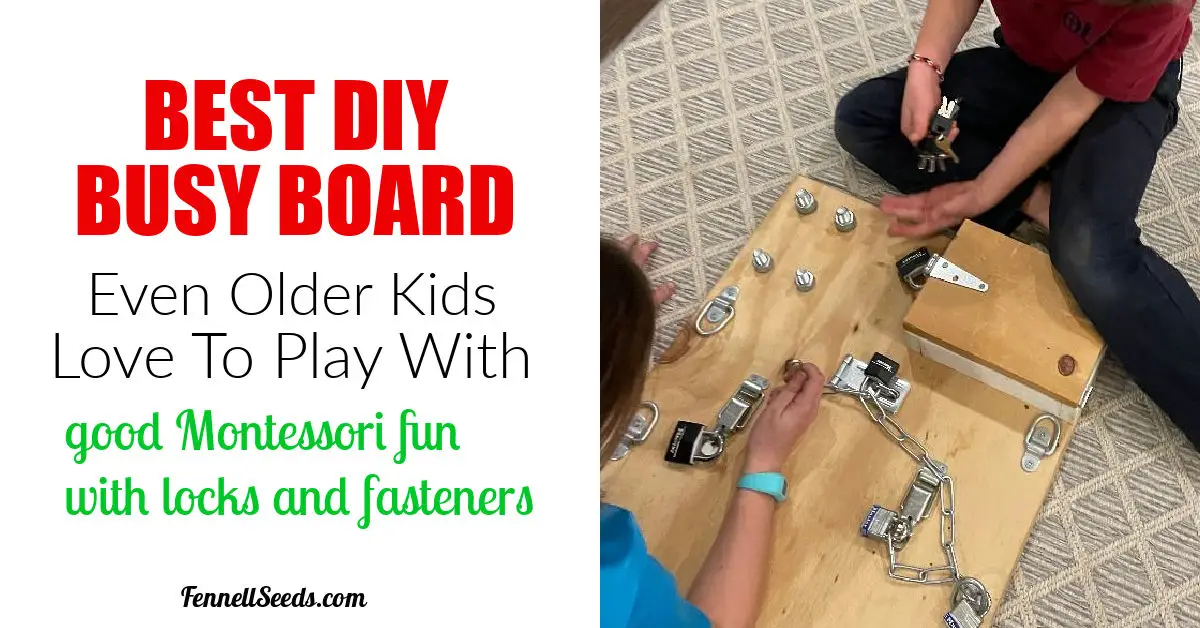 We made our board big enough for 2 or more kids to be using at the same time. My father also added some bolts and various places to lock a chain. And the special addition is a box that can be locked and small things hidden inside. They love to lock up small toys and stuffed animals. 
DIY Montessori Busy Board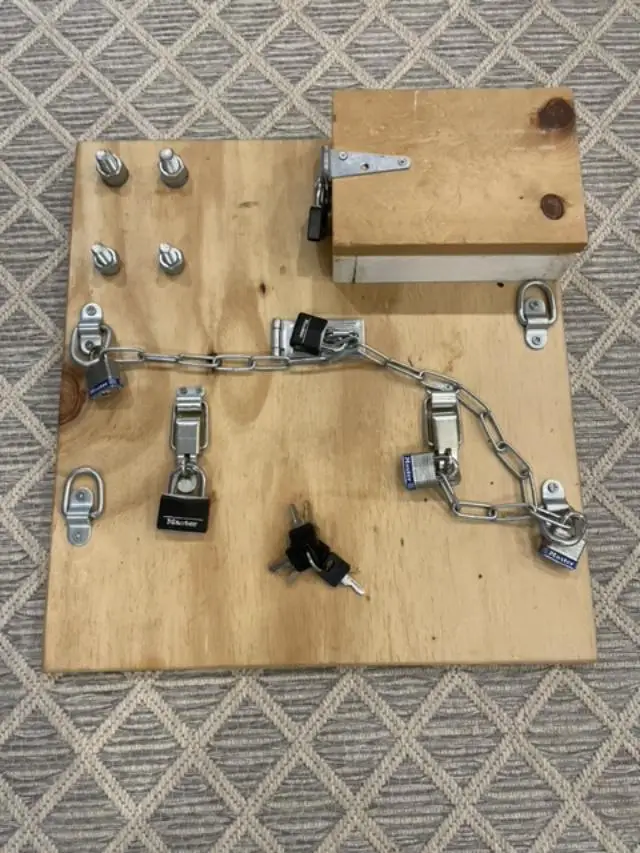 You can either surprise your child with this or make it into a group project. Take your son or daughter to a hardware store and pick out locks and hinges together. I don't know about you but taking a trip to a hardware store can be an entire fun outing all by itself. Just the smell of the cut wood makes me happy.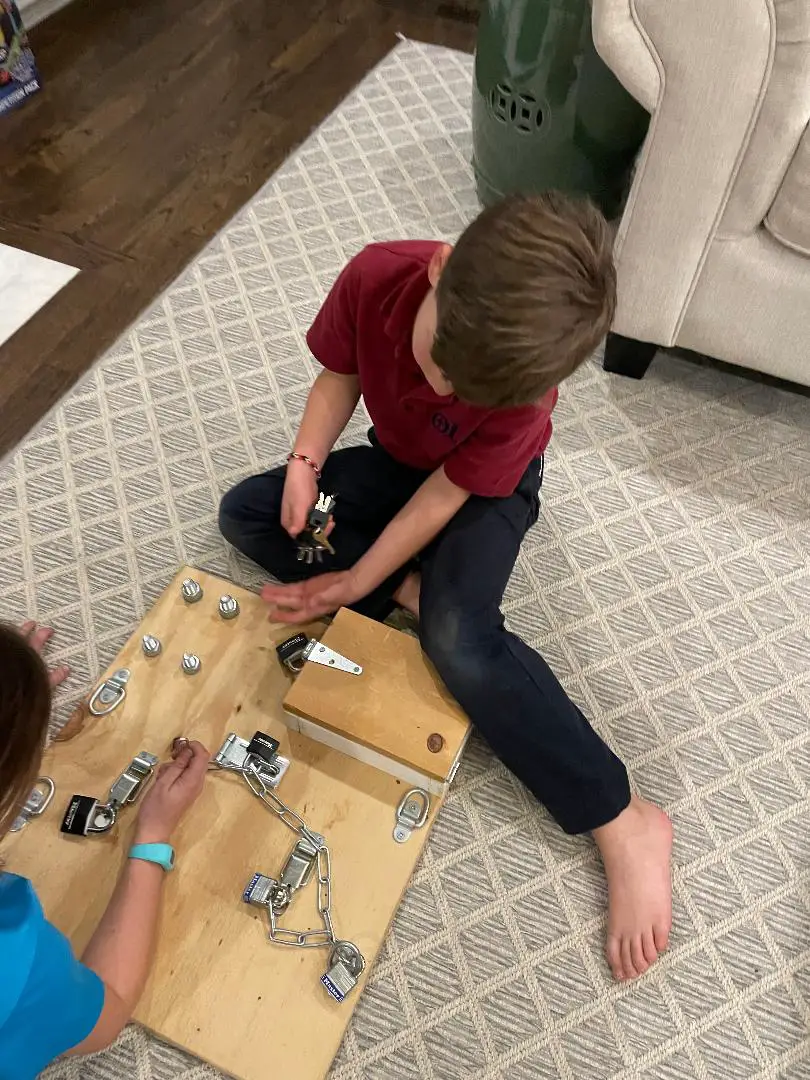 The chains are fun for the kids to lock up and move all over the board. What helps make this board a mainstay and keep the kids interest for years is that fact that these are real locks and real chains. The keys are real keys so it keeps them entertained. 
Make sure to make a seconds set of keys and keep them in a different location in case your kids forget where they put these. I keep our second set where I keep my extra car keys.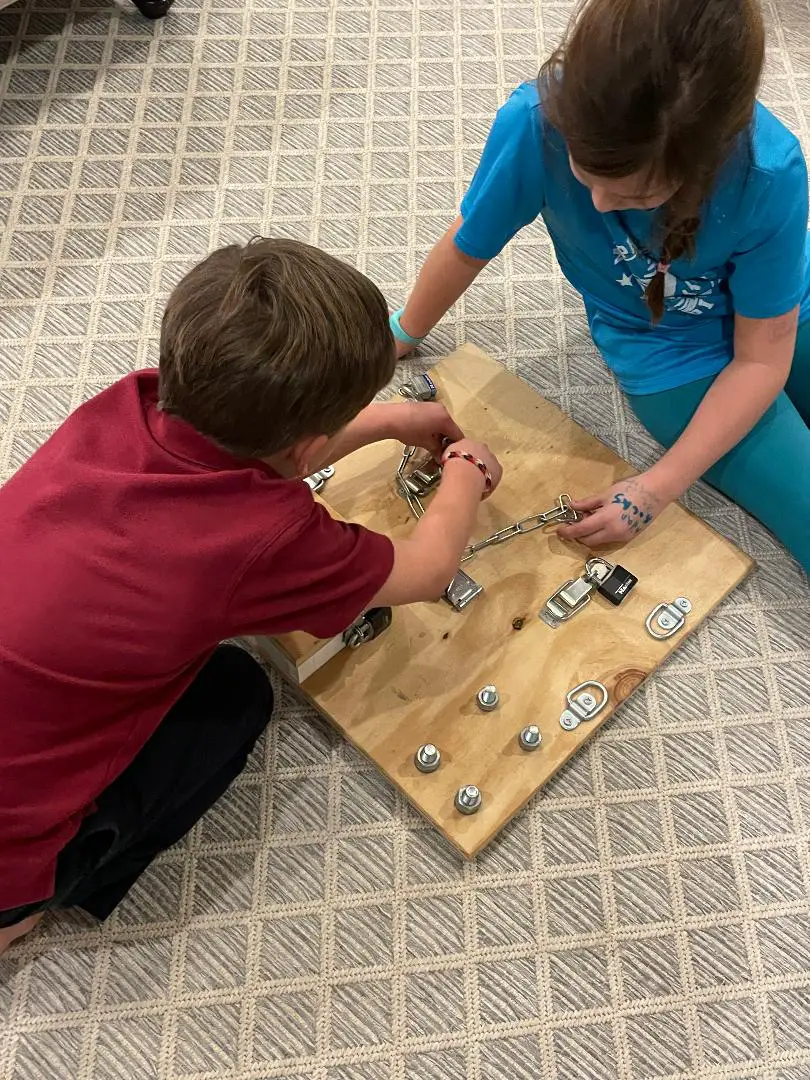 This busy board is great for both boys and girls. My niece is constantly wanting to lock and unlock the box and hide some prize possessions inside. And my nephew loves the padlocks and keys and carries the keys around in his jeans. 
Get creative with your DIY Montessori busy board. You can come up with all sorts of new lock combinations and latches by just browsing the aisles of your home improvement store. Real tools and wood make the best toys and can inspire so much creativity. The ideas for fun summer projects for the kids can come from the easiest items at a hardware store. Buckets, big screws, pieces of wood, pvc pipe, all can be the start of such creative afternoons.
Related Posts: DIY Chore Buckets
We love toys that grow through the years with our kids. I can see this busy board still being around for grandkids one day. We store ours under a bed. 
Like it? Pin it.