Do you have bags of chips just piled on top of one another in your pantry? I did until I figured out how best to organize bags of chips.
I had so many piled up that I was starting to buy more pretzels and tortilla chips when I had half-open bags that I just couldn't see.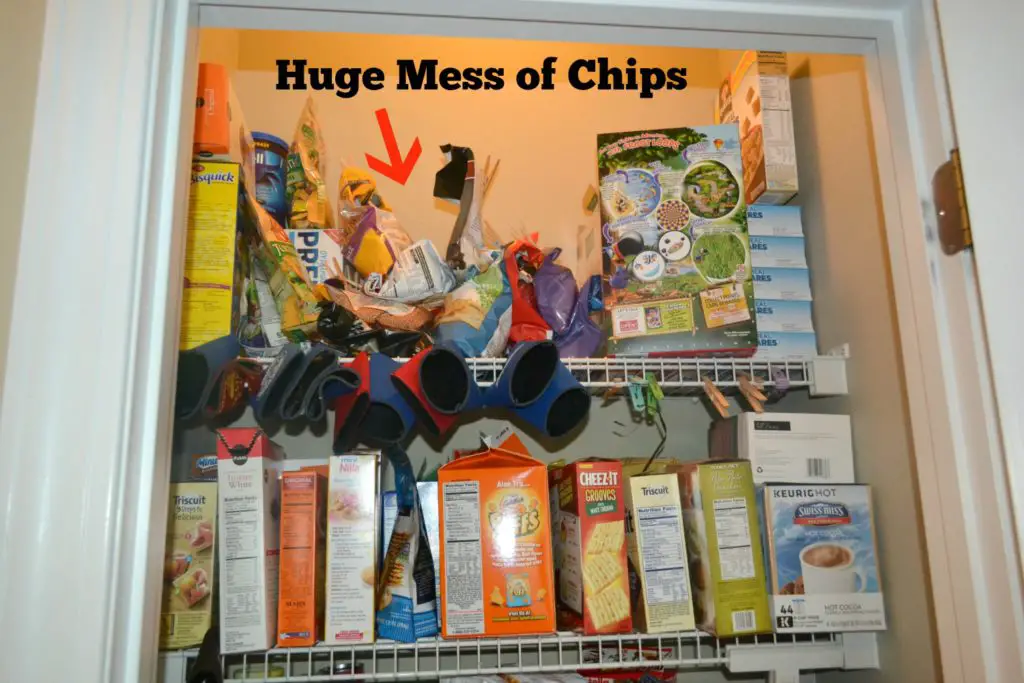 Some of the half empty bags were things my kids loved to eat but I couldn't even see that we had them when it came time to pack their lunches. I had to come up with a way to get those bags of chips off the pantry shelf and come up with a new way to organize bags of chips.
I had purchased some size medium Command Hooks for organizing my craft closet and had a bunch left over. After looking in my pantry, I knew I needed to do something with the big mess on the top shelf. I couldn't even see what kind of chips and pretzels we had up there.
If I could hang the bags of chips with a chip clip that would help free up my shelf. My problem was that I usually use clothes pins as chip clips. How was I going to hang the bags of chips? First I was thinking of drilling a hole in the clothes pins and using a string but then I thought…what if there are already chip clips with holes in them? A quick search on Amazon and perfection.
Now I could stick the Command hooks on the side of the closet and use the new clips to just hang them. Easy, peasy.
Here is how I started.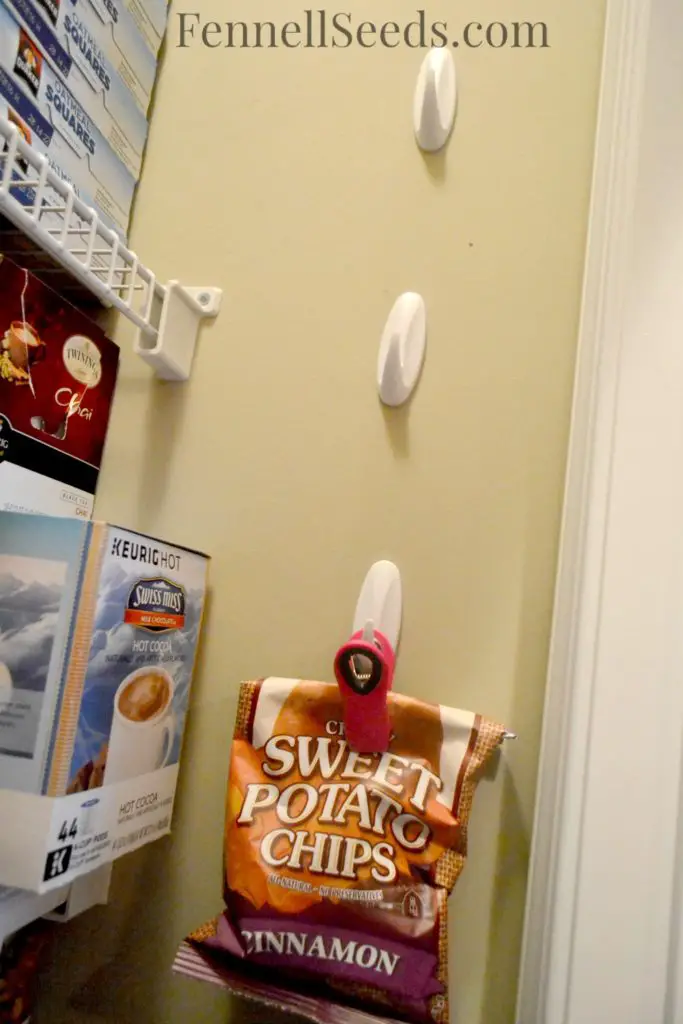 I went as high as I could reach and I may have my husband put one even higher. That way I can get another bag on each side. This would be good for keeping chips that I shouldn't be snacking on anyways.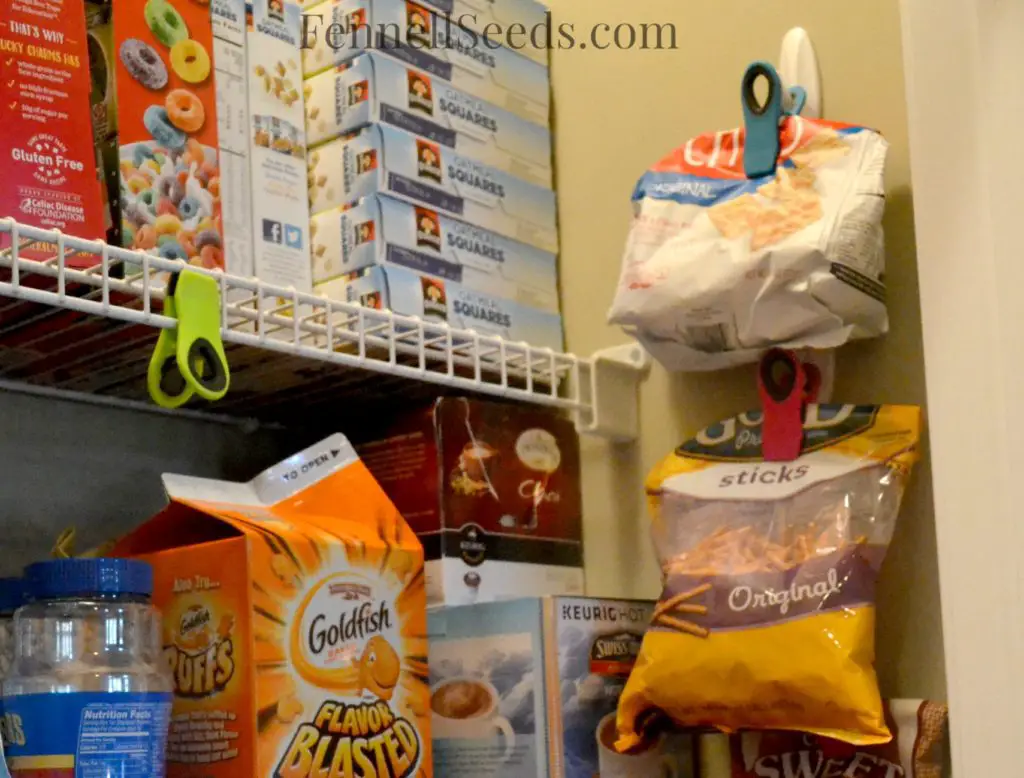 And here are all my bags of chips and pretzels now off my shelf.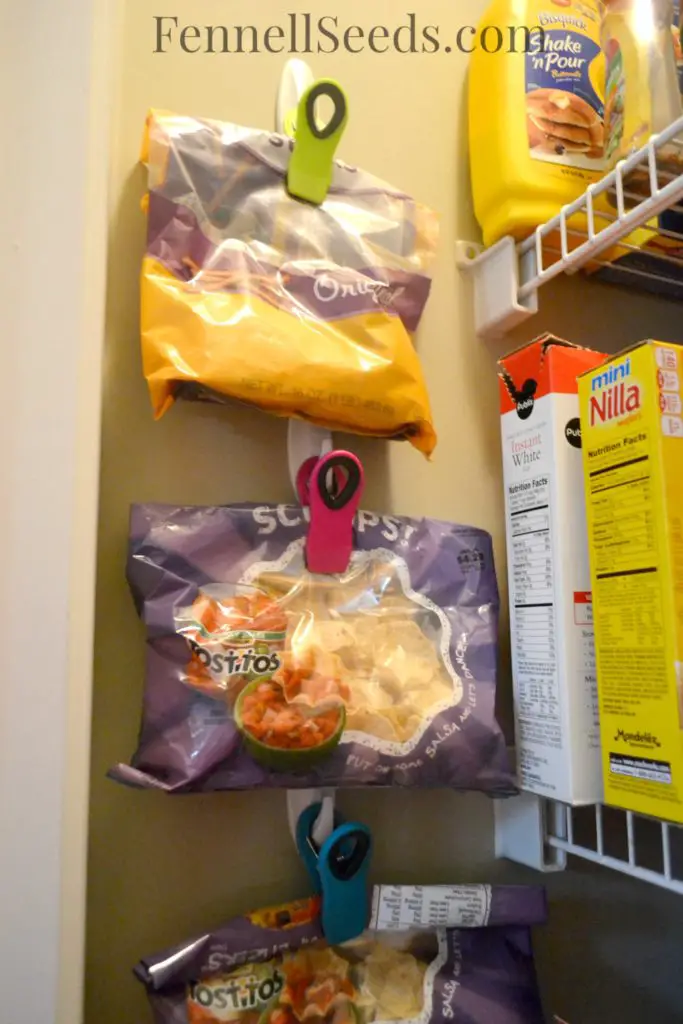 And that's the other side. I had way too many half empty bags of tortilla chips. Half of them were stale. Now I can actually find the already opened bags.
Don't you love projects that just involve sticking things to the wall? That is my type of organization project! 🙂
Like more tips for your pantry?
Here are 8 Easy Ways to Organize Your Pantry.
Plus, how I remove sticker residue from clothing after it goes through the wash
Let me know if this works for you.
Like it? Pin it!