I remember the day that I finally had to give my 4 day old twins a bottle. The memory that is most vivid is the feeling of being completely confused because I wasn't given any information on how many ounces a newborn needs during bottle feeding. How was I supposed to know? To make it even more daunting, I realized that I was supposed to learn how to interpret tiny signals or gestures my babies were sending to me.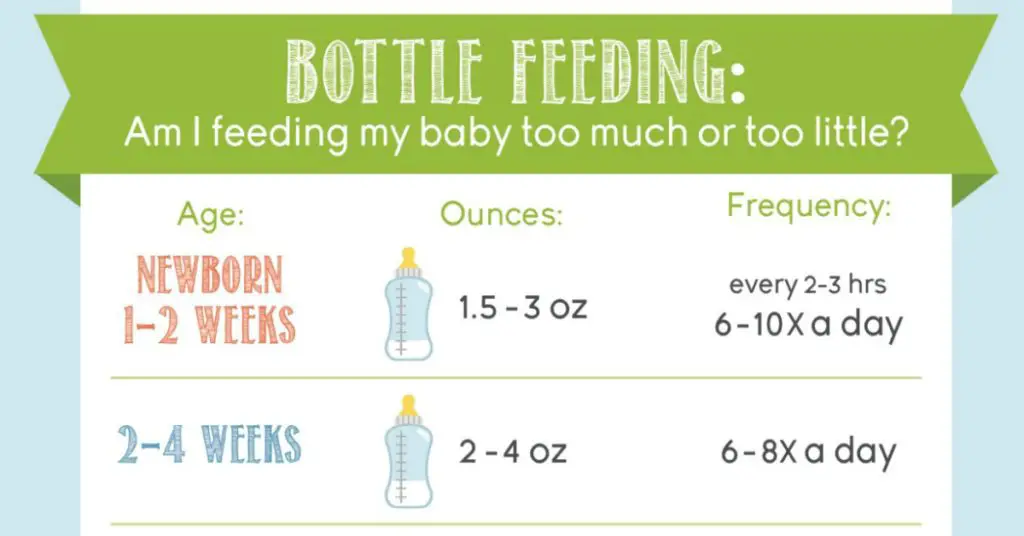 Thank goodness we have the internet. I just can't imagine how our mothers survived without Google. When I asked my own mother how she figured it out, she calmly replied "just trial and error I guess". I give her a lot of credit for finding a way to survive without the world wide web.
In an effort to help those new mothers out there, I have included a one page resource that you can easily print out and keep accessible for all the stages of your baby's first year.
Save the guessing for another night! If I can alleviate stress for anyone else out there then I have done my good deed for the day.
(click on image to download)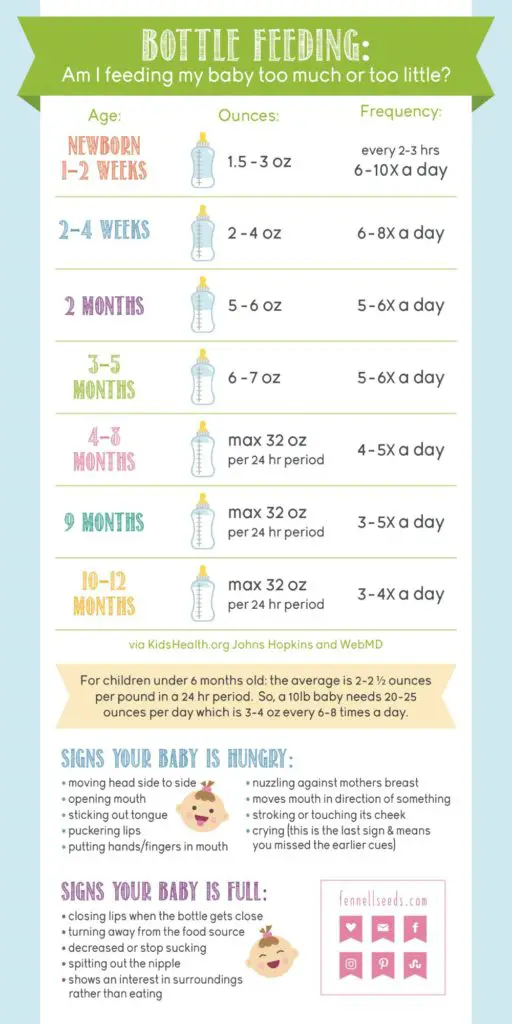 I gathered all this information from John Hopkins website, KidsHealth.org and WebMD.
If you want to be very specific the formula is 2 – 2 1/2 ounces per pound of your baby in a 24 hour period. Did your mind start to do the math and then think, I need a calculator? 🙂 Well, this printable will work it out for you.
Remember that one mother's 5 lb newborn is going to eat differently than another's 8 lb newborn.
Also, babies grow at different rates and have occasional growth spurts where they will want to eat more over a 2-3 day period. This is why each age has a range of ounces. Please ask your pediatrician if you have any concerns.
Signs Your Baby is Hungry
moving head side to side
opening mouth
sticking out tongue
putting hands or fingers in mouth
puckering lips
nuzzling against mothers breast
baby moves his mouth in direction of something that is touching its cheek
crying (this is the last sign and means you missed the earlier cues)
via WebMD
Signs that Your Baby is Full
Closing lips when the bottle gets close
Turning away from the food source
Decreased or stop sucking
spitting out the nipple
show an interest in surroundings rather than eating
via WebMD
I hope this is helpful to a new mom out there. It's always nice to learn from someone else instead of recreating the wheel on your own.
When you are ready for the next stage read Experienced Parents Tips for How to Transition From Formula to Milk.
Read more about Swaddling, 5 Things You Need To Know About Having a Baby Boy and Best Tip to Prevent New Sibling Resentment.