Every new mom does it. Just when you are falling asleep you get scared about SIDS and you feel the urge to go check if your little one is ok. All the hormones are going crazy in your body and you feel super protective. Good news! There is finally a baby heart rate tracker that helps us sleep better.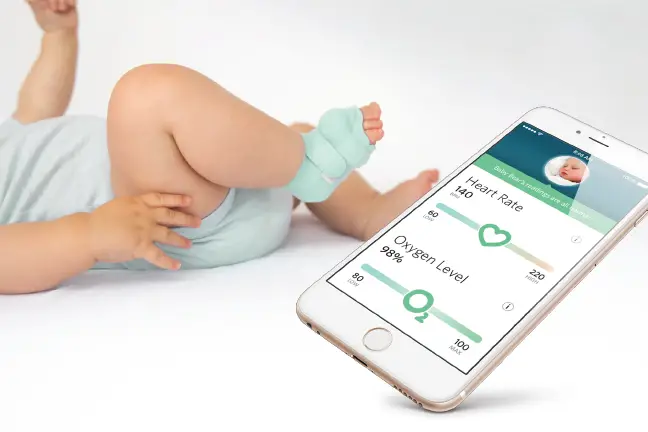 I remember when I brought my first twin babies home. I wanted to bring those little heart trackers that stick to their chest home with me. My thinking was that I would sleep better just knowing something would notify me if anything levels were not in a normal range.
I bought something that went under their mattress but it did not have good reviews. But now there is something similar to what I wanted to bring home from the hospital. The Owlet Smart Sock that tracks oxygen level and heart beat. What an awesome product for new moms. This brings a sense of relief which helps new moms sleep better.
Owlet Smart Sock Details
No cords! This system is wireless.
3 different sizes of socks for a great fit.
Check heart rate and oxygen level on your phone in real time.
Base station notifies you with lights and sounds that something is wrong and you can set up the app on your phone to do so as well
Option to purchase annual subscription to track all of your baby's heart rate and oxygen level history (I didn't find this necessary but if you have a NICU baby or a possible health issue this would be amazing)
Owlet Smart Sock comfortably fits on your baby's foot. It monitors their oxygen level and heart rate just like the monitors at the hospital. It makes a sound on the monitor base and through the app on your phone. You can be notified of your babies vitals during their nap even if you are at work.
Any product that helps me sleep is worth it in my mind. Sleep makes us all better people. So no more hovering over the crib at night with blurry eyes trying to see if your little one is ok.
A quick reminder of the rules of safe sleep for newborns.
Put babies to sleep on their backs
Sleep on a firm mattress with only a tight fitting sheet
No blankets or toys in crib
Pacifiers are recommended
Click here for free shipping. It is a must on any baby registry wish list or if you are a new mom that keeps waking up to check on your little one. Calm your mind and get more sleep.
Like it? Pin it!