I am so excited. I just bought my first Mac laptop computer 3 months ago. I have been using PC's for my entire life but one day my processor died and the cost to replace it was more than my laptop was worth so I started researching my options. Because of starting this blog, my research led me to switch to a Mac. I was excited but I didn't realize there was going to be such a big learning curve to just do basic functions when switching from PC to Mac.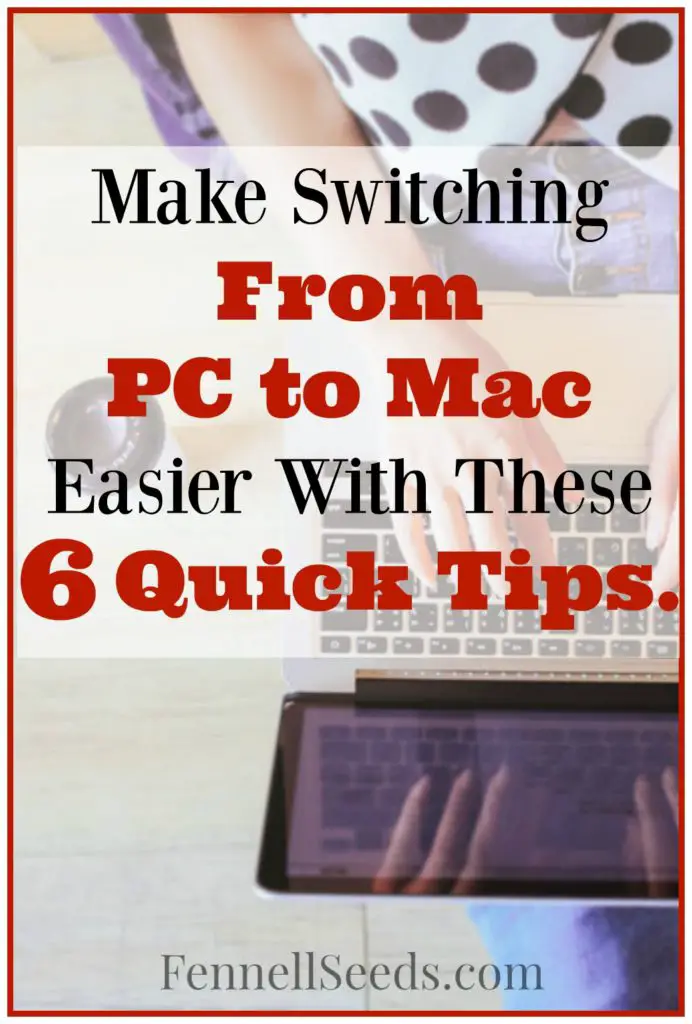 It was so frustrating using the keyboard the first month. "Where is that dang backspace button?" and  "How do I even restart the computer?". Just doing what should be simple tasks were so different on the Mac. I decided to make a list of to top functions that would have made life so much easier for me and share them with you.
Make switching from PC to Mac easier with these 6 quick tips
Where is the backspace key? On a Mac the Delete key is the backspace key and to do a forward delete you hold the Function key down while pressing Delete.
To Shut Down or Restart – In order to shut down the computer or restart you click on the apple icon on the top left of the screen and select which option you would prefer. I am embarrassed to say how long it took me to figure out that you are supposed to click on the apple.
To Access the Control Panel – click on the apple on the top left of the screen and select 'System Preferences'.
Instead of Control-Alt-Del – if you need to force close a frozen application you use Command +Option+Esc. I just figured this one out after a month of using the computer and doing a full shut down of the computer whenever something was frozen. Man….this would have saved me so much time!
Why can't I Right Click? – Instead of right clicking on something to obtain more options you can either click the trackpad with two fingers or hold down the Control Key down while clicking on the item.
In order to Print – In every app they same tool bar is at the top of the screen. Next to the apple in the corner is the File selection. Whether you are in word or in a webpage, if you want to print you need move your cursor to that very top toolbar and select File – Print.
It is so weird to me that these important tasks are so different on these computers. We need a universal computer keyboard.Here is the cheat sheet I wanted when I first started with the Mac, it would have saved me so much time. In the end I am getting used to this laptop and even loving the functionality. This is the laptop I purchased, Apple MacBook Pro with 13.3 Inch Screen.
Do you have any tips or shortcuts to using a Mac versus a PC? Please share since I am still a newbie.