Do you have the dream of the kids running down Christmas morning and their eyes just round with amazement because of all the presents that Santa brought?
The first year I purchased all their gifts online I didn't take into consideration the size of the gifts. I spent the day before Christmas trying to get things organized. It was then that I realized that even though I had spent what we had budgeted for Christmas, all our gifts for our 5-year-old twin boys were small.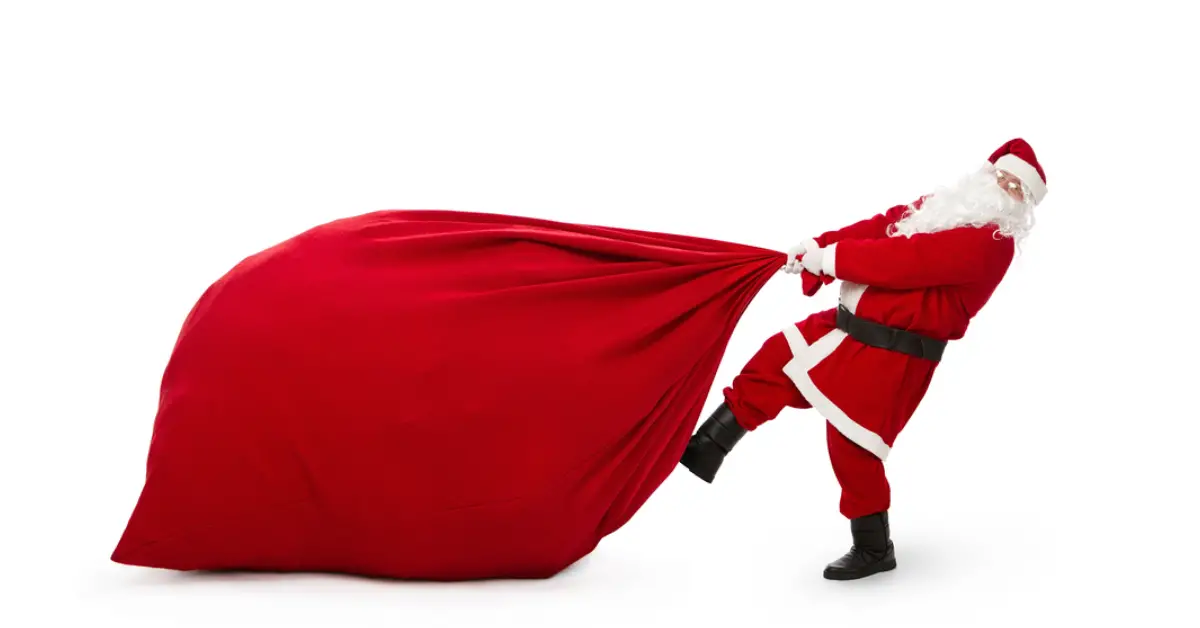 Here is where I am going to get tons of hate mail about Christmas not being about the gifts.
I was sad that it was going to look like a small pile of gifts instead of the large "A Christmas Story" crazy amount of gifts that would really "Wow" my kids.
I ran out to a discount store on Christmas Eve and bought a couple super cheap but large gifts to make the display of gifts look pretty. It was a ton of work picking out just the right presents but, to be honest, I wanted the presentation to have a Wow Factor.
Some of us want the look of a lot of gifts for a small amount of money so I thought I would make a list of high impact/ large size gifts for a low price for those of you that would enjoy it.
Big Gifts for Little Money
The classic tent – My daughter still uses hers 3 years after she received it as a gift. We like this one.
And this cabin is a good one for boys or girls:
2. Cardboard Blocks: These come in a small package but if you put them together and build a cool tower they can make a great background to a bunch of presents.
" target="_blank" rel="noopener noreferrer">
3. Bean Bag Chair: Even older kids love a bean bag chair for their room. You can even get them shipped via Prime.

4. Piano Mat – kids of all ages love to stomp on the floor piano to hear the notes.
5. Indoor Basketball – There are different sets depending on the age of your kids.
Here is a Little Tykes set for the younger kids.
And here is a basketball set for older kids:
6. Ice Cream Shop – A great toy for pretend play. What kid doesn't want to pretend to scoop ice cream?
7. Aqua Drawing Mat – Laying out this mat will draw your child's attention.
8. Standing Microphone – My daughter still loves her microphone years later. It has been a fantastic toy and I highly recommend. This one can be up to 40 inches tall.
9. Art Easel – This  Double Sided Easel is bright and colorful. Plus, I would definitely write Merry Christmas on the Chalkboard or a note from Santa on it. Kids will love it.
10. Hot Wheels Race Track – Having a race track all set up and ready to play with will bring big cheers. Plus I like to have some toys all set up and ready to play with immediately.
11. Trampoline – Your child will love it and you will love the energy they burn. I am shocked this is such a low price.
Christmas is such a magical time for all of us. Seeing our children's eye's light up with joy gives us all such a good feeling. I will keep adding to the list as I find more deals on toys that give the Wow Factor.
More ideas:
Top Gift Ideas for 3-year-olds
Unique Gifts for Soccer Players
Other Post You Will Love:
Christmas Storage Hacks Using Products You Have Around the House
Like it? Pin it.