Let's talk about Christmas storage. Anyone else get nervous when opening the Christmas decoration boxes?
Oh please, don't let anything be broken and I hope the lights still work! Then the frustration of untangling the lights and regret of not taking the time to properly store the holiday decor.
I am determined this year to be prepared when putting away the decorations. I have been researching some easy ways to keep everything organized. Staying in budget is important to us, so cheap is also what I am looking at.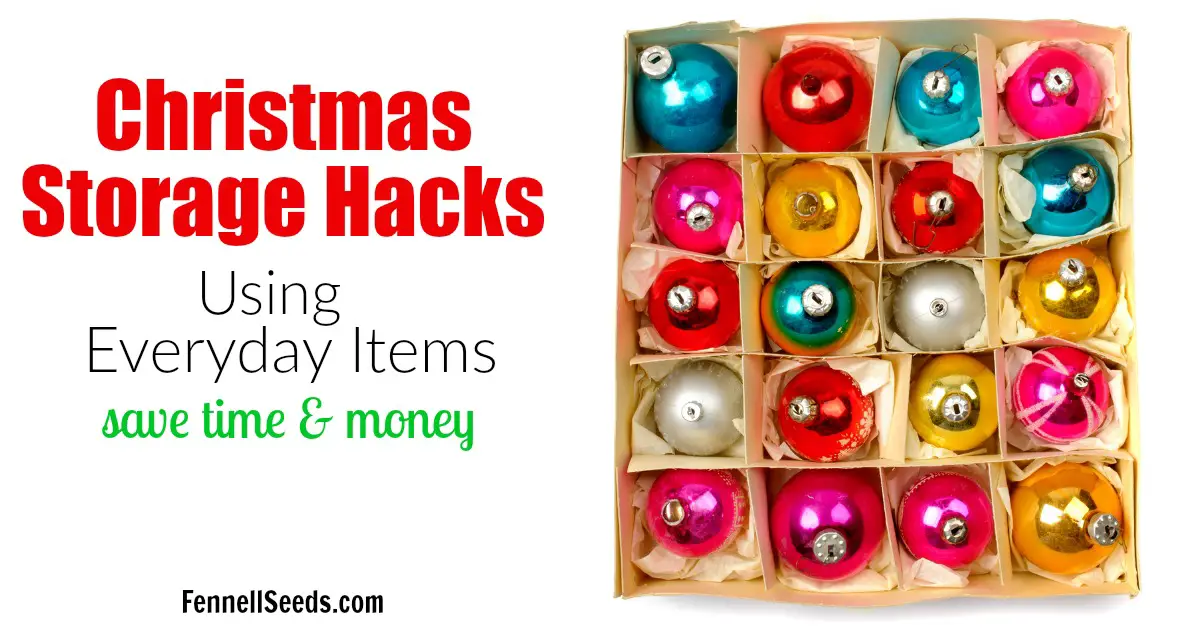 Here are all the amazing ideas I have found.
Cheap and Easy Christmas Storage Organization
Use Cardboard – Wrap Garland and cords around pieces of cardboard. It keeps the long strings from getting tangled.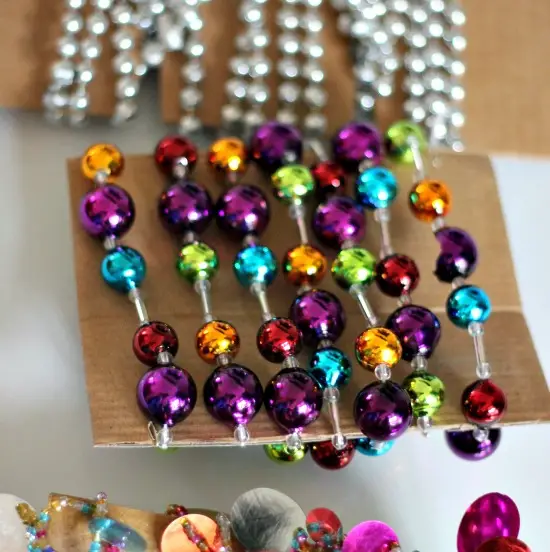 via HiSugarplum
Use zip tie bags – Good old baggies. All the little hooks and small items used to hang decorations can be stored. I found a bunch of hooks in the bottom of our box of ornaments and now I can keep them all together without spending any money.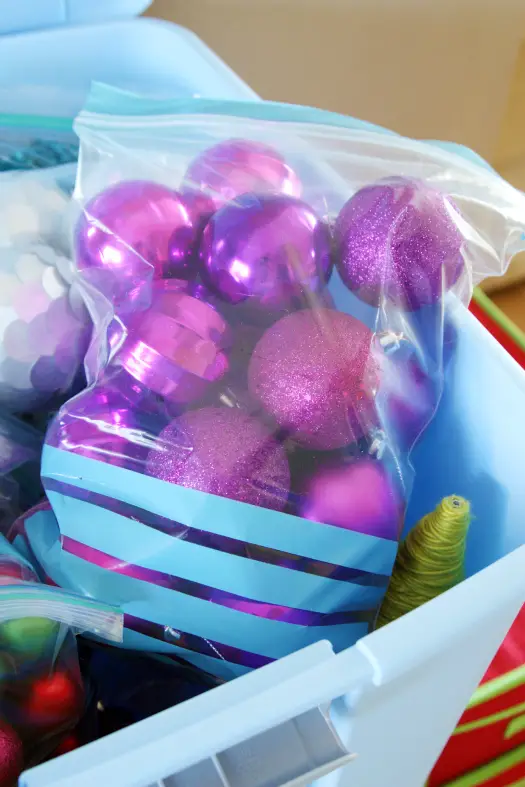 via IHeartOrganizing
Toilet paper tube – I going to use this right away. How simple to keep the wrapping paper nice and neat.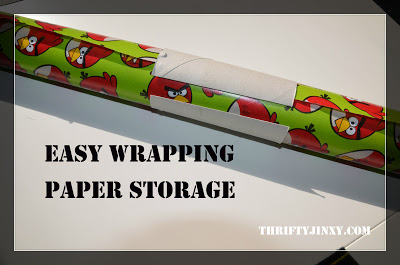 via ThriftyJinxy
Bike hooks – A game changer for me and my seasonal wreaths. I had my husband put some hooks like these up in our garage and now I just move the wreaths around as I need them. I don't have to ask him to bring down any boxes. Here are the hooks I am talking about.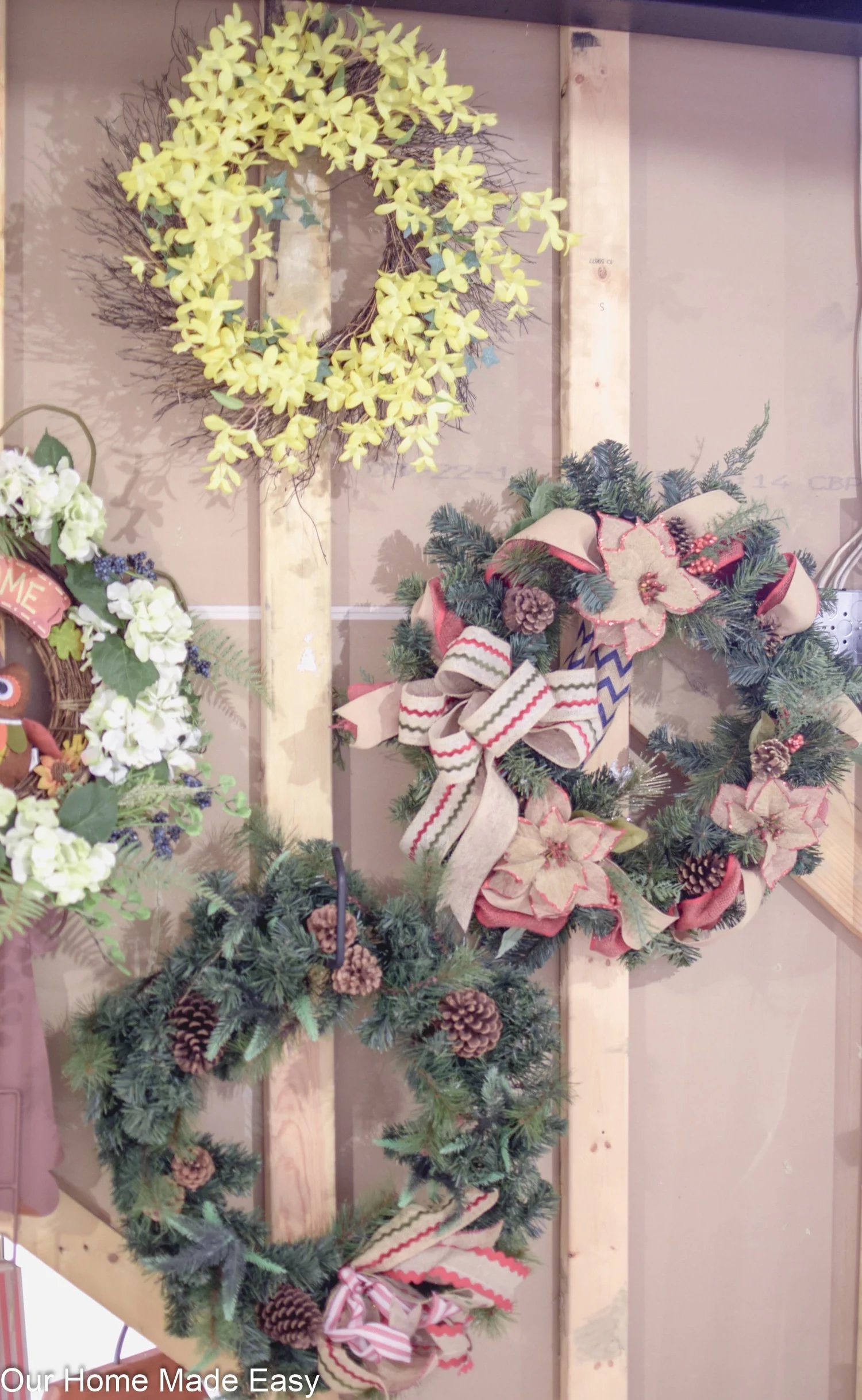 via OurHomeMadeEasy
Garment bag – Keep wrapping paper organized with a garment bag. It makes it really easy to store in a closet off the floor.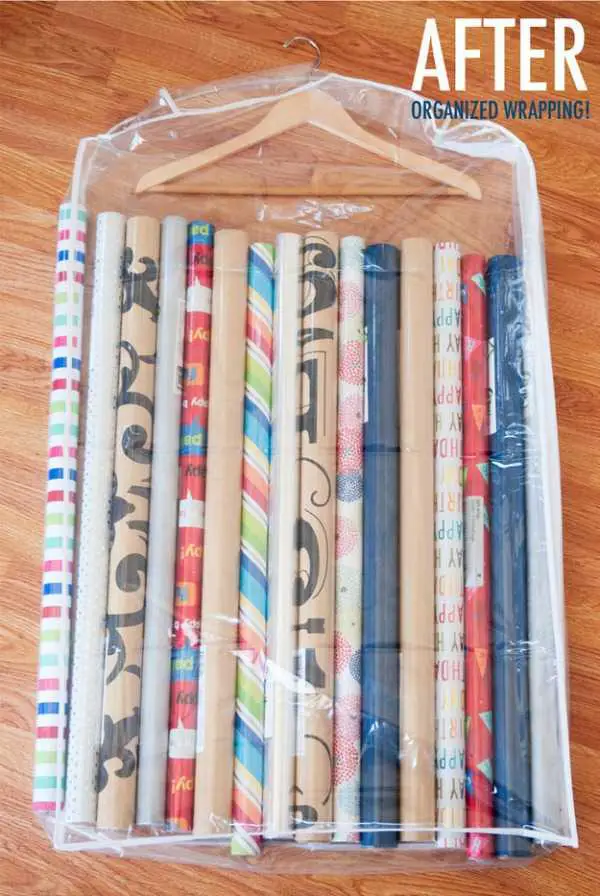 via TheChicSite
O-Rings – Christmas cards can be so much fun for the kids to look at each year. Check out Oh Louise's way she keeps them organized. I can see putting them in a basket by the mantle and everyone flipping through them.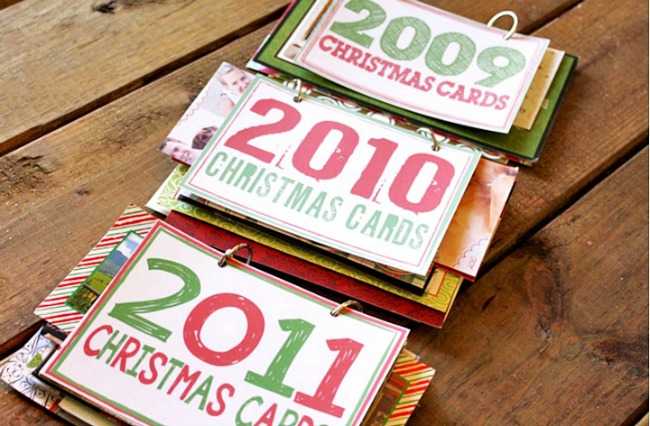 via OhLouiseDesigns
Before Storing Christmas Decor
Declutter – It is so hard but pledge each year to get rid of items you don't love. This is the time to try to sell on neighborhood swap groups or take to consignment shops. Let others share the joy of using the items rather than letting them sit in a box year after year.
Trade small items for large – My sister and I have found this to be true. We get more impact out of going ahead and purchasing one larger item for a table than having 3-5 smaller items in a group. So much easier and looks much less cluttered and the bonus is that we love it more.
Christmas Storage Organization Items You Can Buy
If you do want to spend some money here are some items I highly recommend.
Boxes with ornament dividers – I have a couple similar to these for my ornaments. They are so easy to use.
Wreath storage – Keeps them dust free and safe if you are storing them where small critters can get to it.
Wrapping Paper organizer – This hangs or slides under your bed.
I was so glad when I took the time to organize our Christmas storage. Every year when we pull out the decorations it gets easier and easier.
Put a little bit of time in this year and you will be so happy next year when it is time to decorate again.
You may also like:
8 Ridiculously Easy Toy Organization Hacks You'll Wish You'd Known Sooner
8 Easy Ways To Organize Your Pantry
Like it? Pin it.