When the kids can only play indoors, it's sometimes tough to come up with activities they can do. Here's a list of indoor games for kids using objects that you already have in your home, such as a ball. These games will keep kids busy while also helping them develop coordination and teamwork.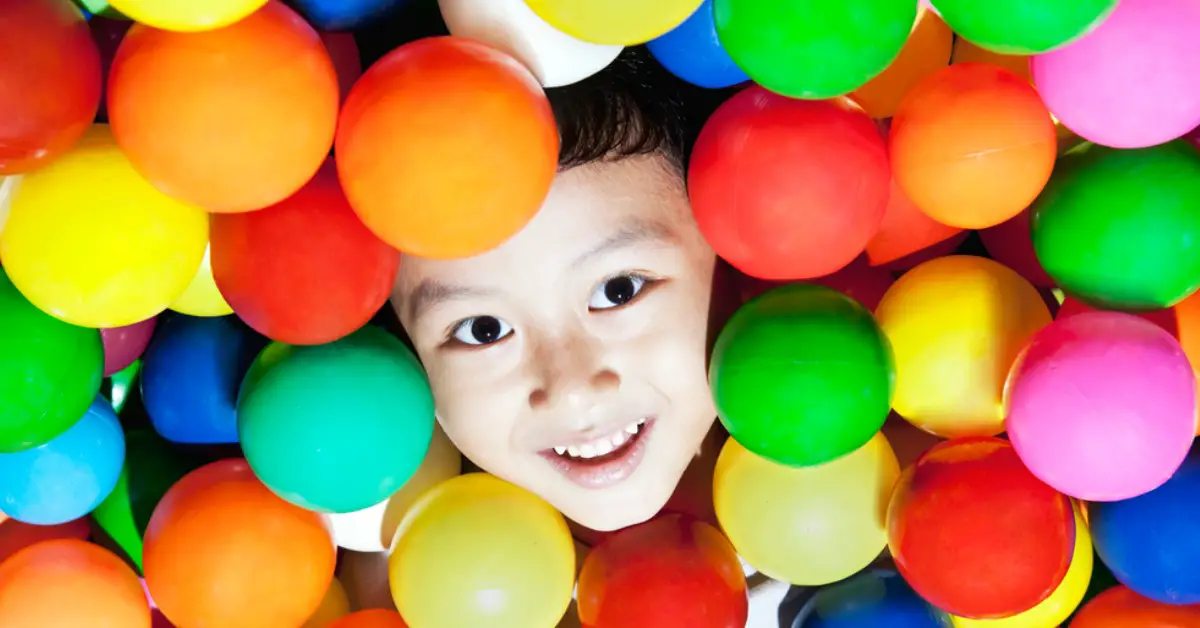 15+ Indoor Games For Kids
Indoor Soccer/Hockey
If you have a space that's big enough to do this in, such as your garage, this will almost like being outside. Grab two cardboard boxes and something you can hit the ball with. The cardboard boxes are for hitting or kicking the ball into the goal. You can use broomsticks to hit the ball if you'll be playing the hockey version of this game. Otherwise, the kids playing will just try to kick the ball into the "goals," which are the cardboard boxes.
Games Using a Milk Jug and Small Balls
There are a few games that you can use with a milk jug and a few small balls. The first game involves cutting the top off of a milk jug. You can toss the small balls into the milk jug. You can also see how many balls will fit into the milk jug. A fun game for older kids is to toss a ball back and forth using the milk jug. The goal is to only catch the small ball with the milk jug. Keep moving further and further apart, as space allows, to make the game even more challenging.
Color Toss
No one is ever too old to sort colors, plus this color toss game is fun and cheap! Gather all the laundry baskets in your house. Label each laundry basket with a particular color. Find soft balls or stuffed animals that are different colors. The goal of the game is to match the object to the right colored basket.
Bowling
Here a favorite game that kids love to play, perfect for hallway fun! This inexpensive bowling set with soft "bowling" balls and colorful soft pins that won't scratch your floors is perfect for indoor play days.


Musical Chairs
Let's not forget this fun game that can be done indoors with chairs that you have.. Grab some fun music, chairs, and then get to playing musical chairs. The idea of the game is as follows:
Walk around the chairs as the music is playing.
When the music stops, you have to find a chair to sit in.
If you don't find a chair, when the music stops, then you are out.
Of course, you need to have one less chair than there are people playing to make this game make sense! As you lose people, you also get rid of more chairs.
Create an Obstacle Course
When you're creating an obstacle course for your home you can be as create as you want. Plus, you can use a big or small space and various objects, such as pillows, chairs, cushions, laundry baskets, and stuffed animals, to make this obstacle course successful!
Tabletop Curling
This easy to set-up and store-away game is a great family activity – kids and adults will love playing it. The ball-bearings inside the plastic "stones" simulate the relative weight of the stones, while the surface is slippery enough to produce the ice-like effect of easily sending the stones too far. Perfect game to take along for travel, too.


Blanket Toss
Balls are such a fun and easy way to play games in the house. If you can find a lighter ball that's not too heavy, consider playing blanket toss. With this blanket toss game, your kids are going to have fun.
Grab a larger blanket (depending on how many kids are playing and how old they are)
Place the ball in the middle of the blanket
The idea is that you throw the ball in the air using the blanket and then you work hard to try to catch the ball.
2-Player Toss And Catch Paddle Game
Ideal for ages 3 and up, this paddle game lets your toddler exercise their eyes and hands to develop hand-eye coordination, in addition to enjoying the fun of tossing and catching for hours on end. Perfect STEM game.


Stair Ball
Toddlers will love playing these indoor games found on this site, such as Stair Ball. If you've got stairs in your house, sit at the top with a bag of balls and position your child at the bottom. Then roll a ball so it bounces down the stairs and see if they can catch it.
Indoor Basketball
The fun thing about basketball is that you can use any object the ball can fit in as the basket. Most people use an actual laundry basket but you can also use a cardboard box. Using a ball, see how many baskets you can make! This is such a simple game, but kids of all ages will love it.
More Indoor Basketball Games
If your kids love basketball, here are 11 other games to play using a basketball as the focal point, such as Around The World, Sharks and Minnows, Musical Basketballs, Tag, Dribble Limbo, and more.
Baseball Using a Paper Towel Roll
Playing this game, in the house is so much fun! You can't break anything and the kids love it. Using a paper towel roll as your bat and a smaller soft ball as your baseball, you can play a mini version of baseball that kids will love.
Indoor Snowball Fights
These amazing "snowballs" are safe for indoor use and stand up to the rigor of a well-placed throw while remaining soft when making contact. Kids and adults love them because they feel like and "pack" snow but are safe to use and are washable, too.

Around the World Math and Spelling
If you need to add in a little learning to an indoor game, then Around the World Math or Spelling is for you! Here is how to play:
Math Version
One kid holds the ball and asks a math question
The kid holding the ball throws it to another child and they have to answer the question.
If the answer isn't correct, then the child is out!
Spelling Version
All kids stand in a circle and the ball is passed around.
As the ball is passed around, each kid says the next letter in the word that they're spelling.
If a child misses a letter in the word, they are out.
Ball Yoga
Do you have active kids? Do you want them to feel challenged but also have fun? Do yoga with them, but the only catch is that they have to hold the ball in various positions. Kids are going to love the challenge of Ball Yoga.
6 Fun Indoor Ball Games
For more indoor ball games, Teacher Starter offers 6 fun indoor ball games and activities such as beach ball circles, perfect for younger and older kids. It's educational for teaching language, for example, having the kids say a verb when the ball is passed to them.
These indoor games allow kids to have fun and be creative while working off some energy. This is  what kids used to do before electronics and phones. Get the kids together and challenge them with these fun games!
Other Posts You May Enjoy:
Physical Activities and Toys to tire out an Active Child
15+ Friendship Bracelets – Easy and Fun to Make
8 Unique Activities to Stimulate Brain Development in Infants
Like it? Pin it.