Keep the most used room in your house neat and tidy with these inspirational ways to organize your kitchen cabinets. From dishes to pots and pans and from utensils to small appliances, you'll find creative systems to tame the clutter.
Dividers, bins, containers, shelf risers, turntables, labels and more are just a few of brilliant ways to help organize your kitchen items for ease of viewing and retrieving. Even awkwardly-designed cabinets and drawers can serve an efficient purpose with creative organization efforts.
Implementing even a few of these ideas will help bring order to your kitchen. Read on for how to make the best use of your cabinet space.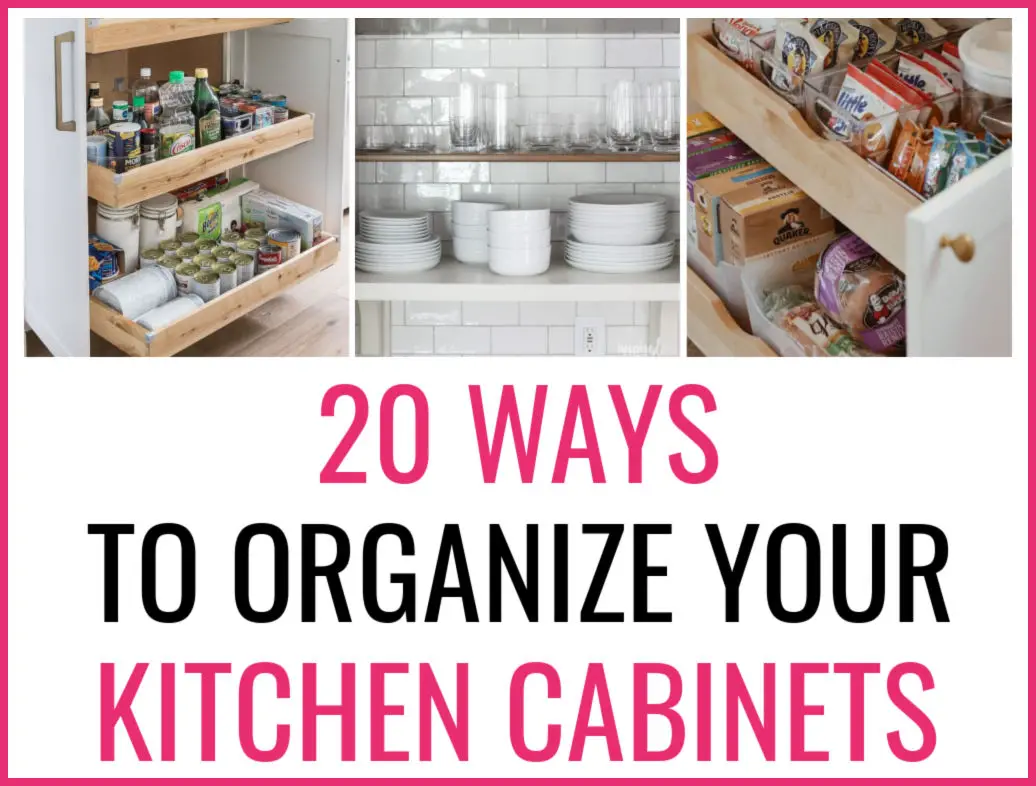 Kitchen Cabinet Organization Ideas
Snack Drawer Organization
Whether you're creating a snack drawer for the kids or the adults, keeping it organized is made easier with these ideas. If you have a large lower cabinet, consider adding pullout drawers. From there, it's as simple as using clear containers, chosen to match the dimensions of your most used snacks and setting them vertically in the containers for an easy grab-and-go experience. If the drawer isn't a pull-out, this idea still works because the vertical orientation of the snacks makes them easy to retrieve and to see when you're running low on inventory.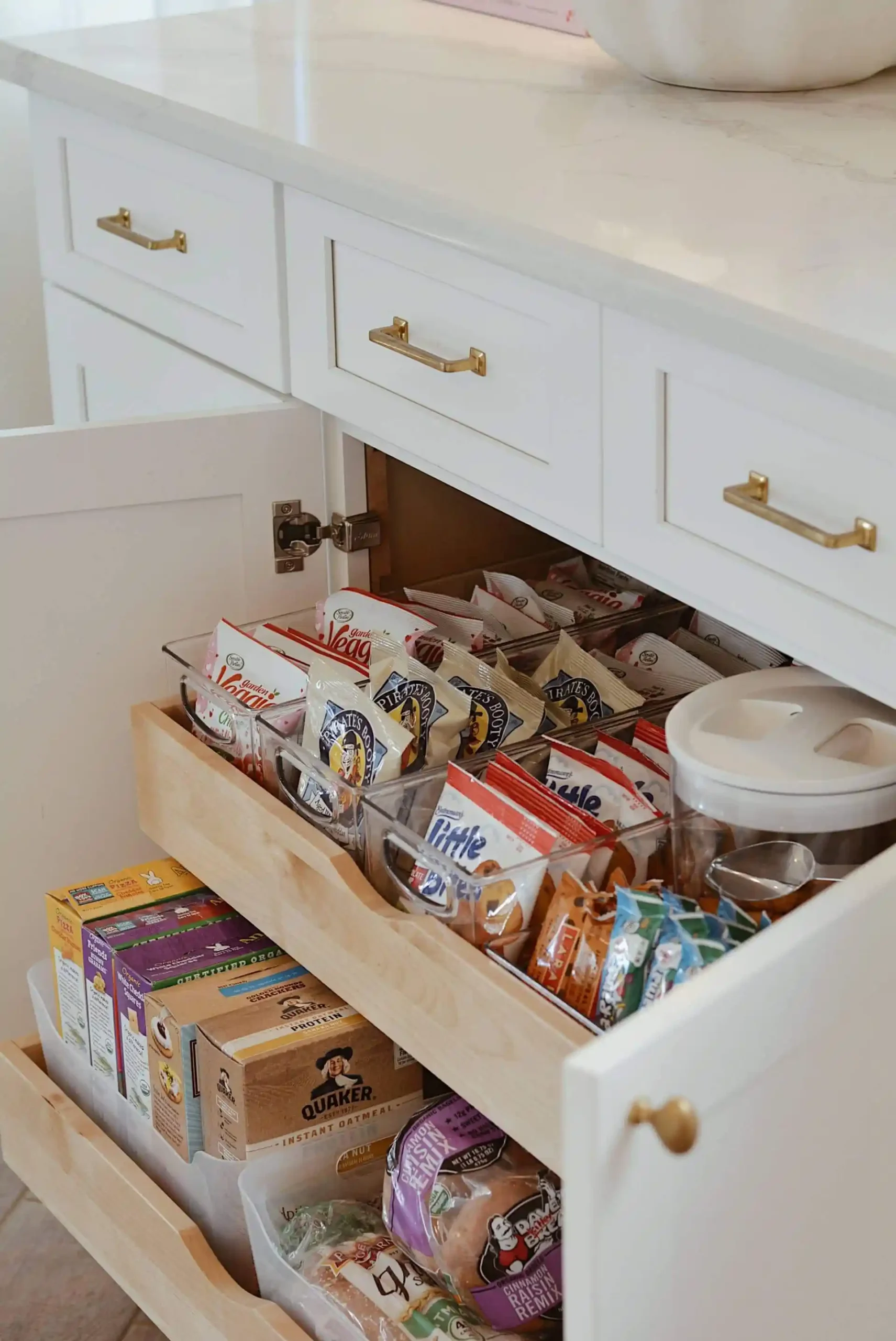 Idea by The Pink Dream
Hidden Appliance Solutions
If you're looking for a way to keep your countertops free of small appliances, consider an appliance garage. If you're renovating or willing to take on a DIY project, you can turn a counter cabinet into a hidden space to keep appliances like toasters, coffee makers and blenders out of sight. The cabinet door will swing upward with a lift-up mechanism that reveals the appliances. It's a great idea when you want to create a seamless cabinet look and keep your countertop clutter-free.
Ide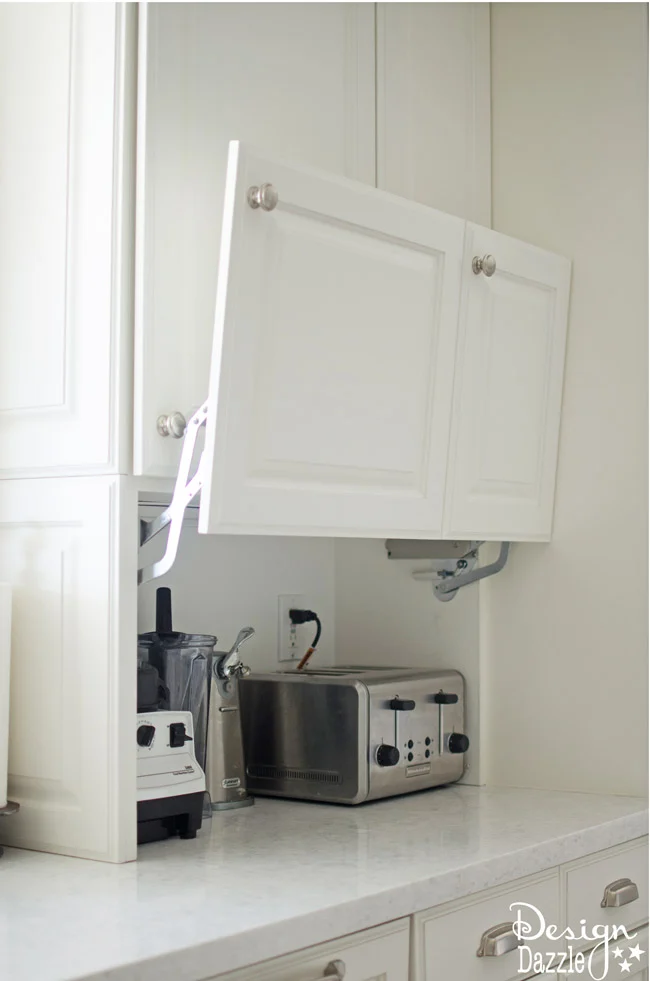 a by Design Dazzle
Under Sink Storage Solutions
The cabinet under the sink seems to be a catch-all for cleaning supplies and because it houses such important items, it deserves organization just like the rest of your cabinets. With so many products of varying heights and sizes, containing them in tall racks and bins is essential. Here, you're looking to create vertical spaces for all your supplies. Consider this rack system with pull-out drawers to contain smaller items like sponges and dishwasher pods. Corral taller items in plastic bins.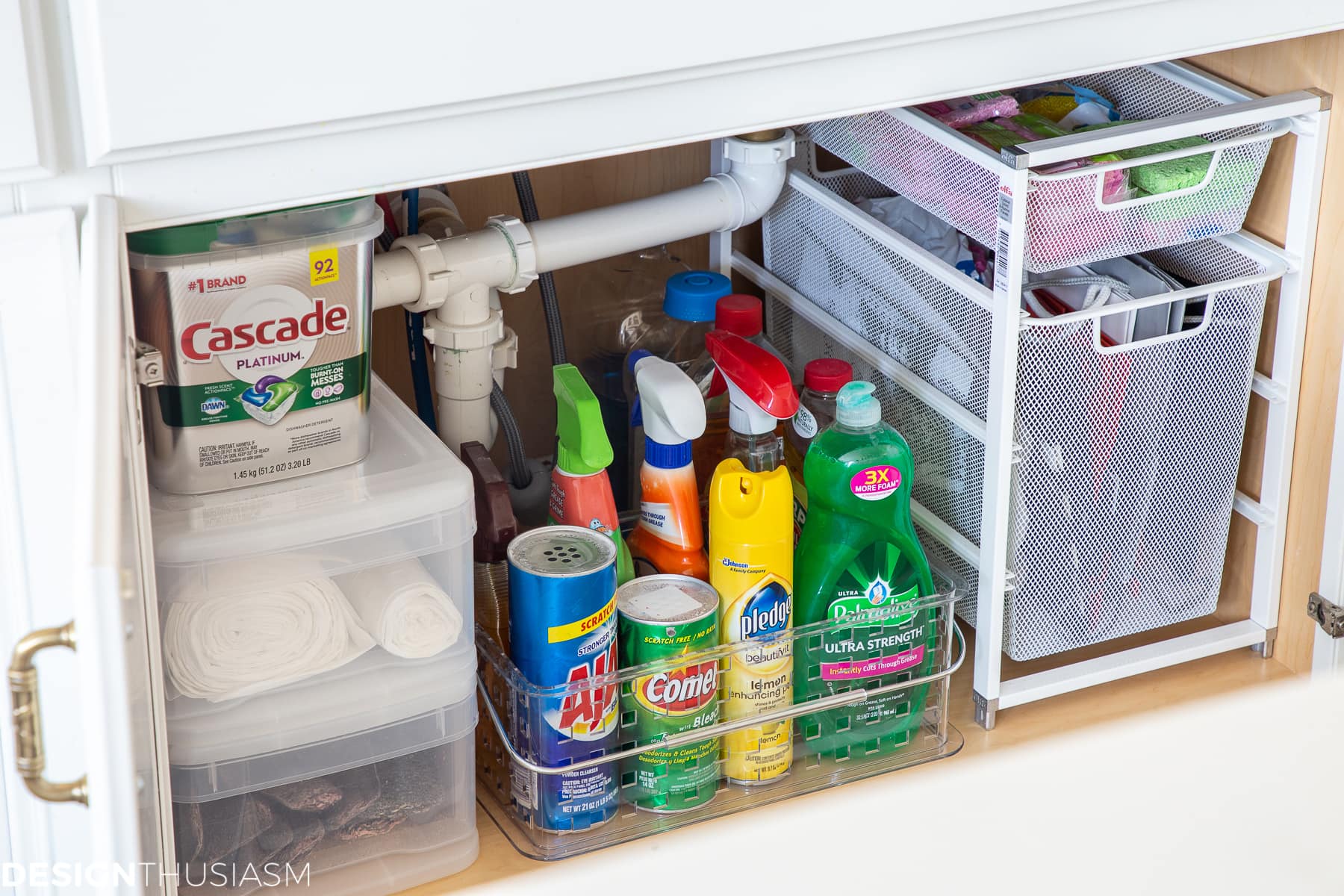 Idea by Design Enthusiasm
Corner Cabinet Pots And Pan Organization
Take that awkward lower corner cabinet and make use of it by installing rotating shelves that make it easy to store pots and pans. The large shelves can be further organized by setting metal lids organizers and pan racks on these shelves to keep them easy to retrieve without having to lift and dig through stacked items. Just spin the shelves around to find what you need.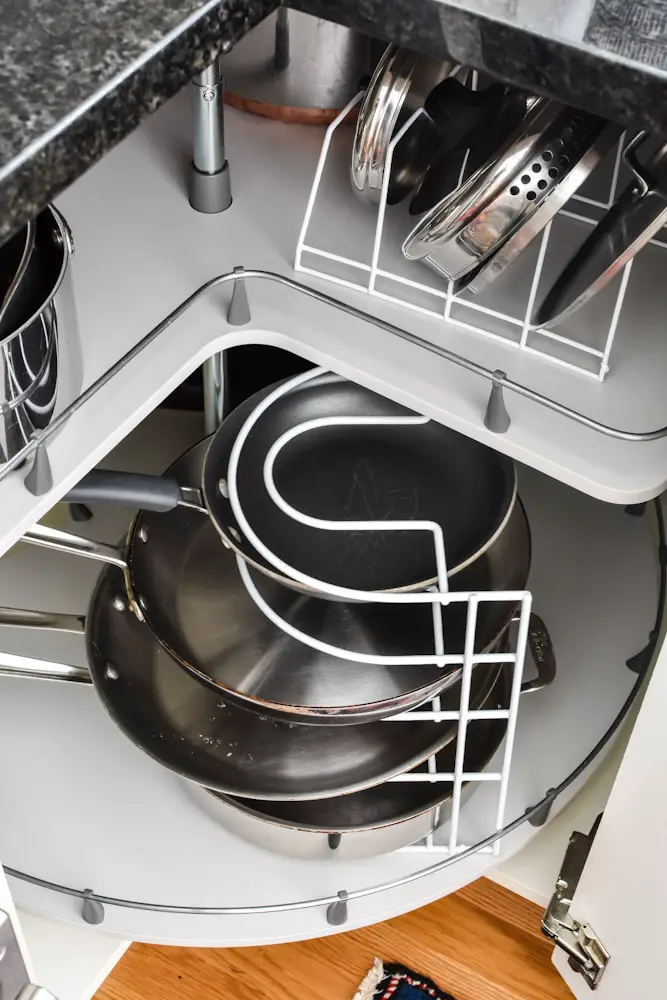 Idea by Smallish Home
Related Posts: Best Pantry Organization Hacks and 20 Stunning Coffee Stations for Your Kitchen
Pop-Up Appliance Shelf
If you're a frequent user of a stand mixer and would like to have it tucked away rather than displayed on your countertop where you have to move it out to use it (they're heavy!), consider installing this hidden pop-up shelf to house the appliance. This DIY project involves installing a spring-loaded shelf that's sturdy enough to hold the mixer. When not in use, it lowers into a roomy cabinet specifically allocated for the appliance and close to an electrical outlet. It's a smart idea for hiding larger appliances and leaving your countertops free of clutter.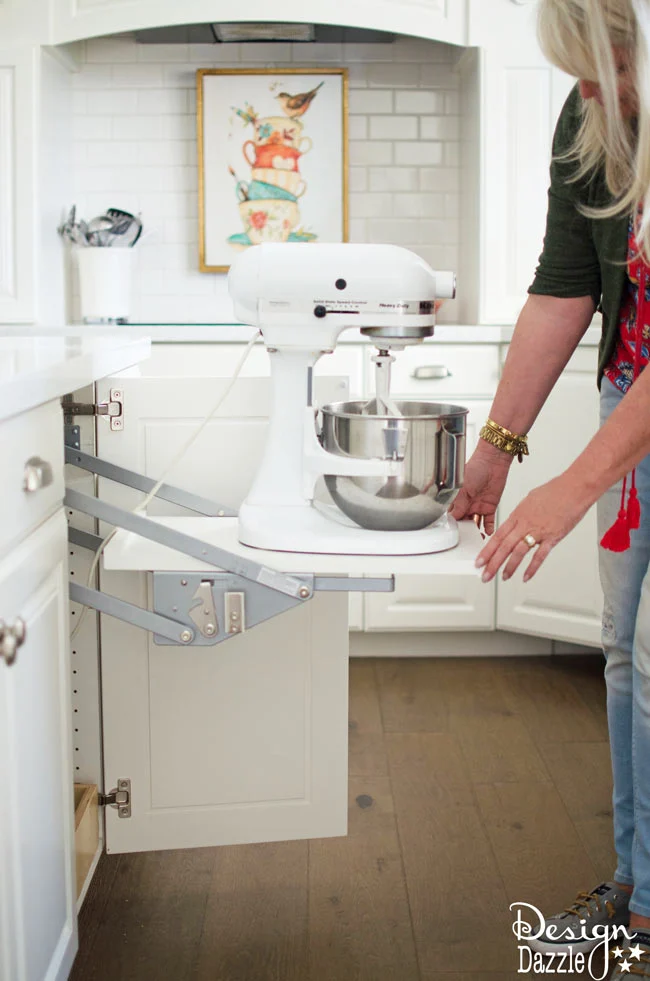 Idea by The Creative Bite
Spice Cabinet
If you cook with lots of spices, you'll love this idea of devoting an entire cabinet to your collection. Here, the spices are contained in same sized jars with labels on them for a clean look. They're displayed in an upper cabinet in rows that are on risers for ease of viewing and retrieving. For larger sized containers, just put those on the next shelf for an orderly look. Keep the items that you don't use as often on the top shelf.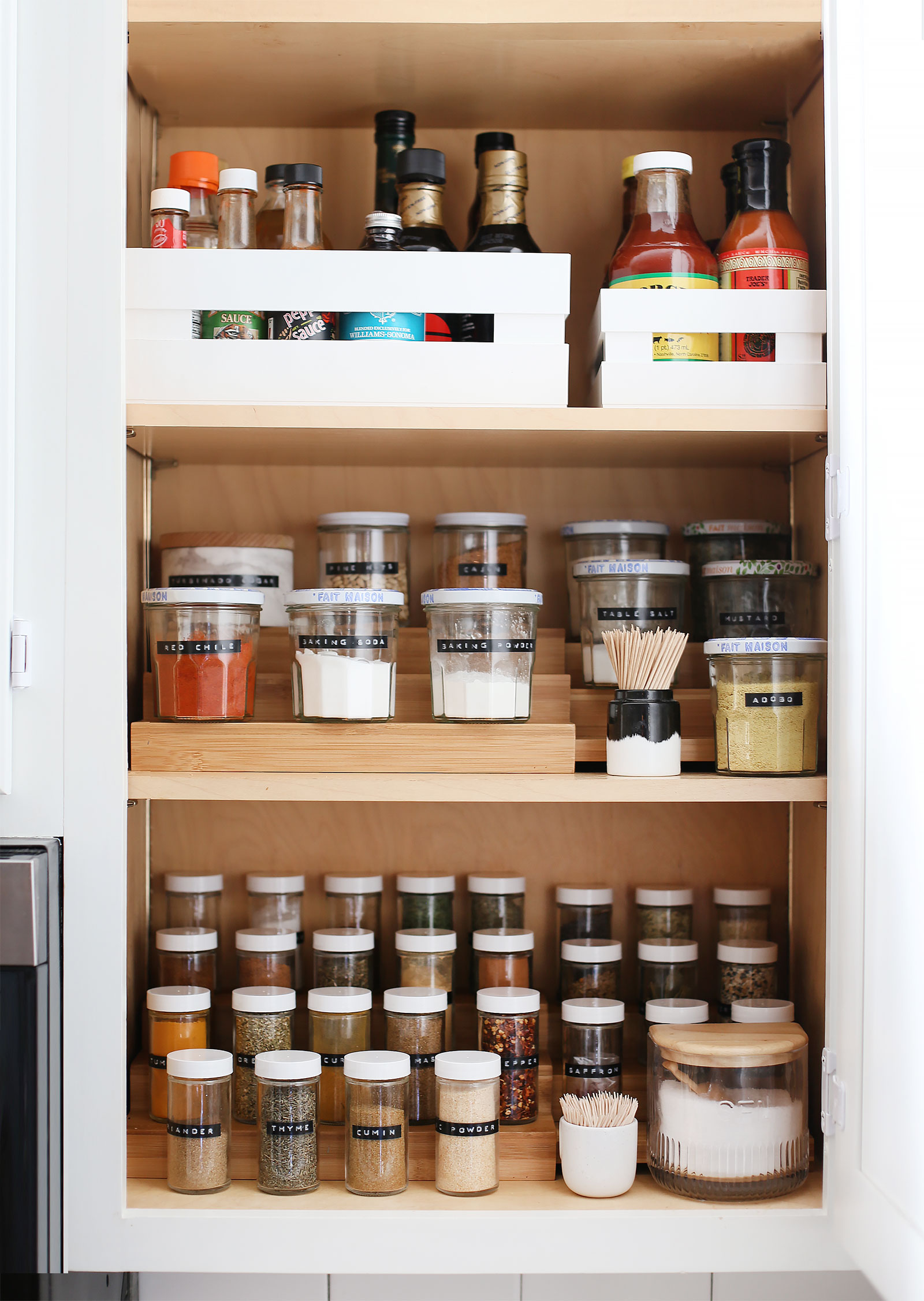 Idea by Sunny Circle Studio
Faux Built-In Plate Racks
Perfect for storing your plate in a cabinet in an upright position rather than stacking them, a simple purchase of plate racks makes the inside of your cabinets look like the racks are built in. These are perfect for glass door cabinets where you want to display your plate collection and they're great even if your cabinets are solid doors. You'll love the organized look every time you open your plate cabinet!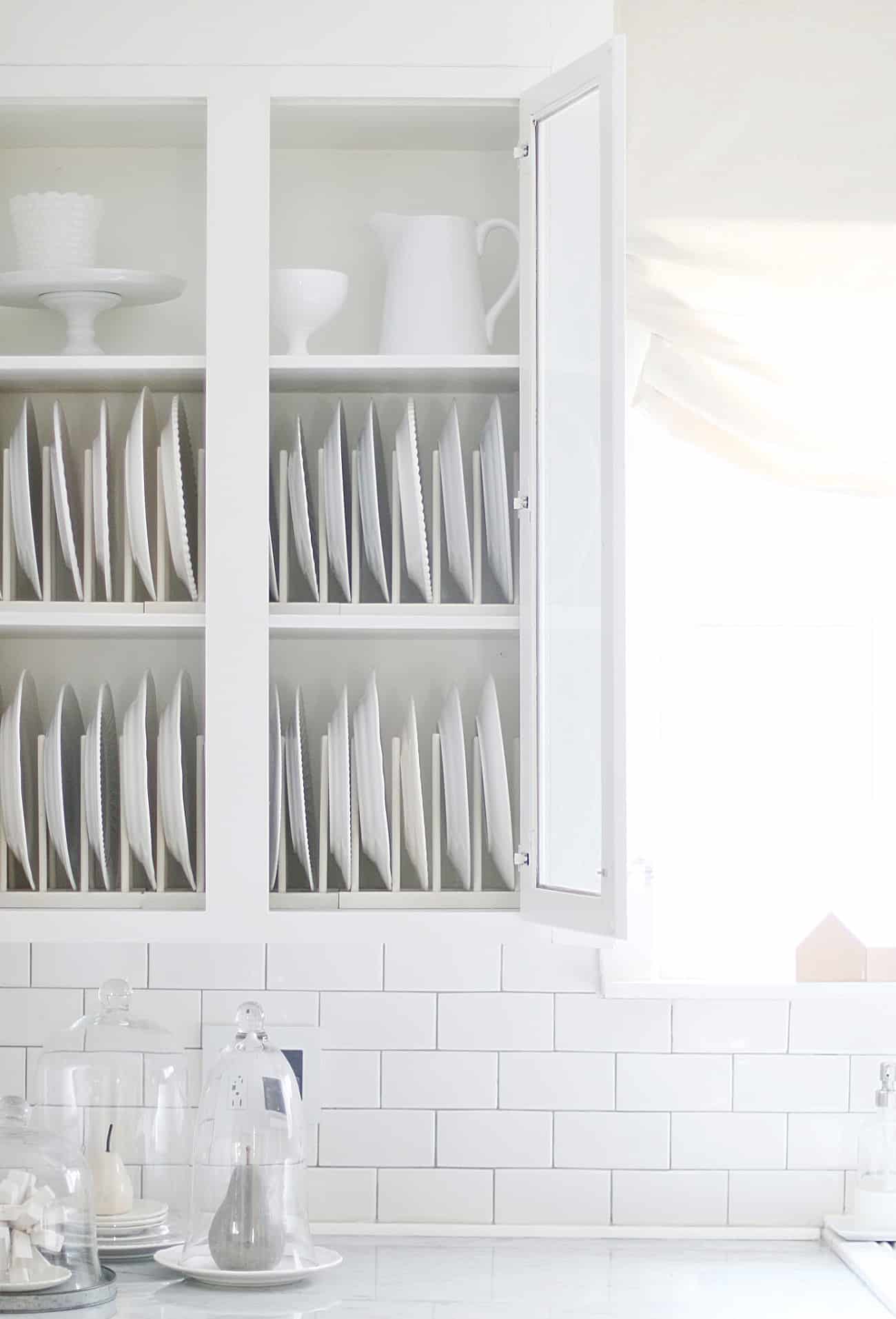 Idea by Thistlewood Farms
DIY Pull Out Trash Cans
There's nothing more unsightly than a kitchen trash can messing with your otherwise pristine kitchen layout. If you can spare a lower cabinet to house your kitchen can, this DIY project may be for you! By purchasing a pull-out kit that you'll install in the cabinet, you just add drawer slides for the trash can in about an hour. It's perfect if you want to keep two cans in your cabinet – one for garbage and one for recycling. Win-win!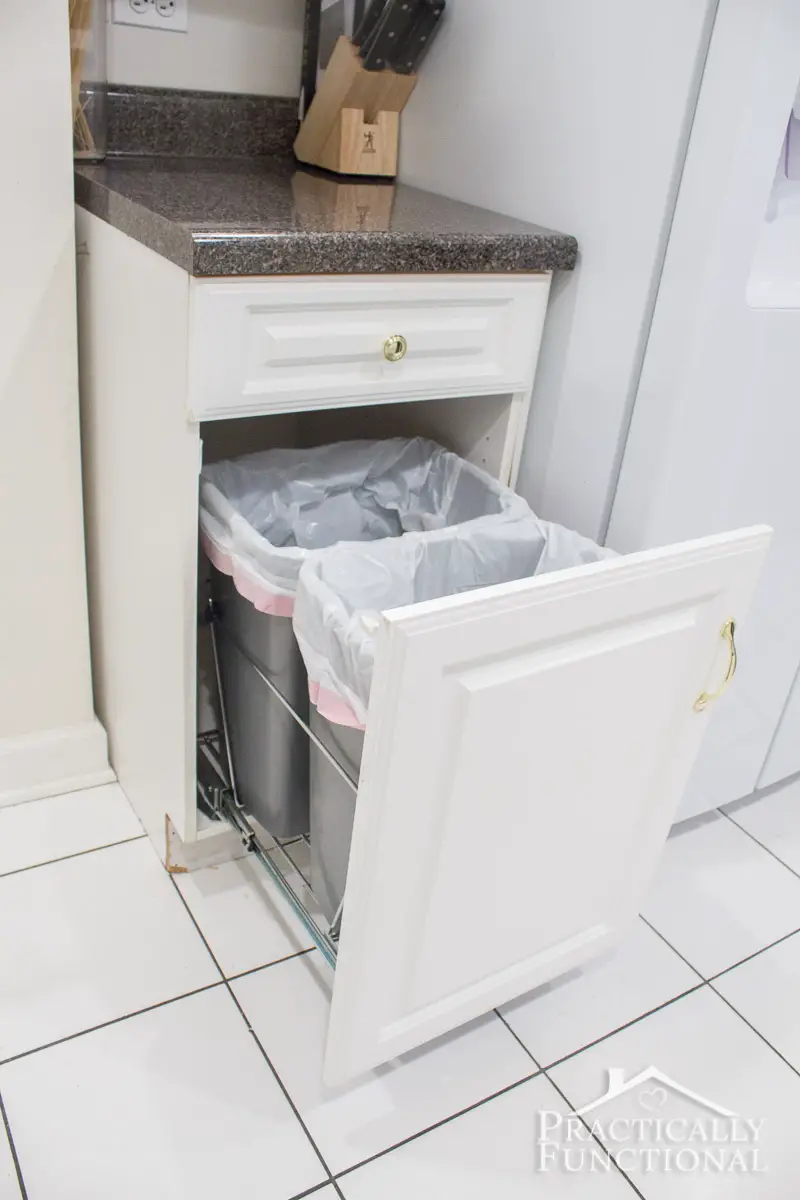 Idea by Practically Functional
Organize With Lazy Susan Turntables
Almost any cabinet can benefit by installing a lazy susan turntable to house smaller items. In fact, you can even devote an entire cabinet and all its shelves to just lazy susan turntables. From spices and seasoning to oils and vinegars, these tables are great for quickly finding what you need without having to dig through a crowd of bottles. You can even use the turntables for larger items such as ramekins, measuring cups and small containers and lids.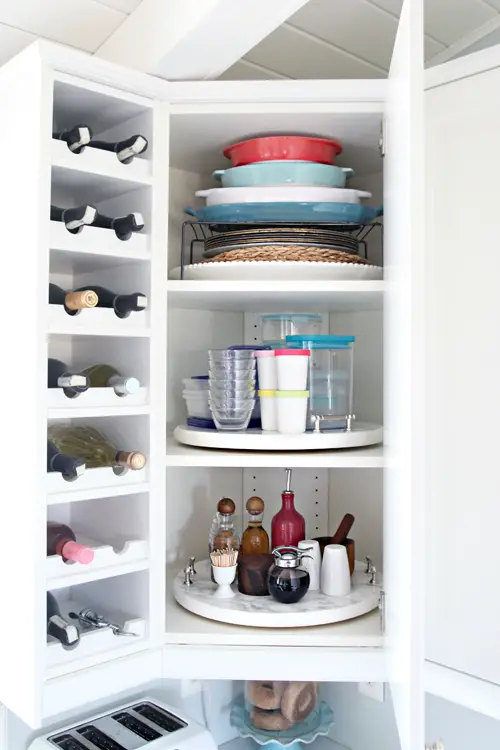 Idea by I Heart Organizing
Pantry Cabinet With Pull Out Shelves and Organizers
If you have a tall pantry cabinet, consider installing pull-out drawers from top to bottom for easy access and organization. Keep all your items corralled in clear bins so you can see what you have. This idea could also work in lower cabinets where you want to house heavier items like pots and pans. Just pull the drawers out rather than having to crawl in to find the item.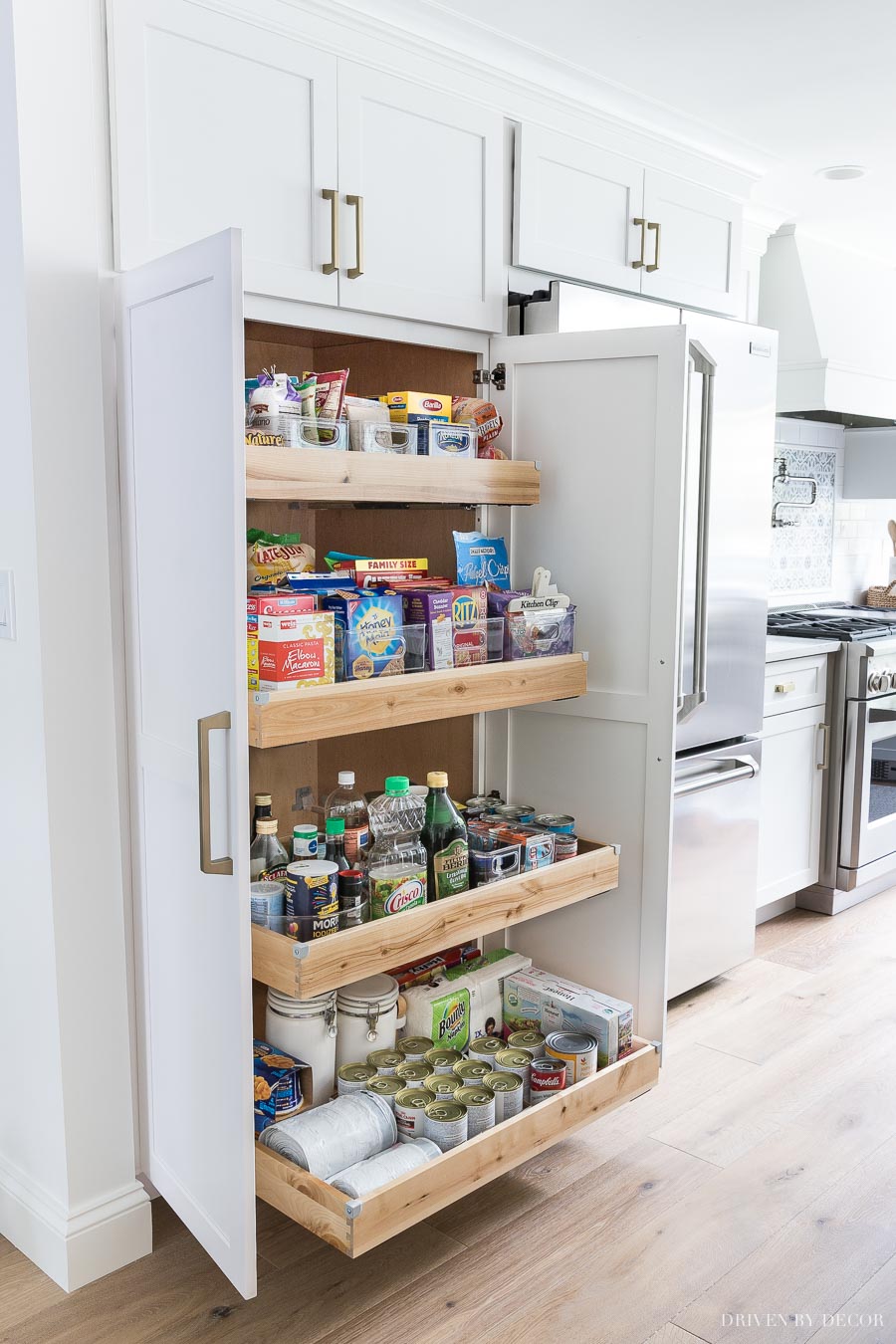 Idea by Driven By Decor
Clear Container Display
Perfect for open or floating shelves, or even a cabinet with glass doors, this display of same-size clear jars can hold cereal, oats, flour, sugar, pasta, rice, beans and more to create an orderly look. It's a great way to store pantry items in airtight containers and get rid of cardboard or plastic packaging. It's a clean concept that's easy to achieve, even if the containers are hidden in a cabinet.

Idea by Elle Claire Inspired
Organize Kids Dishes
If you have littles, you'll know that they require specialized and smaller dishes, cups, utensils and more. Mixing them in with the grown-ups dinnerware just doesn't work. Having a dedicated cabinet and drawer for their needs is an ideal solution. Here, you'll notice that the drawer is within easy reach for the kids to open and grab their items when needed, or more importantly, help put them away! Keep the drawer tidy with dividers or using bins to contain like-items. You can even let the kids pick the drawer liner so they'll be a part of the organization and more inclined to use the drawer since they helped design it.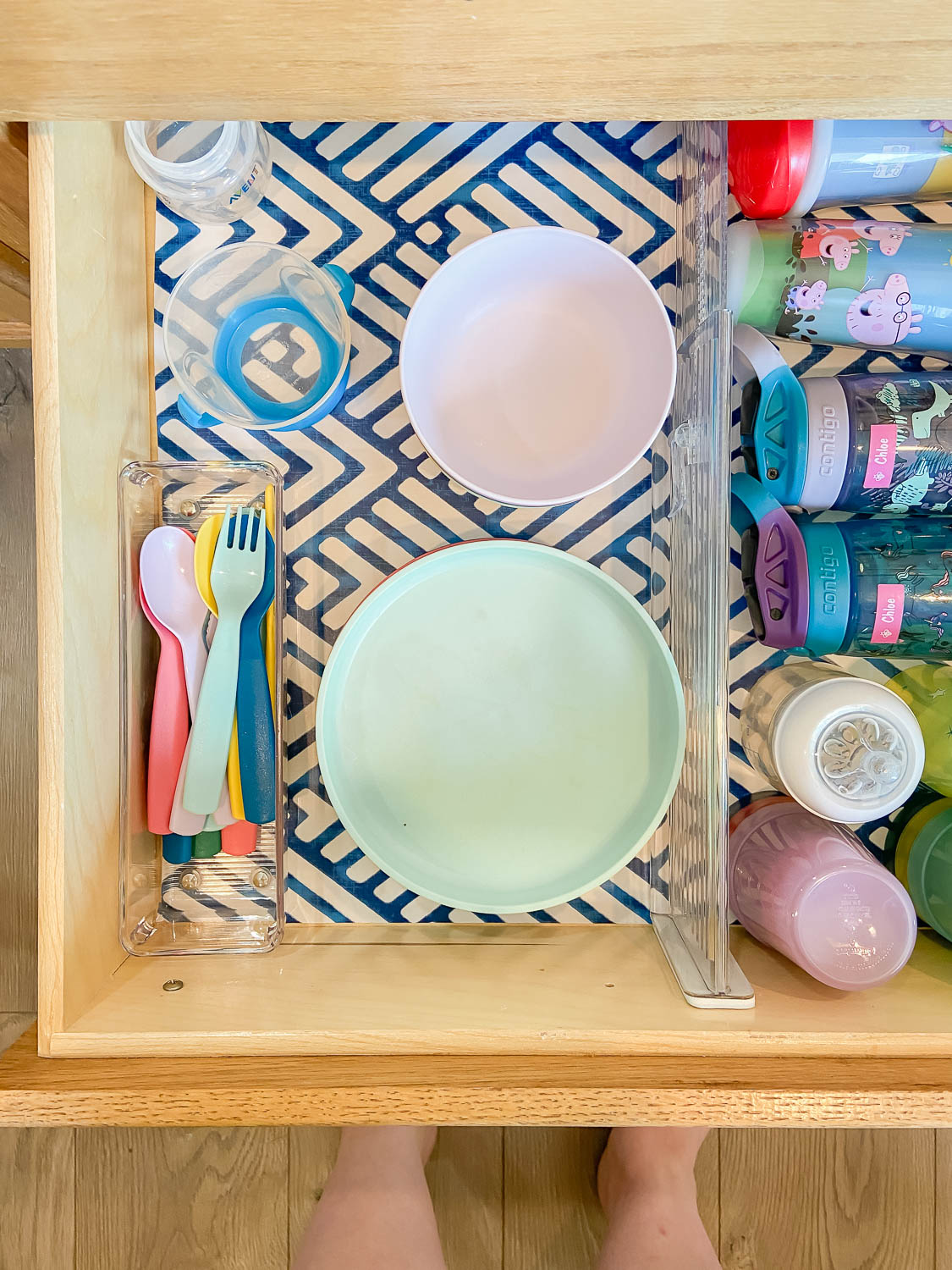 Idea by Small Stuff Counts
Cabinet Organization For Measuring Utensils
If you're a baker, you'll be reaching for your measuring utensils regularly. A great way to keep them organized is to hang the cups and spoons on the inside of a cabinet door. Keeping a handy conversion chart there is also a smart idea. In this tutorial you'll learn which hooks to use and how to install bumper guards so the utensils stay in place.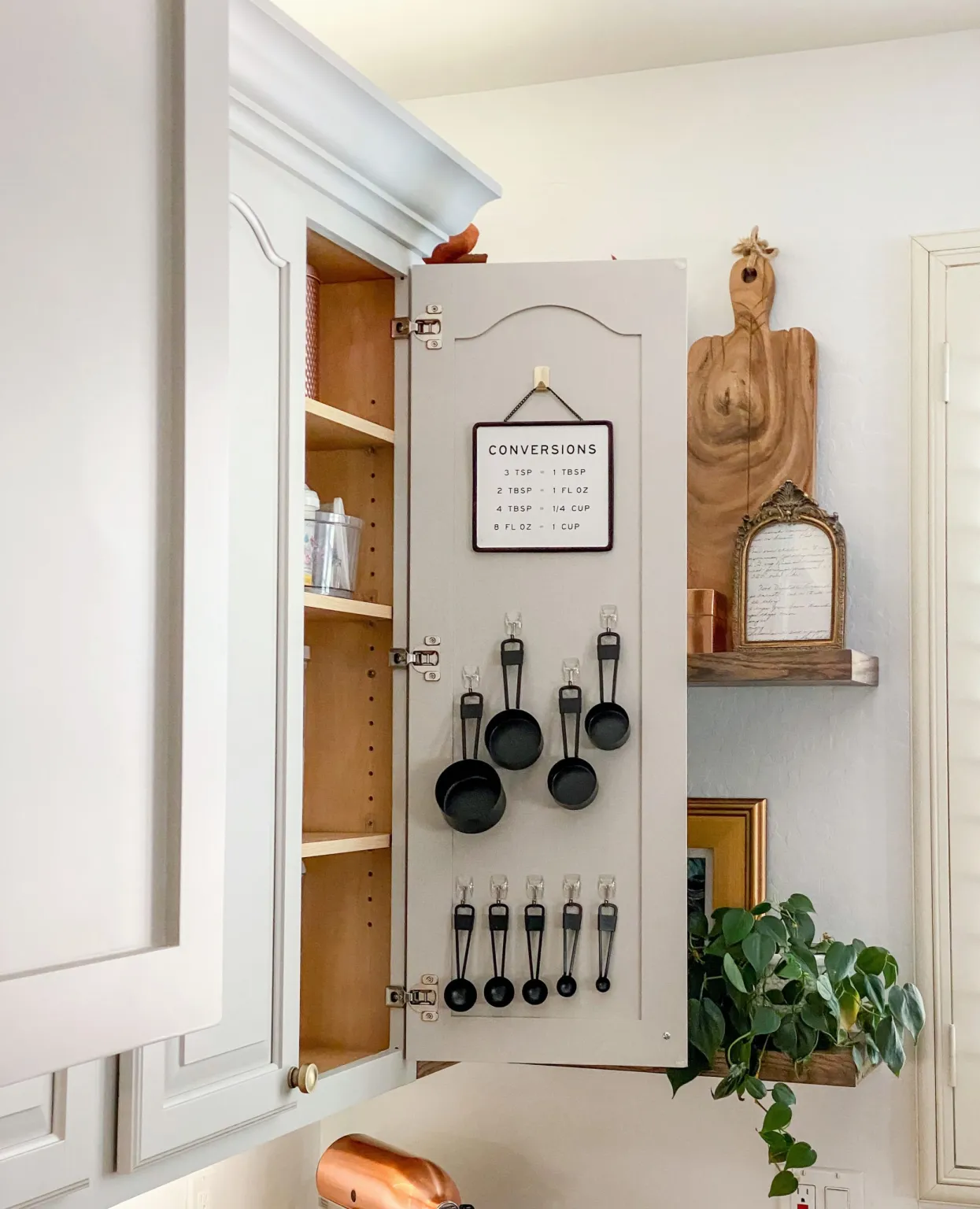 Idea by Ashley Nicole Interiors
Ziploc Bag Organization
With all the uses for plastic zip tie bags, most of use have various sizes and shapes that we regularly use. Keeping them handy in a drawer can be a challenge with all the original packaged containers. A better way is to organize the drawer using acrylic boxes or bamboo boxes that are appropriately sized and labeled. They'll keep your drawer completely organized and tidy.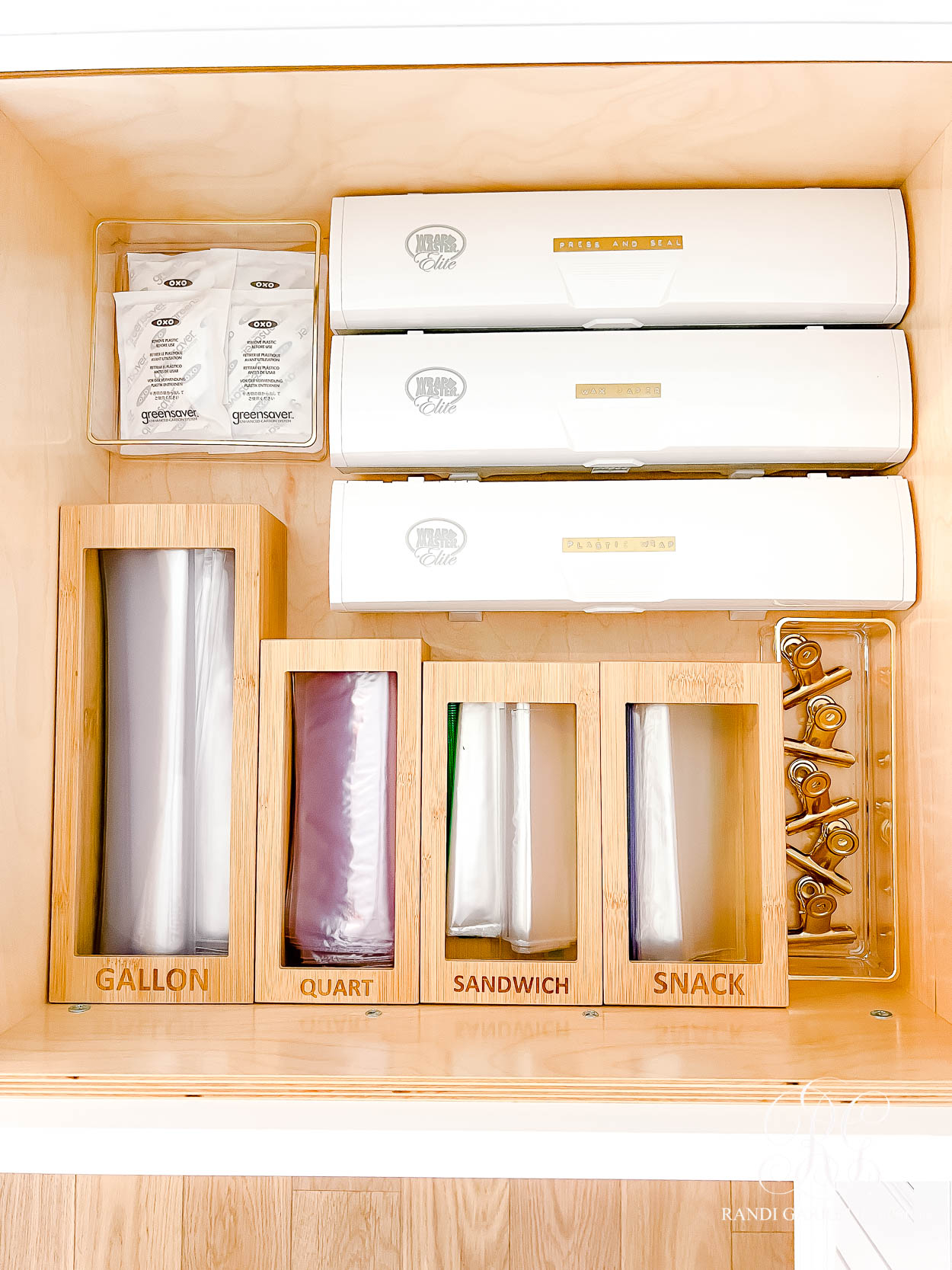 Idea by Randi Garrett Design
Organize Dish Towels
Having a dedicated drawer for dishtowels is a must! Rather than stacking them in a drawer, use this idea of putting a divider in the drawer and lining the towels upright instead. That way you can easily see them rather than just grabbing the one on top of the stack. This way, it's helpful if you're looking for a specific towel for a specific task. You could also use the same idea in an upper cabinet by arranging the towels upright in a pull out clear container.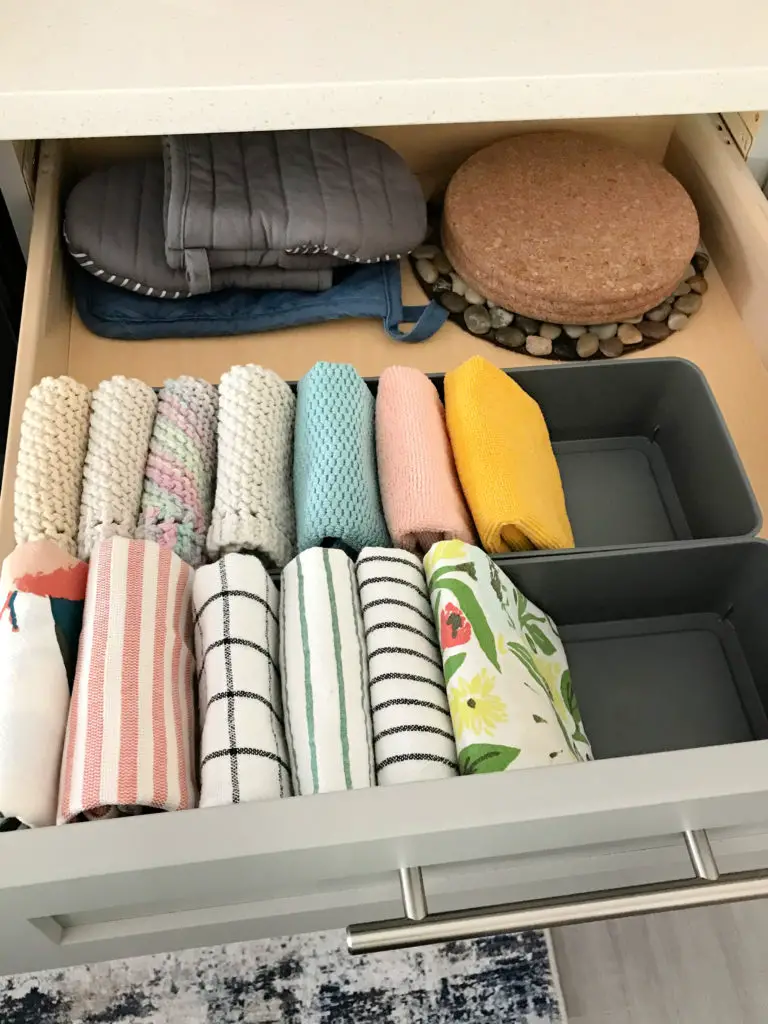 Idea by Organize Your Stuff Now
Mug Storage
If you're a coffee or tea drinker, you no doubt have a collection of mugs and tea cups. Keeping them organized and within easy reach can be a challenge, especially if you just stash and stack them in a cabinet without any order. Choose a cabinet for your mugs and cups that's above or near your coffee and tea station. Consider using these acrylic shelf risers for a clean look. You might even consider replacing any mismatched mugs with the same design or color for a monochromatic look.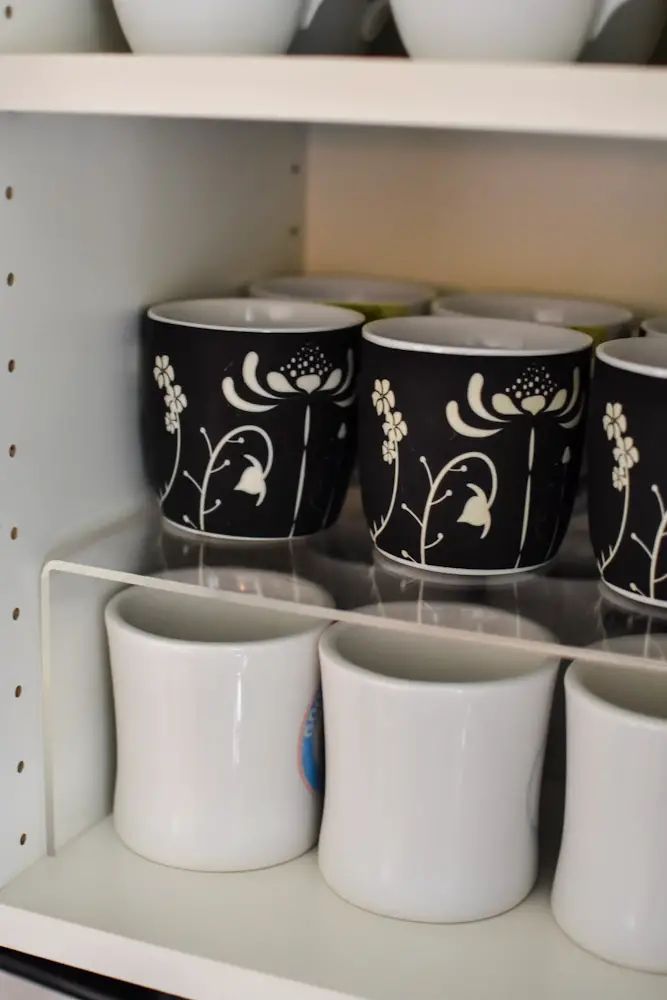 Idea by Smallish Home
Deep Drawer Pantry Organization
If you live in a house that lacks a dedicated pantry, no worries! Turn a deep drawer into a pull-out pantry. The key here is to use containers with lids to house your item. Because they're in a drawer, you'll need to label the lids so you know what's in them. Flip bucket lids are essential for dry goods, making it easy to access. The ideas for the drawer also work well if you do have a dedicated pantry space.

Idea by Remodelaholic
Spice Drawer Organization
If you love the idea of pulling out a drawer and seeing all of your spices in a well-organized glance, this idea is for you! The easiest way to see all your spices at once is to use a spice insert and set the spice jars on at an angle. You'll also want to use a set of spice jars with labels for a cohesive look. You can organize your spices alphabetically or by whatever method works best for you.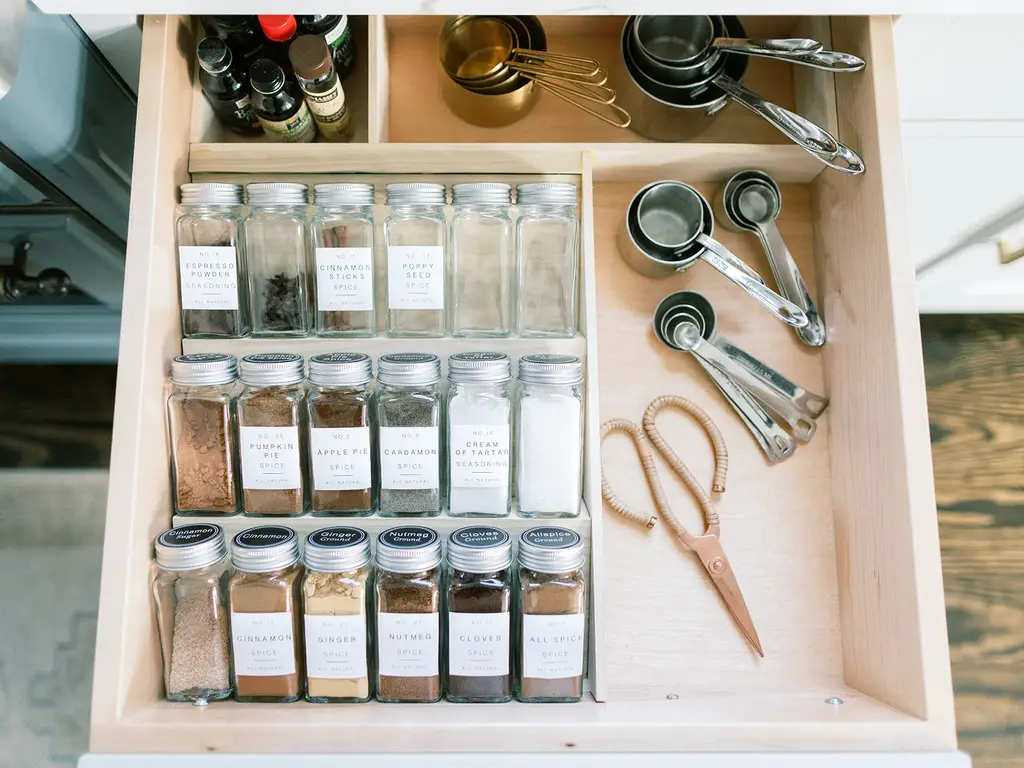 Idea by Finding Lovely
Every kitchen seems to have a junk drawer which usually lives up to its name! However, even junk can be organized by using sectional inserts. Group like-items together, such as tape, string, pins and tacks, batteries, etc. Once you start doing this, you'll probably find you need more than one drawer, and maybe the kitchen isn't the only place you need a junk drawer. The same style of inserts, whether bamboo, wood, acrylic or wire, can be used to organize utensils, too. Check out this post for junk drawer organization.
Like it? Pin it.