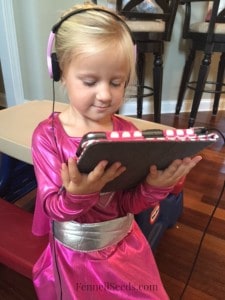 Did you know they make headphones in a child's size?
I didn't until we kept going to the library and tried to use the computers in the kids section and the headphones didn't fit my kids heads. Someone next to us said "I don't understand why they don't have kids headphones at the kids computers." All of a sudden all my times of trying to fit my earbuds into my kids ears and the frustration they had of them constantly falling out all came to a head….why didn't it occur to me that they make child sized headphones!
Here is an affiliate link. We have the Sony brand but it won't let me link so just click on this and search for Sony if you want the same kind as us.

Kids are happy to have their own headphones and I am happy to not have them turning the volume way up to hear over their siblings.