Do you have a child that isn't happy with their activity anymore? Or it is getting really bad where you are having to drag them out of the car or bribe them to get their uniform on for practice? Are you wondering how to decide if your child should quit an activity?
I was raised to never quit anything. I was a NCAA Div 1 athlete and had success in part because I was not ever a quitter….so this is very new territory to me. Some of my deeper thoughts are that I am partly worried that it could make them a "quitter" in life.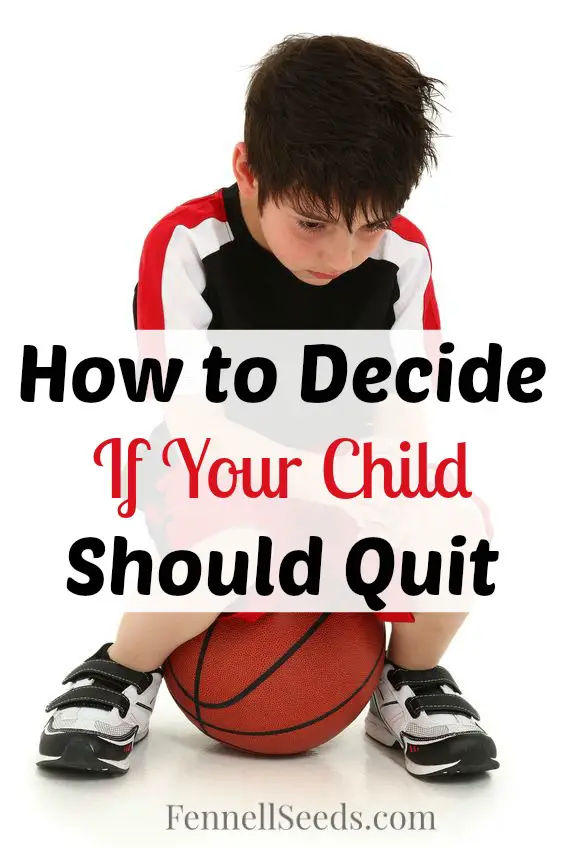 We have had two scenarios recently that ended in different results and it really made me think about what the difference was in deciding whether to quit the activity. I was asking friends how they had ever made these tough decisions so wanted to share what we did in case it helps others.
Scenario #1 – My daughter has been hating getting ready for ballet for over 6 months, maybe even the entire school year since I enrolled her. She seemed to be having a good time when I peeked into the room while she was dancing but this was the second year of the same dance class and she loved it the first year but had been complaining ever since she started up again in the fall. Every Tuesday when I would pull her leotard out of her closet she would completely freak out and start to cry and even run and hide in the house. This lasted for months. I couldn't figure out what to do since she seemed to have fun in the actual class but hated getting ready.
Scenario # 2 – My boys have always dabbled with golf. They love to play with my husband but don't really take any lessons. My husband is very good so he has always taught them. They were loving golf a couple of years ago but the past year have not really wanted to go very often. When my parents were looking for a birthday present idea I suggested a few golf clinics at a kids golf center in town hoping it would restart their interest. We went to the first clinic and they seemed to do just fine but the following week when we were getting ready for the second once one of my boys flipped out. He did not want to go and they are getting old enough that when they don't want to get out of the car there is no way I can make them. I didn't know what to do…let him go back home and just let his brother take all the lessons or try to force him to get out of the car.
Decision on #1 – When I really started asking her about dance and what she didn't like she just said "It's boring" or just crying. That answer wasn't good enough so I kept digging for answers at different times. I would ask on days that weren't even ballet days. I would start off with "You do not have ballet today so don't worry but I just want to ask what you aren't enjoying about ballet." By asking her on another day when she wasn't freaking out about getting ready for the class she opened up a little. She said, it is the same thing every class, we jump through the same hula hoops and line up in the same line to do the same things every time. I thought about it and she was right! She had been doing this preschool ballet class for 2 years and I didn't even really notice but most of the girls didn't do 2 years in a row. Now I finally realized that maybe she was bored.
I had been wondering if we should try gymnastics so here is what I did. I called for a free trial class at a gymnastics center and we went to try it out and she loved it. I asked her if she would rather do gymnastics than ballet and she was ecstatic. I told her she had to finish out the month since I had paid for it and then we would change. She has been so happy and is actually excited on gymnastics day to go to the gym.
Decision on #2 – I had to really dig to get an answer beyond "I just don't want to!" and see what the problem was with the clinic. I finally got out of him that he didn't want to play with a bunch of babies. This one son of mine is 8 but thinks he is 14. I went back to the golf instructor and talked with them a bit and said my son did not want to come play because he was unhappy playing with kids younger than him. Now, I only mentioned it to them because I happen to know that my boys are at a pretty good level of golf. They probably play at the same level as most of the kids a couple of years older than them. So the head golf instructor mentioned that because that particular afternoon was very windy that hardly any kids had shown up so he was willing to move my boys to the older group. My son agreed to get out of the car and go to the clinic. I held my breath the whole 90 mins they were at the clinic.
When I picked them up, they had huge smiles. They had had a great clinic and from then on they have fallen back in love with golf. They went easily to all the remaining golf clinics and are even asking my husband to take them golfing every weekend. I am extremely happy that I pushed him and voiced his objections to the head instructor. I had thought it was a little ridiculous that he didn't want to play in his age group but I guess he was right that he had a lot more fun in the other age group and if that is what it took to make him relearn to love the sport then it was a great move for us.
Conclusion:  Remember to get beyond the "I just hate it" statements. Figure out if the real problem is something that can be remedied like an age group change with the same activity. If the activity is something that they have not been enjoying for months and they give specific examples of why it isn't working then believe them. I am so glad I found something else for my daughter. Honestly she has even been been acting so much better now at school drop-offs and if I leave her with a sitter. She is happy at everything she is doing. On the opposite side of this, I am so happy I spoke to the golf instructor and really pushed my son to finish his golf lessons. He even begged to go play golf this past Sunday.
Every situation is different but wanted to share our examples. Do you have a time when you had to make a tough call with extracurricular activities? It is so hard to know if you are making the right decision. This parenting gig is tough!! 😉